The use of rose water for beauty and health is not a new phenomenon, rather one with a long history⎯ even those in the first civilization, the Indus Valley in modern-day India, recognized its superpowers. Its anti-inflammatory and cooling properties made it a cult-favorite of the ancient world (Cleopatra and Aphrodite-approved). Rosewater became much more common in India when the Persian and Afghani Mughal emperors brought camel-loads of it with them. Now, we find it in the world's most famous teas, baths, and of course, skincare. Some rose waters are mists, which make for a great little cooling refresher for the humid summertime and moisturizing hydration for dry winters. You'll also see many of them come as toners, which help for your skin to prep for your serums and moisturizers after cleansing the skin. Whichever you choose, it'll make your skin smell, and feel like pure bliss. Read on to see some of the best rose waters in India.
BENEFITS OF ROSE WATER FOR INDIAN SKIN
Rose water, or gulab jal in Hindi, has a long list of benefits. Here are some of our favorites:
Heals scarring, cuts, and burns with antibacterial and antiseptic properties

Has antidepressant properties and enhances mood 

Reduces skin redness with anti-inflammatory properties 

Antibacterial and toning properties help to combat acne, rosacea and eczema

May have anti-aging properties that help to reduce the appearance of wrinkles

Improves digestion, sore throats, and hydrates body when ingested as a tea
7 BEST ROSE WATERS IN INDIA
Below is our pick of the best of the best rose waters in India.
Sadhev Natural Rose Water Toner ₹895
Made with roses ethically sourced from Sadhev's own farm in Sadhevana, you're getting the Ayurvedic package with this fan-favorite toner. This clean formula is also free of any petrochemicals, sulfates, artificial fragrances, or colors. Sadhev also boasts a large team of scientists, cosmetologists and pharmacologists dedicated to testing and developing the most effective products, so you know this one has been well researched. Users are impressed with the Rose Water and reviews describe the toner as both high quality and moisturizing.  
---
Forest Essentials Facial Tonic Mist Pure Rosewater ₹1025
Forest Essentials luxurious rose water toner is extremely popular and with good reason – it's 100% chemical-free, pure, and made from the best-quality roses. The ayurvedic formula helps to deeply hydrate the skin as it minimizes the appearance of fine lines and wrinkles. Bonus points for the eco-friendly packaging and the 100% cruelty-free formula.
---
Juicy Chemistry 100% Organic Bulgarian Rose Water ₹618
Bulgarian roses, known scientifically as Rosa Damascena or the Damask rose are the most well-known rose in the skincare industry. This is because they are known to maintain a balanced pH for your skin and control any excess oil. The cruelty-free, vegan and handmade formula is made with no synthetic fragrances, sulfates, or preservatives, so you know you are getting actual rose water. Juicy Chemistry makes their rosewater mist with a "direct steam distillation" process right after the roses are harvested, which ensures that it is a freshly made product. 
---
Mama Earth Rose Face Toner ₹399
Mama Earth's soothing rosewater toner comes with the added benefits of witch hazel, giving you double the qualities you'd expect. The witch hazel in this formula makes it a great product if you're hoping to detoxify your skin and tighten any open pores. The cucumber in this refreshing mix helps to enhance the roses' glowy hydrating properties. This product is also certified as toxin-free⎯ none of the nasty artificial colors, alcohol, silicones are other unwanted ingredients. We love a good clean formula, and Mamaearth's does not disappoint⎯ especially for anyone hoping to minimize the appearance of those pesky pores!
---
Kama Ayurveda Pure Rose Water ₹1295
Kama's 100% natural rose water is based on ayurvedic tradition. The formula uses the nutrient-rich roses found in Kannauj, (known to have the same properties as the famous Bulgarian rose).  The rose water will not only help soothe the skin but help balance the skin's pH.  Skin is left lightly hydrated without any sticky residue.  
---
TNW Steam Distilled Rose Water ₹450
TNW Rose Water is made with a traditional steam-distilled method, the brand says it works perfectly as a base for your favorite ayurvedic face masks for self-care nights, and as a makeup remover after a long night out! Approved as cruelty-free and also paraben, sulfate and silicone-free, this ancient favorite doesn't have any of the modern harmful chemicals that often skew with your skin's pH. What is great about this clean, natural formula is that is also quite affordable.
---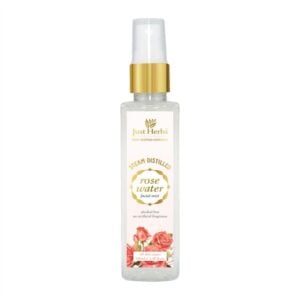 Just Herbs Steam Distilled Rose Water Facial Mist ₹495
India has its fair share of roses that are absolutely phenomenal for the skin⎯ this Just Herbs 100% natural rose water is made with only wild roses from Kannauj in India's state of Uttar Pradesh that has rich white soil perfect for healthy growth. There, each rose is handpicked, then petals are manually removed, cleaned, and steam-distilled. This traditional process leaves local refreshing rose mist. We especially love the 3-ingredient list: rose, steam distilled water, and water. That's when you know your skin will thank you. 
FINAL THOUGHTS
Rose water has been an ancient favorite for good reason⎯ Aphrodite, the Mughal queens and Cleopatra all knew what was up. Whether you're hoping to soothe your acne, add a beautifying and naturally aromatic toner into your routine, or add it as a base into your face masks, the switch to rose water is the right switch. Perhaps we took it for granted when moms slapped some onto our faces as children, but looking back they definitely had the right idea in mind. We don't know about you, but it sure seems like there's a little bit of magic in rose water!