Vitamin C is an incredible vitamin. It's essential in the growth, development, and repair of body tissues, helps with collagen formation and iron absorption, and even strengthens your immune system.
But all of these things are related to the internal workings of our bodies. So, what does vitamin C have to offer the outside of our body? The answer is: just as much as it has to offer the inside.
Vitamin C is a powerful antioxidant. Meaning that it can protect your skin from environmental, sun, and free radical damage. At the same time, it can repair everything from uneven skin tone and rough texture to scars, acne, and dullness. And these properties can only be had through the topical application of a vitamin C serum.
Like all things, not all vitamin C serums are created equally. To help you sift through the good, the bad, and the ugly in a part of the world with hundreds of brands and products to choose from, we've compiled this list of the best vitamin C serum in India.
8+ BEST VITAMIN C SERUMS IN INDIA
Pilgrim Natural Vitamin C Face Serum (20%) ₹950
Pilgrim's highly-rated natural vitamin c serum hones in on the incredible properties of Kakadu plum – they use Kakadu as a source of vitamin C. Kakadu is a superfruit that not only contains 100x more vitamin C than an orange, it's also rich in vitamin E and folic acid. That means that your skin gets all the benefits offered by vitamin C, plus the added strengthening and hydrating benefits of those other compounds. And for those with acne-prone skin, you'll be happy to hear that this is a water-based formula, so there's no oil to potentially clog your pores.
---
Dr Sheths Amla Vitamin C Serum ₹999
This entire brand was developed for Indian skin by three generations of Indian doctors. Their vitamin C serum contains 20% vitamin C derived from the antioxidant-rich alma berry, 0.5% ferulic acid, 1% vitamin E, and 1% sodium hyaluronate. We already know the skin brightening, spot reducing, texture improving properties of vitamin C, but what about those other ingredients? They help protect the skin barrier and strengthen the skin, so the vitamin C can do its job. The serum is also 100% vegan, Jain, and cruelty-free.
---
Minimalist 10% Vitamin C Face Serum ₹699
Minimalists 10% Vitamin C Serum is extremely popular with good reason. A formula free of fragrance, silicones, sulfates, parabens, essential oils, and dyes. It's also oil-free, hypoallergenic, and non-comedogenic. But enough about what it isn't – let's talk about what it is. That is, a blend of 10% Ethyl Ascorbic Acid and 1% Acetyl Glucosamine. Ethyl Ascorbic Acid is the closest you can get to pure vitamin C in terms of molecular size and weight while still remaining efficient and effective. And the addition of Acetyl Glucosamine boosts the hydrating qualities of the formula, making it safe for all skin types.
---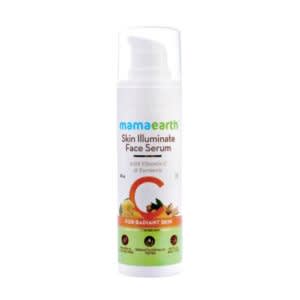 Mamaearth Skin Illuminate Face Serum ₹599
Mamaearth has combined all the amazing complexion benefits of vitamin C with another well-known and age old natural ingredient: turmeric. Turmeric has been used in cosmetics (and in the kitchen) for centuries because of its brightening, glow-inducing effects on the skin. And to ensure your skin doesn't get dry as a result of the strength of this potent combination, they've also included squalene, a super hydrating ingredient that also has anti-aging properties.
---
Dot & Key Glow Revealing Vitamin C Serum Concentrate ₹993
The vitamin C in this serum is derived from acerola cherry. This form of vitamin C not only improves the color and texture of your complexion. it also boosts collagen production and maintains skin elasticity. Combined with the antioxidant properties of Kakadu plum, the serum works to protect your skin as much as it repairs it. And, of course, we can't forget the need for hydration, which comes from the addition of hyaluronic acid.
---
Murad Vita -C Glycolic Brightening Serum ₹6650
Murad's luxury vitamin C serum has something we rarely see and we're really excited to tell you about: gold-stabilized vitamin C. Yes, you read that correctly: gold-stabilized. But what's the benefit? The gold-stabilization process makes the vitamin C more bioavailable, which means your skin is able to soak up more of the benefits of this already potent vitamin. Safe and effective for all skin types, it also includes glycolic acid to combat dullness and enhance the benefits of vitamin C as well as phyto-luminescent extract for a more radiant complexion.
---
The Moms Co. Natural Vita Rich Face Serum ₹224
The more vitamins, the better, right? Well that seems to be The Moms Co.'s motto and we love it. They've added vitamin B3, B5 and E to this formula for all the nourishment your skin could possibly need. And that's not even mentioning all the other vitamin and mineral rich ingredients they've formulated this serum with, including primrose oil, chia seed, soybean phospholipids, and hyaluronic acid. If you're looking for one powerhouse serum that fights everything from pigmentation issues to fine lines, this is it.
---
Auli The Power Of C Serum ₹1299
If there's one thing all aging skin has in common, it's dehydration. But this formula is a super hydrator that can help you fight dryness, redness, sun damage, and fine lines and wrinkles. It has huge doses of hyaluronic acid, glycerin, and distilled water, all of which not only deliver moisture, but also keep it locked in. We also love that the formula is completely Ayurvedic and organic, with absolutely no synthetics, parabens, sulfates, or harsh chemicals.
FINAL THOUGHTS
Vitamin C serum can be a powerful tool in the fight against complexion issues. But you have to choose the right one. These vitamin C serums in India are formulated for the environmental aggressors you encounter in this part of the world, with ingredients you don't really find elsewhere. So, when you're looking for something made not only for your skin type but also your environment, look no further than this list.