Soap's soap, right? We've all run to the drug store and picked up an emergency bar of men's bar soap. Or used the soap in those little packages in the hotel shower.
But you can just feel the difference after you use a soap that's not the best quality. It might not rinse, or may be so drying that your skin feels itchy. Soap does matter! Those other bars will (usually) get you clean, but there's nothing like using a good soap for men.
WHAT MAKES A GREAT SOAP? 
We'll keep this short and simple. When you're looking for a bar soap, look for something as natural as possible. Science has come a long way in exploring the benefits of essential oils, natural products and resources that don't contain harsh chemicals. There's no need to slather chemicals and toxins on your body.
You should also look for a bar soap that works with your skin type. Just as facial soaps and lotions are formulated for certain skin types, your body soap is, too.
Finally, we mentioned essential oils. If you have problem skin, or just a few things you want to fix like dry areas, oily skin, sun spots or other issues, look for a soap with essential oils that will help you clear it up. For more information, check out our guide on the best essential oils for men.
WHAT TO AVOID IN MEN'S BAR SOAPS 
People put some nasty stuff in bar soap. Yeah, soap – the stuff that's supposed to get you clean. Many bar soaps are laden with chemicals like sulfates, parabens and even formaldehyde, which can lead to negative reactions and are quite harmful to your health in general.
A few of the ingredients in bar soap that you should avoid are:
Formaldehyde – goes without saying, right?
Parabens – these are cancer-causing agents commonly found in beauty products.
Triclosan – it's harmful to your body, but also extremely harmful to the waterways and the environment.
DEA – another known carcinogen the soap people use to make their products.
Synthetic fragrances – these may seem harmful enough but may contain ingredients that are harmful to your respiratory system and may be carcinogenic.
BEST BAR SOAP FOR MEN
Ready to pick a new soap that's great for your skin and isn't toxic? Of course you are! Here's a list of the best bar soap and best bar soap for men.
Jack Black Turbo Body Bar Scrubbing Soap $15
 Jack Black is one of the best companies out there for men's grooming products. And we think you're going to like the Turbo Body Bar Scrubbing Soap. It's got some interesting ingredients you won't find in other bar soaps.
Blue lotus is a natural moisturizer, making even the most chapped, dry skin look and feel healthy. It'll also help to balance your skin's oil production. That's great if you have body acne or other skin problems.
It also contains natural lava rock. This acts as an exfoliant, scrubbing the dead skin cells from your body. The result is softer skin that looks brighter and is less likely to show clogged pores.
Jack Black Turbo Body Bar Scrubbing soap is absolutely one of our top picks for the best men's soap.
---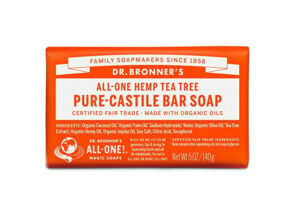 Dr. Bronner's Organic Pure Castile Tea Tree Soap $8
 There's nothing we love more than the simplicity of this soap. The ingredients are all ones you'll recognize, including coconut oil, palm oil, olive oil, and jojoba oil.
Plus, the soap contains tea tree oil. Tea tree oil is an amazing natural remedy for all sorts of skin conditions and problems. It's got antibacterial, antifungal and antiseptic properties, and is commonly used to treat acne, eczema, dandruff, blackheads and more!
Men who have used Dr. Bronner's Organic Pure Castile Tea Tree Soap say that there's no way to describe the feeling but "clean." It rinses easily and doesn't have a strong scent, so you can wear your favorite cologne without fear!
---
Cetaphil Gentle Cleansing Bar $2.50
Another of our favorite picks for men's bar soap is the Cetaphil gentle Cleansing Bar. As you may have assumed from the name, this bar soap is great for men with dry or sensitive skin. It's naturally moisturizing, so it won't strip your body of natural oils, and it can actually help to balance your skin's oils.
Men who have used Cetaphil Gentle Cleansing Bar say that it's not like other bar soap – it rinses clean, and won't leave a gross, sticky residue on your body. One man said, "It made Oil of Olay feel like Dollar Store soap!"
---
Duke Cannon Big Ass Bar of Soap for Men $9.28
 The Duke Cannon website describes this bar soap as "not for clowns," as the bar is three times bigger than "women's soap." It is, in fact, a big bar of soap. It's 10 ounces of masculine scent in a blue box.
Men who have used this soap say that it does, indeed, smell like Naval Supremacy. The soap is available in other scents, like Accomplishment and Supremacy. Pick your favorite, because reviews for this soap are phenomenal. Men say that it's a great price for the value, and that it left them smelling "manly."
A portion of the sales of this cruelty-free soap go to benefit United States veterans. The company is a US based, family owned plant, so you can feel good about buying from Duke Cannon whether you choose the Naval Supremacy, the Beer Soap or the Campfire Soap.
---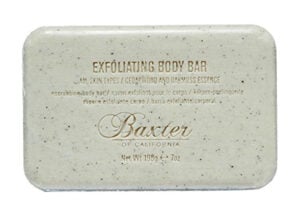 Baxter of California Men's Exfoliating Body Bar $16.
 This is another one of those bar soaps that serves a dual purpose. It leaves your body feeling fresh and clean, while it gently exfoliates. You'll find natural exfoliants in this soap, like jojoba meal, crushed olive seed and pumice.
Whether you use this soap every day or just a few times each week, you'll rid your skin of the dead skin cells which can clog pores and make your skin look dull and sallow. The result is brighter, cleaner looking skin with fewer instances of acne and blemishes.
Men say the potency of the scent of the soap is perfect – it lasts all day but it's not overwhelming. It rinses well, and men say their skin felt soft after showering, even without moisturizer. (Of course, we recommend that you use a moisturizer after your shower.)
---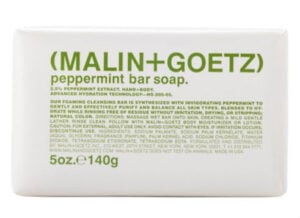 Malin + Goetz Peppermint Bar Soap $16
 Peppermint is one of the most invigorating, healthy essential oils you can put on your skin. Using the Malin + Goetz soap will make you feel refreshed, awake and ready to face your day.
The soap itself is made from natural ingredients. But it's the peppermint in this bar soap that will make the difference. Peppermint is an antimicrobial agent which means it helps to fight acne and blemishes, and it also helps reduce itching on the skin.
It's an anti-inflammatory, which means that your skin will feel cool and refreshed all day. Men who have used this soap say that it's got a great lather, and that it's good even on sensitive skin.
Malin + Goetz offers a few soap "flavors" but we think this is one of the best bar soaps for men because of the natural effects of peppermint.
FINAL THOUGHTS 
Soap's not just soap! Those other bar soaps you buy at the drug store will clean your skin, sure. But you can do so much better! Choose one of the soaps on our list of the best soaps for men – take advantage of essential oils, exfoliants and natural moisturizers. You'll feel moisturized and refreshed, shower after shower.