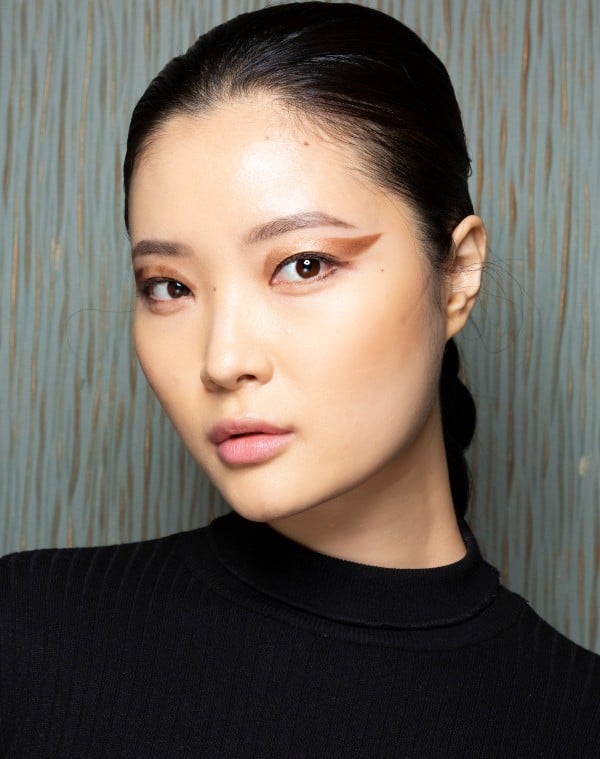 Finding the perfect mascara that curls, lengthens and lasts the entire day without flaking off or smudging can be quite the task. If you have sensitive eyes, discovering the right mascara usually involves an exhausting, and often expensive, quest of trial-and-error. 
For those with celiac diseases or non-celiac gluten sensitivities, one factor to consider when buying makeup and skincare products is their gluten content. Gluten often appears on the ingredients list in the form of hydrolyzed wheat protein. Though this is often processed, it may not remove all traces of gluten from the product. While, in theory, gluten molecules are too large to enter through your skin barrier, they can still cause rashes and hives if ingested, applied to your lips, or absorbed by a weakened skin barrier. An allergic reaction can often be prevented by avoiding gluten-containing lip products, washing your hands thoroughly when you come into contact with a gluten-containing product, and steering clear of powdered products that you think may have gluten. 
As allergens and harmful chemicals can directly enter your bloodstream through the eye, gluten-free mascara ensures that you no longer need to worry about stray droplets causing irritation or inflammation. Every makeup arsenal requires a mascara that makes your eyes pop, we'd just recommend that they aren't popping because of swollen eyelids. 
BEST GLUTEN-FREE MASCARAS
We've researched and discovered some of the best gluten-free mascaras for an irritation-free look. 
Kjaer Weis Lengthening Mascara $38 
Formulated with jojoba and castor oils for smooth application and extra nourishment, Kjaer Weis's luxury refillable gluten-free mascara easily slides onto your lashes in a clump-free flutter. Great for daytime wearability, its organic formula ensures that you won't have to worry about flaking throughout the day. Another option for a conditioning mascara is Kjaer Weis's Lush Up Volumizing Mascara ($38). Its special staggered bristle brush is perfect if you're looking for a feathery effect.  
---
Lily Lolo Natural Vegan Mascara $20 
Tired of wiping away recurring smudges and constantly reapplying mascara throughout the day? Say goodbye to the dreaded raccoon eyes with this award-winning gluten-free mascara. Made from vegan ingredients, the extremely popular, gentle, and creamy formula will stay on your lashes all day long. If you're on the lookout for more natural and vegan mascaras, Lily Lolo's Big Lash Mascara ($22) offers an hourglass brush for voluminous lashes painted a gorgeous matte-black shade. 
---
Ilia Limitless Lash Mascara $28 
Not only does Ilia's award-winning natural gluten-free mascara leave you with a sleek, flake-free look, it's also specially designed to strengthen and condition your lashes. It's fortified with organic ingredients such as beeswax, which promotes hair growth and smoothens hair strands, and shea butter, a fatty substance containing vitamin A and E to add some extra shine and moisture to your hair. This fan-favorite also contains Arginine, an amino acid in keratin that restores hair strength and minimizes hair loss. 
---
Sappho New Paradigm Vegan Mascara $34 
Mascara can often be a pain to remove, especially when designed to cling to the small, slippery strands of your eyelashes. But what if we told you that there's a gluten-free mascara that's both long-lasting and easy to remove? Along with separating, lengthening, and thickening your lashes, this vegan mascara by Sappho gently washes off with water. It also comes with the added, plastic-free bonus of a metal tube. 
---
Alima Pure Natural Definition Mascara $22 
This cruelty-free, vegan, and soy-free product offers two rich color options, a deep ink black for an intense smolder and a vivid brown to accentuate your eyes. Its invigorating blend of jojoba oil, beeswax, and provitamin B5 also adds a lush coat of shine, softness, and flexibility to your lashes. Combined with a unique rubber bristled wand that carefully detangles hair strands, this gluten-free formula promises clump-free application and effortless removal. 
---
Hush + Dotti Organic Mascara $24
Hush + Dotti is best known for elegant non-toxic products and an eco-friendly outlook. In fact, everything from their packaging and containers to their cards is made from recyclable materials. Their 100% plant-based organic mascara, made especially for sensitive eyes is one of the many clean-beauty options in their collection. Made with a wonderful buildable gluten-free formula, it's ideal for those who prefer a versatile range of looks. The difference between a classic natural sweep and a bold impression is just a matter of coats!
FINAL THOUGHTS 
Mascara is a great product that, in adding length and volume to your eyelashes, helps emphasize the natural beauty of your eyes. But whether you wear it every day for some extra glamour or once in a while for a more dramatic edge, it's important to use a mascara that suits you. Especially if you are sensitive or allergic to specific ingredients! As a general rule of thumb, makeup should not come at a cost to your health.