Ever heard of exfoliation? If not, you're in for a treat.
Exfoliation is, simply put, getting all those dead skin cells off your face. Those cells clog your pores and give your skin a dull appearance. But after exfoliation you'll notice a huge different – bright, healthy skin that's less prone to acne an blemishes.
Want to know more? Read on to learn all you need to know about exfoliation for men. We'll be covering the best men's exfoliating face scrubs, exfoliation brushes and even soaps.
HOW DOES EXFOLIATION WORK?
There are two types of exfoliation. There's chemical and there's physical. So what do each do?
Well, each will remove dead cells from your skin. But they do it in different ways. Chemical exfoliation works by loosening the binds that attach those cells to your live skin. As you rinse the exfoliant away, your dead skin goes right down the drain with it.
Physical exfoliants are a bit more – well – physical. Physical exfoliants can be brushes, sure. But they can also be facial scrubs that contain things like peach pits, rice granules or even (yes, really) diamonds. The key to finding a physical exfoliant is to search for a product that won't cause tiny abrasions on your face. In other words, diamonds probably aren't your best bet.
To learn more about what to do with men's exfoliants, check out our full explanation here.
No worries, though. We're going to talk about the best products to exfoliate for men. Your next men's face exfoliator is on this list – just choose the one you like the best and give it a try! Here are the best men's facial exfoliating products.
Best Men's Exfoliating Face Scrub
Okay, so the search is on for the best exfoliator for men! And guys, we've got options. Whether you're looking for an exfoliating scrub for men or even a men's exfoliating brush, your new product awaits.
Jack Black Face Buff Energizing Scrub $18
The name of this product says it all. Jack Black Face Buff Energizing Scrub is a gently scrubbing, highly refreshing product that can be used anywhere from two to four times per week. Use the product before you shave to avoid irritation, and enjoy fresher, brighter skin almost instantly.
Jack Black Face Buff Energizing Scrub has some pretty darn nice ingredients. In the scrub, you'll find bamboo powder, the magic behind the scrub. Peppermint soothes and refreshes your skin – it's also great for giving you an extra boost of energy in the morning. Vitamin C is an antioxidant which helps reverse environmental damage.
This men's exfoliating face scrub is made in the USA and contains only natural ingredients. Every product is cruelty free and safe for sensitive skin.
---
Clinique for Men Face Scrub $27
Next on the list is Clinique for Men Face Scrub. This scrub is absolutely ideal for a pre-shave scrub. Use it two to three times per week to lift hairs for a gentle, close shave and to remove those nasty dead skin cells that clog your pores.
Clinique for Men Face Scrub is a physical exfoliant, containing tiny granules that safely reveal your healthiest skin. Men who have used this scrub say it's the best men's face exfoliator – they'll never go back to another scrub. A hint of mint leaves the face feeling refreshed, cool and ready to face the day.
---
Baxter of California Facial Scrub $19
Looking for an all-natural face scrub that's gentle and effective? Baxter of California has your "thing." The Baxter of California Face Scrub contains teeny little walnut shell particles that softly scrub your face for a deep clean. Honey and lavender then tone and relax your skin.
There's other good stuff in here, too. Aloe soothes your skin while jojoba oil moisturizes. Sunflower seed oil protects your skin and grape seed extract helps reduce wrinkles. You'll also find gingko biloba, avocado oil, sweet almond oil and more.
Men who have used this product say the scent of the scrub is pleasant but not overpowering. They also say the scrub gets into those "hard to reach pores." In shore, it's the best men's skin exfoliator if you like a more tangible feel.
---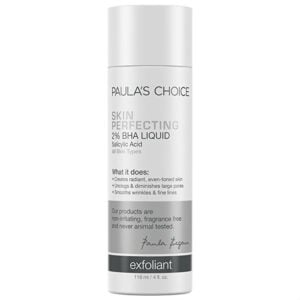 Paula's Choice Skin Perfecting BHA Exfoliant $29
For those of you who want to learn how to exfoliate men's faces without scratchy ingredients, this product is for you. Paula's Choice Skin perfecting BHA Exfoliant is a chemical exfoliant, which means there's no "grit" to the product.
Instead, Paula's Choice uses beta-hydroxy acids, natural chemicals derived from plants. These natural chemicals work to separate dead skin cells from the live ones; you'll simply rinse that dead skin away. Reviews of Paula's Choice say the product doesn't have much of a scent – which can be a good thing! It cleanses and exfoliates without leaving a tight feeling. Overall, men agree isn't one of the best exfoliating products for men.
LOOKING FOR SOMETHING MORE
The best skin exfoliator for men doesn't have to be a facial scrub. In fact, many men swear by men's exfoliating soap and exfoliating brushes. Here are a few products you can try out when you're looking for something a little more comprehensive.
Foreo Luna Go for Men Silicone Cleansing Brush $99
You won't be able to get enough of the Foreo Luna Go for Men Silicone Cleansing Brush. This brush was voted the Best Men's Exfoliator 2018, and we think it'll hold its title in '19, too. So how does it work? It's super simple.
First, dampen your face (or wherever you're exfoliating). Then, apply your normal cleanser (or a chemical exfoliant cleanser from this list). Using the Luna Go, make small circles on your skin for one minute. Finally, activate the anti-aging mode for another minute.
Sound weird? Nah. It's technology. The Foreo Luna Go for Men Silicone Cleansing Brush works by activating 8,000 T-Sonic pulsations across your skin. As a result, dead skin, dirt and day to day "stuff" will be lifted away.
---
MARLOWE. No. 102 Men's Body Scrub Soap $7.39
Prefer a bar soap? MARLOWE. No. 102 has got your back – literally. This little bar soap is super scrubby, exfoliating dead skin as you wash. But this isn't any ordinary exfoliator. In MARLOWE. No. 102 you'll find:
Green tea to reduce irritation, redness and swelling of skin
Passionflower fruit for moisture – this is particularly good for aging skin
Willow bark extract, a natural exfoliant and aid in skin regeneration
Agarwood, sandalwood and musk for a delicious, masculine scent
Each MARLOWE product is made in the USA, is cruelty free and is free from phthalates and parabens. It's just the good stuff in this soap!
---
Billy Jealousy Salad Days Scrub $36
If you'd like something a little more low-tech to exfoliate your whole body, check out Billy Jealousy Salad Days Scrub. This is a men's exfoliating body scrub that's good for all skin types; you thought your face felt nice after a scrub? Just wait until you shower with this scrub.
Billy Jealousy Salad Days Scrub is phthalate free, cruelty free, vegan and made in the USA. But, more importantly, it's got awesome ingredients that will make your skin look clean and bright – all over your body.
The exfoliant in this product is actually jojoba beads. These little beads are super gentle and scrub away dirt, grime and skin cells easily and safely. Billy Jealousy Scrub also contains sage extract – sage is an antibacterial that helps fight against body acne. Finally, the scrub has peppermint oil in it. This oil leaves your skin feeling fresh and tingly while it improves your circulation. Billy Jealousy Salad Days Scrub is probably the best men's exfoliating body scrub out there.
---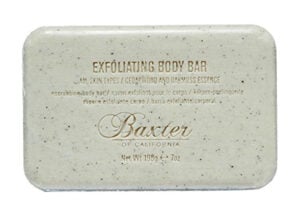 Baxter of California Men's Exfoliating Body Bar $16
There's one more bar soap on our list of the best men's exfoliating soaps. Baxter of California has created a soap that's good for all skin types, whether your body is naturally dry or you have oily skin. The Baxter of California Body Bar exfoliates gently, but it does some other cool stuff, too.
First, the soap contains cedarwood. Cedarwood is a natural antiseptic that helps to disinfect your skin – it's also been shown to treat eczema! The body bar also contains oakmoss. Oakmoss is an antiseptic, too, but it also helps moisturize your skin and even your skin tone.
So what's the exfoliant? Baxter of California's Body Bar uses pumice, jojoba meal and crushed olive skin. You'll definitely feel the scrub when you wash with Baxter of California.
---
Every Man Jack Body Wash and Shower Gel $12
Did you like the jojoba beads in Billy Jealousy, but want to try a different scent? Give Every Man Jack Body Wash and Shower Gel a try. This scrub offers a very bright citrus fragrance that's not overpowering. Once you dry off post-shower, only a slight aroma will linger.
Every Man Jack Body Wash is the best exfoliator for oily skin – men who have tried it say it helps control oils without leaving skin feeling tight. And while the product isn't all natural, it's 97% natural. There are no parabens, phthalates or other nasty ingredients in the scrub.
FINAL THOUGHTS
If you're not exfoliating your skin, you're only half-washing. Your ordinary soap will get your skin clean, sure. But what about all those dead skin cells? You need a men's exfoliator. Choose from face scrubs, body brushes, bar soap or full body scrubs – whatever you choose, you'll notice healthier, cleaner and fresher feeling skin even after the first time you use it!