Making sure our eyebrows are looking their best is not all about the powders, tints and creams that we put into them as part of our makeup routine. Regularly grooming your eyebrows is where it all begins… maintaining your natural shape and taming unwieldy hairs is essential to having great brows. Waxing, threading and tweezing are the traditional ways in which we clean up our eyebrows, but two of these options cost time and money while the other is not only annoying but can actually cause more trouble than it's worth. For those in-between visits to your waxer, for those of us that never seem to have time to make it to a waxer in the first place, and for you tweezer-happy people out there, eyebrow trimmers are a simple at-home solution to your brow maintenance needs.
THE TROUBLE WITH TWEEZING
Waxing and threading are common ways of keeping our eyebrows groomed but the trouble is the wait for your hair to grow back before you can have it done again, not to mention the cost of regularly making trips to the aesthetician. A lot of us turn to tweezing for quick up-keep when we can't make a professional appointment because it's an affordable, at-home, easy option for keeping your eyebrows clean. But easy doesn't always do it. Tweezing decreases the odds of hair regrowth, which is why girls who grew up in the thin-brow craze of the 90's often have sparse eyebrows now. Tweezing really should be exclusively reserved for hairs that you don't want to grow back, like the ones you find between your brows that cause a unibrow or the ones falling outside of your natural arch. What's more, tweezing (and waxing) can cause ingrown hairs: hairs that grow back in on themselves or sideways into the skin, below its surface. Removing ingrowns can be anything from time-consuming to downright painful.
WHAT ARE EYEBROW TRIMMERS?
Eyebrow trimmers come in various forms and, unlike tweezing, won't disturb hair regrowth or cause ingrown hairs. It's equally as cost-effective as tweezing with none of the potential side effects. You'll find two main types of eyebrow trimmers: electric devices that take the bulk away from bushy brows or handheld manual tools like eyebrow trimming scissors or eyebrow razors that can address even your arch. Electric brow trimmers are usually facial hair trimmers with an attachment for grooming eyebrows. Depending on how far you want to take your at-home grooming will inform what kind of tool you'll need.
WHO SHOULD CONSIDER AN EYEBROW TRIMMER?
Let's be honest here, eyebrows grow quickly and we all have busy schedules. But if you want your brows to be on point, you've got to keep them trimmed and groomed so they stay in place. And it's not just men that have to keep bushy brows in check. For women, getting rid of extra length defines and contours the brow shape. Eyebrow trimmers are quick and easy at-home grooming tools that help ensure your brows are clean and tidy. Sure you can use a comb and scissors, but using this method to achieve the right shape and length is more difficult than it needs to be. You also don't want to risk removing the wrong hair. Ever plucked just one hair and ruined the entire shape of your brow? Now imagine that with a scissor-full of hair.
THE BEST EYEBROW TRIMMERS
Our brows come in different lengths, widths and hair types, so our trimming needs aren't all the same. There are three basic types of trimming tools that are worth considering: the electric trimmer, eyebrow scissors and eyebrow razors.
ELECTRIC EYEBROW TRIMMERS
Electric trimmers are used specifically for trimming the bushiness out of your brow. They can be used wet or dry, and most can be adjusted to the length that you need. Electric trimmers are super easy to use and really great for those of us with thick and/or curly hair that gets out of hand quickly.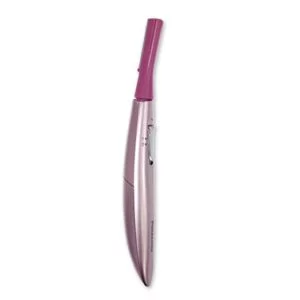 Panasonic Eyebrow Trimmer $14.95
This facial trimmer comes with two snap-on precision combs that not only trim your eyebrows but can be used for shaping as well. The super-thin hypoallergenic blades are smooth and non-irritating on even the most sensitive and delicate areas of your skin. It's an affordable option that's compact enough to fit in your purse.
---
Philips PrecisionPerfect Eyebrow Trimmer $7.95
This trimmer can be used on any unwanted hair on the lips, eyebrow, chin and face. The eyebrow attachment includes 2 and 4 mm options, depending on how short you want to take your length, and the precision trimming attachment can be adjusted to get even closer and shape your arch. This is a cost-effective option by Philips, a big brand in men's facial grooming.
EYEBROW SCISSORS WITH COMBS
These trimming tools are an alternative to brushing your eyebrow hair upward and cutting them with scissors. Instead, you can use these with only one hand to trim long, stray brows. While these take a little maneuvering to figure out how to use, they're great for traveling and work wonders once you've got them figured out.
Tweezerman Stainless Brow Shaping Scissors and Brush $14.12
Made from stainless steel for durability and low maintenance in terms of cleaning, this eyebrow scissor has a comb on one hand for brushing out your hair and a razor on the other for removing any outliers. Ergonomically designed with a comfortable handle these Seki Edge trimmers are easy to work with.
---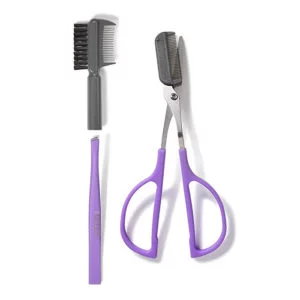 Skylab 3-in-1 Eyebrow Comb Brush and Tweezer Tool $12.99
This set covers all of your eyebrow essentials: a tweezer plus brush and comb as well as eyebrow scissors. Perfect for traveling, you can clean up your eyebrows with the tweezer, trim them with the stainless steel eyebrow scissors, tame them with the comb and blend makeup with the soft-bristle brush.
EYEBROW RAZORS
An eyebrow razor takes a little more precision, but using these babies you won't have to make a trip to your aesthetician for months at a time. Razors made specifically for your brows are incredibly inexpensive for what they accomplish: you can use these to maintain not just the bushiness of your brows but also your shape and your arch. Bonus: most of these can also be used on your lip and any delicate areas on the face!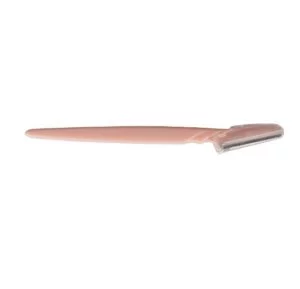 Tinkle Eyebrow Razor $2.30
Basically the OG of razors for your brow. The stainless steel blade removes unwanted hair so precisely you can use these to maintain the shape of your brows for months at a time. You can use one razor quite a few times if you keep them clean with rubbing alcohol, so a pack of three should last a few months –more than cost effective for less than ten bucks.
---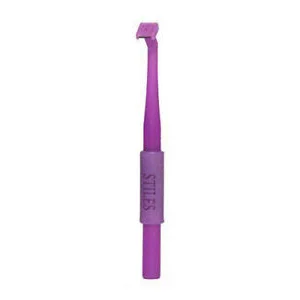 Stiles Eyebrow Razor $3.30
These Made in the USA eyebrow razors give a 1/8" shave for closeness and accuracy. It's ergonomically shaped for ease of use and boasts raving customer reviews. A little more expensive than the made in China options, the Stiles Razor is perfectly shaped for other small areas such as your upper lip so it's multi-functional.
FINAL THOUGHTS
What seems like such a little step isn't always an obvious one but keeping your brows groomed really is the frontline for great eyebrows. Whether you have bushy brows that require regular trimming or you need a little help maintaining your brows at home, eyebrow trimmers are an affordable and easy alternative to tweezing that can cause ingrown hairs and hinder hair regrowth.