Biology is biology, and we men have to face the facts. Sometimes we stink. Whether you're a hardcore lifter or you just naturally sweat a lot, body odor happens. And you want to fix it.
But how do you choose a deodorant that works for you? Or an antiperspirant that's effective? What's the difference between a deodorant and an antiperspirant, anyway?
If you're looking for a new deodorant, read on. Here's everything you need to know about choosing a men's deodorant that actually works.
DEODORANT VS ANTIPERSPIRANT: WHAT'S THE DIFFERENCE?
First of all, what's the difference between a deodorant and an antiperspirant? Well, first let's talk about sweat.
Your body was meant to sweat. It's how it regulates its own temperature and prevents overheating. Sweating is also how some toxins are released from the body. Sweat, itself, doesn't stink.
The smell we associate with body odor is actually caused by the reaction of your sweat with the bacteria on your body. Deodorant and antiperspirants handle this in different ways.
Antiperspirant prevents you from sweating. You'll stay dry all day, preventing your sweat from every reaching that bacteria. The result is two-fold: you avoid wet armpits and you stay smelling fresh as a daisy.
Deodorant, on the other hand, allows you to sweat. The way most deodorants work is that they fight to kill those nasty bacteria on your skin. Fewer bacteria means less stench. That's good for you – but it's not always so good for the soggy-pit look.
Many men choose antiperspirant over deodorant because they're embarrassed by the wet armpits. That's a double-edged sword, though. See, it's been shown that your sweat contains a natural peptide called dermcidin. Dermcidin just happens to be a natural killer of the same bacteria that cause body odor.
That said, if you allow yourself to sweat, you'll actually smell better than if you don't. But the choice is yours – you may prefer to avoid the soggy armpit syndrome altogether and opt for an antiperspirant.
ARE ALL DEODORANTS CREATED EQUAL?
Of course not! There are huge differences between deodorants. First, of course, you've got the option of choosing between a deodorant and an antiperspirant.
Then, there are natural deodorants and deodorants with synthetics. There are sprays, sticks, creams, and crystals. And the scents – if you can think of it, it's probably out there.
Then, of course, you already know that some deodorants may just not work for you. It may be the strongest, best deodorant in the world, but there's something about it that just doesn't mesh with your biology.
All deodorants are designed for one purpose: to make you feel comfortable and confident throughout the day. Let's look at how to choose men's deodorant.
HOW TO CHOOSE MEN'S DEODORANT
Obviously, the first thing you'll want to do is give your deodorant a sniff test. There are scented and unscented deodorants and antiperspirants. And if a scent turns you off, go ahead and put it back on the shelf. There are plenty more to choose from.
But there are other things to consider. Antiperspirants contain aluminum – that's the stuff that does the dirty work. Aluminum is effective in blocking your pores so sweat can't escape.
Now, there are studies being done on aluminum. Some studies have suggested that aluminum may contribute to Alzheimer's and cause trouble with your kidneys.   In fact, it's generally recommended that if you have kidney disease, you should talk to your doctor before using an aluminum antiperspirant. But it's important to note that those tests aren't conclusive.
Furthermore, some deodorants and antiperspirants contain other ingredients which are thought to be harmful. Phthalates, TEA and DEA and parabens are among them.
It's for that reason that some men opt for a natural deodorant. These deodorants typically contain essential oils as well as coconut oil, baking soda and corn starch. Those ingredients are highly effective in killing bacteria and stopping the stench – but not the sweat.
The deodorant you choose is largely left to your own preferences. Choose a scent you like, learn a bit about the ingredients, and reach for the stars. Literally. Because when you choose a deodorant that works, you won't be embarrassed to reach that high.
THE BEST ANTIPERSPIRANTS FOR MEN
Alright, so on to business. Now that you know what your sweat is for, what causes the stink and the difference between antiperspirant, it's time to look at the best antiperspirant deodorant for men.
Dove Men+Care Dry Spray Antiperspirant Deodorant $5.47
The name is a mouthful, but the product is great! As the name implies, this is a spray-on deodorant, and it gets excellent reviews. Men who have used it say it has a bit of a "perfume-y" smell, but that the scent was actually appealing.
The best part of Dove Men+Care Antiperspirant Deodorant is that it contains sunflower seed oil. Sunflower seed oil is a natural antioxidant and is also very high in vitamin E and beta carotene. When you use Dove Men+Care, you'll be doing your skin a favor.
---
Gillette Clinical Advanced Solid $10.99
Like other antiperspirants, Gillette Clinical Advanced Solid contains aluminum as the active ingredient. It's up to you to use that information as you like. What we can tell you, though, is that this antiperspirant deodorant works.
The biggest fans of Gillette Clinical Advanced Solid were the men who sweated excessively. Some claimed that they'd previously been drenched, just over the course of their commute from work. After using this product, they experienced no more issues.
THE BEST DEODORANT FOR MEN
Thinking about trying a deodorant that doesn't contain antiperspirant? We've got you covered! Here is, in no particular order, the best deodorant for men.
Every Man Jack Deodorant $5.99
Almost everyone who used Every Man Jack Deodorant loved the scent. One man said, "It made me feel like a man!" But there were other selling points the men were raving about.
First, the ingredients of this aluminum free deodorant are all natural. Every Man Jack Deodorant contains ingredients like witch hazel and aloe to soothe, and grapefruit seed extract to act as an antimicrobial. Spearmint has antiseptic properties, as does chamomile. In short, the ingredients are proven to work, and so is the product.
---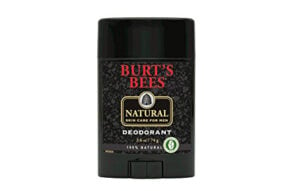 Burt's Bees Natural Deodorant for Men $22.50
You may already be familiar with some Burt's Bees products. The North Carolina based company uses all natural beeswax and botanical-based ingredients in the complete line of skin care products.
That's true for Burt's Bees Natural Deodorant, as well. This deodorant contains cornstarch as the deodorant. Plus, you'll find softening coconut oil, rosemary leaf extract and citrus oils to fight bacteria, and more. The result is an earthy, manly scented deodorant that fights odor naturally.
---
Anthony Logistics for Men Alcohol Free Deodorant $19
Sometimes the best thing about a deodorant is what it doesn't contain. That's the case for Anthony Logistics for Men Alcohol Free Deodorant.
Obviously, it doesn't contain alcohol, which can irritate the skin. But you also won't find other known skin irritants like phthalates, parabens, triclosan, GMOs or sulfates in this deodorant for men.
And, men loved it! The scent is pleasant but not overpowering, and the protection lasts all day. Men claimed that the stick was more than they thought they'd pay, but it lasted a long time.
---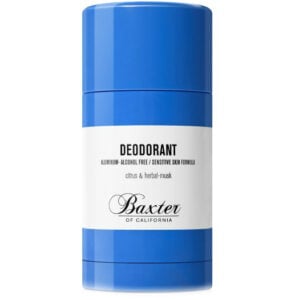 Baxter of California Citrus and Herbal-Musk Deodorant $19
Next on the list of the best deodorant for men is Baxter of California Citrus and Herbal-Musk. This is one of the most soothing, gentle deodorants ( free of both alcohol and aluminum) and also contains tons of essential oils to fight bacteria.
You'll find Tea Tree Leaf oil, which fights fungus. Chamomile has antibiotic properties. And Sea Buckthorn is ridiculously nourishing to your skin. Check out the complete list of ingredients – there's too much good stuff in this product to list it all here.
---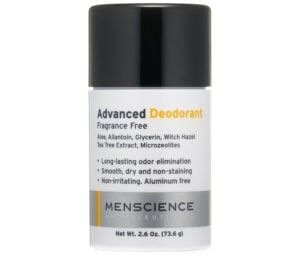 MenScience Androceuticals Advanced Deodorant $19
MenScience Androceuticals is simplicity at its best. It's a dye-free, fragrance-free deodorant for men that conditions as it protects from odor.
You'll find aloe, witch hazel, and glycerin in this deodorant, which means less dry, itchy skin. Plus, of course, you'll be naturally odor-free!
---
L'Occitane Aluminum Salts Free L'Occitan Deodorant $19
L'Occitane is well known as a premium brand. And many L'Occitane products come at a premium price. But, that said, it's because L'Occitane products work so well.
Men who used L'Occitane Aluminum Salts Free Deodorant were blown away by the scent of the product. They said it's a bit floral, but still smelled masculine. One of the best aspects of this deodorant for men is that there's no alcohol. It does take a little longer to dry, but it won't dry out your skin.
---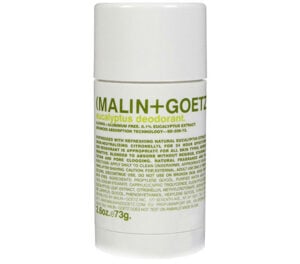 Malin + Goetz Eucalyptus Deodorant $39.50
Last but not least on our list of the best deodorant for men is Malin + Goetz Deodorant. And trust us, you're going to love this one.
Not an antiperspirant, Malin + Goetz is aluminum free. The deodorant contains refreshing menthol and boasts a musky, woodsy scent. Best of all? It works. Men who used it say it lasts all day, keeping them smelling like they'd just stepped out of the shower.
FINAL THOUGHTS
No two deodorants are created equal. But then again, no two men are, either. Whether your preference is an antiperspirant to stop sweat dead in its tracks or a natural deodorant made with essential oils, you're sure to find a deodorant you love on this list of the best antiperspirants and deodorants for men.