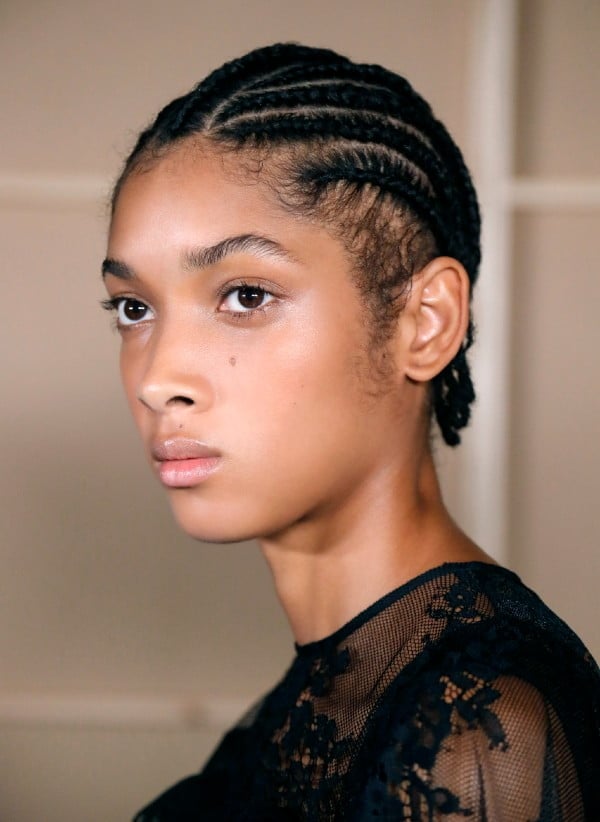 Retinol, tretinoin (Retin-A), and Differin are great steps for those looking to improve their skin's tone and texture, as long as you are taking the proper precautions. If you are currently using or plan on using a product within the retinoid family, it is super important to adopt a diligent sun protection (aka sunscreen) regimen. Our rundown below covers all the best sunscreens for retinol, tretinoin  (Retin-A), and beyond
WHY SUNSCREEN IS IMPORTANT TO USE WITH RETINOL & TRETINOIN
Although retinoids have multiple skin-beneficial benefits such as helping to minimize fine lines and wrinkles due to their collagen-producing abilities, they can also increase your skin's sensitivity to the sun. The increased cell turnover caused by retinoids use allows newer skin cells to resurface. Without protection, these cells can burn more easily. An effective sunscreen will not only help protect skin from a nasty sunburn but will also reduce the breakdown of the retinoid structure, thereby preserving the efficacy of your retinoid products.
TIPS FOR USING SUNSCREEN WITH RETINOL OR
TRETINOIN
When pairing sunscreen and retinoids, there are a couple of things you should keep in mind in order to ensure you are keeping your skin healthy:
Use broad-spectrum SPF of at least 30 for maximum protection
Reapply, reapply, reapply! Make sure you are re-upping on sunscreen every 2 hours.
Avoid prolonged sun exposure. Due to your skin's increased skin sensitivity, being under direct sunlight for extended periods of time while using retinoids is not advised.
As a general rule of thumb, sunscreen formulas that use physical (mineral) sun protection agents like Titanium Dioxide and Zinc Oxide are often the way to go as they also tend to be less irritating – perfect for sensitized skin.
 Try and find a moisturizing formula as retinoids may make skin flaky something only accentuated by drying formulas.
`12+ BEST SUNSCREENS TO USE WITH RETINOL & TRETINOIN
If this is all starting to seem a bit daunting, not to worry! We have got you covered! Below we have provided you with our take on the 12+ best sunscreens to use with retinol, tretinoin, and other retinoids.
Juice Beauty Stem Celluar CC Cream SPF 30 $39
If you're looking for more full coverage, the Juice Beauty CC cream with SPF 30 could be just what you've been searching for! Made with aging skin in mind, this formula contains a blend of ultra-hydrating ingredients like aloe leaf juice and organic coconut juice to improve the skin's look and texture. Antioxidant-rich nutrients like organic apple and white grape juices protect against environmental damage, decreasing the likelihood of fine lines and wrinkles forming.
---
Ava Isa Sun-e-Serum Drops SPF 35 $45
Trying to stay protected without feeling greasy all day? Ava Isa's sun serum was made for you! Formulated with zinc oxide and Micah, this sunscreen can deliver a light and silky smooth finish that won't bog you down. While the antioxidant properties of this serum help to maximize protection against UVA and UVB rays, the inclusion of zinc oxide makes it compatible with sensitive skin. Since zinc oxide sunscreen does not penetrate the skin, but rather sits on top of it to create a barrier, it will not cause irritation or harsh side effects that may arise otherwise.
---
Ren Clean Skincare Mattifying Face Sunscreen SPF 30 $38
A 100% clean, vegan option from REN Skincare that can mattify skin and reduce the appearance of pores! The inclusion of rice starch to minimize oil and shine make this sunscreen perfect for those with oily skin, while the yellow passion fruit seed extract in this formula can protect against free radicals and air pollution. An added bonus we love about this brand is that all of their packaging is totally recyclable as part of a pledge to be zero waste by 2021!
---
Supergoop Zincscreen 100% Mineral Lotion SPF 40 $42
This pink-hued, mineral sunscreen is formulated with acne-prone and sensitive skin in mind. A gentle blend of ingredients like winter cherry, blueberry extract, and coconut fruit extract delivers lightweight hydration while non-nano zinc oxide protects against UV rays, infrared radiation, blue light, and pollution. The light pink tint also helps by removing the all too familiar white cast some other sunscreens that can have you looking rather ghostly.
---
EleVen Unrivaled Sun Serum SPF 35 $50
If anyone knows a thing or two about sun protection, it is sure to be a tennis superstar! This sun lotion from pro-athlete Venus William's brand EleVen provides a feather-light feel that is compatible with all skin tones. Developed as the last step before you apply makeup, it's a serum that can provide a velvety smooth, demi-matte glow. Additionally, the use of prickly pear extract can not only moisturize but also soothe irritated skin.
---
Suntegrity 5 in 1 Natural Moisturizing Face Tinted Moisturizer SPF 30 $45
In a rush to get out the door and start your day? This multi-tasking sunscreen could be the one-and-done product you need to simplify your skincare regimen. The tint in Suntegrity's 5 in 1 face sunscreen means you can get light, silky smooth coverage while also providing your skin with Broad Spectrum SPF 30 protection. This formula's use of cucumber, pomegranate, and green tea also supports a vibrant, glowing complexion to enhance your skin.
---
Kinship Self Reflect Sunscreen SPF 32 $25
It is not difficult to see why the Self Reflect sunscreen is an award-winner and bestseller! Recommended for use on blemish-prone skin (although compatible with all skin types), this lightweight and hydrating cream can leave skin with a radiant glow. Kinship includes their own plant-based probiotic in this formula to balance pH and promote a strong skin barrier to avoid damage from irritants, as well as including turmeric, an ingredient with antiseptic and antibacterial properties to reduce the occurrence of breakouts and acne.
---
Ilia Beauty Super Serum Skin Tint SPF 40 $46
One of the more well-known brands on our list, Ilia Beauty is a skincare powerhouse with a long list of achievements to prove it. This skin tint alone has won 9 awards! Created with hyaluronic acid, squalene, and niacinamide to brighten and even tone, while decreasing the appearance of dark spots and blemishes, this product is impressive to say the least. As an added bonus, it's free of fragrance, silicone, oils, and chemical screen, making it a great option for all skin types.
---
MDSolarSciences Mineral Creme SPF 50 Sunscreen $30
This sun lotion boasts one of the highest SPFs on the list also, it's water-resistant! If your skin is extra sensitive to your retinoid lotions or gels, this could be a perfect fit for you as it ensures optimal protection from UV rays while preventing the inhibition of the retinoid's benefits. Plus, MDSolarSciences' completely sheer, lightweight formula gives you a smooth matte finish without any white cast.
---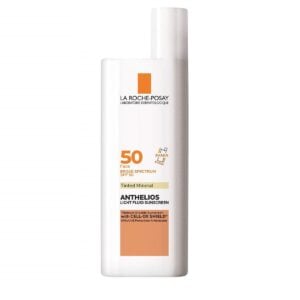 La Roche-Posay Anthelios Tinted Mineral Ultra-Light Fluid Broad Spectrum SPF 50 $33.5
One of the only titanium dioxide-based sunscreens, this mineral formula from La Roche-Posay is highly recommended by customers and dermatologists alike. Titanium dioxide provides full protection against UVB rays although, unlike zinc oxide-based formulas, can falter against UVA rays. The good news is, the Anthelios tinted sunscreen is supplemented with Cell-Ox Shield Technology in order to ensure that your skin is safe against all UV rays. Another thing we love about this blend is the fact that it comes in one universal tint to match every skin tone, allowing you to avoid the tricky process of color-matching the product in-store.
---
Skin Medica Essential Defense Mineral Shield SPF 32 $30
Made with a blend of titanium dioxide and zinc oxide, the Essential Defense Mineral Shield from Skin Medica provides a light tint to deliver a creamy, soft finish. While other mineral sunscreens can often leave darker skin tones looking purple or blue due to the natural tint of the formula, the use of micronized zinc oxide in this product ensures an even coverage that is suitable for everyone! Additionally, the inclusion of caffeine and antioxidants can supplement and maximize the rejuvenating properties of your retinoid products.
---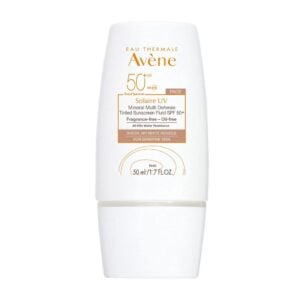 Eau Thermale Avene Solarie UV Mineral Multi-Defense Tinted Sunscreen Fluid $32
Harnessing a trio of powerful nutrients, this lotion from Avene delivers a plethora of benefits that you can love. While niacinamide works to improve skin tone and texture, Avene thermal spring water softens and refreshes the skin. Bisabolol and allantoin, two compounds that are a real mouthful to pronounce, also help by gently soothing any irritation on your skin. Notably, this product boasts an impressive 200% increase in antioxidant protection!
---
Glytone Hydra-Lipid UV Mineral Sunscreen Broad Spectrum SPF 50+ $36
Developed for dry skin, The Hydra-Lpd Mineral Sunscreen touts a long list of potent ingredients aimed at reducing skin damage including hydrating Squalane, dark-spot fighting Niacinamide, and moisture-boosting Hyaluronic Acid. This moisturizing sunscreen is marketed to use Active Stress Defense Technology to create a protective layer over the mineral filter, effectively reducing the development of free radicals and the occurrence of skin damage by 181% as compared to sunscreens without this technology.
FINAL THOUGHTS
We cannot overstate the importance of sun care, regardless of whether or not you plan to use retinoid-based products, although paying special mind to your sunscreen when you do use them is of utmost concern. Not only does sunscreen diminish the possibly harmful side effects of retinoids like Retinol and Tretinoin, but they also maximize the benefits by minimizing damage to the skin. All of our picks have strong protection against UV so there's really no excuse not to get serious about your skin's health ASAP.