As many of you know, Argan Oil's nourishing properties make it a very popular when it comes to personal care products like moisturizers for the skin or conditioners for the hair. Extracted from kernels of the namesake's (Argan) Tree the ingredient contains among other things the likes of Vitamin E, Fatty Acids such as Omega-6 and Linoleic Acid,  all of which are beneficial for improving the way both the skin and hair look and feel. What you might not have known is that the benefits that Argan Oil provide extend to your beard making it an excellent addition to your grooming routine.
BENEFITS OF ARGAN OIL FOR YOUR BEARD
The emollient-nature of Argan Oil helps to lock in moisture into your beard not only boosting hydration levels but also resulting in one that is softer, shinier and also healthier in general.  In other words…say bye to irritated skin and beardruff.
The antioxidants in Vitamin E are linked to cell regeneration and, in turn, may promote healthy hair growth and maybe even regrowth to help you grow a fuller beard.
Argan oil is considered to be "non-comedogenic" as well as anti-inflammatory meaning even though it moisturizes it will sooth the skin, and won't break you out (weird we know!).
The smell of Argan oil, well the type used for the cosmetics, is light and it leaves your beard smelling pleasant (but not in an overwhelming way).
IS THERE ACTUALLY A DIFFERENCE BETWEEN PURE ARGAN OIL FOR HAIR, SKIN OR FOR THE BEARD? 
So if you're using cosmetic-grade Argan oil, there is no real no difference between the types marketed for hair, skin, and beards- the big difference comes in when you think about the type used for Culinary (cooking) purposes.  Although high-quality grade oil can be found for both types, the type of Argan oil used when you cook actually is processed by roasting, which enhances its natural taste. On the other hand, when picking an Argan oil used for beards and other cosmetic purposes look for one that is "cold-pressed" an extraction method that allows maximum nutrient retention.
HOW TO USE ARGAN OIL FOR YOUR BEARD?
So Argan Oil is beneficial to your beard – awesome!  But now what? Below we cover some easy ways for you to consider in order to incorporate Argan Oil into your beard grooming routine.
AS A BEARD WASH
To be honest we wouldn't recommend using pure Argan Oil as a beard cleanser because it is exactly that: oil, that would leave your beard looking greasy as f and also most likely make a mess of your shirt collars. Instead, consider an Argan Oil beard wash, or if you don't mind the extra work mixing a few drops of Argan oil with your regular cleanser each time you use it.
AS A DAILY BEARD CONDITIONER
If you are considering using Argan Oil as your daily go-to, take a few drops of Argan Oil (a dime-sized amount should suffice) and rub it between your palms to heat it up and then apply it to your beard and the skin around it – making sure to spread it evenly. You may want to follow the application with a comb to ensure you are getting full coverage from the tip of your hair to the follicle.  Pro-Tip: when it comes to using Argan Oil daily a less is more approach should be considered as you don't want to overdo it and end up with a greasy hair situation.
AS A BEARD MASK
For those of you who don't usually like the way beard conditioning products feel, consider a mask which is a good middle of the road option between nothing and leaving something on all the time. It's important to note this is something you'll want to do no more than 2-3 times per month (to avoid that greasy hair situation).
In terms of quantity, you'll have to experiment to figure out how much oil your beard actually needs as it depends on length and fullness, whatever the case is make sure your beard is heavily coated.   Just like with the daily conditioner recommendation make sure to warm up the Argan Oil in your palms first before moving forward with the same application process as per above.  The main difference is that in this case keep the warmed oil on for 30-60 minutes and then wash it out with shampoo and lukewarm water.
AS A GROOMING PRODUCT
If none of the above seems appealing to you consider applying Argan Oil for beard styling on special occasions as it'll help tame any flyaways or frizzy hair.  Use a few drops keeping to that less is more approach and the same application method as per above.
WHY CONSIDER MIXED FORMULA BEARD GROOMING OILS?
Below we look into some of the other popular ingredients that you should be on the look out for:
JOJOBA OIL
Weirdly enough Jojoba Oil isn't really an oil at all, it's actually a skin-identical (something our own body produces) liquid wax ester.  Although for all intensive purposes, it's the same thing so will have very similar benefits like helping to condition and softens your beard as well as the skin beneath it. As Jojoba Oil is "non-comedogenic" it's not supposed to clog pores or cause breakouts/acne. Finally, if you're looking to grow your beard out, the ingredient is known for it's strengthening properties not only preventing breakage but also helping the actual structure of the hair follicle and shaft.
AVOCADO OIL
Rich in Vitamins A, B and C, as well as minerals, essential fatty acids and Antioxidants Avocado Oil helps to reduce inflammation. By nourishing your beard Avocado oil will help to prevent dryness and itch resulting in a decrease in skin flakes as well as beardruff.  The ingredient is also known to be skin-balancing as it helps to restore pH levels and like other plant oils makes hair softer and shinier.
SKIN BUTTERS
Not only do skin butters like Cocoa, Mango and Shea help to boost the moisture retention efforts of the skin's barrier by sealing it off but they also help protect it from environmental damage.  It's important to note that if you're prone to breakouts it may be best to avoid these types of ingredients as they may be too rich for your skin.
RECOMMENDED PRODUCTS
Poppy Austin Argan Oil $21.50
If pure Argan Oil is what you're looking for, Poppy Austin offers this unrefined, cold-pressed and 100% organic product. Harvested in small batches to maintain freshness, this Argan Oil is produced by one of the oldest women's co-operatives in Morocco, making for not only a high quality product but a sustainable one as well.
---
Honest Amish Classic Beard Oil $13.38
This beard oil contains Argan Oil as a premiere ingredient along with Avocado, Jojoba and five other natural oils. All of these organic oils provide nourishment and hydration to keep your beard free of itch, irritation and flakes while improving its health in general.
---
One N' Only Oil Treatment $7.79
Meant for after shampooing and while hair is still damp, One N' Only's Argan treatment works great as a leave-in that helps tame frizzy beard hair and protects against damage. Massage this non-greasy, alcohol-free treatment into your hair and skin for a glossy finish and deep conditioning.
---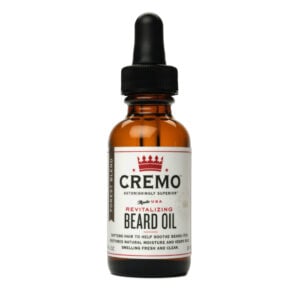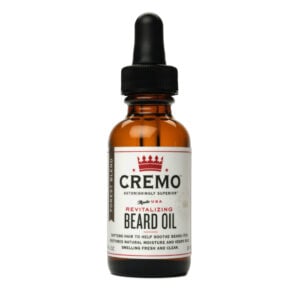 Cremo Unscented Revitalizing Beard Oil ($8.52)
All five of the natural oils used in this beard oil, including Argan, Jojoba and Avocado oil, work to restore moisture, promote a healthy environment for beard growth and reduce itchiness and flakes. Creamo's beard oil is also unscented, unlike many of the beard oils out there, so it helps minimize irritation for those of you sensitive to fragrance.
---
Mount Beardmore The Entrepreneur Beard Oil $16.32
Formulated with Virgin Argan Oil as well as eight other premium grade oils that strengthen, hydrate and tame fly-away beard hair, this very popular beard oil leaves no mess and no residue, so it can be used as only a moisturizer as well as a beard oil.
FINAL THOUGHTS
Argan oil is a natural ingredient that delivers on all front including smelling great and just leaving your beard softer in general. Argan oil will prove to be an important part of beard grooming whether it's used as a primary ingredient in a high-quality oil or even in its pure, unrefined form.