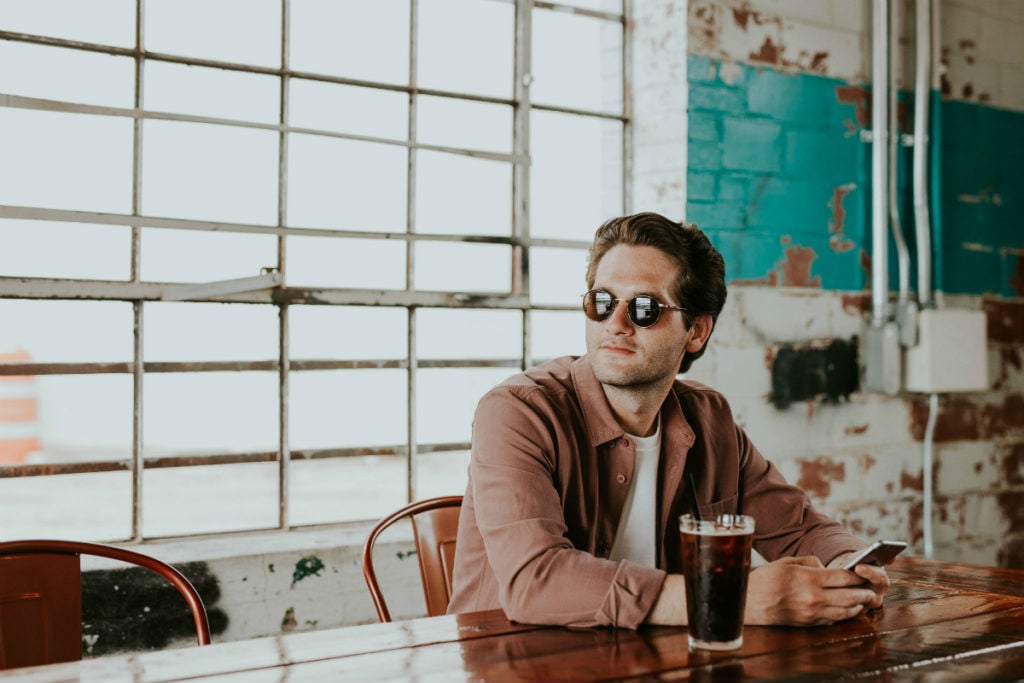 In the United States, about 92,000 new cases of melanoma will be diagnosed. In over 9,300 cases, it's fatal. And, of those 9,300 fatal cases, 6,000 victims are men.
Think about it – women have the upper hand when it comes to skin cancer. Their cosmetics often contain sunscreen, and fewer women than men work in roofing, construction, landscaping and other outdoor professions.
Men, we need to start wearing sunscreen. It's not just cosmetic, it's a matter of health. Here's how to choose the best sunscreen for men.
WHY DO I NEED A SUNSCREEN?
Obviously, you do. Whether you're a park ranger or a proctologist, you get some exposure to the sun. And you don't have the benefit of cosmetics to protect you from the sun's harmful rays.
Melanoma isn't the only result of too much sun exposure. Ultraviolet rays from the sun also cause wrinkles, brown spots on your face, and blotchy veins which are visible on your complexion.
"But I need Vitamin D!" you say. Yes, you do. But did you know that most people can fulfil their requirement of Vitamin D with just 10 minutes of sun exposure each week?
Check with your doctor, too. Some medications can actually make exposure to the sun even more harmful. Certain antibiotics and even facial cleansers can make you more vulnerable to harmful UV rays, in which case it's even more important to wear sunscreen for men!
Sunscreen isn't just for kids and women. You need sunscreen, too.
WHAT IS SPF?
 SPF stands for sun protection factor. As you shop for sunscreen for men's face, you'll see different SPF levels, ranging anywhere from 4 to 60. So how does the scale work?
It's complicated. Let's say that you normally burn after 10 minutes in the sun. An SPF of 15 would allow you to stay in the sun for 15 times that long.
But that's not to say that an SPF of 40 would allow you to stay in the sun all day. To put it simply, here's a handy chart for you.
Sunscreen with an SPF of 15 blocks about 93% of the sun's rays
SPF 30 blocks about 97%
SPF as high as 50 blocks 98%
It's important that, regardless of the SPF you choose, you reapply your sunscreen regularly. Sweating can cause your sunblock to wear off. Normal actions, like wiping your brow, can as well.
THE BENEFITS OF A DAILY SUNSCREEN FOR MEN 
So what's the benefit of wearing a sunscreen every day? What if you're indoors? What if it's cloudy?
Obviously, if you never leave your house your need for sunscreen is really small. But if you're going to be outside at all, a sunscreen is important.
First of all, there's the obvious benefit of protection against the sun. But the best sunscreen for men's face also contains moisturizers and other helpful ingredients. Not only will the sunscreen help prevent the sun from causing wrinkles but your product is likely designed to reduce the appearance of fine lines and wrinkles, too! Double bonus!
HOW TO CHOOSE A SUNSCREEN AS A MAN
How should you choose sunscreen for men's face? You'll have to think about what you want it to do. There are tons of products on the shelves, and those products offer different features and benefits.
You'll find men's oil free facial sunscreen, facial sunscreen spray, roll-on sunscreen and just about every other format you can think of.
Are you going to be outside all day? Choose a sunscreen without a lot of oils that you can reapply regularly without clogging your pores.
Going to be sitting behind a desk? A facial moisturizer with an (even small) SPF component should work just fine for you. No matter what you do for a living, be sure that you reapply your sunscreen as needed throughout the day.
You should also make sure to pick out a broad-spectrum sunscreen as these protect against the entire range of UV rays covering both the types that burn you as well as those that result in skin aging (lines, sun damage, sagging, etc).
THE BEST BROAD-SPECTRUM SUNSCREEN FOR MEN'S FACE 
Okay! So, on with business. What's the best men's facial moisturizer with sunscreen? And what's the best men's sunscreen overall?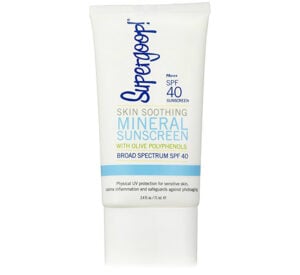 Supergoop! Skin Soothing Mineral Sunscreen $28
It may be called Supergoop, but it's anything but goopy. This men's sunscreen goes on light and is easy to spread. It's got an SPF of 40, so it's great even for men who are outdoors all day.
In addition to the sunscreen benefits, Supergoop! contains some other pretty rad ingredients. There's sunflower oil, which is rich in smoothing Vitamin E. Then, there's olive extract, which will also keep your skin super soft.
---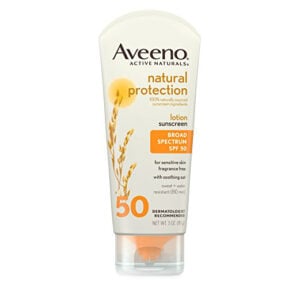 Aveeno Natural Protection Oil-Free Mineral Sunscreen $10.15
You know Aveeno. They're the oatmeal people. So of course, this SPF 50 sunscreen contains oat extracts, which are very moisturizing and soothing to the skin.
The best part about Aveeno Natural Protection is that the ingredients are all sourced – you guessed it – naturally! You won't be smearing weird chemicals onto your face. Instead, your skin will benefit from ingredients like fruit extracts and beeswax.
---
Coola Suncare Mineral Face SPF 30 Sunscreen $36
Get ready to block 97% of the sun's rays! Coola Suncare Mineral Sunscreen has an SPF of 30, and the ingredients will make your skin feel like you've just stepped out of the shower. In this sunscreen, you'll find:
Cucumber extract
Evening primrose oil
Linseed oil
Shea butter
Glycerin
The only thing you need to keep in mind about this sunscreen for men is that it's lightly tinted. That's great in that it will help to even out your skin tone as you wear it. But on the other hand, be sure the sunscreen doesn't make you look as if you've painted your face.
---
Jack Black Sun Guard Sunscreen – SPF 45 $21
Jack Black Sun Guard gets excellent reviews by men who have used it. Reviews of this sunscreen for men say that it's light and oil-free, and that it doesn't smell like a perfume factory. They also say that it's easy to rub in, despite the initial, white, appearance.
On top of the SPF protection, you'll get the additional benefits of Edelweiss extract, a naturally anti-aging plant product. There's also soothing plantain and marigold extracts in the sunscreen. The best part? It's super-water resistant. Even if you're working in the water or sweating heavily, you'll find less need to reapply than with other sunscreens.
---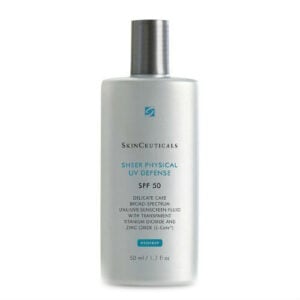 Skinceuticals Sheer Physical UV Defense SPF 50 $50
This guy's one of the best men's facial moisturizer with sunscreen products available. First of all, it's completely transparent. You won't have to rub the sunscreen into your face for fifteen minutes to make it disappear.
Secondly, it's got this ingredient called artemia extract in it. Artemia is a plankton that's been shown to protect your skin from heat stress. There are synthetics in the sunscreen, too. But the synthetics that are included are designed to fight the signs of aging, like fine lines and wrinkles.
Reviews of this sunscreen are great, and most rave about the staying-power of the product as well as its suitability for sensitive skin.
---
Derma E SPF 30 Baby Natural Mineral Sunscreen $19.95
Yes. We know. You're a grown man. But if you're looking for a product that's both effective and gentle on your skin, Derma E SPF 30 is the way to go.
Designed for the sensitive skin of the little ones, Derma E is completely plant-based. There's coconut extract, which itself contains SPF properties. You'll also find green tea extract, marigold, chamomile, vegetable glycerin and plenty of Vitamin C to fight free radicals.
You're not a baby. But that doesn't mean you can't baby your skin.
FINAL THOUGHTS
 Who needs sunscreen? You need sunscreen. Men don't have the benefit of wearing SPF-laden makeup like women do. So it's even more important that we protect our skin from UV rays with a sunscreen for men.
It's simple to do – just incorporate a bit of sunscreen into your morning routine and toss a tube in your briefcase. Keeping sunscreen for men applied can mean the difference between good health and bad.