If you've been skipping the toning component of your skincare routine, you need to reconsider. Although there's a lot of misinformation out there about the exact role of toner, we're here to tell you that it's an essential part of any complete routine. After cleansing but before moisturizing, your toner serves an integral purpose in maintaining radiant skin.
Toners were originally formulated to restore pH balance after soaps and harsh cleansers strip your skin of its natural and necessary oils. They were also the intermediary before moisturizing which allowed your skin to best absorb the items that came next. But the ingredients in the toners of today serve multiple purposes: they shrink the appearance of pores, cleanse the skin of any leftover makeup or debris, hydrate, help with oily skin, and protect.
But for a toner to fulfill its role as a cleanser, hydrator, and protector, you need the right ingredients. And by the "right" ingredients, we mean the organic ones. Below you'll find a list of the best organic and natural toners – all of which contain antioxidants, vitamins, and cleansing ingredients with none of the additives.
BEST CLEAN, NATURAL AND ORGANIC TONERS
After cleansing and before moisturizing, pick from these top 11 best natural toners and re-balance your skin no matter what your skin type.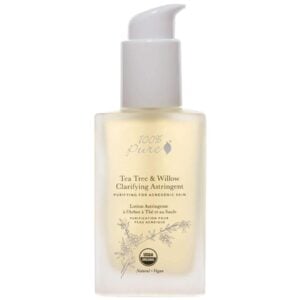 100% Pure Willow Clarifying Astringent $39
A potent cleansing agent that's good for all skin types but especially good for breakout-prone skin. Anti-bacterial and antiseptic herbs soothe inflammation and also purify pores of dirt, oil, and debris leftover from makeup or sunscreen. And to restore balance and moisture while cleansing the skin surface, this cult-favorite natural toner has both hydrating hyaluronic acid and a special form of algae that prevents dryness.  Another option is 100% Pure's Fermented Rice Water Toner ($42) to brighten, tone, and soften the skin.
---
Josh Rosebrook Daily Acid Brightening Toner $29
Josh Rosebrook's Daily Toner, may be award-wining but we know what you may be thinking… toner with acid? Isn't that harsh? Well, not when the pyruvic, malic, citric, and glycolic acids are derived from a safe and gentle blend of fruit and flowers to exfoliate dead skin cells. These acids do more to bring balance to the pH of your skin than anything else, and they combine with Hyaluronic acid, Irish moss, and sea kelp to deliver all the power all the brightening benefits this toner is known for with all soothing even sensitive skin craves.
---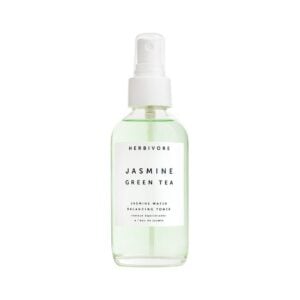 Herbivore Botanicals Natural Jasmine Green Tea Hydrating Spray $22
You won't find a single synthetic ingredient in the popular formula for Herbivore's balancing toner. They've left out all things man-made in favor of the healing, toning, decongesting properties of various natural items. Among all the leaf, bark, and flower extracts and oils are the two ingredients to which this toner owes its name: jasmine and green tea. Green tea balances excessive oil production while jasmine water heals the skin and leaves behind a dewy, glowy complexion. Together, their fragrances will leave you feeling (and looking) rejuvenated.
---
Beauty Chef Probiotic Skin Refiner $75
The founder of Beauty Chef believes that beauty begins in the belly and that's the ethos behind every one of their probiotic powerhouse formulas. In this fan-favorite skin refiner, you'll find natural and organically grown ingredients that are good enough to eat: grains (wheat, rye, and oats), grasses (alfalfa and barley), algaes (chlorella, spirulina), seeds (flax, buckwheat, millet), legumes (mung beans, chickpeas, lentils), honey, agave, land lemon juice.  Other skin-beneficial ingredients include repairing Lactobacallis Probiotics that help strengthen the skin's barrier & bio-fermented Lactic acid to gently remove dead skin.  As good for the outside of your body as they are for the inside, the ingredients work together to clarify, hydrate, and refine skin like a gentle exfoliator.
---
Uma Ultimate Brightening Rose Toner $65
Uma's small-batch formula is inspired by ancient ayurvedic recipes. Follow this toner up with your favorite face oil for the perfect restoring nighttime skincare routine. Uma expertly merges the clearing properties of papaya with the pH balancing properties of watermelon and tomato to create a toner that targets blemishes as well as pigmentation, skin texture, and fine lines. You'll also find some of the most precious essential oils in this toner, including sandalwood, and frankincense.
---
Maya Chia The Optimist Hydrating Brightening Essence $58
This brightening essence toner delivers ultra-hydration to skin that's left depleted after cleansing in order to deliver glowing skin. To achieve that, it combines moisturizing ingredients that also encourage the skin's natural ability to hydrate itself, including a proprietary blend of antioxidants, amino acids, phytonutrients, and fatty acids. Have a look at the ingredients list on this toner and you'll find the essential hydrators like aloe and coconut oil,but you'll also find certified wildcrafted and organic ingredients rich in antioxidants ranging from chia seed, rice, white tea, and licorice extracts. Other key ingredients to look out for are radish root ferment and Lactobacillus both know for their soothing effect on the skin.
---
Odacité Rose Neroli Hydra-Vitalizing Treatment Mist $39
The astringent features of aspen bark are united with the skin clarifying properties of neroli oil to restore the well being of your skin, minimize pores and blemishes, and restore your luminosity. Rosewater balances the appearance of oil for a dewy finish and it's safe and effective on normal to sensitive skin.
If you suffer from dry skin – and that's what's kept you from using a toner –Odacite's Aloe + Immortelle Hydra-Repair Treatment Mist ($39)  formula contains hyaluronic acid to protect your skin's natural moisture barrier and also locks in hydration with aloe vera and other repairing ingredients.
---
MUN Anarose Hydrating Rose Toner $65
Made with a high concentration of the natural exfoliant willow bark, the MUN calming toner balances its cleansing properties with naturally soothing and calming flower extracts like rose, jasmine, and daisy. Tested for a perfect pH range of 4.5-5, it's effective for preparing all skin types to receive the nutrients of your face serum or moisturizer.
---
Ayuna The Facial Low $96
You could call this a toner, but you'd be selling it way short of what it deserves. It's part toner and part refining serum, part lotion and part powder, and it's formulated with ingredients that deliver more than what you could ask from any one of those alone. Including what we think seals the deal in terms of bringing balance to your pH: that is, a 20% triple acid blend of raspberry vinegar, glutamic acid, succinic acid, and prebiotic noni fruit stem cells.
---
Eminence Organic Skincare Neroli Age Corrective Hydrating Mist $26.90
Specifically formulated to target the visible signs of aging in mature skin, this organic toner adds yet another benefit to using a toner: tightening, firming, and restoring skin elasticity with the miracle that is neroli oil and a retinol alternative complex. While it works that magic, coconut milk moisturizes, carrot delivers vitamin A, and swiss green apple boosts your body's ability to heal.
Eminence also offers the Stone Crop Juice Toner ($30), which gives you exfoliating power but with the added benefit of improved hydration and skin tone.
---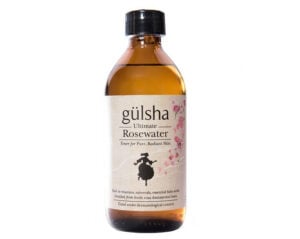 Gulsha Ultimate Rosewater $16
You don't need anything else when you have 100% natural pure rose water. Rosewater is an ancient skincare product that delivers antioxidants, essential fatty acids, and vitamins to the skin while at the same time providing a soothing sensation and aroma. Gulsha's popular formula extracted these benefits from rosa damascene flower, a superior rose that cleans, nourishes, and tones. Other key benefits of the toner are that it is paraben and sulfate-free and made without synthetic colorants or perfumes.
---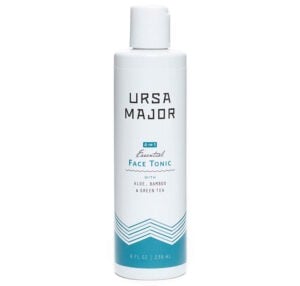 Ursa Major Essential Face Tonic $26
Sometimes, a lot of ingredients is a good thing. Such is the case with this facial tonic that's packed with 30 natural ingredients that condition, brighten, exfoliate and hydrate. Created for men and women with all skin types, Ursa Major's advanced and expert formulations harness the capacities of items like sugarcane, birch sap, willow bark, and super gentle aloe.
---
Kahina Giving Beauty Toning Mist $46
99.98% of this formula comes from a natural origin and more than 90% are organically farmed. With ingredients that gentle, you can use this toning mist after cleansing and also throughout the day whenever your skin needs refreshing. It helps calm skin irritation and replenishes moisture loss, the latter mostly accomplished with Moroccan desert rose – a plant accustomed to thriving in dryness.  The toning mist comes chock full of plant extracts including white tea to fight oxidative stress and antioxidant-rich alfalfa extract.
---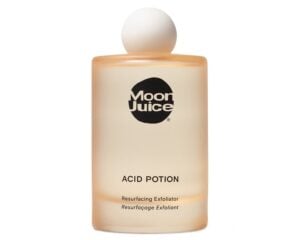 Moon Juice Acid Potion $42
AHA and BHA are natural exfoliators, that are also known as alpha-hydroxy acids and beta-hydroxy acid. Moon Juice's deeply nourishing formula, has 5 of these acids to bring about power-charged gentle exfoliation leaving skin smoother with an ethereal glow. Other skin-beneficial ingredients included in the exfoliating toner are niacinamide, plant-based oils from the likes of rice bran oil, and adaptogenic reishi mushroom extract that all help hydrate heal and provide powerful support against free- radical damage.
INGREDIENTS TO AVOID IN CLEAN, ORGANIC & NATURAL TONERS
Unless your toner is marked with a USDA certification for 100% organic ingredients, you can't count on the product being 100% organic. On top of that, the word "natural" means basically nothing in labeling. A product can be marked as natural but because the use of that word isn't in any way regulated, non-natural or synthetic ingredients can make their way into something you thought was good for your skin.
That's not to say it's not good for your skin. But telling the difference between the ingredients you want and the ingredients you don't takes knowing what to look for. To help you with that task, we've created a quick list of the most common, potentially harmful ingredients found in toners. If you see any of these on the ingredient list, your toner is doing you more harm than good.
#1 Toners made with "bad" alcohol dry out the skin. By bad alcohols, we mean benzyl alcohol, ethanol/ethyl alcohol, denatured alcohol, isopropyl alcohol, and SD alcohol. It's particularly disruptive for people with oily skin because removing with alcohol breaks down the skin barrier and contributes to breakouts, susceptibility to damage, as well as the visible signs of aging. On the other hand, fatty alcohols such as cetyl and stearyl alcohol actually have emollient (moisturizing) properties, so are beneficial for the skin.
#2 Petroleum-derived ingredients are common in toners. Petroleum ingredients are derived from the same thing that's used to gas up your car, so it's likely not something you want to put on your face. Besides that ick factor, they block the pores and don't allow them to breathe naturally. Although they may make your skin feel hydrated, the barrier they create over your pores is unhealthy.
#3 Fragrance is a common ingredient in too many hair and skincare products to name, but it's worth mentioning here, too. Synthetic fragrances can contain hundreds of chemicals, none of which need to be disclosed thanks to patent laws that protect their disclosure as "trade secrets". We want to know every single item in our products, which automatically disqualifies products that add this in sneakily.
HOW TO USE A TONER
Like any skincare product, there's a right way to use toner. Using your toner correctly will maximize its effectiveness and give you the best results.
Step One: Cleansing.
It's imperative that you clean your face before you use your toner. Why?
First of all, one of the primary intentions of a toner is to restore pH after you cleanse your face. It was literally made to be used as step 2 of your skincare routine. Secondly, makeup, dirt, and grease can block the active ingredients of toner from reaching your skin's surface. You need to clear all of that away to ensure your toner can do its job.
Be sure you're cleansing and rinsing with lukewarm water. Using water that's too hot can have a drying effect and even break capillaries. Using water that's too cold, on the other hand, tends to make your pores close, so your cleanser can't clean inside of them.
Step 2: Dry your skin.
Allow your skin to dry before applying your toner. You don't want to dilute the toner with any moisture leftover on your skin, you want maximum effectiveness.
You don't have air dry the skin but be sure to dab at it with a gentle clothe rather than rubbing.
Step 3: Apply toner.
It's best to use toner with a cotton ball or reusable round. You can dampen the cotton ball/reuseable round with your toner (don't soak it, because that's unnecessary), and then apply it to your entire face. Don't forget to include the neck and avoid the eye area (and never tone over your lips).
If you prefer, you can also put your toner into a misting bottle and spray it onto your face. We like this method because it feels refreshing. Just be sure you're applying it evenly.
Step 4: Follow up with the next step.
Allow the toner to fully dry on your skin before moving onto the next step of your skincare routine. If you have a simple skincare routine, the next step is moisturizer. But if you have serums or eye creams, apply these first.
Just a note that the order by which you apply your skincare matters – big time! Heavier products should always be applied later, because they tend to block lighter products like serums and oils from penetrating to the skin's surface.
Step 5: Repeat.
You can use your toner AM and PM. If you're just starting out with a toner, or you're trying a new one, limit it to once per day until you see how your skin reacts to it. Once you're sure it's the right toner for you, then you're free to use it twice per day.
The "starting slow" rule is especially important if your toner contains AHAs, BHAs and other acids. You don't want to dry out your skin. It's also something to keep in mind if you have sensitive skin, because you can never be sure how your skin is going to react.
FINAL THOUGHTS
Don't skip a toner because the last one you tried dried out your skin. Those alcohol-based formulas are a thing of the past. Make room for one of the best natural face toners and look forward to a clearer, brighter, and more hydrated complexion. Avoid fragrances and glycerin's in your natural toner and look for star-ingredients such as rose, aloe, willow bark, and coconut.