If you've ever stepped into the beauty section of a drugstore, passed by a makeup counter, or scrolled through an online cosmetic shop, you've probably encountered an intimidating number of products promising perfection. The constant barrage of recommendations, ratings, and formulations make it incredibly easy to forget the golden rule of makeup application: finding a product that you can trust.
Those looking for healthier and ethically sound alternatives often find that placing their trust in vegan and cruelty-free products is a more fulfilling practice that provides peace of mind and ensures healthy skin. As both vegan and cruelty-free products aren't tested on animals and are derived from plant-based ingredients, they forgo damaging chemicals like synthetic dyes, sulfates, and parabens from their formulas.
Instead, they utilise cleaner and more natural components that reduce the risk of irritation, inflammation, allergic reactions, and breakouts, all of which can trigger melanocytes and lead to hyperpigmentation. It's also a lot easier to nail your dream look when you can confidently claim that no animals were harmed for the cosmetics lining your bathroom counter or makeup bag. 
10 BEST CRUELTY-FREE VEGAN BB AND CC CREAMS 
We've compiled a list of the10  best vegan and cruelty-free BB and CC creams for a more comfortable, confident, and socially conscious look.  Bonus the formulas below use clean, organic and natural ingredients – an added skin-beneficial benefit.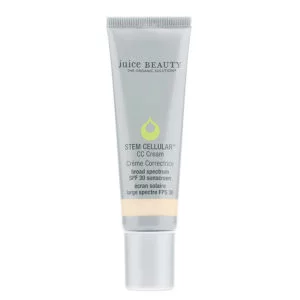 Juice Beauty Stem Celluar CC Cream SPF 30 $39
Packed with natural zinc oxide, Juice Beauty's popular cruelty-free and vegan CC cream boosts collagen production to prevent the appearance of aging and fortifies your skin with broad-spectrum SPF 30 sun protection. Although the reef-safe formula available in 7 shades provides light-medium coverage, its application of organic ingredients like aloe leaf juice, grape juice, and coconut oil places emphasis on moisturization to create a natural, radiant glow. 
---
100% Pure BB Cream $42
If you're looking to brighten your daily look (literally), then look no further. The cruelty-free and vegan liquid-cream formulation of 100% Pure's highly-rated BB cream (over 700 5 star ratings) contains thousands of light-reflective mineral pigments that accentuate your features with a subtle shimmer. Along with an authentic glow, this buildable BB cream is teaming with organic ingredients that hydrate your skin for an ideal dewy finish. From cherry and raspberry seed oil, which provide healing antioxidants and UVA and UVB protection, to cornflower water and shea butter, which soothe and strengthen skin, this product focuses entirely on skin health and nourishment. 
---
Ayuna Velo 6-in-1 Supastratum Protection $122
Founded by two passionate industry leaders, Ayuna is known for its innovative approach to cosmetics. The mineral-based Velo cream available in one universal tinted shade is one of the exclusive products in Ayuna's line that echoes the company's commitment to a scientific-botanical method and clean beauty. This luxurious cream is infused with vitamin E, argan oil, and marshmallow to repair skin from environmental damage and maintain your skin's natural vibrancy. 
---
Pacifica Beauty Ultra CC Cream SPF 17 $17
Finding products that compliment your skin tone can be quite frustrating, but what if we told you that there's a CC cream that matches yours perfectly? Pacifica Beauty's unique CC cream, available in 2 shades incorporates color-correcting minerals that adjust and adapt to flawlessly match the tone of your skin. Along with its absolutely magical color-matching capability, this lightweight cream offers SPF 17 protection and the natural benefits of coconut water, kelp, and ginseng.
---
Jane Iredale Glow Time Full Coverage Mineral BB Cream $48
This natural, cruelty-free, and vegan BB cream that comes in 10 shades blends to the full coverage of a foundation, the minimizing effect of concealer, and the skincare benefits of natural ingredients into a neat hypoallergenic formula. Its velvety texture provides a sleek and luminous finish that easily smooths out uneven skin texture, masks pigmentation, and diminishes the appearance of wrinkles. Due to its lightweight and non-comedogenic quality, the BB cream is often recommended for those with sensitive, acne-prone skin. 
---
Lilly Lolo BB Cream $22
Fortified with enriching oils, including manuka oil, pomegranate seed oil, and argan oil, this GMO-free BB cream (in 5 shades) works to protect your skin from bacteria, reduce signs of aging, and unclog pores. In addition to promoting overall skin health, the cream provides light coverage that softens skin for a fresh and youthful appearance. For those who favor a faster makeup regime, its easy application makes it great for daily wear. 
---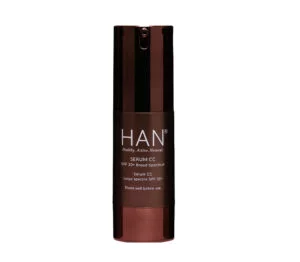 HAN Skincare Serum CC Serum SPF 30+ $32
This buildable CC Serum (that comes in 7 shades) combines foundation-like coverage with the moisturizing benefits of natural oils. Formulated with a nourishing mixture of organic oils, including virgin coconut oil, lavender oil, castor oil, jojoba oil, and rosehip oil, this serum smoothly glides onto your skin with a few silky swipes of your finger or beauty blender. Its innovative airless pump prevents excess oxidation so that the product may remain effective throughout its shelf life. 
---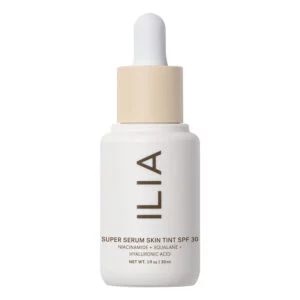 Ilia Beauty Super Serum Skin Tint SPF 40 $46
This award-winning cruelty-free and vegan tinted serum  (that comes in an astounding 30+ shades) perfectly blends natural aloe vera and shea butter with crucial active ingredients like niacinamide, hyaluronic acid, and squalene. The unique formulation penetrates your skin to boost hydration, treat hyperpigmentation, regulate oil, minimize pores, and stimulate collagen production. As a multi-tasking product that is gluten-free, oil-free, and non-comedogenic, this product cuts down the need for individual active ingredient serums, saving you both the time and money that layering involves. The weightless and light coverage it provides makes it ideal for those who want a more natural look. 
---
Sunscreen is a vital component to your morning routine, in safeguarding your skin from UVA and UVB rays it protects you from tanning and burns prevents premature aging and wrinkles and reduces the risk of skin cancer. Suntegrity's tinted sunscreen (that comes in 4 shades) cuts down on the number of products you apply by integrating the defensive properties of sunscreen with the concealing capability of foundation. Made with natural zinc oxide, the cream also infuses moisturizing and rejuvenating ingredients like hyaluronic acid, red algae, green tea, and pomegranate. 
---
Kosas Tinted Face Oil $42
Nicknamed the "sweatpants of foundation," this weightless cruelty-free and vegan face oil, that comes in 16 shades emphasizes comfort and healthy skin. Crafted using a fusion of moisturizing and soothing oils, such as avocado oil, red raspberry oil, meadowfoam oil, and camellia seed oil, this product evens skin tone and naturally brightens skin. Its quick and easy application guarantees a hassle-free morning makeup routine, all you need to do is massage a few drops into your skin for a vibrant shine that lasts all day! 
FINAL THOUGHTS
Both BB and CC creams are multipurpose products that, depending on the brand and formula, combine the benefits of a primer, concealer, moisturiser, sunscreen, and foundation into one straight-forward tube. Their flexible nature allows for a simplified and more economical makeup routine that can be applied on the go!
As an added bonus, vegan and cruelty-free alternatives to traditional BB and CC creams ensure that your skin receives the best treatment from natural, plant-based ingredients. So, why not switch over to a socially conscious product that hasn't been tested on animals and is safer for both you and the environment?