As cliché, as it may sound the eyes, are the window to the soul that more often than not reveal deeper truths than the words we speak. As we grow older the collection of lines around our eyes deepen telling our life story – the heartaches, and happiness.  We are only human so we may not want to see this constant reminder of time passing each time we look into the mirror. There may not be a magical elixir (well one as yet) that can erase all signs of aging from our eyes but an effective eye cream can certainly help treat some of them.
WHAT DOES AN EFFECTIVE EYE CREAM DO?
Improves hydration levels and boosts collagen production resulting in visibly rejuvenated skin
Targets signs of aging including crow's feet, fine lines, and wrinkles
Decreases pigmentation issues like some types of dark circles, age spots, and sun damage
Combats crepiness on the eyelids as well as sagging on areas surrounding the eyes
DO I NEED AN EYE CREAM?
Although the skin around the eyes may be delicate and is thinner than the rest of the face, not everyone actually needs an eye cream. It really depends on your skin type as well as the other anti-aging products that are part of your skincare routine.  In fact, you'll find that more often than not many of the key ingredients in good eye cream can also be found in the formula of the anti-aging cream you use all over your face.  Eye-creams make sense if you're looking for more targeted rejuvenation or are interested in boosting protective efforts against the early signs of aging. Another reason why an eye cream may make sense is unlike more general-purpose skin creams they are often formulated to avoid irritating the eyes as well as the skin around them.
If you're interested in more of an all-around solution make sure to check out our in-depth guide on the most effective anti-aging creams.  
DO I NEED A DIFFERENT EYE CREAM FOR DAY AND NIGHT?
This answer really depends on the ingredients in the eye-cream(s) you're using. Good eye creams for the day should focus on light hydration, makes for a good primer under makeup and may even provide broadspectrum protection against UV damage or at the least have ingredients like antioxidants such as Green Tea Extract that helps boost the abilities of sun protection agents.
The benefit of eye-creams as well as other treatments formulated for the night time is that they aid the regenerative processes your skin goes through while you sleep.  In terms of eye creams, this means they should include ingredients like AHAs (Alpha Hydroxy Acids) like Glycolic and Lactic Acid as well as Retinol, a derivative of Vitamin A that increases rejuvenation beneath the skin on a cellular level.   In terms of boosting moisture, night-time formulas are often heavier than those made for the day in order to provide a mega-dose of the skin's hydration.  Discover more about the benefits of a night cream with our in-depth guide.
ANTI-AGING SKINCARE ROUTINE 
Finding the perfect skincare routine is all about trial and error and figuring out what suits your skin best as it changes with time. Below are some general ideas of types of skincare products to consider integrating into your skincare routine.
AM
Your morning routine should include a gentle cleanser that won't irritate, a serum to target specific concerns, a cream with anti-aging benefits if your skin needs it as well as if need one, an eye cream.  Make sure to apply these products before your sunscreen to maximize absorption.
We're a fan of physical sunscreens that stay on top of your skin and create a layer that reflects UV rays instead of chemical ones that work through absorption.  Check out our guide if you're interested in learning more about how to pick an effective sunscreen inclusive ingredients to look out for and best practices.
PM
Evening skincare routines often vary, you may alternate nights with a retinoid-like Retinol or Retin-A that help with over-all skin rejuvenation and an effective serum or night cream. If you're using an eye cream consider avoiding layering with other anti-aging skin care products to minimize irritation or using one that is aimed at boosting hydration that doesn't include or has minimal sensitizing ingredients in its formula (like AHA's or Retinoids) to decrease the likelihood of negative interactions.
KEY INGREDIENTS IN EYE CREAMS
Although an effective eye cream incorporates a number of skin-replenishing ingredients that have the ability to combat multiple signs of aging we've sorted them by the concern they are best linked to.
BAGS, PUFFINESS & LOSS OF FIRMNESS
The combination of gravity taking its toll on the skin results in concerns like the loss of facial volume, laxity, and fluid retention that although maybe a part of the natural aging process have a particularly strong impact on the area around the eyes.
Ingredients such as Niacinamide also known as Vitamin B3 not only help the skin to function healthier boosting its abilities to combat signs of aging like discoloration as well as wrinkles but also strengthens the core cell structure and is also linked to aiding elasticity (what causes the skin to snap back when tugged).
Peptides which are essentially small proteins are another ingredient that helps to "tighten" the skin. They not only help stimulate the production of collagen but they also effectively improve the skin's matrix as well as its behavior (the way the different parts communicate with each other).  Some of the key Peptides you should be on the lookout for include Copper peptides as well as the intriguing Matrixyl (Palmitoyl-Pentapeptide 3 and Matrxyl 3000 (a combination of Palmitoyl-tripeptide as well as Palmitoyl-Oligopeptide).
Certain plant extracts like Chamomile, Cucumber & Tea (Green, Black or White) soothe the skin, have been linked to reducing morning puffiness as well as a number of powerful anti-aging benefits in general.
BRIGHTENING
Even and vibrant skin is often associated with youth. Although certain ingredients in eye creams can treat aging concerns like dull skin as well as skin discolorations and even help to diminish some cases of dark circles they cannot, unfortunately, treat the ones that are caused by hereditary or by the loss of facial volume.
Licorice Root Extract, not only possesses potent anti-inflammatory benefits but is also made up partly of a compound named Glabridin that brightens skin by inhibiting melanin production in the Epidermis (top layers) and skin in general.
Kojic Acid a bi-product of the Sake (Japanese Rice Wine) making process that helps brighten in two ways, first as a gentle exfoliant by removing dull skin but also by reducing melanin production.
Certain plant extracts aid brightening efforts like Bearberry (Arbutin) a safer alternative of Hydroquinone as well as Mulberry Root, that is effective but on a much lesser powerful scale.
Finally, Vitamin C is also a key brightening agent however as the most skin-beneficial form, Ascorbic Acid degrades quickly with exposure to air and light we recommend using this particular form of Vitamin C in serums as they are generally used up faster.  Discover more about Vitamin C as well as several other important topical vitamins for skin through our in-depth guide.
DRYNESS
The area around the eyes does not have many oil glands, to begin with and when this is combined with the decrease in oil production that comes with age as well as the decline in the functionality of the skin's moisture barrier that helps maintain healthy hydration levels it's no wonder why hydrating ingredients are key in eye-creams.
First up are Ceramides which work especially well when combined with Cholesterol and Fatty Acids to help replenish the loss of lipids in the skin.
By pulling moisture from the air as well as the deeper layers of the skin, Glycerin boosts the skin's hydration levels. As an added benefit, the Humectant also provides reparative efforts and like Ceramides helps the skin's moisture barrier function better.
Hyaluronic Acid often found in its salt form, Sodium Hyaluronate, within eye cream formulas, is skin-identical, meaning our own body produces it, plumps as well as increase moisture retention within the Epidermis the top layers of the skin.
Squalene, mostly derived from plants like Olives can also, unfortunately,  be extracted from animal sources like sharks that helps soothe skin. Although the skin-beneficial ingredient has emollient properties it is still light, fast-absorbing, and quick to dry.
Be on the lookout for certain vitamins, including  B5 more commonly known as Panthenol or Pathenoic Acid, that have moisture-binding abilities that help the way the skin looks as well as how it feels.  The moisturizing Vitamin E is known for its skin-nourishing properties but the ingredient also supports other antioxidants like Vitamin C by improving their functionality.
FINE LINES AND WRINKLES
As we age, along with dryness comes a decrease in collagen causing lines to become deeper etched until they are even apparent on our face when we aren't expressing.
AHA's (Alpha Hydroxy Acids) like Glycolic Acid & Lactic Acid exfoliates dead skin on the skin's surface, improving elasticity and boosting collagen production resulting in the diminished appearance of fine lines and wrinkles.  As an added bonus by removing dull skin, these types of ingredients especially Lactic Acid are known for their brightening abilities.
Probably considered one of the foundations of effective anti-aging, Vitamin A in its gentler forms Retinol or Retinyl Palmitate is key to eye-creams that are supposed to rejuvenate. Working on a deeper cellular level this antioxidant counts a boost of cell regeneration among its many benefits.
PRODUCT RECOMMENDATIONS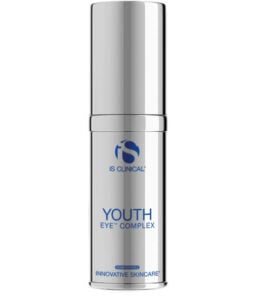 iS Clinical Youth Eye Complex $90
Although gentle this potent eye-cream provides quite the anti-aging punch with multiple skin-beneficial ingredients to target concerns like wrinkles as well as the loss of firmness. Key ingredients in this fragrance free-formula include the rejuvenating Retinol (Vitamin A) along with reparative Peptides.
---
Cerave Eye Repair Cream $10.23
Cerave's gentle formula is fragrance-free and works well to replenish lost hydration and for those dealing with the first signs of aging. Key ingredients include moisture-boosting Ceramides and Hyaluronic Acid as well as the rich Almond oil.  Be on the lookout for Vitamin E as well as multiple skin-beneficial plant extracts like Chamomile and Seaweed to soothe the skin.
---
EltaMd Renew Eye Gel $50
EltaMd's lightweight eye gel combines a number of skin-replenishing ingredients in order to help repair the skin.  Key ingredients to look out for include Niacinamide (Vitamin B3) to combat discoloration and sagging, Retinyl Palmitate (Vitamin A) to help target fine lines, as well as multiple plant extracts like Watermelon to boost overall rejuvenation.
---
Paula's Choice Resist Anti-Aging Eye Cream $31.50
A little bit goes a long way with Paula's Choice's fragrance-free eye cream. Through a combination of multiple skin-beneficial ingredients like rich Shea Butter with reparative Peptides as well as the brightening agents like Bearberry & Licorice Extract, this formula helps combat multiple signs of aging.  If you're looking for something a little bit more light-weight be sure to check out the brand's eye gel ($33).
---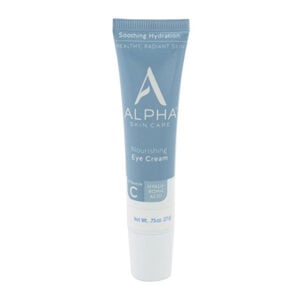 Alpha Skincare Nourishing Eye Cream $13.85
Another great eye cream for the first signs of aging, Alpha Skin Care's gentle formula brightens as it hydrates through skin-beneficial plant oils like Grape Seed and Jojoba that are combined with the likes of nourishing Vitamin E as well as a stable form of Vitamin C (Tetrahexyldecyl Ascorbate).  Other key benefits include the lack of fragrance, parabens, and also a very reasonable price.
---
SkinCeuticals Eye Cream $72
Designed to help prevent environmental damage SkinCeuticals eye cream contains an interesting mix of skin-replenishing ingredients inclusive of Ceramides, Peptides as well as Hyaluronic Acid and Vitamin E.  The formula helps firm as well as revitalize dry and dull skin.
---
Glycolix Eye Serum ($42)
This lightweight eye cream combines the potent antioxidant Superoxide Dismutase as well as Coenzyme Q-10 both of which are linked to advanced rejuvenation. Other skin-replenishing ingredients included in the formula include Hyaluronic Acid to plump, and the plant extract Green Tea that is known for its ability to fight free radical damage.
---
MDSolarSciences Daily Eye Repair Emulsion $77.90
MedSolarSciences' eye treatment has a lotion texture that absorbs quickly and has multiple skin-beneficial ingredients inclusive of Peptides to boost the skin's regenerative efforts as well as Niacinamide to help with discoloration and tighten. Also, be on the lookout for the calming Chamomile and Seaweed extracts.  Other key benefits of the formula include that it is free of fragrance as well as mineral oil and isn't tested on animals.
---
Dr Dennis Gross Ferulic + Retinol Triple Correction Eye Serum $68
Through combining Retinol with Ferulic Acid this powerful serum combats signs of aging inclusive of dullness as well as fine lines and wrinkles. The easily absorbant gel-formula also includes Arbutin, as well as Licorice Root extract, both known for their brightening abilities.
---
Origins A Perfect World SPF 20 Eye Cream $39
If you're looking for an eye cream for the day Origin's Perfect World with SPF is a good way to go.  Through a combination of  5.7% Titanium Dioxide and 3.8% Zinc Oxide, the formula offers broad-spectrum protection against sun damage as a preventative measure against premature aging.  Other key ingredients include the moisturizing Squalene, rich Shea Butter as well as a number of skin-replenishing plant extracts including Blueberry, Passion Fruit, and White Tea.
---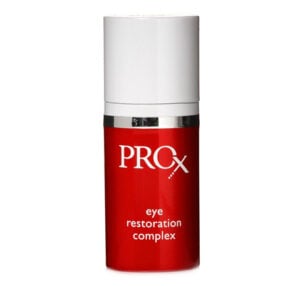 Olay Pro X Eye Restoration Complex $39.83
Olay's lightweight formula combines the star ingredient Niacinamide (Vitamin B3) with a number of other powerful anti-aging ingredients including Peptides to target multiple signs of aging.  The fragrance-free treatment also includes the hydrating Panthenol (Vitamin B5) as well as nourishing Vitamin E leaving skin feeling smooth to the touch after application.
---
Neostrata Restore Eye Cream $50
Neostrata's very popular fragrance-free eye cream combines Gluconolactone a gentle exfoliant with hydrating ingredients like Hyaluronic Acid and Panthenol (Vitamin B5) making it perfect for sensitive skin.  Other skin-beneficial ingredients to be on the lookout for include plant-based oils such as Evening Primrose and Avocado Oil that help soothe the skin as well antioxidants like Vitamin E that nourish.
INGREDIENTS TO AVOID
Due to the delicate nature of the skin around the eyes, extra attention should be paid to steer clear of certain ingredients within your eye creams that should be avoided in skincare in general.  As it may be impossible to find a formulation that you like that avoids them altogether, at the very least try and find an eye cream that has these ingredients in limited quantities.
Being they are serious irritant Bad Alcohols like Ethanal and Alcohol Denat should be avoided as they not only dry out the skin but also are linked to cell death.  On the other hand, there are also Good Alcohols such as Cetyl Alcohol, Stearyl Alcohol, and Cetearyl Alcohol that is actually beneficial for the skin as they have emollient properties.
Although Fragrance may appeal to your sense of smell,  some of them can be sensitizing to the skin and result in negative reactions.  In fact, the damage it causes may not be immediately apparent but are only seen years later.
If you're looking at embracing non-toxic ingredients look into an organic eye cream.
PACKAGING AND BEYOND
As satisfying as it is to open up a little jar and scoop out a little bit of product, in all honesty, it's not only unhygienic as your fingertips may have bacteria but also exposes the formula's active ingredients (like some of the antioxidants)  that are sensitive to air and light to degrade quicker diminishing their effectiveness.
Opaque, pump, or tube packaging is the way to go when it comes to preserving ingredient potency as they help minimize the exposure to the elements. As a further step make sure to store your eye-creams in a cool and dark place in order to maximize the product's lifespan as some of these ingredients are also sensitive to heat.
ALTERNATIVE ANTI-AGING TREATMENTS TO CONSIDER
If you're looking for more advanced results consider an effective anti-aging treatment like the ones below:
When Botox is done right it helps to minimize crow's feet without affecting the natural shape of the eyes.  Explore our in-depth review that covers the benefits of Botox, how it works and expected results.
Not only do dermal fillers help restore lost facial volume but they also help hydrate as well as reduce fine lines under the eyes.  If you're interested in learning more about what fillers do be sure to check out our run-down on which ones you should consider and more.
Although they may seem terrifying, lasers can help a number of aging concerns for the eyes and skin in general inclusive of discolorations and fine lines as well as wrinkles.  Check out our guide if you're interested in discovering more about how lasers rejuvenate including the different kinds as well how the treatment works.
FINAL THOUGHTS
Although the thought of irradicating all signs of aging around the eyes may seem desirable, as you can't actually stop the hands of time from passing it may turn out to be quite the torturous endeavor.  It may be better for your mental health to understand that accepting the inevitable and taking a more balanced approach to aging will leave you happier in the end. In fact, it's often those very imperfections like the stories around your eyes that make us the most lovable.