Though you may have heard of gluten-free food, gluten-free makeup is a whole other deal. Perhaps one of the least expected additions to the world of makeup trends, there is still a sound reason behind its emergence. Targeted towards makeup-users who struggle with serious gluten allergies, these foundations mitigate the risk of inhaling or ingesting gluten whilst applying makeup. Oftentimes, gluten-sensitive individuals may intake gluten unknowingly through their nose, eyes, and mouth while brushing on their foundation. For the makeup enthusiast with any gluten-sensitive problem: have no fear, your, clean, and guaranteed-to-make-you-glow gluten-free foundation is here. 
BEST GLUTEN FREE FOUNDATIONS
Kjaer Weis Invisible Touch Liquid Foundation $48
If you're looking for a buildable foundation, look no further. The organic (and cruelty-free) Invisible Touch Liquid Foundation is a long-lasting dewy foundation that can be built up to anywhere from light to medium coverage that comes in over 20+ shades. Your skin will look (and feel) dewy and fresh thanks to the hydrating rosehip seed and jojoba oils infused in this gluten-free foundation. The glowy look is perhaps best credited to Kjaer Weis' special ingredient: dioscorea batatas, a yam native to China. The dioscorea batatas extract is known for its anti-aging qualities, boasting antioxidant and anti-inflammatory qualities. The result? Flawless, seamless blending and a healthy sun-kissed look that's bound to make others envious.  Bonus points for sustainability – the formula like most all of Kjaer Weis' line is refillable. 
Don't vibe with liquid foundation? The Kjaer Weis Foundation ($68) also comes in a powder-based formula that not only comes in 16+ shades still boasts the lovely clean, organic, cruelty-free points we love. Useful for many skin types, this certified semi-matte foundation provides coverage while still remaining breathable and light to wear. The blendable formula is made with jojoba seed oil, notorious for its skin-beneficial and healing qualities. This, paired with sweet almond and coconut oils will keep your skin looking fresh and hydrated. You'll end up with a just-got-a-facial glow without actually getting in to see your dermo. 
---
Lily Lolo Mineral Foundation (SPF 15) $22
This award-winning mineral powder foundation that comes in 5 shades is a must for summertime outings. The cruelty-free, fragrance-free, and vegan formula is infused with SPF protection, leaving a gorgeous velvety- airbrushed look without sacrificing your skin. This foundation is easy to apply with no clogging or irritation. The best part? Completely free of talc, gluten, dyes, GMOs, parabens, and other chemicals that could harm the skin.
---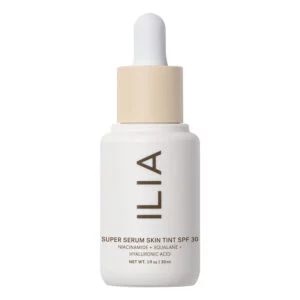 Ilia Beauty Super Serum Skin Tint SPF 40 $46
Why choose between protecting your skin and leaving the house with makeup? Ilia's extremely popular skin tint gives both, and adds skincare into the mix! The formula that comes in over 30 shades uses a mix of shea butter and aloe-vera and must-need ingredients like hyaluronic acid, squalene and niacinamide. The clean, natural foundation is oil-free and leaves your skin feeling soft to the touch. The perfect guilt-free foundation. Note that users with oilier skin may need to swipe a finishing powder on their T-zone to prevent extra shininess. This light skin-tint will make you forget you're even wearing anything on your skin, and keep it protected regardless. 
Alternatively, consider True Skin Serum Foundation ($54) for more coverage and buildable formula. Still made with the natural products we love like aloe, rose-hip and jojoba, and marula oils, the foundation is a go-to for any makeup-wearer in search for a clean, cruelty-free and organic foundation. Serum-infused, Ilia takes away the hard decision between skincare or makeup with this product.
---
Sappho New Paradigm Essential Foundation $54
This perfected and reformulated foundation in 11 shades has a heaping sum of skin-friendly ingredients⎯ aloe, marigold extract, rooibos extract, Himalayan cedarwood, neem, agave, tea-tree and chamomile oils just to name a few. The certified organic product provides a light (that can be built up to medium) coverage, all with a heavenly floral scent that's just as fun to apply. Packaged in a luxurious glass bottle, you're bound to feel "boujee" brushing this beautiful foundation on your face. With the pretty aroma and soft glow this product boasts, it will never leave your top shelf. 
---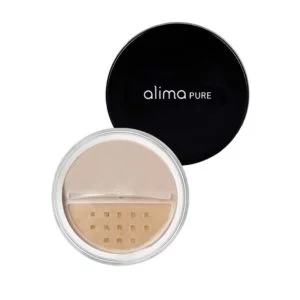 Alima Pure Satin Matte Foundation $28
Want a clean, gluten-free foundation but can never find your shade? Alima Pure has got you covered⎯ each of their 45 shades comes in an additional 5 different undertones. Finding your perfect match will help with balancing discoloration, and enhancing your true skin color without looking too makeup-y. The cruelty-free and fragrance-free powder foundation is made with minerals like mica that give it its signature pearly finish. 
---
Hush + Dotti Organic Liquid Foundation $48
Made with plant-derived ingredients, this foundation is perfect for the acne-prone makeup user that doesn't want to sacrifice their skin to glam up. Hush + Dotti's formula has a unique mousse-like texture, perfect for blending seamlessly into your skin and adding touch-ups wherever you'd like more coverage. Made with clean botanicals like olive leaf extract, lavender extract, aloe juice and chamomile, this foundation will leave you with radiant skin you'll never get enough of. 
FINAL THOUGHTS
Sensitivity to gluten should never hinder you from looking and feeling your best. Whether it be a mineral powder product that is lighter weight, or a dewy liquid foundation, these products will enhance your glow to another level. No need to tiptoe your brush around your nose or mouth anymore⎯ you can build these foundations up as many notches as you'd like. Foundations are arguably the key product in any makeup application, why skimp on it when you can look your most radiant self without the fear?