The benefits of goat milk shouldn't be news.  The ingredient can be found in many skin care products like lotions and soap, especially in natural and organic brands. While drugstore skin care products are inexpensive and easy to find, they often contain ingredients and additives that result in irritation and dry skin.  For people suffering from skin conditions like dry skin, eczema, psoriasis and keratosis pilaris, the problem is exacerbated by the use of these commercial products. A simple alternative is switching over to small-batch goat milk lotions or soap made by indie brands, which are both hydrating and provide soothing relief (even for those without any known skin conditions).
WHY IS GOATS MILK GOOD FOR THE SKIN?
First off,  Goats Milk has a pH similar to that of human skin, making it easy for your skin to absorb all the goodness. It has high levels of niacin (vitamin b3), fatty acids and triglycerides which are all super moisturizing and nourishing. Goat milk is loaded with vitamins like B2, B6, B12 and A (arguably one of the best vitamins for your skin), as well as minerals like selenium. The lactic acid present in goat milk as well as other milk-based soaps is an alpha-hydroxy acid (AHA).  If you've read other articles on The Youthist, we talk a lot about the benefits of AHA's in terms of their ability to exfoliate and regenerate the skin, brighten skin tone as well as regulate sebum production.
GOATS MILK FOR ECZEMA, DRY SKIN & OTHER SKIN CONCERNS
Goat milk is particularly beneficial for skin concerns like dry skin, eczema, psoriasis and keratosis pilaris. It's an affordable and easy treatment for finding relief from these persistent skin conditions.
DRY SKIN
These ingredients are soothing to the skin and restore your skin's health in a more holistic way than that of synthetic ingredients. For example, the essential fatty acids and triglycerides in goat milk will nourish dry skin and keep it that way while niacin is an excellent moisturizer that works to heal the lipid barrier, so the skin is balanced and able to repair itself.
ECZEMA
Eczema is a condition that causes skin to become itchy, red and dry to the point of cracking or developing patches and it can occur on any part of the body. For those with eczema, finding relief is rarely found in the chemical ingredients most often found in many soaps, lotions and shampoos.
Lighter, natural products like goat's milk soaps and lotions, especially in their raw forms, are well-tolerated by skin with eczema. Goat milk lotion is easily absorbed into your skin and most eczema sufferers claim that incorporating goat milk products into their skincare routine brought rapid relief.
Not to mention all of the vitamins that work wonders to repair the skin once the dry, rough patches have been brought under control, it's antioxidant power will also ensure that your skin is protected from damage.
PSORIASIS
Psoriasis causes dead skin cells to build up on the surface of the skin. It's a chronic autoimmune disease that can cause grey, itchy patches that crack and bleed on the skin, scalp and nails. The lactic acid in goat milk (that also helps dry skin as well as other concerns) helps gently exfoliate dead skin cells, in a gentle way. Just like when treating eczema, the vitamins and minerals found in goat milk will help repair and restore your skin as it heals.
KERATOSIS PILARIS
Otherwise known as chicken skin, keratosis pilaris is a common skin condition caused by a build-up of keratin that blocks the hair follicle. The blockage results in tiny bumps on the arms, thighs, cheeks or buttocks. Using goat milk soap on a daily basis can help smooth unsightly bumps: again the lactic acid gently exfoliates the skin, removing built-up keratin.
TIPS FOR TREATING SKIN CONCERNS WITH GOATS MILK
When treating the above skin concerns consider starting with just unscented goat milk soap (to minimize the chance of negative reaction).
Use the soap either directly on the skin as usual while showering or for a soothing experience, soak in a tub with shreds of goat milk soap added.
If after one week your skin is responding well, you can add a goat milk lotion (again unscented) to the routine. This may improve your skin further but you don't want to begin with this routine as the lotion is not beneficial for all eczema and psoriasis sufferers.
Although we recommend unscented skincare products we understand some people prefer some scent. If you're able to control your flare-ups

using the unscented products, you may eventually be able to switch to one.  When choosing a scented goat milk lotion try and pick one where the scent is lower on the list of ingredients in order to avoid the chance of a negative reaction.

Although it may be obvious it is always best to test new products on a small area of skin before introducing them on a larger scale. This is especially important for condition-prone skin

as it is unique

in what it is able to tolerate.

To maximize your chances of success for treating skin concerns, you may want to consider removing chemicals and detergents from all or some of your personal care products, such

as:

soap, lotion, shampoo, deodorant and even laundry detergents.
GOAT MILK SOAP
Like all soaps, goat milk soap is made by combining fats and oils with an alkali. When you combine that with water in a soap or a bath, it attracts and loosens dirt from the surface of the skin so it can be washed away, leaving you spic and span.
However, what we understand to be "soap" and what we mostly consume in terms of hygienic skin care products, are often just detergents. A detergent is a combination of chemicals that are marketed as cleansing products: the big brand body wash and soap bars that we purchase often are akin to dish detergent or laundry detergent!
Nothing about that sounds like a good thing for our health but alternatively, most quality goat milk soaps are made with raw ingredients: you won't find much more than goat milk and oils in the ingredient list. It's so organic and simple that they can be made at home using items from your local grocery store.
GOAT MILK SOAP RECOMMENDATION
Legend's Creek Farm Unscented Handmade soap $7.50
Handmade in small batches to ensure its integrity, Legend's goat milk soap bar is made with natural ingredients like saponified olive oil and lye. Coconut, hemp and shea are some of the other skin nourishing ingredients featured in this unscented, biodegradable soap that's perfect for those with anything from eczema to simple dry skin looking for reprieve.
GOAT MILK LOTION
The star ingredient of goat milk lotion is…. you guessed it, goat milk! Goat milk lotion is typically blended with ingredients like sweet almond oil, avocado oil, sunflower oil and shea butter. All-natural or organic varieties often use a natural preservative in the mix as well. While your goat milk soap is used exclusively for cleansing the skin, lotion is used to restore moisture removed during your bath or shower and also to soothe the skin.
GOAT MILK LOTION RECOMMENDATION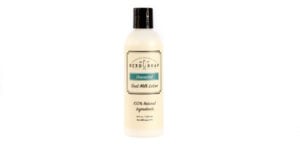 Bend Soap Goats Milk Lotion $24.90
Bend Soap Goats Milk Lotion does not contain any synthetic ingredients – it's so natural that it's edible! All of the benefits of goat milk lotion are reinforced with the skin restoring properties of shea butter and the soothing effects of aloe vera in this hypoallergenic formula.
The brand also offers an extremely popular Goats Milk Soap ($6.50) that comes in a variety of options including oatmeal honey and unscented, all made with a handful of natural ingredients.
FINAL THOUGHTS
If you're prone to dry skin or more serious skin concerns like eczema and psoriasis, goat milk skin care products like lotion and soap are an effective solution for finding relief. Goat milk offers nourishment in the form of naturally-occurring vitamins, minerals and proteins. Gentle enough for a baby's skin, these products are an excellent way to keep yourself clean while giving skin the nutrients it craves.