The next time you're shopping for hair cleaning products like a shampoo or conditioner, notice the difference between what's available for men and what's available for women. What you'll notice is that there are far more products for women than men, especially in terms of conditioner.
The lack of conditioner formulated for men's hair may lead you to the very natural conclusion that: men don't have to condition, men don't have to condition as much as women, or they don't need specific formulations for their hair.
Which of those are actually true? None of the above.
So, we're here to answer the age-old question: should men use conditioner? What are the benefits and potential downfalls (if any)? Here are the answers to those questions, and everything else you wanted to know about why men need to use conditioner.
DO I REALLY NEED MORE THAN SHAMPOO? 
If you've taken up the challenge to notice the difference between men's and women's hair care products, then you surely noticed the lack of variety in men's versus women's choices. Women's haircare can sometimes take up an entire aisle, whereas men are lucky to have two or three shelves worth of options.
And, what's worse, so many of men's options are multi-use products. Why is it that there are so many all-in-one products for men? These are items like two-in-one shampoo and conditioners or three-in-one shampoo, conditioners, and body washes. Should your body wash, shampoo, and conditioner really all come in the same bottle? Is it even possible to get your hair cleaned and conditioned with the same product that keeps your body dirt and bacteria-free?
We argue "no". Unless you're going on vacation and convenience is key, these all-in-one products rarely accomplish all three tasks with equal reverence. Think about it… you wouldn't wash and wax your car with the same product, right? Well, then why would you expect your shampoo and conditioner to do that?
The hard truth is, for those who prefer those convenient multi-use products, that shampoo and conditioner don't perform the same job and therefore should never be mixed in the same bottle. Where shampoo is the cleansing portion of your showering routine, conditioner is the – well – the conditioning portion. And it's an absolutely necessary part of any male grooming routine.
Washing your hair with shampoo simply isn't enough because conditioner performs an entirely different and important task. Another main reason why shampoo isn't enough is that your hair and your scalp have essential natural oils that shampoo can wash away. But conditioner replaced those oils and protects the hair, reducing the chance of developing dry, brittle hair that's more prone to split ends.
So, is it good to use a conditioner? Yep! Here's what conditioner will do for your hair.
WHAT DOES CONDITIONER DO FOR MY HAIR? 
Imagine that each of the strands of your hair looks like a snakeskin. The "scales" of the snakeskin are equivalent to the cells that line your hair strands. Close up, they actually do look somewhat like scales.
And when you shampoo your hair, the cleansing agents in the shampoo can cause those cells to stand up. When those cells are disrupted, they stand up in a way. The result is dry, frizzy hair that looks dull and unhealthy.
This is where using conditioner comes in. Conditioner does exactly what it sounds like it should do; that is, it conditions your hair. Going back to the snakeskin visual, conditioner will make those cells lie back down where they belong, giving your hair a smooth, well-groomed appearance.
Not only that, but most conditioners contain moisturizers and other nutrients for both your hair and scalp. When you use conditioner, you're encouraging the health of your hair. You're also encouraging growth of new hair by keeping your scalp in prime shape.
DRY VS OILY HAIR 
If you have dry hair, conditioner is the moisturizer that your hair needs. Men with dry hair may already be well aware of the fact that they need a conditioner to battle dryness, frizziness, and breakage. But if you have oily hair, you may be wondering if you should use hair conditioner for men.
The answer is still a resounding yes, and here's why. We already mentioned that using shampoos can strip oils from your hair and your scalp. If you have oily hair, your body will actually overcompensate for this loss of oil. That means that, if you skip the conditioner, your oily hair can become even more oily.
Opt for a product that is formulated for men with oily hair. These conditioners are balanced to tame excess oils while replenishing the oils that are essential to your hair's health. The conditioners are often lightweight and can be used every day – even if you have oily hair.
INGREDIENTS TO LOOK OUT FOR AND THE ONES TO AVOID 
There are several ingredients you should avoid in men's conditioner. These are, in short:
Mineral oils
Sodium Lauryl Sulfate
Chlorine
DEA
Harsh chemical fragrances
Formaldehyde
Petroleum products
Each of these ingredients is extremely damaging to your hair. Your hair's health will suffer, and your overall health may, too. Plus, some of these ingredients (like petroleum products) may even prevent new hair growth.
Instead of these chemical ingredients, use a conditioner that contains ingredients like coconut oil, jojoba oil, Vitamin E, and essential oils. Read the packaging carefully and, when possible, choose organic and natural products.
12 BEST HAIR CONDITIONERS FOR MEN 
So! Do guys need to use conditioner? Yes! Should you use a men's conditioner? Probably. These conditioners can be specially formulated for men but often are unisex. Truth be told, men's and women's hair products are not made much differently – the main thing is that when you're using a richer conditioner use it sparingly (a small amount) to avoid weighing your hair down or making your hair greasy! Here are the best hair conditioners for men, based on your hair type but keep in mind that these conditioners will also suit other hair types.
BEST MEN'S CONDITIONERS FOR FINE HAIR 
If you have fine hair, you can actually create a fuller, thicker look by choosing the right conditioner. Our favorites are listed below – choose one of our recommendations if you're looking to add more bounce and volume.
Jack Black Nourishing Hair and Scalp Conditioner $24
One of the things we love best about Jack Black's extremely popular (900+ 5 star reviews) Nourishing Hair and Scalp Conditioner is that it's a water-based formula. In that formula, you'll also find a bunch of other ingredients that are essential to the health of your scalp and your hair. Sage oil helps to balance the oils in your scalp while Tea Tree Oil conditions for new hair growth. In fact, Tea Tree Oil can cure a variety of scalp issues, like eczema and dandruff. Jojoba seed extract is also reparative. One of the "magic" ingredients, though, is carrot extract. Carrot extract not only repairs the hair but is also a known way to stimulate hair thickness and hair growth. Jack Black Nourishing Hair and Scalp Conditioner is lightweight, smells great, and gets you the results you need.
---
R+Co Dallas Thickening Conditioner $32
Did you know that more than 80% of men experience significant hair loss at some point in their lifetime? If you're one of those millions of men, or (just have super thin hair) know that there are solutions – like this thickening conditioner, for example. It's formulated with biotin to encourage hair growth and also improves the keratin structure of the hair that's already there. The result is thicker-looking hair that's also stronger and more supported.
---
Oribe Conditioner For Magnificent Volume $32
This is a feather-lite luxurious conditioner, made with the finest ingredients that delivers heavy results. And by heavy, we mean it'll provide uplifting support and volume while making your hair easier to work with and style. It contains a host of incredible ingredients to achieve this task. Lupine proteins, saw palmetto extract, naturally derived polymers, and cyperus esculetus oil do all the heavy lifting while the Oribe Signature Complex of watermelon, lychee, and edelweiss flower extracts protect and strengthen the hair. 
---
Virtue Full Conditioner $42
Damaged hair? If that's the case, you need to look for a conditioner that repairs while it does all the other wonderful things a conditioner can do. Virtue's fan-favorite has created that – indeed, they've created an entire line based on the healing benefits of Alpha Keratin 60ku. Discovered by retired US Army Colonel and regenerative medicine specialist, Dr. Luke Burnette, Alpha Keratin 60ku is nearly bio-identical to our own keratin. As such, it binds directly to damaged areas of our hair and fills them in, so your hair will look shinier, stronger, and healthier in just a few uses!
---
Verb Weightless Volume Conditioner $36
A lot of men's conditioners are focused on providing more body, and Verb is no exception. This volumizing conditioner adds body to all hair types, but it also softens and conditions the hair. It's very lightweight, doesn't leave behind any greasy film, and it's completely color-safe and vegan. Some of its most notable ingredients are Pro-Vitamin B5 for protection of each individual strand, green teat extract for antioxidant protection from free radical damage, and sunflower seed extract for both cleansing and shine.
---
Living Proof Full Conditioner $29
Many men crave thicker hair. The kind of hair you can run your fingers through like a hair commercial. Living Proof's industry-insider favorite conditioner has gone mainstream (1,572 5 star ratings here) will help you get there. It makes fine, flat hair look, feel, and behave like naturally full and thick hair, and it does this with Living Proof's patented Healthy Hair Molecule. While that proprietary ingredient takes your hair from 'meh' to 'marvelous', it also repels dirt to keep your hair cleaner for longer and detangles to reduce any breakage caused by combing and brushing.
---
Rahua Voluminous Conditioner $38
For those of you who like more natural formulas! We've got you covered,  with Rahua's Voluminous conditioner, formulated from organic, natural, and plant-based ingredients its not only for fine hair but for oily hair too. That's because oily hair can easily get weighed down or appear greasy, and this conditioner rectifies those qualities. Scented with lavender and eucalyptus, it's as appealing to the senses as it is to your hair and scalp. Expect more body and bounce with continued use.
BEST MEN'S CONDITIONERS FOR COARSE, DRY OR DAMAGED HAIR
If your hair is coarse, dry or damaged, it has different needs than thick, normal or thinning hair. We've found a few products we love, and we know you will too!
Baxter of California Daily Fortifying Conditioner $21
Baxter of California Daily Fortifying Conditioner contains not one, but two different types of coconut oil. Coconut oil has tons of benefits to your hair. Coconut oil contains antibacterial properties, which can help improve the health of your scalp. It's a deep conditioner, giving your hair and your scalp the ultimate in moisture Coconut oil is a detangler. For men with coarse hair, this is an amazing way to prevent split ends and broken strands. Coconut fights dandruff, making it one of the best men's conditioners for dry hair. Toil has even been shown to help promote hair growth You'll get all these benefits from Baxter of California Daily Fortifying Conditioner. Plus, it smells great! Men who have used it say it's an invigorating, refreshing scent that lasts all day.
---
Peter Thomas Roth Mega-Nourishing Conditioner $15
It's not called Mega-Rich conditioner for nothing. If there's a vitamin that can nourish and repair your hair, you'll probably find it in this Peter Thomas Roth conditioner. It's packed with vitamins and nutrients that take even the most damaged hair to soft, smooth, stylish, and touchable. Among those vitamins and nutrients are the luxurious Biotin B-7 Complex, vitamin E, Pro Vitamin B5, and Vitamin.
---
Moroccan Oil Hydrating Conditioner $24
If you've been on a hair repair/hair care journey for any amount of time, you've certainly read bout Moroccan oil hair products known for their loyal following. Trust us its not just marketing, this miraculous oil has more than a handful of benefits for all kinds of hair types. But this conditioner, in particular, was created for dry hair. It delivers a daily dose of hydration with, of course, argan oil, Vitamins A and E, and red algae. Not only will your hair be free of tangles and full of shine, but it'll also be perfectly balanced and hydrated every day you use it.
---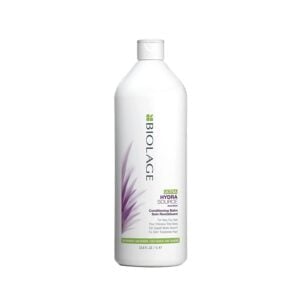 Biolage Ultra Hydra Source Conditioning Balm $32
Also specifically formulated for dry hair (and without silicones, this vegan conditioning balm takes conditioner to the next level. Intended to sit on your ends for between one and three minutes, it seals the hair cuticle while it's there. Sealed cuticles mean sealed moisture, and the end result of that is softer, healthier hair. Plus, we'd be remiss not to mention that Biolage is committed to sustainability in their packaging and manufacturing, which always earns bonus points from us.
---
Pueology Strength Cure Conditioner $33.50
Last but not least it's not uncommon for men to color their hair. But with that coloring comes the potential for damage from harsh dyes. If you're suffering from color-damaged hair, (or extremely dry hair) repair it with Pureology's sulfate-free strengthening conditioner. A few uses and you'll notice that your hair is softer and stronger. You'll also notice that any color you currently have in your hair is extra-protected and lasts extra long. 
FINAL THOUGHTS 
Don't fall for the tricks – there's no one size fits all product for men. Your hair is just as unique as your skin and your body, and you need a hair care routine to fit your individual style. Don't skip the conditioner. Simply shampooing your hair isn't enough. You need to protect your hair and your scalp, and you want to look good, too! Using a conditioner for men will ensure you've got the shiniest, healthiest hair possible.