Volumizing shampoo for men isn't just for men with fine or thinning hair. They're actually useful for any man who just wants to add a bit of "body" to his style.
It doesn't matter whether you're 29 or 92 – thinning hair happens. We've met men who are in their 20s who complain about thinning hair and hair loss. We've also met older gentlemen who haven't lost a strand, but thin hair makes them appear as if they're losing hair.
So, short of hair loss treatment, is there anything you can do to make your hair appear thicker and fuller? Well, sure! The simplest fix is to try a volumizing shampoo!
Read on to learn about volumizing shampoos and what they can do for you.
HOW TO CHOOSE A MEN'S VOLUMIZING SHAMPOO
First, let's answer your question. How is men's hair volume shampoo different from women's hair volume shampoo? The answer is simple: it's really not. Usually.
Men's volumizing shampoo and conditioner are formulated for men in that they may treat conditions common to men. In the same way, women's shampoos are formulated to treat conditions that primarily affect women.
Plus, they smell different. Your men's volume shampoo probably won't be as floral scented as the typical women's shampoo.
Other than that, they're right on par with one another. What's important is that you choose the best volumizing shampoo for men is one that's natural and contains essential oils that will give your hair a healthy lift. With the right ingredients, you can actually cut your styling time (and products) down considerably.
INGREDIENTS TO LOOK FOR IN VOLUMIZING SHAMPOO FOR MEN
So what are those ingredients? What should you look for in the best men's shampoo for volume?
We'll keep it simple. Ingredients you should avoid include:
Alcohols
Sodium laurel sulfate
Parabens
Artificial fragrances (labeled as fragrance, parfum or perfume)
Phthalates
Ingredients to consider when you choose your shampoo include:
Tea tree oil
Peppermint
Lavender
Rosemary
Caffeine (yup)
Plant-based proteins
Shop to your hair's texture. There are products for fine hair, wavy hair, coarse hair and straight. There are even products for color treated hair. Check what the product is meant to do, and choose a shampoo that's natural.
THE BEST MEN'S HAIR VOLUMIZING SHAMPOO
Ready to choose your shampoo? Here are the best products to use when you're trying to add a little life to your hair.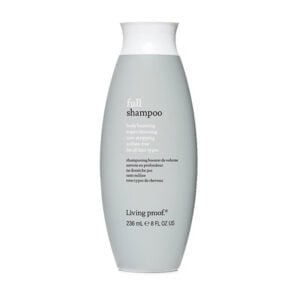 Living Proof Full Shampoo $18
First up is Living Proof Full Shampoo. This shampoo is designed to work with hair that's naturally (or environmentally) flat and dull. Your Living Proof Full Shampoo contains wheat protein and soy protein to naturally thicken your hair. Those proteins can actually work to restore your hair's health, too. So if your hair is color-treated or you frequently use styling product, this is a great choice for you.
Men who have used Living Proof Full Shampoo say the scent is citrusy and fresh, and that the shampoo greatly tones down hair's natural oils. A little shampoo goes a long way, too, because the lather is thick and sudsy.
Living Proof Full Shampoo is phthalate, paraben and cruelty-free.
---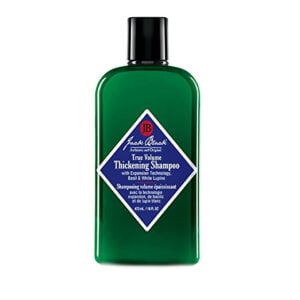 Jack Black True Volume Thickening Shampoo $28
Our top choice for the best men's volumizing shampoo is Jack Black True Volume Thickening Shampoo. There are tons of yummy ingredients in this one, too. In this shampoo, you'll find:
Creatine
Wheat protein
White lupine protein
These guys add thickness and volume to your hair. You'll also find:
Tea tree oil
Lavender
Sage leaf extract
This trio keeps your scalp healthy, reducing irritation, soothing skin conditions and offering antibacterial properties. Plus, they smell really darn good. Finally, Jack Black True Volume Thickening Shampoo contains:
Nettle leaf extract
Sunflower seed oil
Basil
These ingredients work to add volume to your hair as well as a healthy shine. As with all good shampoos, Jack Black products are paraben free and contain no chemical fragrances or colorants.
---
Grown Alchemist Volumizing Shampoo $49
We like Grown Alchemist Volumizing Shampoo best for its cleansing properties. If you've got oily hair, this shampoo will thoroughly clean your strands without over-drying. Got normal to dry hair? Your hair will come out clean but not stripped of natural oils. To put it simply, every hair type looks good after using Grown Alchemist Volumizing Shampoo.
Some of the volumizing ingredients you'll find in Grown Alchemist Volumizing Shampoo include baobab seed protein, marshmallow plant extract, coriander seed oil and ylang ylang. There are more, too! Vitamins B5 and B7 are added to the mix as well as marigold extract and black pepper seed oil.
Be sure to check out the full ingredient list for Grown Alchemist Volumizing Shampoo. And while you're shopping, why not pick up the matching conditioner?
---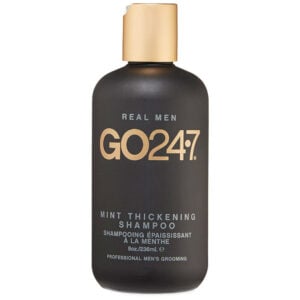 Go247 Mint Thickening Shampoo $15.68
GO247 Mint Thickening Shampoo is extremely popular with men.  It has a lot of ingredients that will thicken your hair, giving it more life and body. But the superstar of this dish is the mint. GO247 Thickening Shampoo includes peppermint oil, one of the best essential oils for hair growth.
If your hair is thinning, try this shampoo. Peppermint oil stimulates your scalp and increases blood circulation. The result is a healthy canvas for gorgeous, thick hair growth. Men who love this thickening shampoo also love the tingly feeling they get – but please don't get it in your eyes!
---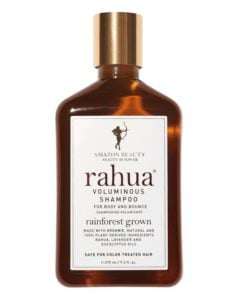 Rahua Voluminous Shampoo $34
There are very many good ingredients in this shampoo, it's easily a contender for the best men's volumizing shampoo ever. Here's a sampling.
Lavender and eucalyptus for their aroma and for their soothing, antibacterial and antiseptic properties
Green tea leaf extract to reduce hair loss and improve thickness
Molasses extract to strengthen your hair
Rosemary leaf extract, which stimulates hair growth and improves circulation
Again, that's just a sampling! This organic, vegan shampoo also sports aloe, lemongrass, sea salt and more. And men love the shampoo. In fact, the worst reviews for Rahua Voluminous Shampoo were by men whose wives began to steal their stash.
---
Every Man Jack 2-in-1 Thickening Shampoo $9
One of the things we love best about Every Man Jack is that the company uses naturally derive, American sourced ingredients wherever possible. The products aren't overpoweringly fragrant – instead, they're lightly scented and fresh.
Every Man Jack Thickening Shampoo is no exception. This product is actually a 2-in-1 shampoo and conditioner. Now, don't be scared! Many men's 2-in-1 products leave your hair limp and grungy looking. Not this one. It's lightweight and adds volume with ingredients like:
·      Soy proteins
·      Grapefruit seed extract
·      Aloe vera
·      Coneflower extract
·      Chamomile extract
·      Lavender
·      Many, many more!
Every Man Jack products are always free from parabens and phthalates. There are no dyes or animal byproducts, and the shampoo isn't tested on animals.
---
John Frieda Luxurious Volume Full Splendor Shampoo $6
 What's the secret ingredient in John Frieda Luxurious Volume Full Splendor Shampoo? Caffeine! Yes, caffeine can give your hair a boost just like it gives your mood a boost. In fact, it's one of the most effective natural treatments. Just apply topically (read: via your shampoo) and leave in for two minutes. Rinse and repeat if you like!
Men who have used John Frieda Luxurious Volume say the results were almost instantaneous. After the first wash, hair looked fuller and cleaner, with an extra bit of bounce. After just a few weeks, the overall appearance of men's hair was healthier and worked especially well on men who were experiencing male pattern baldness.
FINAL THOUGHTS
Whether you've got fine hair, thinning hair, super-straight hair or just want to try something different, there's a men's volumizing shampoo out there that's perfect for you. Be sure to stay away from those harsh chemicals and stick with a product that uses essential oils to improve your hair health. In just a few weeks (or less!) you'll begin to notice fuller, thicker and healthier hair.