Volumizing shampoo for men isn't just for men with fine or thinning hair. They're actually useful for any man who just wants to add a bit of "body" to his style.
It doesn't matter whether you're 20 or 92 – concerns like hair loss and fine hair are a thing. It really comes down to genetics and the different stages of life.  Some people are born with thin hair and need a volumizing shampoo, while others face hair loss do the hormonal changes as they age and need to add back some thickness.
So, short of a hair loss treatment, is there anything you can do to make your hair appear thicker, fuller, and more voluminous? Well, sure! The simplest fix is to try a men's volumizing shampoo!
Read on to learn about the best men's volumizing shampoos and what they can do for you.
THICKENING SHAMPOO VERSUS VOLUMIZING SHAMPOO
Before we move into the details of how to choose a men's volumizing shampoo, we need to talk about thickening shampoo. These two terms are often used interchangeably and assumed to be the same thing, but they're most definitely not. And, in our humble opinion, one is more beneficial than the other. So, let's get to it, shall we?
Volume relates to three-dimensional spaces. Therefore, to "volumize" is to add fullness. Volumizing shampoo gives the look of fullness and thickness by strengthening and lifting your hair in its entirety.
Thickness, on the other hand, refers to the space between sides. Therefore, to "thicken" is to make wider. Thickening shampoo aims to treat your individual strands and eliminate the gaps between them by making your hair strands appear thicker.
So, which is better?
Thickening shampoo may sound enticing to someone with thin hair. Of course, who doesn't want thicker, fuller strands? But the truth is that thickening shampoo only gives the appearance of thicker strands, and that comes with a few downsides.
WHY WE RECOMMEND VOLUMIZING SHAMPOO
Thickening shampoos are, more often than not, formulated with polymer ingredients that coat your hair and artificially widen and plump your hair strands. The first problem with this is that those thickening polymers only stay on until you wash them out. So, your hair isn't, in fact, "thickened", it's only thickened while you're using that shampoo.
Our second issue is that these polymer ingredients tend to stick to your scalp and build up over time. As they build up on the hair follicle, they actually add weight to your hair strands. That extra weight will make your hair lay flatter, effectively counteracting any benefits that the thickening agent adds. Not to mention that that buildup can also clog hair follicles and block new hair growth, which is the opposite effect you want if you're already dealing with thinning or fine hair.
To counteract buildup, you'll need to use a clarifying shampoo with some seriously potent ingredients. Unfortunately, many clarifying shampoos don't achieve what they promise with natural or organic formulas. Stripping away polymers requires chemical and synthetic ingredients that we usually recommend you stay away from.
It's for these reasons that we prefer volumizing shampoos over thickening shampoos for people with fine or thinning hair. Volumizing shampoos aim to provide bounce and fullness by attending to the overall health of your hair. They put a lot of focus on the scalp and the hair follicles, knowing that this is where hair health starts. And with stronger and healthier strands, volume is far more sustainable over time.
That focus on overall scalp and hair health is why volumizing shampoo tends to be formulated with light, natural ingredients that nourish the roots of your hair and strengthen your strands from where they start. It makes sense, right? How can a shampoo provide lift and bounce with heavy ingredients? Plus, with volumizing shampoo, you don't have to worry about polymer residue, or the harsh ingredients needed to wash them away.
HOW TO CHOOSE A MEN'S VOLUMIZING SHAMPOO
First, let's answer your question. How is men's hair volume shampoo different from women's hair volume shampoo? The answer is simple: it's really not. They have similar formulas, ingredients, and benefits such as cleaning your scalp, anti-dandruff and making your hair healthy.
However, you can find men's volumizing shampoo and conditioner that are formulated with ingredients that boost volume and are supposed to increase hair growth as well as strengthen.
What's important in choosing the best volumizing shampoo for men is choosing one that focuses on hair health.  With the right ingredients, you can actually cut your styling time (and products) considerably.
INGREDIENTS TO LOOK FOR IN VOLUMIZING SHAMPOO FOR MEN
So what are those ingredients? What should you look for in the best men's shampoo for volume?
We'll keep it simple. Ingredients you should avoid include:
Alcohols
Sodium laurel sulfate
Parabens
Phthalates
Harsh surfactants
Many of these ingredients have a drying effect. Even if you don't have dry or sensitive skin, over time they can sap the hydration from your follicles and even cause irritation. And that's the least of it. Some of these chemicals, like parabens and phthalates, cause far more harmful and toxic reactions in our bodies.
On the other hand, ingredients to consider when you choose your shampoo include:
Tea tree oil
Peppermint
Lavender
Rosemary
Caffeine (yup)
Plant-based proteins (like creatine)
These are natural, plant-based cleansing agents that moisturize and deliver other much-needed nutrients to your hair and scalp. And healthy hair and scalp should be the primary concern of your hair treatment process.
Apart from ingredients, shop to your hair's texture. There are products for fine hair, wavy hair, coarse hair, and straight. There are even products for color-treated hair. Check what the product is meant to do, and choose a shampoo that's natural.
THE BEST MEN'S HAIR VOLUMIZING SHAMPOO
Ready to choose your shampoo? Here are the best products to use when you're trying to add a little life to your hair.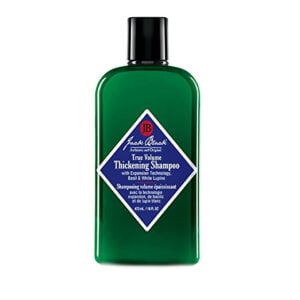 Jack Black True Volume Thickening Shampoo $28
Jack Black's fan-favorite volumizing formula is one of the best men's volumizing shampoos out there with very good reason – it removes excess dirt and oil effectively but leaves hair looking thick and healthy. There is a multitude of powerful ingredients in the popular formula including the likes of Creatine to strengthen the hair follicle as well as Wheat protein, and White lupine protein to build up and thicken. You'll also find powerful plant extracts from the likes of Basil, Tea tree, and Sage leaf that help calm irritation and also offer antibacterial properties. Finally, the dermatologist-tested formula is not only cruelty-free (animal-friendly) but has plant-based Sunflower seed oil to nourish hair and bring out the shine.
---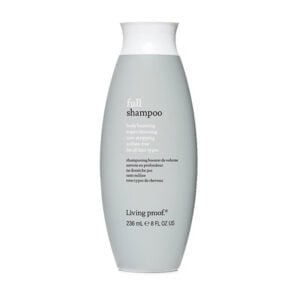 Living Proof Full Shampoo $28
Living Proof's highly rated Full Shampoo is designed to work with hair that's naturally (or environmentally) flat and dull. Your Living Proof Full Shampoo contains wheat protein and soy protein to naturally thicken your hair. Those proteins can actually work to restore your hair's health, too. So if your hair is color-treated or you frequently use styling products, this is a great choice for you.
Men who have used Living Proof Full Shampoo say the scent is fresh and clean and that the shampoo greatly cleans hair's natural oil and dirt. A little shampoo goes a long way, too, because the lather is thick and sudsy.
Living Proof Full Shampoo is phthalate, paraben, and cruelty-free.
---
Oribe Magnificent Volume Shampoo $45
Although definitely pricy Oribe's luxury Magnificent Volume Shampoo has over 700+ 5 star reviews! The formula is sulfate-free and uses body-building polymers to plump, fortify and strengthen hair. Antioxidant-rich plant extracts from the likes of watermelon, lychee, and Edelweiss help nourish the scalp for healthy hair while Keratin and the water-soluble rice-bran oil bring manageable softness and shine.
---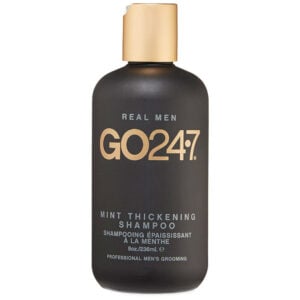 Go247 Mint Thickening Shampoo $15.68
GO247 Mint Thickening Shampoo is extremely popular with men.  It has a lot of ingredients that will thicken your hair, giving it more life and body. But the superstar of this dish is the mint. GO247 Thickening Shampoo includes peppermint oil, one of the best essential oils for hair growth.
If your hair is thinning, try this shampoo. Peppermint oil stimulates your scalp and increases blood circulation. The result is a healthy canvas for gorgeous, thick hair growth. Men who love this thickening shampoo also love the tingly feeling they get – but please don't get it in your eyes!
---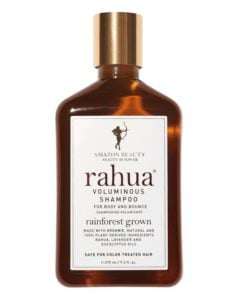 Rahua Organic Voluminous Shampoo $34
There is an abundance of good ingredients in this shampoo, easily making it a contender for the best men's volumizing shampoo ever. Here's a sampling.
Lavender and eucalyptus for their aroma and for their soothing, antibacterial, and antiseptic properties
Green tea leaf extract to reduce hair loss and improve thickness
Molasses extract to strengthen your hair
Rosemary leaf extract, which stimulates hair growth and improves circulation
Again, that's just a sampling! This organic, vegan shampoo also sports aloe, lemongrass, sea salt, and more. And men love the shampoo. In fact, the worst reviews for Rahua Voluminous Shampoo were by men whose wives began to steal their stash.
---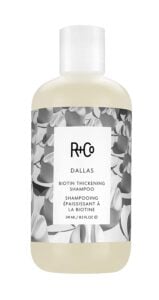 R+Co Dallas Biotin Thickening Shampoo $26
There are two things we like about R+Co. The first is the brand itself. From their packaging to their fragrances, everything about it feels like style and attitude. And that subtle, sophisticated ambiance is infused into every bottle of their Dallas Biotin Thickening Shampoo, along with some of the best ingredients for thickening your hair both in the short and long term.
Among those ingredients, you'll find biotin, which increases the strength of your hair as well as its vitality. Rather than just providing temporary volume, that compound actually thickens your hair over time, so it's a great addition to your hair care routine.
A few of our other favorite hair-beneficial ingredients include:
Pro-Vitamin B5 for intense hydration
Coconut Oil for conditioning
Loquat Fruit Extract full of vitamins and minerals for the maintenance of your growing mane
Saw Palmetto Berry Extract for instant body
By improving the strength of your hair and feeding it with vital nutrients, this shampoo can add a whole lot of body to fine or flat hair – and it does so in a sustainable way. As an added bonus, it also provides thermal and UV protection and is vegan and gluten-free.
---
L'anza Healing Volume Thickening Shampoo $31
The creators of this healing shampoo knew something that many brands making similar products miss. That is, while focusing on creating body by raising the hair follicle, many products end up drying out the hair. That's why they formulated this shampoo to build body and thickness while delivering the extra support needed to keep your hair healthy.
There's a few ways they achieved this. For one, natural silica derived from bamboo increases the diameter of each hair fibre – so volume isn't just for today, it's long-term. But then they added a keratin healing system that improves the strength and rigidity of your hair – and that takes care of any flatness.
Other supportive and protective ingredients include cactus flower which provides thermal protection, meadowfoam flower which adds shine and moisture through an abundance of lipids and emollients, and pea extract which is packed with nutrients and antioxidants.
---
Virture Recovery Shampoo $38
Virtue's Recovery Shampoo boasts an ingredient that you won't find anywhere else: Alpha Keratin 60ku(R). Discovered by a retired Army Colonel who was working in regenerative medicine, this keratin protein is nearly identical to the keratin protein produced by our own bodies.
The first time this has ever been used in a hair care product, it binds to damaged hair and repairs it. Your hair will be shinier, stronger, and healthier, and they have the figures to back that up. Recovery Shampoo results in 138% increase in color vibrancy, 67% reduction in frizz, 95% split end reparation and a 22% increase in thickness.
---
Davines Volu Shampoo $29
This volumizing gel shampoo delivers body to fine or limp hair and it does so with incredible ingredients that are consciously sourced and distributed. Davines Volu shampoo, like all their other products, doesn't compromise on quality at any stage of the process, and that results in a shampoo that does what it promises and then some.
After just a few uses of this foamy gel shampoo, you'll notice your hair is more light, bouncy, fluffy and, of course, volumized. Using natural-active ingredients, your hair gets all the nutrients it needs to create a better shape and style, all without feeling weighed down or laden with heavy ingredients. And you can feel lighter, too, knowing that your shampoo and its ingredients were obtained with 100% clean energy and packaged in zero impact, recyclable packaging.
If you're looking to treat hair loss consider reading our article on the best hairloss treatments for men.
Alternatively, if you're considering a conditioner for your hair take a look at our guide on the best hair conditioners for men.
FINAL THOUGHTS
Whether you've got fine hair, thinning hair, super-straight hair, or just want to try something different, there's a men's volumizing shampoo out there that's perfect for you. Be sure to stay away from those harsh chemicals and stick with a product that uses essential oils to improve your hair health. In just a few weeks (or less!) you'll begin to notice fuller, thicker, and healthier hair.