The use of lactic acid in skincare can be traced all the way back to the illustrious Cleopatra in ancient Egypt. She is rumoured to have bathed in donkey's milk in order to keep her skin looking youthful and radiant. Although this treatment may not be very accessible or sound very luxurious to us now, there is some science to back it up as legitimate. As milk ages, it creates a substance called lactic acid as a product of fermentation. Lactic acid has been known to have exfoliating and hydrating properties which can be great for your skin. Although it's unlikely that Cleopatra was aware of the chemical reactions taking place in her extravagant, lacteous baths, she was spot-on as an early advocate for this acid.
WHAT DOES LACTIC ACID DO?
Lactic acid is part of a group of naturally occurring compounds called alpha-hydroxy acids (AHAs) which are heralded for their benefits for the skin. AHAs work by loosening and removing dead cells on the uppermost layer of your skin (epidermis) to reveal newer and healthier ones underneath. This is called cell turnover. Increased concentrations of AHAs can penetrate deeper into your skin, into the dermis, and remove more dead skin cells. Lactic acid is one of the milder AHAs meaning it can be a good choice for people with sensitive skin. If you have tried a different AHA in the past and found it to be too harsh or irritating, lactic acid could be a better fit for you. Importantly, increased cell turnover can make your skin more vulnerable to UV thus, applying sunscreen becomes even more important if you plan on incorporating an AHA into your routine.
WHAT ARE THE BENEFITS OF LACTIC ACID?
Hydration: increased cell turnover exposes newer skin cells with greater moisture retention than dead ones.
Brightening: deep exfoliation can reduce the appearance of uneven skin tone and hyperpigmentation to leave your skin looking luminous
Anti-ageing: lactic acid can promote skin firmness through increased collagen production to help fight wrinkles, fine lines, and other signs of ageing
Anti-acne: studies have found that lactic acid can decrease the occurrence of acne by regulating oil production from your pores.
Toners can be a great way of incorporating the exfoliating properties of lactic acid into your life. As they tend to include lower concentrations of key ingredients, toners are often less irritating to your skin, while still delivering the rejuvenating benefits of lactic acid.
9+ BEST LACTIC ACID TONERS
Here we have assembled a list of our pick of the best lactic acid toners, just for you!
Moon Juice Acid Potion Resurfacing Exfoliator $42
Combining 5 powerful nutrients to deliver nourishing exfoliation, this toner from Moon Juice works to resurface your skin actively. This product has one of the higher concentrations of acids on our list, with a 25% blend of AHAs and beta hydroxy acids (BHAs) enabling it to penetrate deeper into the skin and delivering stronger cleansing abilities. With that being said, mixing with moisturizer is recommended if you find it to be too harsh.
---
January Labs Daily Brightening Tonic $28
For a toner that targets blemish-prone skin, this gentle daily toning treatment has you covered. The moisture balancing properties of lactic acid are combined with witch hazel, a natural astringent which can remove excess sebum that underlies some forms of acne. Also included is aloe to help soothe and protect stressed-out skin. Another thing we love is January Lab's commitment to forfeiting sulphates, parabens, and fragrances in all of their products.
---
ClarityRx Brighten It 10% Lactic Acid Solution $54
This treatment from ClarityRx keeps it simple with the inclusion of only 2 ingredients, water and lactic acid. Made with uneven, textured skin in mind, this nighttime toner could be a great choice for those of us looking to avoid harsh irritants and chemicals. The lactic acid in this solution works to reduce the appearance of discolouration and dark spots through the restriction of excess melanin production, leaving your skin looking radiant and smooth.
---
PCA SKIN Exfoliating Pumpkin Facial Toner to Nourish Skin $40
Looking to extend your fall celebrations past the Pumpkin Spiced Latte? This pumpkin wine-based tonic could be just what you need. Antioxidants like vitamin A and C from pumpkin wine protect your skin from free radicals that can cause fine lines and wrinkles while an ingredient called aminoguanidine works to promote collagen production. All in all, delivering a youthful, healthy glow to your skin.
---
REN Clean Skincare Ready Steady Glow Daily AHA Tonic $38
With 100% clean, vegan, and animal-cruelty-free ingredients, the Ready Steady Glow Daily AHA Tonic is made for conscientious consumers. Formulated with lactic acid to exfoliate, salicin to de-clog pores, and azelaic acid to reduce signs of hyperpigmentation and scarring, this toner can give your skin a silky smooth finish without any harsh side effects. It is no wonder that it is a fan-favorite, with an impressive 1200+ 5 star ratings.
---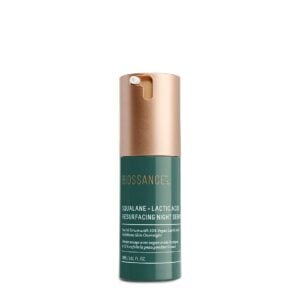 Biossance Squalane + 10% Lactic Acid Resurfacing Night Serum $62
A two-time award-winning treatment from Biossance, this gentle daily toner revitalizes skin to reveal a smoother, brighter, and softer appearance thanks to a trio of powerhouse ingredients. The inclusion of squalene delivers moisture while clover works to maximize the exfoliating properties of lactic acid and protect the skin from UV, blue light, and pollutants. With this in mind, there is no question as to why it's a #1 best seller!
---
THE BEAUTY CHEF Probiotic Skin Refiner $75
This powerful probiotic potion blends the purifying abilities of lactic acid with organic and naturally grown ingredients to provide you with vibrant and refreshed skin. A combination of grains, algaes, grasses, seeds, and legumes nourishes and hydrates while our star nutrient, lactic acid, promotes increased cell turnover in order to lock in and protect moisture. The use of only clean, easily pronounceable and recognizable ingredients is definitely something we love about this product.
---
ALPYN BEAUTY PlantGenius Survival Serum $68
If you're looking to simplify your skincare regiment, the PlantGenius Survival Serum could be a great tool for you. This treatment is dual-purpose, functioning as both a gentle toning serum as well as a primer, making it easy for you to streamline your morning routine and start your day. Not to mention that it is chock-full of antioxidants like vitamin C and bearberry leaf extract to protect you from the sun's UV rays and gentle exfoliants including lactic, azelaic, and glycolic acids to resurface your skin.
---
HydroPeptide Balance and Brighten Pre-Treatment Toner $44
Formulated to treat dull and ageing skin, HydroPeptide's Pre-Treatment toner can rejuvenate and balance stressed-out skin. The use of peptide complexes acts to smooth wrinkles and fine lines while hyaluronic and lactic acid helps your skin to retain moisture to promote a youthful glow. Additionally, the incorporation of orange stem cell extract has its own anti-ageing benefits, as it has been shown to increase collagen production to improve skin elasticity. With twice-daily use, this product can improve the texture and discolouration dramatically, as attested to by customers!
---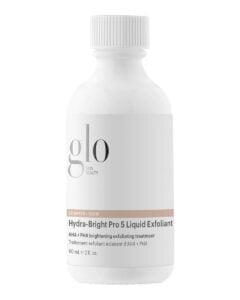 Glo Skin Beauty Hydra-Bright Pro 5 Liquid Exfoliant $56
By harnessing the exfoliating capabilities of AHAs as well as polyhydroxy acids (PHAs), the Glo Skin Beauty Liquid Exfoliant can decongest your skin to reveal a smoother and softer complexion. PHAs tend to be larger in size as compared to AHAs meaning they will not penetrate as deeply into the epidermis. This makes this product a good option for those of us with sensitive skin who find some AHAs to be too harsh.
FINAL THOUGHTS
Lactic acid can address a variety of different skin issues, making them a great choice for people in all stages of life. For ageing skin, they can improve the appearance of wrinkles, lines, and dark spots while they can also balance moisture levels and deter acne breakouts, a major concern for every teen. Toners can be a great way to incorporate lactic acid into your life, as they are formulated for daily use, and are available in enough varieties that even those with sensitive skin can find one that fits their needs.