Trend alert! Vegan is the new black! In a society where trends change faster than the weather, veganism is one that has persisted through more than a few hurricanes. With the societal shift toward all things holistic, sustainable, organic and au-natural, it's easy to see where veganism fits in and why it's gained such ground over the last few years. More of us are conscious of our impact on the environment and the world in which we live, work and play. Going vegan has become more than just a trendy buzz word; it's a dietary and lifestyle choice that many a millennial subscribes to.
In terms of skincare, many traditional ingredients are derived from animals, including Beeswax, Collagen, Keratin, Hyaluronic Acid, Squalene, Lanolin, Stearic Acid, Elastin, Honey, and Silk. It follows that the upward trend of people going vegan (or at least being more aware of what goes into the products we purchase), has caused an influx of vegan-friendly products on the market that avoids the use of those ingredients and use vegetable-derived alternatives. If you find yourself overwhelmed about going vegan and what that means for your skincare, we've got all the information you need to ensure you're buying the right products.
HOW TO PICK YOUR VEGAN SKINCARE PRODUCTS?
Keep these items in mind when shopping for vegan skin products:
Should be cruelty-free (aka: not tested on animals). An ethical vegan would not purchase items that have been tested on animals because that is regarded as exploitation.
Should be free of animal-derived products or by-products. This one goes without saying. Vegans reject the commodification of animals and animal labor (like the production of honey).
Should not contain toxic chemicals that irritate the skin or damage the environment in any way (like parabens, phthalates, sulfates, PEG compounds, petrochemicals and mineral oils, ethoxylated ingredients, synthetic fragrances and colors).
Should contain mostly natural and/or organic ingredients (if they are organic than they should be certified organic).
Should have great reviews from customers across the interwebs.
VEGAN FACIAL CARE
It's cray how often animals and animal by-products are used in our facial care items. Grab any one of your face cleansers, chapsticks or moisturizers and we bet you'll find at least two animal or animal-derived ingredients.
Considering vegan products tend to be less harsh and the fact that the skin on your face is the most visible and the most important to looking great, going vegan for your facial care doesn't just benefit our earth, it also benefits your youthful glow.
Find out all the details on vegan eye creams in our rundown that covers all the best ones.
VEGAN CHAPSTICK OR VEGAN LIP BALM
Finding chapstick that doesn't have any parabens, chemical sunscreens or petroleum is a difficult endeavor all on its own. Add to that a chapstick that doesn't have any animal-derived ingredients and you've got a treasure hunt harder than that of The Goonies. That's because animal ingredients like beeswax, lanolin, honey and carmine are all common in lip balm. But don't fret! Although one of the more difficult vegan products to find, there are vegan chapsticks or lip balms- out there that replace animal ingredients with items like: hard wax (candelilla, soy, etc), oil (coconut, avocado, mango butter, shea butter, floral waxes, jojoba), vitamin drops (like Vitamin E) and essential oils. If all else fails, you can always DIY but we've got a list of things you can try first.
BEST VEGAN CHAPSTICK AND VEGAN LIP BALM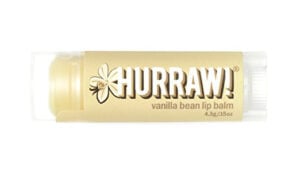 Hurraw! Vanilla Bean Lip Balm $8.99
Made from all natural ingredients, this certified vegan chapstick uses fair trade ingredients and sustainable practices in its production. Hurraw comes in a bunch of different flavors, scents, and tints, so you can find one that's the perfect fit!  If you're interested in exploring some of the other variants (including Chai Spice, Coconut and Unscented) check them out here.
---
Ecolips Super Fruit Lip Balm $3.50
Ecolips started as a small, out-of-the-kitchen operation that specialized in handcrafted natural lips balms and they maintained that ethos as the business grew into what it is today. Their USDA-Certified organic lip balms are made with wind power offsets, fair trade, gluten-free and cruelty-free ingredients. Their bee-free vegan lip balms are no different, combining candelilla wax with cocoa butter and coconut oil to leave your lips incredibly soft and supple. Discover some of the other scents, flavors like Sweet Mint or Lemon-Lime here.
---
100% Pure Strawberry Lip Butter $15
Not only is the packaging super pretty, but the ingredients inside are wonderfully nourishing. This tinted vegan lip butter also available in the lighter Peach ($15) and darker Cranberry ($15)  is applied the traditional way (with your fingers) and includes a blend of soothing, vegan-friendly ingredients like avocado, shea, and cocoa butter. With this mix of ingredients, 100% Pure Lip Butters are ultra-moisturizing, vitamin-rich and completely organic. It's even naturally tinted with fruits and berries!
---
The Naked Bee Coconut & Honey Lip Balm $4.15
Formulated without any dyes or other synthetic ingredients, this vegetarian-friendly chapstick is simple yet effective. It's not vegan but it is cruelty-free and with ingredients like certified organic aloe, sunflower oil, green tea, white tea, honey, hyaluronic acid, and spirulina, your lips will be smoothed, repaired and moisturized in no time.
---
S.W. Basics Original Salve $21
The less ingredients, the better – and that is especially true for skin and lip care. S.W salve's come in three different types: two of which have only four ingredients and one that has three ingredients. These salves are all vegan, cruelty-free and USDA-certified organic. Simple ingredients like sunflower oil, carnauba wax, cocoa butter and essential oils (either peppermint or rose geranium) ensure that your lips are protected but can also be used on dry knuckles, itchy elbows, peeling cuticles and other dry-skin spots.
---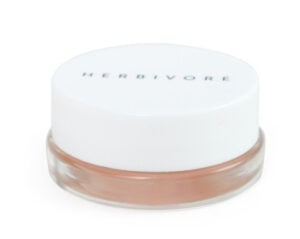 Herbivore Botanicals Natural Coco Rose Lip Conditioner $26
While a little on the pricey side, there's good reason – all oils used to create these conditioners are cold-pressed or steam distilled (the best extraction methods available for generating premium quality oils). These lip conditioners are made in small batches to ensure they are of top quality and Herbivore Botanicals emphasizes their use of plant-based, organic and food-grade ingredients, including virgin coconut oil for hydration, replenishment and scent and Moroccan rose absolute which is anti-inflammatory and tastes yummy! All this plus it's vegan-friendly?! Score!
---
Pacifica Beauty Coconut Cherry Quench Lip Tint $4.99
These super cute lip tints are not only free of animal ingredients and cruelty-free, they also don't have any harsh chemical ingredients like carmine, phthalates, petroleum or silicone. With five different tints and the most adorable packaging, Pacifica's Lip Tints are a perfect accessory that will also hydrate and nourish those dry lips. Ingredients worth mentioning are: coconut oil, cocoa butter, vitamin E and color derived from minerals.
VEGAN FACE WASH
If acne is your problem, there is research to support the link between a vegan diet and clearer skin (dairy and items on the glycemic index are big culprits in the development and persistence of acne and breakouts). Diets that avoid consuming meat and dairy are typically lower in fat content, meaning that pore-clogging saturated fats are absent in vegan (and vegetarian) diets. Add to this the fact that fruits and veggies are high in vitamins as well as antioxidants, and you've got nutrition that will reduce your chances of breaking out.
If you'd like to take it one step further, you can find cleansers and toners for your face that are vegan and cruelty-free. They're generally less irritating for your face and contain nourishing ingredients – giving you your best shot at combating acne short of changing your diet completely. Like we've talked about, vegan face wash tends to contain more natural and organic ingredients that are soothing for your skin. Some common vegan ingredients to look out for in your vegan face wash are: coconut milk, jojoba, witch hazel, chamomile flower extract, green tea extract, cucumber extract and tea tree oil.
BEST VEGAN FACE WASH
100% Pure Coconut Oil Cleansing Milk $29
Best For: Dry Skin
100% Pure's Vegan Coconut Cleanser blends Coconut oil and milk to target skin concerns inclusive of dehydration. The cruelty-free cleansing milk is made to be rinsed-off and doesn't include known skin irritants like dyes and synthetic fragrances.
---
Mad Hippie Cream Cleanser ($13.71)
Best For: Dry Skin
Mad Hippie takes reducing your carbon footprint to the next level. Their products are USDA-certified organic, vegan and cruelty-free. But they don't stop there – they use BPA-free, fully recyclable airless pumps in their production plant, print with soy inks, run their entire facility off alternative energy and give $1 of every websale to conservation efforts. Their cream cleanser is great for dry skin thanks to ingredients like jojoba oil, orchid extract, macadamia oil, algae extract and green tea which support the skin's natural balance.
---
Yes To Cucumbers Gentle Milk Cleanser $7.99
Best For: Normal To Dry Skin
This award-winning milk cleanser is not vegan but it is vegetarian-friendly and never tested on animals. Paraben-free and made with recyclable packaging, Yes to Cucumbers facial cleanser is great for normal to dry skin that is prone to breakouts thanks to the antioxidizing effect of green tea and the moisturizing properties of soy proteins.
---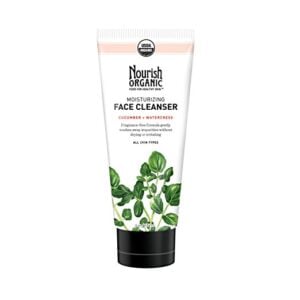 Nourish Organic Moisturizing Face Cleanser $8.39
Best For: Normal to Dry skin
If you're a vegan with normal to dry skin, this 100% organic, fragrance- and gluten-free cleanser will penetrate your pores to remove dirt, oil and makeup while infusing it with beneficial vitamins and powerful antioxidants. In this moderately priced but refreshing cleanser, aloe vera juice, coconut oil, sunflower oil and sesame oil work to cleanse the skin, cucumber extract hydrates and soothes any irritation or redness and watercress extract protects your skin from damaging free radicals.
---
Youth To The People Age Prevention Cleanser $36
Best For: Normal Skin
Want to live a vegan lifestyle and prevent the visible signs of aging? No problem! The antioxidizing properties of the kale and spinach in this cleanser help prevent the development of fine lines and wrinkles caused by environmental pollutants and free radicals. Bonus: this superfood facewash acts as a three-in-one because it can be used as a toner and makeup remover as well. It will clean your skin without stripping natural oils and uses cold-pressed extracts that are prepared in small batches to ensure their high quality.
---
Acure Brilliantly Brightening Cleansing Gel $8.34
Best For: Normal, Oily and Combination Skin
A gel that is 100% vegan (which is pretty difficult to find), Acure's products are also free of parabens, sulfates, phthalates, mineral oils, petrolatum, silicone and, of course, cruelty. A little goes along way with this cleanser so you only need a drop or two to wash away dirt and oil and absorb all the positive benefits of antioxidants like Pomegranate, Blueberry and Acai.
VEGAN SERUM
Can it be true? Can you really replace your much-loved face serum with a vegan alternative? Yas queen! With vegan serum you garner all the same benefits but with less of an ecological footprint.
BEST VEGAN SERUM
Pai Skincare Rosehip BioRegenerate Oil $45
Pai's BioRegenerate serum has a unique, high concentration blend of Rosehip and other fruit seed oils like Rosa Canina. These ingredients, high in omegas 3, 6, 7 & 9 and antioxidant carotenoids, repair damaged skin and protect against environmental pollutants to restore a luminous glow and prevent damage before it happens.
---
Herbivore Phoenix Facial Oil $88
Herbivore's products are cruelty-free and they use the highest grade, non-toxic ingredients in everything they create. This luxury facial oil is rejuvenation in a bottle with ingredients like CoQ10 to enhance collagen production, rosehip oil rich in essential fatty acids Omega 3, 6, and 9 as well as antioxidants like chia seed. With no fillers and all natural ingredients, this serum works wonders when it's applied after cleansing and toning every morning.
---
100% Pure's High Potency Reversal: Restore Serum $55

100% Pure's Vegetarian Serum is packed with powerful rejuvenating ingredients like White Tea extract and the powerful Superoxide Dismutase to target a number of the signs of aging.  The cruelty-free formula is lightweight and leaves skin hydrated without feeling sticky.   If you're looking for something to wear in the day consider 100% Pure's Vitamin C Serum ($40).
---
Acure Argan Oil $6.99
This 100% vegan and cruelty-free serum multi-tasks just like we do: it works for hair, face, body, décolleté, hands, cuticles, elbows and heels. Packed with Vitamin E to restore skin tone and texture, you can use this serum to hydrate while antioxidants prevent the visible signs of aging. It's lightweight so it won't leave your skin oily and it's free of toxic ingredients and harsh chemicals.
---
Nyl Skincare Velvet Transformative Serum $68
This luxury serum is made in small batches with all-organic ingredients that moisturize and target the visible signs of aging. You won't find gluten, soy, animal product or animal testing in this serum but you will find antioxidants like vitamin E oil, pomegranate seed oil, argan oil and elderberry seed oil that fight free radical damage as well as soothe and nourish your skin.
VEGAN MOISTURIZER
Keeping your face moisturized means less dryness, redness, irritation and breakouts. It's an essential component of any skin care routine and one that can't be compromised. Luckily for all you ethical vegans out there, there are plenty of options for keeping your face moisturized while protecting our furry little friends from harm.
THINGS TO NOTE 
When scanning through the list of ingredients, you may find a non-vegan ingredient listed on a product certified vegan. Do not panic. Some ingredients can be derived from more than one source. Hyaluronic acid, for example, can be extracted from rooster combs but it can also be created by bacterial fermentation. With that in mind, there are some ingredients that have no vegan alternative. If you find lanolin listed, put the product down and back away.
If you're looking to go vegan with your entire skincare regimen than make sure to explore our in-depth overview of the best vegan skincare for the body.
FINAL THOUGHTS
If you've chosen to subscribe to a vegan lifestyle, there are a lot of intricacies to not only diet but also the skin care products you buy. If you're ever unsure of what you're buying, look for certifications or feel free to call the manufacturer – those that are vegan-friendly are always happy to tell you all about their environment- and animal-friendly practices! But vegan products aren't just made for vegans, they're ethical and sustainable products that use high quality, natural ingredients that are gentler on the skin and can offer the same benefits of their synthetic counterparts. If consideration of your ecological footprint is a priority for you, vegan products check all the skin beneficial boxes.