Forget all of the complicated, overly-processed formulations, the next great product for your skin could come from something found in your pantry! Commonly sourced from almonds, mandelic acid is a naturally-derived compound that can help to decongest your skin and revitalize your complexion. Below we have assembled all the information you need to determine how this powerful ingredient can fit into your skincare routine.  To be honest, some of the simplest ways to use Mandelic Acid is within a serum or toner.  Read on to discover all the details about this skin-beneficial ingredient.
WHAT IS MANDELIC ACID?
Mandelic acid is a type of alpha hydroxy acid (AHA). Don't let the word acid scare you! Mandelic acid is amongst the most gentle ones. AHAs are not new to the realm of skincare and can often be found in the long list of ingredients in your various lotions and potions. Some of the most common AHAs are glycolic acid and lactic acids.
AHAs work by weakening the bonds between your outer layer of skin cells. This allows the cells to shed, leaving your skin to look brighter and more hydrated. Mandelic acid is one of the largest AHAs, in terms of molecular weight, which means it will penetrate that outer layer slower than some of the other acids listed above. Slower penetration can be good for those with sensitive skin as it is less likely to irritate. Some research has also shown that mandelic acid can regulate your skin's oil production which makes it a good choice for those with naturally dry skin. An important note about AHAs is that they may increase your skin's sensitivity to sun exposure which can increase your likelihood of getting a sunburn. This means that wearing sunscreen or a product with SPF in it can be extra important when also using mandelic acid.
BENEFITS OF MANDELIC ACID
Mandelic acid can be a great exfoliant. By getting rid of older skin cells, it can make your skin appear smoother and fresher.
Mandelic acid can make skin visibly more firm over time due to increased cell turnover.
Mandelic acid can reduce the frequency of acne breakouts. As mentioned, there is some evidence to suggest that it can balance oil (sebum) production which can often trigger frequent acne. One study found that a chemical peel with 45% mandelic acid to be equally as effective as one with 30% salicylic acid (commonly known as an ingredient that is most effective in treating breakouts) for treating mild/moderate acne
Mandelic acid can reduce the appearance of hyperpigmentation like sun damage or dark marks as a result of increased cell turnover
9 BEST MANDELIC ACID SERUMS & TONERS
Now that we've outlined the basics, let's introduce you to some of the mandelic acid serums and toners that we love!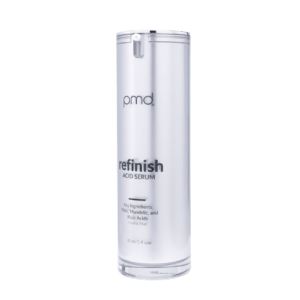 1. PMD Refinish Acid Serum $59
With a combination of rejuvenating acids and hydrating ingredients, this fan-favorite mandelic acid serum from PMD can help to promote cell renewal and even out skin texture ultimately giving the appearance of smoother, brighter skin. The malic, Kojic, and mandelic acids all work in harmony to help to reduce signs of wrinkles, dark spots, and acne while the Hyaluronic Acid in this serum deeply hydrates the skin. Taken all together, this serum can be a new powerhouse in your daily skincare routine.
---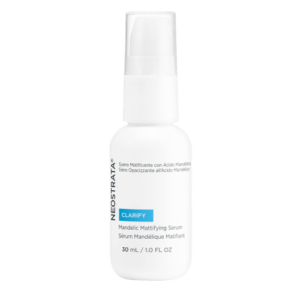 Neostrata Mandelic Mattifying Serum $44
This clarifying mandelic acid gel serum is perfect for those of us with oily skin. Containing an 8% blend of polyhydroxy acid and mandelic acid, this serum from Neostrata can reduce the visibility of pores and keep your face shine in check throughout the day. Both fragrance-free and non-acnegenic, this product is also great for on the go! This is because it can be applied both under and over makeup so you can keep your face looking velvety and smooth all day long.
---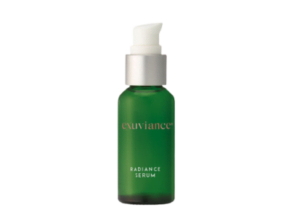 Exuviance Radiance Serum $72
This rejuvenating mandelic acid serum from Exuviance could be just what you need to bring a new glow to dull and tired skin. According to a 2001 study on photoaging, this serum can boast an impressive increase in youthful radiance of 212% thanks to a blend of acids and antioxidants. The inclusion of vitamins A, C, and E can help to protect your skin from aging freed radicals while the mandelic, and polyhydroxy acids can increase firmness, smooth out uneven texture, and reduce hyperpigmentation.
---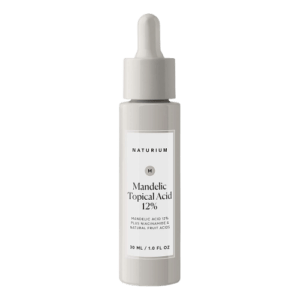 Naturium Mandelic Topical Acid 12% Serum $20
A great choice for those with sensitive skin, this mandelic acid serum is vegan, fragrance-free, gluten-free, and cruelty-free! Formulated with earth, marine, and botanical-based ingredients, Naturuim's topical acid can serve as a gentle alternative to harsh exfoliants. By increasing cell turnover, the mandelic acid in this product can help to brighten and refresh skin while reducing the appearance of fine lines and dark spots.
---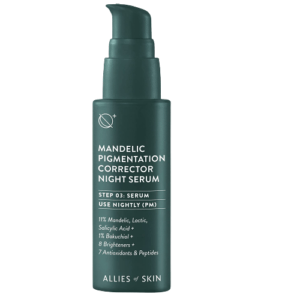 Allies of Skin Mandelic Pigmentation Corrector Night Serum $92
For a mandelic acid serum that combats blackheads, blemishes, and dullness, this Allies of Skin product may be the right fit. The antioxidental properties of ingredients like Superoxide Dismutase, rosehip and Tamu oils can hydrate and brighten skin while the mandelic, salicylic, and lactic acids help reduce the appearance of large pores and other imperfections. Plus, this product was also recognized as the best option for hyperpigmentation at the Teen Vogue Acne Awards
---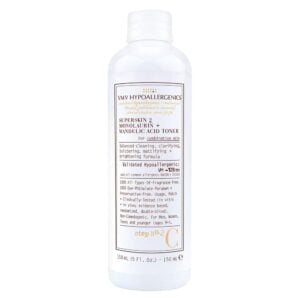 7. VMV Hypoallergenics SuperSkin 2 Monolaurin + Mandelic Acid Toner $32
For those of us with combination-type skin, this ultra-powerful mandelic acid toner is ideal. Formulated as an anti-acne therapy treatment, the combination of mandelic acid and monolaurin (a derivative of coconut) can deliver a clarifying and brightening effect to blemished-ridden skin. This product also functions as the second step in VMV Hypoallergenic's recommended daily skin regimen for combination skin. Additionally, this brand is all about safely and clinically-tested treatments which is why this product is validated hypoallergenic, making it a great option for individuals with sensitive skin.
---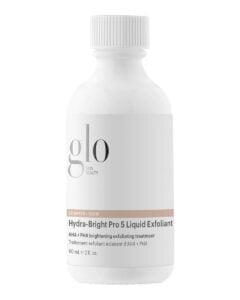 Glo Skin Beauty Hydra-Bright Pro 5 Liquid Exfoliant $56
This versatile mandelic exfoliating toner from Glo Skin combines 5 different acids to soften and clear skin while simultaneously maximizing the benefits of all the other moisturizers and serums you apply. Recommended for all skin types, the mix of AHAs and polyhydroxy acids can decongest clogged follicles and minimize fine lines to create visibly smoother skin. Furthermore, this exfoliant asserts that it can improve the overall texture of skin by 25% following 1 month of regular use.
---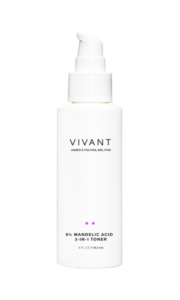 Vivant Skin Care's 9% Mandelic Acid 3-in-1 Toner $62
Ideal for those with combination or oily skin as well as for darker skin tones, this mandelic acid toner harnesses the anti-ageing and anti-acne properties of mandelic acid to deliver brighter and fresher skin. This product creates gentle micro-exfoliation in your skin to remove old skin cells while minimizing any irritation that may occur. On Amazon.com, it has an impressive 4.6-star rating from 84 reviews, making it a clear customer favourite!
---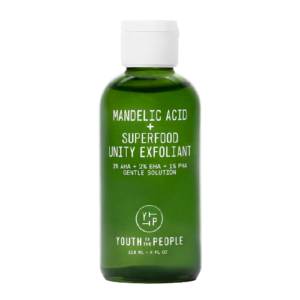 Youth To The People Mandelic Acid + Superfood Unity Exfoliant $38
A fan-favorite, this remarkable little green Mandelic Acid serum has a 4.8-star average out of 288 reviews on Sephora with 99% of customers stating that they would recommend it. This liquid, leave-on exfoliant from Youth to the People combines gentle acids with green tea, kale, and licorice root to preserve your skin's protective barrier and reduce uneven tone and texture. An added bonus is the 100% vegan and cruelty-free formula!
DIFFERENCE BETWEEN MANDELIC ACID SERUM & TONER?
Our favorite mandelic acid-based products list includes both serums and toners but, what is the difference between the two? In terms of appearance, serums tend to be thicker in consistency and are often administered using a dropper. Toners tend to be lighter and thinner in consistency and can usually be found in bigger bottles. Toners work to balance the skin, thereby refreshing and cleansing your face whereas serums often contain a high concentration of a variety of active ingredients meant to penetrate your skin to reduce signs of aging and even skin tone. Both can be used within your skincare regiment as they address different problems but, if you wish to do this, make sure to use the serum after the toner.
FINAL THOUGHTS
Whether you are looking to decrease hyperpigmentation, reduce the occurrence of pesky pimples, or just generally refresh your skin, mandelic acid can be a great option to add to your skincare repertoire. By increasing cell turnover, this ingredient can leave your skin feeling totally refreshed. Importantly, be careful how often you use mandelic acid-based products as too much too often can cause irritation. As long as you take heed of the product label's advice, you can be on your way to better skin health in no time!