CC (color correcting) cream target redness, age spots, and other pigmentation problems – making CC cream for acne or oily skin a perfect match.
CC creams are a powerhouse skin care product that can replace a number of the items you're currently using on your face, including foundation, concealer, corrector, and primer. You can use CC cream for oily skin to cover up blemishes and enlarged pores.
They can be used to even skin tone and texture for a visibly smoother complexion. At the same time, they're infused with skin beneficial ingredients that fight further breakouts and promote a healthy skin surface.
BEST CC CREAMS FOR ACNE-PRONE & OILY SKIN
Choosing the best CC cream for acne is an important undertaking, so we've got you covered. Find out what the top 8 CC creams for acne are below.
IT Cosmetics Your Skin But Better CC Cream Oil-Free Matte with SPF 40 $49
A bestselling CC cream that comes in 12 colors is one of our Editor's favorites so you're sure to find your perfect match. Made without any oils (aka oil-free) that will clog your pores, the matte finish lasts up to 12 hours. Combined with SPF 40 broad-spectrum physical sunscreen, this full-coverage color corrector gives you perfectly light, all-day protection and wear. For hydration and plumpness, it's also formulated with anti-aging skin ingredients like hyaluronic acid and hydrolyzed collagen.
---
Purlisse Perfect Glow Oil-Free BB Cream SPF 30 $35
Technically a BB cream but the popular (over 600 5 star reviews) oil-free formulation couldn't be left off our list. The skin-perfecting formula that even works for sensitive skin types leaves skin with a matte finish while still looking hydrated and comes in 11 (from fair to deep) shades. The SPF 30 coverage won't feel heavy on the skin (aka is quite light) and includes plant extracts like chamomile and artemisia to help soothe the skin and sugar maple to enhance your skin's natural glow.
---
Peter Roth Thomas Skin to Die For Complexion Perfector $32
Use this subtle, universal tint under makeup for fuller coverage or wear it on its own for a natural finish that blends with any skin tone or shade. Especially helpful for shiny skin, the mattifying formula contains some stuff we've never heard of, but we're certainly happy about. Disa-Pore 20 is a powerhouse at reducing the appearance and shape of pores for a more flawless natural texture, AuraSpheres and Gransil EP-9 work on fine lines and wrinkles, and AberMay balances appearance and shine.
---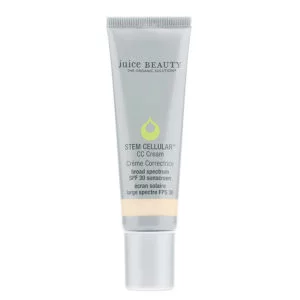 Juice Beauty Stem Cellular Organic CC Cream $39
An organic and vegan CC cream that keeps the particularities of aging skin in mind, Juice Beauty's very popular Stem Cellular CC Cream is rich in antioxidants, hydrating agents, and brightening ingredients like vitamin C and fruit stem cells. This combination minimizes the appearance of fine lines, delivers hydration to thirsty or dull skin, and protects against environmental aggressors as well as the sun with an SPF 30. All five shades come packaged in an airless container to protect the integrity of the ingredients.
---
Supergoop! CC Screen 100% Mineral CC Cream SPF 50 PA++++  $39
100% mineral UV protection that's non-irritating to even the most sensitive skin types, Supergoop protects against photoaging caused by UVA, UVB, and IRA without oxybenzone (aka one of the more harmful ingredients found in most sunscreens). Formulated with Omega-3 and 6 as well as apple extract, it's also capable of correcting hyperpigmentation and discoloration caused by blemishes. Best for light to medium skin tones, this CC cream provides more coverage than a tinted moisturizer.
---
SMASHBOX Camera Ready CC Cream Broad Spectrum $42
For the days you only need light coverage of post-acne marks, dark spots, and sunspots, this color corrector acts less as a concealer and more as a brightener that neutralizes redness. The natural-looking finish provides subtle coverage that improves complexion but also hydrates and balances the skin's production of oil to keep away future breakouts. Free of harmful parabens, phthalates, and fragrances, it doubles as the perfect lightweight, buildable primer that's actually good for your skin.
---
Ayuna Velo 6-in-1 Supastratum Protection $122
There's nothing that this 6-in-1 can't do, which is why it's suitable for all skin types – especially those that are exposed to the outdoors on a daily basis (i.e. basically everyone). One might argue that its star ingredients are naturally-derived trehalose and glycolipids, which balance and support postbiotic ferments on your skin for strength and resilience. But on the other hand, it also contains protective and hydrating oils and herbs like argan and chamomile along with a pleasant natural essential oil scent.
---
La Roche-Posay Rosaliac CC Cream with SPF 30 $38.30
If you have a combination of sensitive skin and permanent or common redness, apply this CC cream for acne after cleansing in the morning and forget having to use a moisturizer or foundation. A natural CC cream for oily skin, the formula is rich in polyphenols and naturally-occurring pigments. It also contains hydrating glycerin as well as shea butter – which is particularly good for acne-prone skin because of powerful antibacterial and anti-inflammatory properties.
---
Physicians Formula CC Cream $7
Breakouts and redness aren't just for the young – so when you need anti-aging ingredients embedded in your moisturizing and concealing routine, Physicians Formula has you covered. This CC creams not only fixes pigmentation and discolorations, but it also works to reduce fine lines, wrinkles, and signs of fatigue like dark circles and skin dullness. A makeup-skincare hybrid capable of correcting more than just color, it's available in 2 blendable shades.
---
Lumene CC Color Correcting Cream $21
A 6-in-1 that acts as a lightweight foundation, redness neutralizer, concealer, primer, illuminator, and SPF 20 that lasts you the day. The semi-matte finish smooths the contours of blemishes on acne-prone skin and reduces excessive shine. In 7 shades that complete the spectrum from fair to dark, this CC cream is comfortable to wear and quick to apply.
---
Erborian CC Cream Radiance Color Corrector Perfector $22
This extremely unique product that comes in 3 colors ( Fair, Golden & Caramel) blends to all skin tones with what Erborian calls "magic foundation". That property is what makes this product excellent for correcting uneven skin tone caused by acne marks and breakouts. With just a light application, your complexion will even out and unify.
---
HAN Skincare Serum CC Cream SPF 30+ $32
A multitasking non-toxic product needs multitasking ingredients, which is why HAN developed their cruelty-free CC cream with a base of coconut oil, jojoba oil, and rose hip oil. Together, they smooth and rehydrate skin while refining the surface for incredible long-term results. That's what makes it great for reducing and preventing the visible signs of aging – that and the addition of vitamin e, an antioxidant that supports skin health and healing. Find this SPF 30+ in seven shades that adapt to your undertones.
---
Cover Girl Clean Matte BB Cream $7
Covergirl is a classic and they hit it out of the park with this water-based bb cream foundation at their well-known affordable prices. Formulated specifically for oily skin in 6 different shades, it combines the perfect amount of coverage and blend-ability with ingredients that will let your skin breathe. If you struggle with blemish-prone skin, you'll appreciate the natural-looking finish as well as the fact that the formula is non-comedogenic, meaning it won't clog your pores.
---
Stila One Step Correct $36
A weightless formula that doesn't clog pores, this 1-step solution to a more brilliant skin tone uses 3 brightening tones to neutralize redness, counteract undertones, and reduce the appearance of sunspots. The lightweight formula keeps this cream from settling in fine lines but it also contains a mineral complex that reduces fine lines, wrinkles, pores, and other visible signs of aging.
---

Sappho New Paradigm CC Cream $38
Sappho developed their all-natural CC cream with people on the go in mind. Meaning that the cruelty-free formula designed as a quick and effective base to any makeup routine at any time of year. The light-diffusing mineral pigments provide light to medium coverage depending on how much you apply, and the addition of aloe juice ensures that it hydrates and soothes even sensitive skin types.
WHAT'S THE DIFFERENCE BETWEEN CC, BB, DD CREAM?
CC, BB, DD – what are they and which is best for what concern? All three of these are tinted moisturizing creams that are great for daily use. Which one is best for you depends on what your major skin concerns are.
BB cream is beauty balm cream. These are multi-tasking creams that act as a foundation, moisturizer, SPF, with added skincare benefits. This is the original alphabet cream and they're generally made to even the skin tone and texture of all skin types. They provide full coverage in a product that's lighter than most makeup foundations or primers but heavier than most moisturizers.
CC cream is color correcting cream. As the name implies, they tend to focus on color issues like redness or dark spots. They tend to offer more coverage than a BB cream, but still in a lightweight formula that can all but replace most foundations. You'll also find SPF and other skin care ingredients in these formulas.
DD cream is daily defense cream. The biggest difference between DD creams and BB or CC creams is that these focus on the visible signs of aging. DD creams are thicker in texture than the other alphabet creams, which make sit more adept at covering fine lines and wrinkles.
CC CREAM TIPS FOR OILY AND ACNE-PRONE SKIN
When you have oily or acne-prone skin, finding a product that doesn't irritate your skin and lead to breakouts is a game of trial and error. That's especially true when it comes to a CC cream, because they stay on your skin all day and contain potentially pore-clogging pigments.
When you're picking a CC cream for acne, a few helpful tips can save you some of that time and effort:
Unless your CC cream is specifically formulated for oily or sensitive skin, a little goes a long way. And even then, you don't need to pile it on like a foundation because these are meant to give you a more subtle, natural look than your traditional makeup.
To create a matte finish or to build coverage, use a finishing powder that will also help you target excessively oily areas such as your t-zone.
Know what you want from your CC cream. While some simply correct redness, other formulas contain anti-aging ingredients for aged skin, hydrating ingredients for dry skin, and soothing ingredients for sensitive skin.
The right CC cream will do far more than help you coverup your blemishes and discoloration for the day. They'll contain ingredients that help to heal your skin, clear your pores, and create a purer canvas from which to begin your makeup routine.
FINAL THOUGHTS
Finding the best CC cream for acne and/or oily skin takes a little more effort. Check the label for oil-free formulas, hydrating ingredients, and more natural ingredients that avoid the use of alcohol, parabens, and phthalates – these formulas will reduce the chances of developing a breakout. Then decide whether you need to correct redness, uneven skin tone, texture, or any number of the issues that CC cream targets.