If you've been spritzing yourself with cologne or have relied on the scent of your soap to keep you smelling shower-fresh, there's a new alternative in town.
Well, alright. It's not new. Solid cologne has been around for centuries, and some think it even dates back to ancient Egypt. But it might be new to you. Want to know more about solid cologne? Read on!
WHAT'S A SOLID COLOGNE?
That's easy! It's a cologne that's solid! Solid colognes are a great alternative to spray on fragrances and roll on colognes for a few reasons – we'll look at those reasons in just a few minutes.
First, let's look at exactly what goes into your solid cologne.
Solid colognes are usually a mixture of oils, waxes and fragrance. The oil could be something like coconut oil which, in addition to providing a "foundation" which holds fragrance, moisturizes your skin. This is great if you use solid colognes on your neck or beard area.
Secondly, your solid cologne will usually have an ingredient like beeswax. These solids will lock in both the moisture and the fragrance, allowing the scent of your cologne to last all day.
Finally, there's the fragrance itself. The best solid colognes use essential oils and natural fragrances. These scents not only exclude harsh chemical ingredients, but some also provide other benefits to your skin. For instance, cinnamon contains natural antibacterial properties, which may help reduce the instance of acne and blemishes.
WHAT'S THE BENEFIT OF A SOLID COLOGNE? 
So, you may ask, "what's wrong with my spray cologne?" Well, there are a few benefits to using a solid cologne over traditional spray colognes.
The first and most obvious benefit is the lack of harsh chemicals. Most spray colognes contain alcohol. But that's not all. Spray scents also contain acetone, limonene, phenol, benzyl acetate and even formaldehyde. Ugh.
In contrast, many solid colognes contain natural, even organic, ingredients that are gentle on your skin. They're also safe for your overall health, as opposed to the chemicals which can cause respiratory problems and even cancer.
Secondly, your solid cologne is convenient as heck. It won't spill if you drop it into your briefcase or gym bag, and it's easy to reapply if you need to.
Third, you won't be "that guy." You know, the guy who walks past your cubicle at work and leaves a stink-trail. He's obviously sprayed on too much cologne, and the whole office knows it. With a solid cologne, it's virtually impossible to use too much cologne.
Finally, the best solid colognes for men are easy on the environment. Many, many products are made from organic, naturally sourced ingredients. Most won't contain harsh chemicals which are harmful to waterways. And none contain aerosol or other propellants.
Ready to go shopping for your new solid cologne? Here are the best solid colognes for men.
BEST SOLID COLOGNES FOR MEN 
Everyone's fragrance preferences are different. Because of that, we're providing a long list of the best solid colognes for men. Our choices are based on customer reviews, company profiles and overall benefits of the product ingredients.
Duke Cannon Men's Solid Cologne $22.50
Duke Cannon Men's Solid Cologne comes in three "flavors": Naval Supremacy, Open Skies and Redwood. And in all honesty, the names are quite descriptive of the scents of the products.
Naval Supremacy ($24.95) is a light, citrusy scent. You'll feel like a sea captain when you wear this fragrance.
Open Skies ($22.50) is also a very light scent, but you'll also detect notes of juniper.
Redwood ($24.95)is the earthiest of the scents. You'll feel like a woodsman when you sniff the rosemary, sandalwood and amber fragrance of this solid cologne.
Whichever you choose, you can be assured that you're pickin' a good one. All products are made from natural ingredients in the United States, and a portion of the company's proceeds is donated to benefit US veterans.
---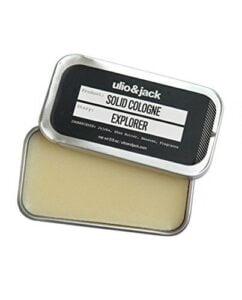 Ulio&Jack Explorer Men's Solid Cologne $24
Explorer Men's Solid Cologne by Ulio&Jack doesn't just smell good. It's also nourishing to your skin.
This solid cologne contains jojoba oil to hydrate your skin, shea butter to soothe, and beeswax to soften. There are no phthalates, either, and all the ingredients are 100% natural!
And the smell? You'll love it. Explorer Men's Solid cologne is a musky smell, with bergamot, jasmine and Japanese grapefruit blended together. You'll have to agree when you smell it – the scent can only be described as manly.
Prefer an earthier smell? Try ulio&jack's Drifter. You'll love the blend of cardamom, mandarin, sandalwood and cloves.
---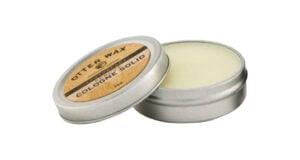 Otter Wax Spruce Cologne Solid $29.95
Otter Wax Spruce Cologne Solid is also made from shea butter and beeswax. But the smell is like nothing you've experienced. Men have described the scent as "grounding" and "outdoorsy," noting that there's a hint of sweetness to it.
When you open your tin of Otter Wax Spruce Cologne, you'll immediately notice how strong the scents of Virginian Cedar, Sandalwood, Citrus and Vetiver are. But as you apply it to your skin, you'll appreciate that the strength lessens and changes a bit, creating a mild, woodsy smell.
---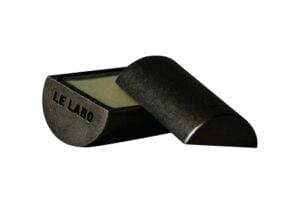 Le Labo Men's Neroli 36 Solid Cologne $92
There are so many good-for-you ingredients in this product, you'll almost forget it's a cologne. Neroli 36 contains:
Sweet Almond Oil
Coconut Oil
Soybean Oil
Pomegranate
Candelilla
The result? An exhilarating, masculine fragrance. You'll detect mandarin, jasmine and watermelon, as well as a hint of vanilla, neroli and salt crystal.
The solid cologne in this little tin is suitable for all skin types, and it lasts for months.
---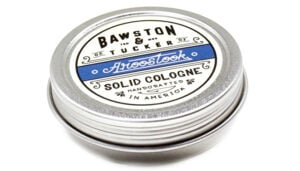 Bawston & Tucker Aroostook Solid Cologne $19.90
No one can describe the scent of Aroostook solid cologne better than the company itself. They say:
Imagine the fresh smells of a winding river with touches of sweet citrus & woody tones of bergamot & patchouli.
Sound like your thing? Hundreds of men agree. This cologne is based in shea butter and also contains soothing ingredients like beeswax and sweet almond oil.
Keep this product in your pocket. Men who have used it say that the scent applies nicely – not too strong, yet not too faint. But it does begin to fade a few hours after applying. For the best results, apply to an area of your body that's not too susceptible to sweat.
And, if for some reason the fragrance of a winding river laced with patchouli doesn't appeal to you, Aroostook comes in other scents as well. Try Motega ($19.99) for a spicy scent, Tuskalusa ($19.99) for something a bit more rugged or Hurytt ($19.99) if you're looking for an earthy fragrance.
---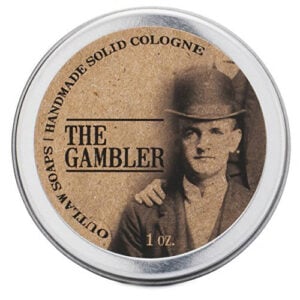 Outlaw Soaps The Gambler Solid Cologne $22
Close your eyes and try to imagine what Don Draper's office smells like. Open your eyes, and you're holding The Gambler solid cologne.
This is one of the best solid colognes for men who are looking to attract attention – but not too much. You'll smell notes of vanilla, tobacco and leather, but they're subtle tones that won't overpower your colleagues.
What's (maybe) even better than the smell is that it contains some pretty sweet ingredients. You'll smell great and soothe your skin with beeswax, grape seed, cocoa butter, rosemary seed and Vitamins A and E.
---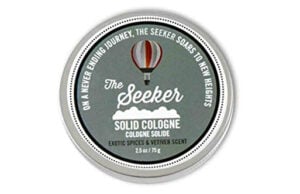 Walton Wood Farm The Seeker Solid Cologne $31.50
Last but not least on our list of the best solid colognes for men is Walton Wood Farm solid cologne. There are seven fragrances available, but that's not even what we like best.
The best part of the handmade Walton Wood Farm Solid Cologne collection is what these products stand for. They are:
100% natural
100% North American
Vegetarian-friendly
Cruelty-free
Free from sodium lauryl sulfate
Paraben-free
Phthalate-free
Alcohol-free
Dye-free
That's pretty great, right?! In these little tins, you'll find beeswax, soybean oil, castor seed oil, grape seed oil and a host of other ingredients that nourish your skin.
Choose from several scents, including:
Each fragrance is unique and manly, and men who have used the products say they last all day.
FINAL THOUGHTS 
Don't be "that guy." Solid colognes can save you from an embarrassing stink-trail caused by over spraying your traditional cologne, and are super convenient. As if that weren't enough, they're also good for your skin and many are great for the environment!
Choose your favorite scent and stick a solid cologne in your pocket. You'll smell like you just stepped from the shower all day.