Okay, you've definitely heard of vegan diets, but vegan products are also slowly becoming more popular (and we're here for it). Before you jump to conclusions, it honestly isn't as much of a stretch as you may think. Read further to understand the benefits of choosing vegan body washes, and our favorite picks out of the many!
WHY CHOOSE A VEGAN BODY WASH?
Certified vegan products often contain a higher percentage of organically derived natural ingredients. When a product is sealed with that wonderful 'V' icon, you can rest assured that it doesn't contain those harsh toxic chemicals that are discretely included in most regular body washes. Along with this, vegan products are comparatively much more environmentally friendly, as they contain a higher amount of biodegradable ingredients that, when washed down the drain and leave remnants back in the water, won't harm the environment! In short: vegan body washes are a definite yes. 
11 BEST VEGAN BODY WASHES
Graydon All Over Soap $20
This multipurpose vegan soap has an energizing, fresh scent that customers are in love with. The unique blend includes geranium, lavender, rosemary, eucalyptus and citruses like lemon, sweet orange and grapefruit. The cruelty-free soap is also multipurpose⎯ use it on your body, your hands, your hair, your face, wherever! Don't mistake this simple formula for being too simple⎯ it has a safe pH value of 5.8-6.3 and is also dermatologist tested. The soapy feel of the formula comes from a plant-based surfactant (we love the environmentally friendly ingredients). This simple soap can be used anywhere, and doesn't leave you feeling stripped of moisture⎯ leave feeling hydrated and smelling like citrus heaven!
---
Malin + Goetz Eucalyptus Hand + Body Wash $24
This simple body wash uses glycerin and amino acids to purify and leave the skin feeling super soft to the touch. Just like some of the others on this list, this vegan body wash brings the advantage of an uncomplicated routine: you can use it on the face, body, and hair. Safe for sensitive skin, the natural wash doesn't strip the skin's natural oils, and doesn't irritate! The natural eucalyptus scent in this product makes it a great one for those with early mornings. If you're not a morning person, this wash might just turn you into one! 
---
Bliss Lemon & Sage Body Wash $10
Bliss' body wash has a selling point that the other washes don't have: their iconic scent. The unique vegan blend of lemon and sage, reminiscent of the soapy citrusy scent of spas, seems to be extremely popular among buyers! The foamy wash builds into a nice lather that gently cleanses your skin. The PETA-certified product is made with aloe extract and glycerin making it a great one for ultra-hydration. Ditch the priciness of the spa and make your stay-at-home day just as relaxing with this beautifully-scented wash.  
---
Rahua Shower Gel $30
Though pricier than the other vegan body washes on this list, Rahua's unique ingredient list is definitely worth the extra price. We'll cut straight to the point: rahua oils⎯ this brand's forte⎯ are uber-rich in antioxidants, omega-3 and omega-9 fatty acids. This, paired with the benefits of rainforest grown sacha inchi makes it hydrating on a level you've probably never experienced before, and leaves your skin glowing. Along with this, it includes anti-aging polyphenols that promote elasticity and tightness in the skin. The formula is scented with lavender, vanilla, and woodier notes like Palo Santo incorporated as well. Rahua's shower gel is certainly more than a body wash, it's an experience it itself (with benefits that'll last much longer than the shower). 
---
One Love Organics Easy Does It Foaming Cleanser $25
Multipurpose like many of the other options on this list, this wonderful vegan body wash comes in a convenient family-size that makes it well worth the price. The Chilean soap bark in this formula provides saponins that help to gently cleanse the skin without stripping away natural oils. The hydrating vegetable glycerin works as a humectant to help the skin retain moisture. Apple seed oil in this mix brings sulfur into the formula, known for its soothing properties⎯ great for people who undergo stress and are love relaxing showers. Whether you need a saving grace as a parent, or you're a busy student that doesn't have time to by 4 different products⎯ this product won't disappoint. 
---
Basd Body Care Refreshing Citrus Grapefruit Body Wash $12.49
Before anything: the affordable price of this clean, vegan wash makes it worth it right off the bat. But, if you need more convincing, don't worry. The aloe and coconut oil in this formula make it super moisturizing. If you're a morning showerer, you'll be pleased to know the caffeine from green tea in this formula work to increase and stimulate blood flow (basically, you'll leave the shower much more awake and ready for the day)⎯ only amplified when paired with the awakening citrusy scent. This body wash goes to show that you don't need to spend big bucks to choose clean products for your body⎯ enjoy the benefits without spending crazy money!
---
Goop G.Tox Glacial Marine Clay Body Cleanser $30
You definitely have not used a body wash like this one. Made with hand-harvested glacial clay, it is filled with minerals that your skin will thank you for. When applying it, the the vegan body wash builds into a nice lather that brings the perfect amount of foam. The clay allows the texture of this wash to be super soft and creamy⎯ you'll literally be excited about it before showering. The cleanser also contains organic safflower oils and cold-pressed moringa oil, both known for their hydrating superpowers. The distinct scent of the cleanser is thanks to the inclusion of peppermint oil paired with rosemary and grapefruit. These essences also provide the soap with purifying properties as well. With a unique scent and ultra-hydrating formula, you can't go wrong choosing this one.
Alternatively, the same brand also has the Ginger + Ashwagandha Energy Body Wash ($32) more focused on refreshing and awakening properties as opposed to purifying and soothing the skin. The scent of this wash, a romantic and subtly spicy aroma, comes from Japanese shiso leaf, Indian black pepper oil, and pink peppercorn berries. Invigorating ginger and ashwagandha roots in this formula⎯ known for its stress-healing properties⎯ leave you feeling ready and energized for the day. If you love showering in the morning but are tired of the same citrusy morning scents, this unique body wash will certainly give you a novel and soothing experience. 
---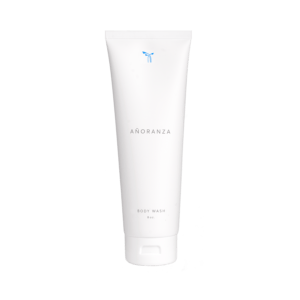 Phlur Anoranza Body Wash $18
One of the other wonderful affordable choices in this list, this bottle is essentially all of your tropical dreams in a cute little bottle. The complex, romantic scent of this vegan wash⎯ unlike what you might expect⎯ isn't your regular high school body mist scent. The unique combination of white flowers, mint, and muskier scents keep it from being overly sweet, but are still reminiscent of a sunny day by the beach. If you're a lover of perfumes, here's the breakdown: top notes of mint, middle notes of jasmine and mariposa, and core notes of rum, tobacco, bourbon vetiver and coffee. The brand recommends using a small amount as a little goes a long way⎯ this is thanks to the coconut-oil foam booster makes this cleanser quick to build up into a large lather. The formula cleanses with natural surfactants, and moisturizes with its incorporation of aloe vera. For the price, we love how complex and unique the scent of this wash is, and how it is all organically-derived!
---
Abhati Suisse Periya Body Cleanser $ 36
 Ayurveda is an ancient, centuries-old practice originating in India, and the root of this wonderful vegan body wash. Amla and neem extracts, paired with Himalayan wild cherry and moringa leaf provide ultra-hydration and leaves out the toxic foaming ingredients that are typically included in drugstore body washes. The plant-based formula has a subtle and light botanical scent that isn't overbearing or too strong. Ayurvedic medicine and products are known to truly invigorate and soothe the mind and body, and this product certainly shows just that. 
---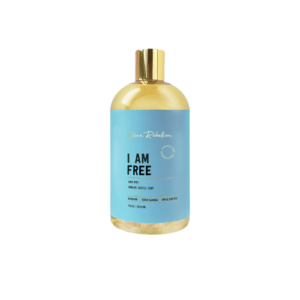 Clean Rebellion I am Free $23.99
Could this name be any cooler? Apart from the unique marketing of the brand, there's another wow factor to this vegan body wash: it's made with only two ingredients. Water and saponified organic olive oil are what make up this hypoallergenic castile soap. Because of how pure this formula is, it's safe for more than just the body⎯ you can also use it for face, and even your hair. The eco-friendly formula is naturally hydrating and has a lovely creamy texture (keep in mind, it may settle, but a couple shakes should do the trick). Basic might not be the vibe in fashion, but in beauty, we're here for it. 
FINAL THOUGHTS
Vegan body washes are more than just vegan ⎯ they are environmentally friendly, natural, often botanically-scented, and multipurpose! Ditch the gross chemicals that do both you, and the environment, more harm than good. Organic ingredients like herb extracts, fruit extracts and  natural oils not only provide a more natural scent, but also are much safer for your skin in the long run. We promise, once you make the switch you'll never look back at those chemical-filled drugstore body washes.