Eyeshadows are arguably the staple of any eye makeup look⎯ whether you're going for something neutral, glam, bronzy, or more artsy, it all starts with the shadow. That said, you might be surprised to learn that most eyeshadows tend to have unnecessary and harmful ingredients all mixed into their formulas. Before being too quick to label vegan eyeshadows as less effective or pigmented, read further to see why they're actually a much better choice, and of course, our favorite picks.
Vegan eyeshadows are not only more environmentally friendly (usually) as they are usually composed of more natural and biodegradable ingredients, but those same organic ingredients are also just safer for the skin in general. The 'vegan' checkmark is also often accompanied with other checkmarks⎯ cruelty-free, natural and organic eyeshadows are usually vegan too! It's the best of all the worlds, and its safe for you⎯ what's not to love about it?
15+ BEST VEGAN EYESHADOWS
Read on to discover our picks of the best vegan eyeshadows on the market.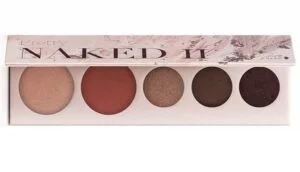 100% Pure Fruit Pigmented Better Naked Palette $55
If the name doesn't already cut to the chase enough, we can spell it out for you: these colors are made from straight-up fruits. This vegan palette includes roses, pinky-nudes, shimmery and shiny metallics along with the everyday beiges and taupes. The cruelty-free and organic formula consists of three eyeshadows, a blush and a highlighter (perfect if you travel a lot or like to keep your makeup collection small). The pigments, as we said earlier, are derived from fruits, vegetables, tea, and other plants. Glowy and perfect to blend with, these are showstopper eyeshadows.
Also made with those lovely organic pigments, the very popular Fruit Pigmented Berry Naked Palette palette ($55) consists of many pinks, browns and purples. The same combo of three eyeshadows, a blush and highlighter, except these colors resemble the same ones you'd see in a pretty spring berry bush.
Apart from both of these lovely palettes, 100% pure also sells individual Fruit Pigmented Pressed Eyeshadows ($20). If you want to make your own make-shift palette by combining some different colors, or perhaps you're just looking for a certain color in particular, these are great! Fruit pigments, just like in all of their shadows, create lasting color payoff and a beautiful shimmer. 
---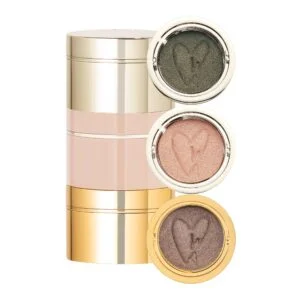 Westman Atelier Eye Pods $88
Okay, the name "Eye Pods" is giving us major futuristic vibes. Apart from the aesthetic name of the best-selling luxury vegan eyeshadows, the packaging of this eyeshadow trio comes in a convenient and cute stack. Plus, we'd be lying if we said the magnetic snapping of the pods isn't a plus⎯ it totally is. The velvety, crème-to-powder formula is weightless and perfect for blending. Westman Atelier also boasts this formula as one that leaves zero fallout, a strong but attractive claim! With radiant shades that are made with naturally derived pigments, and coconut oil for the perfect amount of slip and blendability, these Eye Pods have certainly caught our eyes. 
---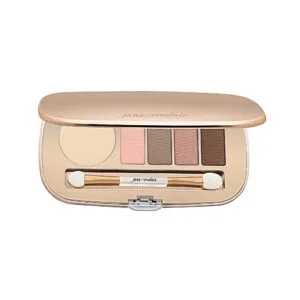 Jane Iredale Eyeshadow Kit $59
Jane Iredale never misses, and this vegan eyeshadow kit proves our point perfectly. Made with pigments from natural minerals and organic botanical extracts, the eyeshadow is vegan and still highly pigmented. The long-lasting shadow is made with minerals and botanicals like mica, pine bark, and pomegranate extract. In other words, its formula is perfect for those with sensitive eyes, as these ingredients serve as a protective and soothing measure. The mica in this formula is what allows the product to glide onto your eyelid with ease and blend easily. 
If you don't want to commit to a full eyeshadow palette, Jane Iredale also makes a convenient compact, the PurePressed Eyeshadow Triple ($30). We love that there are multiple different triple combinations available – from warm orange-browns to cool greys and blues! Each eyeshadow triple has colors that complement each other beautifully, and work perfectly to create a look together. The silky formula is made with those same organic botanical extracts that allow for it to blend just seamlessly. 
Not a huge eyeshadow person or if you know you? No worries, Jane Iredale also makes a simple Eyeshadow Duo ($30), with a light-dark color combo. Blend the lighter color near the inner corner, and the darker one near the crease, and let it do its magic. These duos are also great for throwing into your bag for touch-ups or keeping in handy. 
---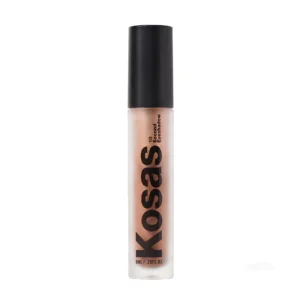 Kosas 10-Second Liquid Eyeshadow $28
You've probably heard of Kosas' famous skin tint, but they also make a beautifully-formulated vegan liquid eyeshadow. Why 10-Second? Because this eyeshadow is uber fast-drying! The creaseless, buildable, "high-impact" pigment stays all day and gives you bold, bold color. Kosas included orange fruit extract, jojoba seed oil, and rice starch which all are immensely beneficial for the skin. This liquid eyeshadow kills two birds with one stone: skincare for toning your eyelids, and showstopping, vibrant eyeshadow. 
---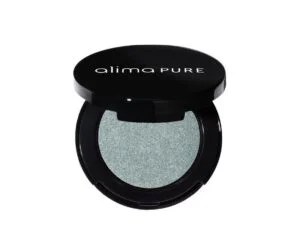 Alima Pure Pressed Eyeshadow $26
If you love bold, pigmented eyeshadows, Alima Pure makes, arguably, some of the best on the market. The vivid colors come from a unique blend of avocado oil for hydration, jojoba oil for stimulating collagen production, and rice powder for soothing. Not only do these colors look great on your eyes, but they're actually good and gentle for eyelids at the same time! The creamy, easily blendable formula makes it great to use as a bold-colored eyeliner to smoke out as well. 
Love all things metallic? Alima Pure's Pearlluster Eyeshadow ($14) one's for you! Made with organic luminous pigments, these pigments work as a shiny bold eyeliner, eyeshadow, or even as a highlighter. You also choose how intense you want it to be, applying with a dry brush will give a subtle luster whereas a wet brush will intensify the pigment by quite a bit. Pearly, classy, sexy, and bold, these pigments have endless potential to complete your dream eye look. 
Alima Pure's Luminous Shimmer Eyeshadow ($14) loose shimmery eyeshadow is very similar to its sister, the pearl luster eyeshadow, but just a subtler, less intense version. Because of its loose texture, it is better for adding just a hint of shimmer and can layer well with other bold colors. The brand likes to call it "the pot of gold at the end of the rainbow", and we find it hard to disagree. 
A perfect basic for your makeup collection, these pigments aren't as in-your-face as the other bold counterparts Alima Pure makes. Instead, the organic Satin Matte Loose Mineral Eyeshadows ($14) are muted and perfect for blending and layering⎯ subtle enough to use even for filling in your brows. The hypoallergenic formula is the ultra-versatile addition to your shadows, making for the perfect bases and blending elements. 
---
Exa Light Show Color Melt Sparkler $22
These eye-catching vegan gel pigments have endless possibilities⎯ you can use it for the eyes, cheeks, lips and body. The key ingredient in this formula is manketti oil, which assists in brightening the skin. This, paired with ultra-hydrating algae extract and antioxidant-rich vitamin E makes for a super skin-friendly formula. If you love playing around with makeup, the fun colors in this line are sure to spark your creative juices. 
---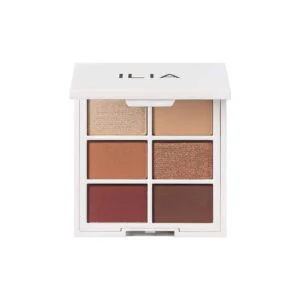 Ilia Beauty The Necessary Eyeshadow (Warm Nude) $38 
These talc-free vegan palettes are the perfect size, and come with 6 blendable complimentary shades. Ilia did not skimp on nourishing ingredients, even with their makeup⎯ jojoba old and vitamin E hydrate the eyelids and deliver blendable, vibrant pigments. The shades are great for adding warmth into your makeup look, with deep orange and brown shades. We also love that the palette includes satin, matte, and shimmery finishes so you don't have to make any big decisions⎯ it's all in there with a cute compact mirror for easy application as well. 
Where the above palette has warmer toned shades, Ilia conveniently makes The Necessary Eyeshadow Palette Cool Nudes ($38) with cooler shades too. If you have cooler undertones, paler skin, or find yourself looking better in silver jewelry, chances are this palette will catch your eye more than the warm-toned one. Made with that lovely combination of matte, satin, and metallic finishes, this palette will be a top-shelf one in no time. 
---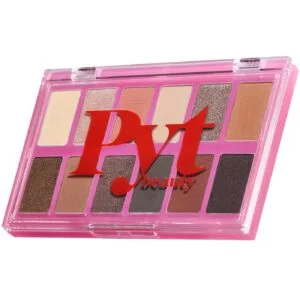 PYT Beauty Upcycle Cool Crew Nude Eyeshadow $28
With 8 matte and 4 shimmery shades, this vegan eyeshadow palette is versatile enough to be used for glam, every day, and everything in between. We love the added sunflower seed oil, which ensures a blendable formula and also helps to nourish the eyelids.  What is great about this brand is that their physical palette is made with 15% recycled plastic ⎯ hence the name 'Upcycle'. From warm peaches to deep browns to shimmery silvers, this palette is one you really can't go wrong with, regardless of your skin tone. 
Loving what PYT is putting out, but you like to stick to golds, beiges, and other warm shades PYT's got you covered with the Warm Lit Nude Palette ($28). There's enough neutral shades in this one to enhance your everyday makeup look, but you can also play around with the shimmery gold and bright orange for something bolder. 
Same packaging as its sisters, but the Upcycle Party in the Nude Eyeshadow Pallette ($28) is a little wilder than its counterparts. Here you'll find those lovely neutral beiges and nude pinks, but also a beautifully pigmented bright lavender and turquoise. Yes, you read that right⎯ turquoise! PYT has gracefully combined the makeup lover's divided interests of glam and everyday glowy makeup into one convenient (and environmentally friendly) package. 
---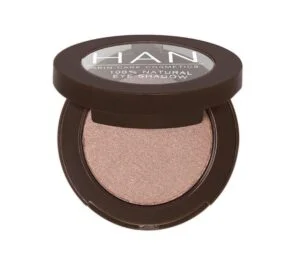 HAN Eye Shadow $15
This vegan eye shadow is non-toxic, making it a great clean makeup purchase. It comes in 9 neutral and shimmery options, all perfectly suited for anyone who loves dewy, bronzey makeup looks. Superfruits like acai, pomegranate, blueberry, and cranberry all nourish this formula with intense antioxidants. That, paired with hydrating sea kelp, cucumber and shea butter make it perfect for matured skin. The pigments in these shadows are also organically derived from plants like rose, quinoa extract, and green and black teas. Super packed with natural ingredients, we are in love with HAN's formula.
---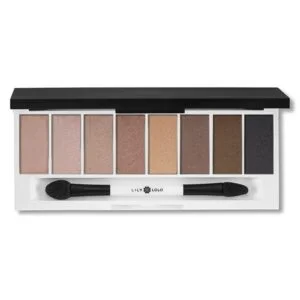 Lily Lolo Laid Bare Eye Palette $34
Lily Lolo's vegan 8 eyeshadow colors are made with natural ingredients that give it its gliding perfection. The difference is, this one has some darker shades for "when you want to add drama". If you love smoking out your eyeliner, or use dark browns and blacks in your regular routine, this palette is the one you'd opt for!
Already have the basic neutral browns and beiges? Lily Lolo's Pedal to the Metal Palette ($34) is basically shimmery perfection. Filled with vibrant, pigmented metallic shadows, this palette is a MUA's dream. Use it for highlighting the inner corner, maybe even pop some on as nose highlight, or perhaps go for an intense sparkly glam look. Whatever you choose, the sparkles won't disappoint with this one. 
FINAL THOUGHTS
If this article doesn't prove the versatility of vegan eyeshadows, we don't know what can! These eyeshadows are filled with organic ingredients and botanicals that your skin will thank you for, and your inner MUA will love the blendability of. Regardless of your preference – shimmers, nudes, warm tones or cool tones⎯  you'll find great vegan options among them all!