The best skincare regimens are preventative rather than reactive. This is why The American Academy of Dermatology recommends that women start using retinol treatments in their 20s to prevent crow's feet and fine lines, rather than waiting until these signs of aging begin to appear. But what exactly is retinol and how do you effectively implement it into your life? 
WHAT IS RETINOL?
Retinol is a super powerful compound that is derived from vitamin A. It is commonly found in skincare products due to its anti-aging properties. Retinol can increase collagen production to reduce the appearance of fine lines and promote the production of blood vessels in your skin to create an even skin tone. However, retinol can also increase your skin's sensitivity to sunlight. Although wearing an effective sunscreen for retinol is always essential for good skin health, it becomes increasingly so once you implement retinol products into your routine.
With that being said, we have collected some of our favorite retinol products for preventative, rejuvenative skincare in your 20s. All of which have relatively low concentrations of the active ingredient that will be less likely to irritate skin that is not accustomed to retinol.
10 BEST RETINOL FOR YOUR 20S
100% Pure Multi-Vitamin + Antioxidants Potent PM Serum $72
An extremely popular natural formula that contains a powerful blend of skin-beneficial ingredients to target a multitude of early signs of aging common to the 20s including fine lines, tired skin, and uneven skin tone. Key ones to be on the lookout for in the nutrient-rich night serum include 1% Retinol, 10% brightening Vitamin C in the stable (and effective) form of Magnesium Ascorbyl Phosphate, as well as 10% Niacinamide to tone and firm. The cruelty-free and vegan formula also includes powerful plant extracts from the likes of antioxidant-rich Broccoli and Spinach as well as nourishing plant-based oils including rejuvenating Rosehip oil.
---
SkinMedica Retinol 0.25 Complex $57
With a 0.25% concentration of retinol, this extremely popular treatment aims to improve skin colour, texture and resiliency. The inclusion of an antioxidant-rich complex called a PhytoShield™ Complex can help to reduce the incidence of irritation and promote smooth skin texture. Plus, this SkinMedica product boasts an impressive 4.7-star rating on Amazon!
---
Drunk Elephant A-Passioni™ Retinol Cream $74
A powerful blend of vitamins and peptides, this retinol cream from Drunk Elephant promises smoother, brighter, youthful skin. While our superstar ingredient, retinol, works to improve skin texture, Vitamin F can soothe and plump skin. The formula also includes a triple peptide blend that works to maximize the benefits of retinol.  Additionally, this cream treatment is vegan, cruelty-free, and fragrance-free making it a great option for those with sensitive skin.
---
Shani Darden Skin Care Retinol Reform® $88
Looking for something formulated with oily skin in mind? We recommend this cream from Shani Darden Skin Care. Combining retinol with lactic acid means it can not only deliver anti-ageing magic but also work to rid your skin of excess oil to reveal a fresher, more vibrant complexion. Start with 2-3 pumps a couple of nights per week to help build up a tolerance before increasing application as tolerance increases.
---
Peter Thomas Roth Retinol Fusion PM Night Serum $65
If you are in need of something a bit stronger, this serum from Peter Thomas Roth includes a 1.5% concentration of retinol. Their use of time-released Microencapsulated Retinol means that retinol is released slowly overnight while you catch some much-needed Z's. Vitamins E and C are also included in this formula to deliver antioxidant benefits. Apply before going to sleep for youthful, radiant skin.
---
Murad Resurgence Retinol Youth Renewal Serum $89
Formulated with retinol, hyaluronic acid, and Swertia flow extract, this serum from Murad is clinically proven to show results in less than 2 weeks after consistent use. It can increase cell turnover to reveal smoother, radiant skin without any tightness or redness that can often accompany equally potent solutions. Additionally, this formula does not include gluten or any animal-derived ingredients!
---
First Aid Beauty FAB Skin Lab Retinol Serum 0.25% Pure Concentrate $58
Ideal for beginner retinol users, this gentle serum contains a relatively low concentration of retinol, as well as soothing nutrients like hyaluronic acid and aloe to ensure the user feels no skin discomfort. The inclusion of peptides also works to maximize the anti-ageing properties of retinol to deliver powerful benefits without harmful side effects. This makes it a great option for 20-something's who are just beginning their retinol journey.
---
Kiehl's Micro-Dose Anti-Aging Retinol Serum with Ceramides and Peptide $62
Kiehl's promises impressive results with their first-time friendly retinol serum. With 100% of individuals showing a reduction in the appearance of wrinkles, it is no wonder why we love this product. Their formula includes a blend of peptides and ceramides to improve skin integrity and promote a strong moisture barrier on the surface of the skin, thereby increasing the skin's retinol tolerance. Furthermore, this treatment is well-suited for all skin types, including sensitive skin.
---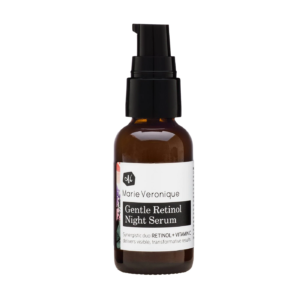 Marie Veronique Gentle Retinol Night Serum $110
3-time winner of awards for best retinol serum, the Marie Veronique Gentle Retinol Night Serum can help reduce signs of ageing by increasing collagen production in your skin with the help of vitamin C. Additionally, this treatment can help prevent breakouts and unclog pores, making it well-suited for those of us with acne-prone skin. Ceramides in this formula also help to boost your skin's moisture levels and keep skin feeling soft.
---
Herbivore Botanicals Bakuchiol Retinol Alternative Serum $54
We know we said this list was all about retinol but, this stunning purple solution is the exception. This serum is formulated with a naturally-derived alternative to retinol called Bakuchiol. Bakuchiol is sourced from Ayurvedic Babchi plants and has comparable anti-ageing properties to retinol, while also delivering hydration to the skin. The unique blend of plant-based ingredients gives this water-based serum a jelly-like feel that can enhance skin's texture and appearance.
---
Maya Chia The Straight A $125
The Straight A serum from Maya Chia combines retinol with 2 retinol alternatives to ensure potent effects. Along with encapsulated retinol, this treatment includes bakuchiol and moth bean extracts, both of which are known as botanical retinol. Together, these ingredients can plump skin and reduce wrinkles and fine lines. Chia seeds and buriti oil also help to hydrate and nourish skin, as well as combat any irritation that may arise.
FINAL THOUGHTS
Starting to implement retinol into your skincare regiment in your 20s means you can protect your skin before visible signs of ageing arise. This means maintaining radiant, vibrant skin for longer. We have collected 10 different products, all of which are gentler, beginner-friendly retinol treatments, to help you get started.