What's your ideal beard length? How about your mustache? If you're like a lot of men, you've got a pretty good idea of the perfect length for your facial hair. And there's a good chance that length falls somewhere between clean shaven to stubble or even a lion's mane.
For you, there are trimmers. Beard and mustache trimmers keep your hair just the way you want it – not too long, not too short. Let's take a look at some of the best beard and mustache trimmers on the market.
THE IMPORTANCE OF A GOOD BLADE
First things first – let's talk about the importance of a good, sharp blade. The quality of your blade applies to both razors and trimmers, but for the purpose of this guide we'll talk about trimmers.
When you trim your mustache or beard, there are hundreds of little hairs passing through your clippers. Using a dull, cheap blade will have devastating effects. The hair will pull and tug, causing an uneven trim. And you may even end up pulling your facial hair out. Ouch.
Blades that aren't sharp and sturdy will also lead to ingrown hairs and can damage your hair, causing breakage. As you know, ingrown hairs are itchy and sometimes painful. And broken hairs lead to a frizzy, unkempt appearance.
CARING FOR YOUR BEARD AND MOUSTACHE TRIMMER
It's important to care for your beard and mustache trimmer as a way maximize both functionality and longevity. To do that, there are two main things you need to remember.
 After each shave make sure to remove the blade (casing, etc) and clean the container area that collects hairs using the small brush that comes with most trimmers. If you feel that the brush isn't getting rid of all of the debris, consider gently tapping your trimmer on a counter surface in a bid to remove excess hairs.
Use the oil that (most) manufacturers include with their trimmers to lubricate the blades as a preventative measure against the wear and tear from usage – not only will it help minimize damage from friction but also heat. Keep in mind, a little oil (a few drops) goes a long way.
BEST BEARD AND MUSTACHE TRIMMERS FOR MEN
Okay, so now you know the importance of a good blade, and how to care for your trimmer. It's time to look for the best mustache trimmer or beard trimmer for you. Here are our top picks.
Philips Norelco Beard Trimmer Series 7200 $54
This beard trimmer is nothing short of amazing. Remember the last time you shaved, and your partner fussed at you for leaving hairs all over the sink? Fuss no more. The Philips Norelco Beard Trimmer Series 7200 has vacuum-action for that.
As you shave, a little vacuum works to collect (somewhere around) 90% of your hairs. And those hairs can be as long or as short as you like – the Series 7200 has twenty built-in length settings. Twenty! How's that for a customized shave?
Men who use the Philips Norelco Series 7200 say the vacuum is a godsend, but they also love the versatility of the trimmers. Along with the 20 lengths, the trimmer includes three precision combs, perfect for maintaining looks from stubble to full-on wise beard. And what's better is that all the attachments are washable. Just rinse and done.
Reviews of the Trimmer Series 7200 say that the trimmer is slightly heavier and bulkier than others. But that's to be expected with the vacuum feature, and men say it doesn't take long to get used to.
---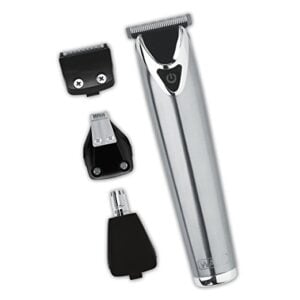 Wahl Stainless Steel Rechargeable Clipper $59
Next up is the Wahl Stainless Steel Rechargeable Clipper. As the name suggests, this clipper uses a rechargeable lithium-ion battery, so it's perfect for travel or touchups on the go. In fact, it's god for international use – it's compatible with both 110v and 220v outlets.
This trimmer is what you could call an all-in-one model. It's got just the right shape and feel to trim your mustache and beard, but men say the design of the trimmer is also great for trimming body hair. And with four hours of charge, you can be sure you'll get the perfect shave no matter where your travels take you.
Reviews of the Wahl Stainless Steel Rechargeable Clipper say that the trimmer is quiet and that you won't need shaving cream, even for the closest shave setting. Several detachable blades are included: the precision t-blade, the detail shaver, the detail trimmer and the ear, nose and brow trimmer.
---
Braun BT3040 Men's Ultimate Beard Trimmer $28.50
If you thought 20 blade lengths was impressive, wait until you check out the Braun BT3040. It boasts 39 lengths in 0.5mm increments, allowing you to shave your beard, mustache, eyebrows, or whatever you see fit to trim.
One of the most convenient features of this trimmer is the fact that you can run the whole thing under water to rinse it. That means you won't have stubble blocking up your blades. Wash, oil and store, and your trimmer will be ready the next time you need a quick trim.
It's also lightweight, meaning it's super portable. Like the Wahl, this trimmer is rechargeable, and you can stash it in your gym bag or beach bag for beard and mustache maintenance on the go. When you buy this trimmer on Amazon, it comes with a Gillette Flexball refillable razor, so you can also shave your neck or areas of your face you'd like to be clean-shaven.
---
Gillette Fusion ProGlide 3 in 1 Body Groomer and Beard Trimmer $20
Speaking of Gillette, they've got one of the best mustache and beard trimmers on the market, too. This certainly isn't the most expensive mustache trimmer on the market, but that's one of the reasons we love it. The price point is perfect for men who want a slim, easy to use trimmer without all the bells and whistles.
The Gillete Fusion ProGlide does have a few whistles. It comes with three combs so you can customize your 'stache. The different lengths let you get the length you want. And the ProGlide also has a handy storage organizer. No more lost attachments or arguments over counter space.
Men who have used the Gillette Fusion ProGlide 3 in 1 say it's perfect for trimming your beard and mustache without pulling at your hairs. Some men have even used it on eyebrows and body hair, if you care to share your beard trimmer with your pubic area.
Without the guards, this razor won't give you a clean-shaven look. But that's perfect for men who want a consistent 5 o'clock shadow with a uniform look. Overall, for the price of the product and the ease of use, you can't go wrong with this trimmer.
---
Conair Man All in One Beard and Mustache Trimmer $14.99
Last but not least on our list of the best mustache and beard trimmers is the Conair Man All in One Beard and Mustache Trimmer. What makes this little guy different is that it's battery operated. Just two AA batteries will keep you looking your well-groomed best, no matter where you use the trimmer.
Men say that, even after a year or more, the blades on this trimmer are sharp and cut with precision. You'll need to oil the blades, of course, but upkeep on this razor is easy as pie. Just use the included blade brush to clean the trimmer of hair, then oil the trimmer and you're all set.
It's best to keep this little trimmer in your toiletries bag to prevent rust. There's no carrying case or storage stand included, which is actually part of the appeal of the product. It's a definite space saver, easy to carry with you and perfect for travel.
FINAL THOUGHTS
Do you prefer a 5 o'clock shadow or a full beard? No matter your preference, you're going to need to do a little maintenance from time to time. This list of the best beard and mustache trimmers has an option for every beard on the list.