Surprisingly to some, the serum, hovering between a moisturizer and an essence, has been around for some time. In the past, oils and botanical extracts were used to nourish and hydrate the skin – from Ayurvedic Thailams to ancient skin tonics from East Asia. However, it's only recently that the modern-day serum's role (as we know it today) has been widely popularised by East Asian beauty trends. Although the question of what exactly is the point of a night serum in your 30s may be popping up in your mind.
WHY DO YOU NEED A NIGHT SERUM IN YOUR 30S?
After cleansing and before moisturizing, serums are used to deliver a potent level of actives deep into the skin's layers. The formulations experiment with different molecule sizes to target and cater to specific concerns. For example, water-based (ideal for oily/combination skin) and oil-based (great for dry skin) serums differ due to their composition and molecule size. Accordingly, they would be layered before (water-based) or after (oil-based) certain products within a skincare regime.
The trials of modern-day living from exposure to the sun, nights out, and pollution result in the early signs of aging, including free radical damage and dehydration. As the skin has already lost some of its ability to repair itself by the 30s, these skin concerns become apparent. On top of that, as part of the natural aging process, the skin loses collagen, elastin, and nutrients like Hyaluronic Acid and Vitamin C, which are typically found within its makeup.
Serums offer a solution to replenish these depleting nutrients and strengthen the skin barrier, helping to protect and regenerate. Night serums for the 30s in specific are essential because when you sleep your skin is already going through its natural regeneration processes, a night serum will help boost the efficiency of these processes. On top of night serums (especially the ones we focus on below) often have ingredients (such as Retinol) that should not be exposed directly to the sun as it renders them less effective. Furthermore, these ingredients also make the skin much more sensitive to the sun so avoiding sunlight is key.
INGREDIENTS TO LOOK OUT FOR AND WHAT THEY TREAT
Serums contain a variety of ingredients formulated across skin types to address different concerns. Here are some key ingredients to be on the lookout for:
VITAMIN C
Brightens and evens skin tone, increases collagen production, and boosts the skin's reparative processes
VITAMIN E
Protects the cells from oxidative damage and nourishes the skin, helping it to heal.
RETINOL (VITAMIN A)
The multi-tasking ingredient takes care of signs of aging like fines lines and wrinkles and discolored, inflamed or tired skin by increasing skin cell turnover.
NIACINAMIDE
Helps improve skin elasticity, control sebum production and fade sun damage and hyperpigmentation.
AHAS & BHAS
Bha's like salicylic acid, which reduces inflammation and cleanses pores, and AHA's like lactic and glycolic acid, exfoliate and lighten discoloration.
ANTIOXIDANTS
Antioxidants like green tea extract, resveratrol, and ferulic acid combat free radicals in the skin, promote cellular repair, and help increase the skin's ability to protect itself from the sun.
11+ NIGHT SERUMS FOR 30S
Although our skin continually evolves, and while there might not be a thing as the 'one right night serum, there's always a 'right for right now'; night serum that can target the skin concerns you're trying to combat at that moment: anything from skin texture, to dryness, to pigmentation issues and fine lines and wrinkles. Below find the selection of our favorite night serums for the 30s:
100 Percent Pure Multi-Vitamin + Antioxidants Potent PM Serum $72
100 Percent Pure's natural serum forms a potent rejuvenating blend with stabilized antioxidants including Retinol, Niacinamide, and Vitamin C. The pH levels of Niacinamide and Vitamin C were matched by using Magnesium Ascorbyl Phosphate (a stable form of Vitamin C that is also effective) to create a compatible blend that targets fine lines and wrinkles, dull and uneven skin tone, and helps increase firmness and elasticity in the skin. Retinol and Coenzyme Q10 boost collagen production and skin cell turnover to enhance radiance! Best of all, the formula is not only cruelty-free but also vegan.
---
Sunday Riley Good Genes All-in-One Lactic Acid Treatment Face Serum $122
A cult favorite, Sunday Riley Good Genes promises an instant glow along with an improved appearance of dark spots and plumped hydrated skin. Lactic Acid deeply exfoliates, sloughing off the dead skin cells to allow a new layer of skin to come through. Plant extracts from the likes of Arnica, Lemongrass and Licorice have been added to support the exfoliation process, nourishing the skin while restoring clarity and smoothness.
---
Juice Beauty STEM CELLULAR Anti-Wrinkle Retinol Overnight Serum $72
Juice Beauty's clean beauty serum packs a punch with its combination of bio-retinol, retinol (Vitamin A), plant Stem Cellular technology, peptides, and ubiquinone (coenzyme Q10). The organic serum visibly reduces the appearance of wrinkles, fine lines, and photodamage that those in their 30s might start be noticing. Ingredients like jojoba, coconut, and shea butter deeply moisturize the skin overnight. We also love how the Juice Beauty line use naturally derived ingredients and are Leaping Bunny certified!
---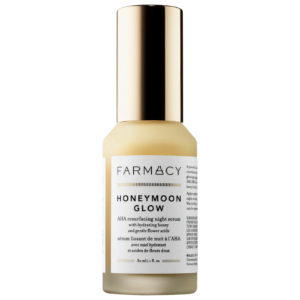 Farmacy Honeymoon Glow 14% AHA Resurfacing Night Serum $58
This 3-in-1 resurfacing night serum is formulated with a 14% blend of AHAs, BHAs, and gentle flower acids blend to rejuvenate dull and lifeless skin. Lactic, glycolic, citric, and fruit acids help exfoliate the skin and help minimize signs of fine lines, wrinkles, and hyperpigmentation. Willow bark visibly improves the appearance of pore size. The fan-favorite serum (over 1000+ 5-star reviews) is made with Farmacy's proprietary hydrating honey blend as a preventive measure against damage to ensure that skin is well moisturized and not over-stripped.
---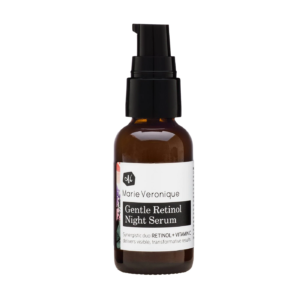 Marie Veronique Gentle Retinol Night Serum $110
This gentle night serum is great to target the early signs of aging and blemish-prone skin that is unfortunately sometimes common for those in their 30s! This best-selling serum uses retinol, Vitamin C, and E to address signs of skin aging like fine lines by boosting collagen production and cell turnover. Due to the inclusion of ingredients like green tea extract and radish root ferment filtrate Marie Veronique's gentle formula is perfect for those looking for non-irritating retinol. Reviews also say that it's excellent for combination and oily skin as the cruelty-free serum helps clarify pores and controls breakouts!
---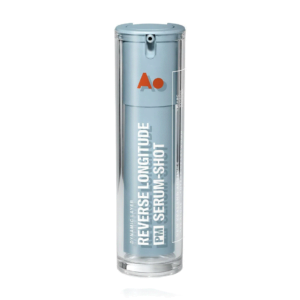 Ao Skincare Reverse Longitude PM Serum-Shot $95
Retinal (Retinaldehyde), Super-antioxidant Astaxanthin Red Algae, and Bakuchiol (a natural retinol alternative) come together in AO Skincare's refillable serum (suitable for all skin types) to combat signs of aging common to the 30s including fine lines and wrinkles and hyper-pigmentation. The Red Algae and Bakuchiol create a stable formulation that protects and support the retinal in regenerating skin cells and boosting skin elasticity.  Best of all the formula is not only fragrance-free, but also cruelty-free, and vegan.
---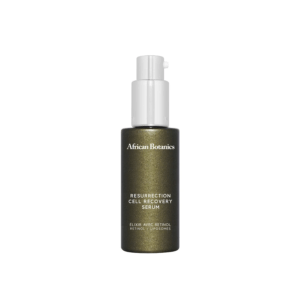 African Botanics Resurrection Cell Recovery Serum $160
Although pricy African Botanic's luxurious gel serum may be justified by the powerful blend of active ingredients included in the highly-rated formula. Key ingredients to look out for are retinol to boost the skin's natural regenerative processes, moisture-boosting hyaluronic acid, and skin-strengthening peptides, all to target the signs of aging from fine lines to rough texture and uneven skin tone. The clean beauty formula also includes a variety of effective plant actives including antioxidant-rich swiss garden cress, moisture-boosting resserection Plant, free-radical fighting resveratrol, and the calming chamomile.  
---
Erno Laszlo AHA Resurfacing Sleep Serum $75
This highly-rated night serum promises improvement in skin clarity and texture for those in their 30s  through its powerful 15% AHA blend of lactic, glycolic and citric acids. Nourishing plant actives from Wild Plum and Goji Berry, balance out the potent actives in this exfoliating serum. As an added bonus, the overnight formula boosts skin luminosity and combats signs of aging like fine lines and wrinkles. 
---
Maya Chia The Straight-A $125
Maya Chia's fan-favorite night serum is an excellent option for those in their 30s and is formulated using potent, high-quality antioxidants, including C and E and A (in the form of encapsulated retinol). The natural alternative of retinol, bakuchiol, and nutrient-dense plant extracts from the likes of chia seed and buruti are added to the rejuvenating vegan cocktail, in order to not only plump skin but also target signs of aging such as fine lines and hyperpigmentation. 
---
ODACITE Night Time Repair Serum $120
Those looking to tighten and rejuvenate their skin look no further. Odacite's Night Time Repair serum uses a high concentration of Vitamin E and MSM to mitigate free radical damage caused by environmental stresses like pollution, the sun, and lifestyle choices, including late nights. The clean beauty serum focuses on plumping and firming by including moisture-boosting Hyaluronic Acid, hydrating Aloe Vera, and nourishing Shea butter. Pro-Tip: Odacite recommends massaging and patting the replenishing serum into the facial areas prone to developing expression lines (including the forehead, cheeks, and eyes).
---
Tata Harper Resurfacing Serum $92
Tata Harper's natural night serum is suitable for the most sensitive skin. The popular formula uses a potent combination of 7 AHAs and BHAs to deeply exfoliate, boost the skin's natural regenerative processes and brighten dull skin. Antioxidant-rich Willowbark, calming calendula, and brightening Vitamin C not only boost radiance but also soften and smoothens rough texture. Although there are bonus points because the lightweight formula works well under moisturizers, it's important to note that an effective sunscreen during the day would make sense (as always) when using a night serum with potent actives.
FINAL THOUGHTS
While self-care rituals and skin-pampering might offer some a moment to unwind, some of you in your 30s might not have time to invest in a skincare routine with many steps. Night Serums can be used with toners and moisturizers depending on skin type and concerns. The formulas are packed with skin-beneficial actives such as antioxidants and exfoliants, offering various options to tailor-make to your routine!  Often touted as the 'powerhouse of the skincare world', incorporating a serum into your routine early on is an investment for the future. Your lifestyle choices and skincare regimen in your thirties also play a vital role in determining your regimen in the following decades!