Show me a man with dry skin and I'll show you a man with beardruff, itchy skin and trouble choosing the right face care products.
Thankfully, there are more products on the market now that can help. Men's skin care products for dry skin can be found in your local drugstore or online – and we're going to show you the best of the best.
If you've got dry, itchy and flaky skin, read on. And even if you don't, these men's facial products for dry skin are great for every man in winter. Let's take a look at the best skin care products for men with dry skin.
SHOULD MEN TREAT DRY SKIN DIFFERENTLY?
In a word, yes. You should treat your dry skin differently than normal, oily or combination skin. Many men have a tendency to over-moisturize dry skin, leaving the face looking and feeling greasy, and even clogging pores.
The trick is to hydrate your skin without overburdening it. Use specially formulated products and the right "tools of the trade" to keep your dry skin healthy.
Keep in mind, too, that these are excellent tips for every man in the winter and colder months. Dry air and hot showers combine to dry out even the most oily skin. In short, all men can take advantage of these products.
As you read on, you'll find exfoliators, face washes, moisturizers and body lotions. That's because taking care of dry skin is a process. It won't take long to complete the steps, but following a skin care routine can make the difference between dry, itchy skin and healthy skin.
SIMPLE STEPS TO CARE FOR MEN'S DRY SKIN
Below we're going to cover the best men's grooming products for dry skin. Choose your favorite – one from each step – and be sure to use your product as directed on the package.
Ready to revive and hydrate your dry, itchy winter skin? Here are the best skin care products for men for dry skin.
EXFOLIATE DRY SKIN
The first step to your skin care routine should be exfoliation. Exfoliation is a process that removes the old, dry and dead skin cells from your face. Removal of these cells unclogs your pores, allows your skin care products to work more effectively, and leaves your skin looking and feeling healthy and young.
Typically, you should exfoliate two times each week or so. However, refer to the product labeling to see what's recommended for your particular product. Here are the best men's skin exfoliators.
BEST SKIN EXFOLIATOR FOR MEN'S DRY SKIN
One of the best skin exfoliators for men is Simple's Kind to Skin Smoothing Facial Scrub. One of the things we love best about this product is that there are no artificial dyes, fragrances or chemicals to irritate your skin.
What is in the skin exfoliating scrub is Pro-Vitamin B6, Soybean Oil, Vitamin E and rice granules. The vitamins and oils work to nourish and moisturize your skin while the rice granules naturally scrub away dead skin cells and everyday dirt. Simple Smooth Face Scrub is a physical exfoliant, which means you'll feel those little rice granules working!
The result is fresh-feeling skin without the use of toxins or chemical ingredients. Your skin is now ready to moisturize.
---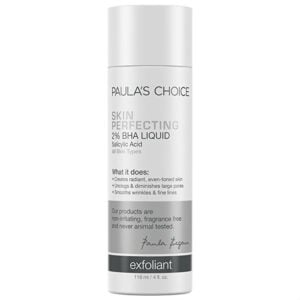 Paula's Choice Skin Perfecting BHA Exfoliant $29
The biggest difference between Paula's Choice Skin Perfecting BHA Exfoliant and Simple Smooth Face Scrub is the type of exfoliant. Paula's Choice contains liquid salicylic acid, meaning it's a chemical exfoliant. That doesn't mean there are harsh chemicals. What it means is that you won't have to scrub your skin.
Instead, natural Beta-hydroxy acid works to exfoliate your skin gently, removing that top layer of dead skin cells to reveal younger, fresh skin beneath. Paula's Choice Skin Perfecting BHA Exfoliant also contains Green Tea Extract, which calms and tones your skin.
Paula's Choice Skin Perfecting BHA Exfoliant is a cruelty-free product; the exfoliant is never tested on animals.
Check out our guide  if you're  interested learning more about the best men's exfoliators and to see a selection of some other products.
USE THE RIGHT FACE WASH FOR DRY SKIN
You're only going to use your exfoliant a few times each week. But you'll need to wash your face at least once per day. Using the best face wash for men's dry skin can give your winter face a competitive advantage.
Look for products that are natural and that don't contain drying ingredients. Alcohol, fragrances and other harsh chemicals will leave your skin feeling tight and uncomfortable.
Instead, choose a face wash that contains natural ingredients like glycerin and ceramides. Tea tree oil products for dry men's skin are also a good bet. Tea tree oil nourishes the skin and also clears up acne and blemishes.
Best Face Washes For Men's Dry Skin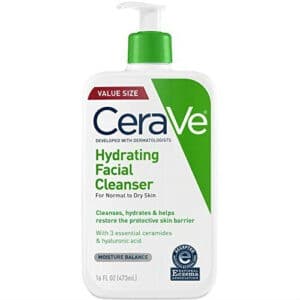 Cerave Hydrating Facial Cleanser $13.29
CeraVe is a well-known brand that doctors frequently recommend. CeraVe Hydrating Facial Cleanser contains ceramides to hydrate and protect the skin as well as glycerin, which helps give your face a smooth look and feel.
There are a few things CeraVe does not do.
CeraVe does not dry your skin
It won't irritate your face
It's noncomedogenic, which means it won't clog your pores
It does not contain fragrance
Whether you have winter skin or just naturally dry skin, CeraVe is a gentle, safe cleanser you can use every day.
---
Drunk Elephant Beste No. 9 Jelly Cleanser $34
Drunk Elephant Beste No. 9 Jelly Cleanser is another good bet for men with dry skin. This product is vegan, gluten- and cruelty-free, and is safe for sensitive skin. In Drunk Elephant Beste No. 9 Jelly Cleanser, you'll find:
Marula oil, an antioxidant that helps reduce fine lines and wrinkles
Cantaloupe fruit extract to soothe and hydrate
Fatty acids to hydrate your skin and create a natural protective barrier
Glycerin to replace moisture lost in day to day cleansing
As an added bonus, Drunk Elephant donates a portion of its proceeds to the International Elephant Foundation, hence the name of the company.
USE THE RIGHT MOISTURIZER FOR  DRY SKIN
Obviously, moisturizer is an important part of taking care of men's dry skin. Choosing the right moisturizer is essential to your skin care routine.
Again, be sure you're looking for products that don't contain harsh chemicals or alcohol. Aloe vera is a great ingredient to look for in your moisturizer. Vitamins C and E are also awesome. They're antioxidants that reverse damage to your skin caused by everyday pollutants and natural aging.
BEST FACE MOISTURISER FOR MEN"S DRY SKIN
Jack Black Dry-Erase Ultra-Calming Face Cream $38
Jack Black dry Erase Ultra-Calming Face Cream has each of the ingredients we listed above. Vitamins E and C will help your face retain moisture while eliminating the signs of aging. Aloe Vera is one of the most soothing ingredients you can find in face care products. It gently moisturizes without clogging your pores.
Jack Black recommends you use this cream nightly, but men who have used the product say it's great for morning use, too. In fact, for more intensive hydration you can use it twice each day!
---
First Aid Beauty Ultra Repair Cream $30
Another great choice for men with dry skin is First Aid Beauty Ultra repair Cream Intense Hydration. This lotion contains:
Colloidal oatmeal to relieve itching and irritation of the skin
Shea butter to give you a deep moisturizing treatment
Allantoin, which calms and soothes your skin
A blend of antioxidant extracts to leave your skin looking its best
First Aid Beauty's products are alcohol, fragrance, phthalate, talc and cruelty free. They've also been tested for allergens, so even men with sensitive skin can safely use this product.
APPLY A BODY LOTION
Why stop at caring for your face? If you've got dry skin or are suffering the winter blues, try an all-over body moisturizer.
BEST BODY LOTION FOR MEN'S DRY SKIN
Brickell Deep Moisture Body Lotion $25
What's better than a natural, soothing body lotion for men? An organic, natural soothing body lotion. Brickell Body Lotion is just that. The all-over cream includes aloe vera, jojoba oil, vitamin E and green tea extract in the ingredients list. Brickell Body Lotion is 99% natural and made with 80% organic ingredients.
Brickell Body Lotion is suitable for men of all skin types. Even if you don't have naturally dry skin, you can use Brickell from shoulders to toes and get reverse the dry, harsh winter effects on your skin.
---
Jack Black Extra Rich Body Hydrator $42

Here's another body for lotion for men that's got some great, natural ingredients. Jack Black Extra Rich Body Hydrator contains:
Shea butter, a super-rich moisturizer
Coffee seed, which helps to reduce puffiness and cellulite
Ginger root extract to even skin tone
Argan oil to moisturize and act as an antioxidant
Green tea extract to firm up your skin without drying it
Of course, Jack Black Extra Rich Body Hydrator is cruelty-free, made in the USA and free from parabens and artificial colors. It is, hands-down, one of the best all over moisturizers for men with dry skin.
FINAL THOUGHTS
Relieving dry, itchy skin and beardruff is as simple as following a simple daily skin care routine. Exfoliate a couple times each week, then wash and moisturize each day. The result? Skin that's soft and hydrated, even in the winter.