If you ask any dermatologist what one skincare product they'd bring with them if they were deserted on an island, chances are it'll be sunscreen.
The holy grail for a healthy skin care regimen, sunscreen protects your skin from the harmful effects of the sun's UV rays, which can cause everything from fine lines and wrinkles to hyperpigmentation.
But, like so many things on our shelves these days, not all sunscreens are as good for your skin as you might think. Of the common sunscreen ingredients you should consider avoiding (especially if you have dry, sensitive or acne-prone skin) is silicone. 
WHAT IS SILICONE? 
Silicone is derived from silica, which is the result of a mineral called silicon bonding to oxygen. So, technically, silicone does have a natural origin. But, in order for silica to become the synthetic silicones used in skincare and makeup, it goes through a great deal of chemical processing.
There are many different kinds of synthetic silicones and they all serve a different purpose. In medicine, they're great for helping to heal wounds and improve scarring. In skin care, they can be used to help a product spread better, act as a carrier for distributing ingredients evenly, or give products a silky, slick feel, which is why they're often used in serums and moisturizers.
More often than not, though, silicone is used in skincare for its occlusive properties. That is, their ability to form a barrier-like, water-resistant coating on the skin that makes the skin look smoother. That barrier is meant to be breathable, meaning it blocks environmental compounds from reaching the skin's surface but still allows the skin to breathe.
WHY GO SILICONE-FREE WITH YOUR SUNSCREEN?
With all that said… what seems to be the problem with silicone? Why are more and more silicone-free labels popping up on your products? Well, there are a few reasons.
First of all, that occlusive barrier that it creates on your skin's surface… although it keeps environmental compounds out, it can cause dirt, bacteria, and dead skin cells to get trapped inside. That leads to clogged pores and breakout-prone skin might notice more blemishes as a result.
Those with dry skin may also notice an issue when using products with silicone. Again, the problem is with its occlusive properties. The barrier created by silicone prohibits moisture from reaching your skin. It can also block the skin from absorbing important ingredients and, in the case of sunscreen, that could mean that your SPF isn't working to its full potential.
Silicones are also hydrophobic. In layman's terms, that means that they repel water. That property makes them extremely difficult to wash away – and we all know the consequences of not properly cleansing products from your skin (aka build-up and breakouts). In order to ensure you're removing a silicone-based product, you need to double cleanse or cleanse with an oil.
Silicone isn't great for the environment, either. Its composition is similar to rubber and plastic once it's been synthesized, so it's non-biodegradable. It's also bio-accumulative, which means that it doesn't break down even over the course of hundreds of years. As the term suggests, it accumulates in environments and contributes to sludge and pollution in our waterways.
Even if we ignore all of the above, there remains the fact that there's no real benefit that silicone offers the skin. Although, yes, it can make skin look and feel smoother, that's really a superficial benefit. Your skin only looks and feels smoother while the silicone is on your face, it's not offering any long-term improvements to your skin's health.
OTHER INGREDIENTS TO AVOID IN SUNSCREEN
While we're on the topic of ingredients that offer no benefits to the long-term health of your skin (and your body in general), we should mention a few other common sunscreen ingredients you should consider avoiding.
Retinyl Palmitate: Not only does this cause damage to the skin when it's exposed to sun, the FDA classifies this ingredient as a known human reproductive toxicant that's linked to skin cancer.
Methylisothiazolinone: This ingredient is linked to adverse skin reactions because it's considered a contact allergen. Reactions include skin sensitization and painful rashes. It's also been linked to organ toxicity and neurotoxicity in lab studies on the brand cells of mammals.
Oxybenzone, Octinoxate, Octocrylene, Homosalate, and Avobenzone: These chemical sunscreens have a host of potential problems. Some become toxic when they're exposed to light, some cause disruption in the body's endocrine, thyroid, and reproductive systems, and some are bioaccumulative. Not only that, but they really only protect against UVB light and not UVA light (which is arguably the more damaging of the two).
Instead of chemical sunscreens, look for mineral sunscreens like non-nano zinc dioxide or titanium dioxide. These provide greater protection against the UV spectrum and they aren't as easily absorbed into your skin.
Fragrance: This is something that should be avoided in all skincare and cosmetics. Fragrance can contain hundreds of synthetic chemicals, many of which are toxic. You'll never know what chemicals a fragrance contains because they're protected by trade secret laws, so the individual components don't have to be disclosed. Know this, though, this is usually where you'll find things like parabens and phthalates – aka dirty dozen chemicals that should never be on your skin.
8+ BEST SILICONE-FREE SUNSCREENS
For those looking to go silicone-free, this is our list of the 8+ best silicone-free sunscreens. Bonus points for all of them being clean and providing mineral protection! This means the formula's UV protection agent reflects the sun's rays rather than absorbs them.
Ilia Beauty Super Serum Skin Tint SPF 40 $46
Another exciting hybrid product, this cult-favorite mineral sunscreen (that offers SPF 40 protection)  known for the plethora of skin-friendly ingredients it holds. Made for literally every and any skin type, the tint combines niacinamide, squalene, and hyaluronic acid. In non-chemist words, this combination is essentially magic beans for the skin, helping to combat breakouts, scarring, and leave the skin plump and hydrated. The oil, silicone, and fragrance-free formula powered by 12% zinc oxide provides protection against all types of harmful sun rays, along with blue light too. If these benefits aren't convincing enough, Ilia has 30 flexible shades for you to choose from⎯ we don't know about you, but this one's a definite yes for us. 
---
Kinship Self Reflect Sunscreen SPF 32 $25
This highly-rated clean sunscreen uses a unique plant-based probiotic they call Kinbiome. The ingredient assists in supporting a strong skin barrier which helps to smoother, acne-free glowy skin. The 22.4% zinc-based formula itself is lightweight and sheer, and the creators share it is great for blemish-prone skin especially. The reef-safe zinc oxide formula provides a gentle and soft finish that still protects from harmful rays to the fullest extent. For the plant-based lover, this silicone-free sunscreen is a great choice. 
---
Kinfield Daily Dew SPF 35 $28
If you tend to be super active in the summer months, this is the sunscreen for you. It's sweat and water resistant for up to 80 minutes, regardless of the activity you're doing. Sports, swimming, or just hanging out in the sunshine, it moisturizes and protects your skin without any streaking or melting. Voted the Best Sunscreen of 2023 by SELF magazine, we're sure you've already seen this stuff so this is your sign to try it out.
---
Suntegrity 5 in 1 Natural Moisturizing Face Tinted Moisturizer SPF 30 $45
If you can't tell already, we are suckers for multitasking skincare. This formula made by Suntegrity provides medium coverage while using vitamins (including vitamins C and E) and peptides to visibly reduce signs of aging. The tinted sunscreen provides matte coverage, so you can easily incorporate it into your daily makeup routine if need be. This formula also protects you from blue light as well, making it a viable option for preventative skincare. 
---
Bloomeffects Tulip Dew Sunscreen Serum $65
Dutch Tulip complex that's rich in antioxidants, moisturizing properties, and amino acid makes Bloomeffects sunscreen as much a skincare product as a sunscreen all by itself. But then they've gone ahead and added niacinamide, triple plum blend, and shitake mushroom, which deliver a daily dose of vitamins to your skin plus offer hydration and protection. It dries with a sheer, dewy finish, so it's also optimized to go under your makeup.
---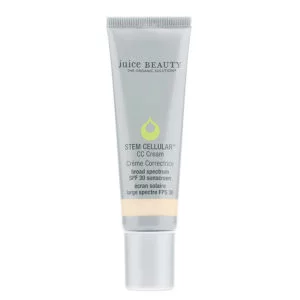 Juice Beauty Stem Celluar CC Cream SPF 30 $39
Juice Beauty's layerable, buildable formula combines your CC cream and sunscreen into one extremely popular product. A key ingredient in this SPF CC cream is the vitamin C it uses, in combination with other fruit stem cells which promote collagen production and allow for firmer skin. The moisturizing organic formula also works to minimize the appearance of fine lines, and even out the texture and tone of the skin.
---
Supergoop Zincscreen 100% Mineral Lotion SPF 40 $42
 This silicone-free sunscreen uses 13% non-nano zinc oxide, an active mineral that is useful for sensitive, oily and acne-prone skin as it provides a lighter-weight formula. Mineral sunscreens are known for minimizing skin inflammation and any redness that is often correlated with acne-prone and sensitive skin, while still providing protection against UV radiation. These sunscreens provide a physical barrier between the skin and the sun by bouncing away UV rays that are harmful. Supergoop's formula, though on the pricier end, is one full of clean ingredients we love, including coconut and blueberry extracts and winter cherry, all helping to nourish the skin whilst protecting it. If you've tried many sunscreens and they all leave you with breakouts or redness, know this formula was made with your skin in mind, making it worth the extra money. 
---
Ren Clean Skincare Mattifying Face Sunscreen SPF 30 $38
Meant for the oily-skinned use prone to unwanted shininess, this mattifying silicone-free mineral sunscreen, this clean formula won't leave you feeling greasy. The non-slippery sunscreen makes it perfect as a matte primer before applying makeup, too. The dermatologist-tested sunscreen is perfect for daily use and can easily fit into your routine, whether it be one with makeup or without. 
---
Ava Isa Sun-e-Serum Drops SPF 35 $45
This silky serum sunscreen powered with 25% Zinc Oxide is not only super light but provides luminous broad-spectrum protection against the skin all while leaving skin with a natural glow. The cruelty-free and vegan formula is also completely transparent, making it perfect for people of all skin tones. A unique aspect of Ava Isa's formula is its incorporation of the cutting-edge potent antioxidant Micah (not to be confused with mineral Mica). Micah assists UV protection filters (i.e Zinc) abilities to protect the skin from light and helps prevent free radical stress (aka damage) from actually happening.
FINAL THOUGHTS
The importance of using sunscreen isn't news, but the potential issues caused by silicone might be. Ensure your sunscreen is doing more good than harm by choosing one without silicone. Silicone, as mentioned earlier, can literally work against your skin, especially if it is oily or dry. Sun protection should never come at the cost of breakouts or dehydration, which is why this list of silicone-free sunscreens will help you achieve all your summer '23 dreams of protected (and clear) skin!