Incorporating a serum is one of the major steps in your facial skincare. It's an investment that's worth its weight in gold. And considering the skin on your face is as sensitive as a baby's bum, you probably want to use only the best of the best. But how do you know what that entails?
We'll tell you, of course! It means using an organic face serum or a natural face serum (luckily they often overlap). These products use ingredients that are as light as the sunshine but heavy with the nutrients to make your skin extra glow-worthy.
We've put together a list of the best organic face serums as well (again including the best natural face serums) so you can start taking the next step in your facial skin care routine.
THE 10 BEST ORGANIC AND NATURAL FACE SERUMS
Look no further. We've got the low-down on the best of the best when it comes to taking care of your face with a serum. Whether you're looking for hydration, anti-aging, or something to fix your uneven skin tone, we've got you covered… well, you're face anyways,
Grown Alchemist Detox Serum Antioxidant $49
Is there anything an antioxidant can't do? We think not. Packed with peptides and antioxidants that neutralize free radicals that cause damage to your skin, your skin is safe from the like of the environment, the sun, as well as issues related to your diet. Plus, this lighter than light natural face serum is oil-free, so it's great way to moisturize if you're prone to breakouts.
---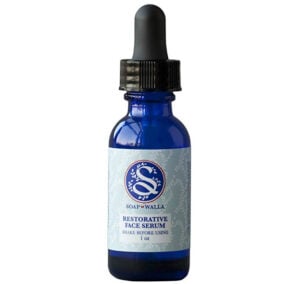 Soapwalla Restorative Face Serum $56
This certified organic face serum is handcrafted in the US of A and packs a punch. The application dropper says it all – you won't need much of this stuff to fight enlarged pores and bring a youthful glow to your face. Formulated with some of the greatest carrier and essential oils known to the anti-aging world, you'll notice your skin get firmer and smoother the more you use it.
---
100% Pure Vitamin C Serum for face $41
If skin tone is your problem, vitamin C is your answer. And the purer the formula, the better it's going to work. That's why this vitamin C serum tops our list for best natural face serums. With a hydrating base of aloe vera, this serum is lightweight, easily absorbed and contains skin lightening ingredients like phosphate, grape, and green apple. Combined with vitamin C, your skin tone is restored and rejuvenated.
---
Acure Radically Rejuvenating Oil-Free Serum $34
A vegan and cruelty-free product, you can have peace of mind that you're using great ingredients that didn't cause any harm in the making. No matter what your skin type is, this serum provides the right balance of moisture and brightening. Dry skin? Argan oil restores a health balance of hydration while borage oil soothes. Skin damaged by the effects of the environment? Pumpkin seed oil contains all the antioxidants you need to fight back.
---
Lina Hanson Global Face Serum $85
When you're constantly on the fly, you need a product that multi-tasks like you do. And what better than an organic face serum that moisturizes, fights free radicals, heals skin tissue, and nourishes your skin elasticity? Produced sustainably by a company that knows everything about being socially conscious, this serum can be sued both day and night for the ultimate in a beautiful complexion.
---
Nyl Velvet Transformative Serum $68
The smaller the batch, the better they are at keeping out all the stuff you don't want to put on your face: parabens, artificial color, and fragrance, just to name a few. When a face serum can deliver anti-inflammatory and anti-aging properties while keeping all the bad stuff out, you've got yourself a winner. And if it can do all that while making even mature skin feel velvety, you've found one of the best organic face serums.
---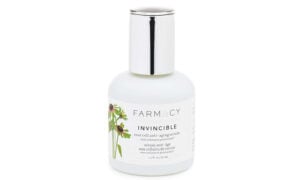 Farmacy Invincible Root Cell Anti-Aging Serum $58
This stuff is so powerful that it's equipped with a self-dosing dropper, so you use the right amount every time. Formulated to fight the visible signs of aging, hyaluronic acid seals in hydration while vitamin C creates a brightness by reducing sun damage and other visible spots. Use this every evening and you'll be saying goodbye to your crow's feet faster than you can say "bird of paradise" – which is exactly where the active ingredient in this serum is derived from.
---
Nourish Organic Pure Hydrating Argan Face Serum $17
Best for normal to dry skin, the most important ingredient in this organic face serum is highly concentrated argan oil. Mixing that volume of moisturizing oil with rosehip and apricot oil, you've got a USDA certified face serum that brightens skin tone and revitalizes tired and stressed skin.
---
Andalou Naturals Coconut Milk Firming Serum $21
Coconut milk isn't just a drink that's more hydrating than water, it's also a skincare ingredient that delivers that same rejuvenation when used topically. Even more innovative is the carefully crafted combination of fruit stem cells that fortify, soften, and condition your face. When your skin looks chronically parched or depleted, this milk serum is what you need in your arsenal.
---
KYPRIS Natural Antioxidant Dew Facial Serum $72
Strong skin is healthy skin, and there's nothing more strengthening than a facial serum packed with the toughest antioxidants known to skincare. Formulated with vitamins C and D, Superoxide Dismutase, and antioxidants derived from nature's powerful herbs, you'll both correct damage that already exists and protect yourself from more. But wait, there's more! It's also anti-inflammatory thanks to the healing benefits tamanu, rose extract, and waltheria indica,
WHY INVEST IN A NATURAL AND ORGANIC FACE SERUM?
Ingredients found in the unnatural alternatives to organic and natural face serums do more harm than good.
Ingredients such as parabens, PEG's, and fragrance are often found in face serums. These are linked to endocrine disruptions – which means they mimic your hormones and create an imbalance at the least and have been linked to cancerous breast tissue at their worst.
By using the best natural and organic face serum, you'll also avoid retinol products, which have a beneficial brightening effect when used at the right time of a day and a carcinogenic effect if used too much during daylight hours when your skin is exposed to sunshine.
Better still, face serums that contain natural and organic ingredients are typically sustainably produced and cruelty-free if not all out-vegan. So you can protect your face while ensuring your reducing your ecological footprint.
FINAL THOUGHTS
Taking care of your face is one heck of a job. It involves keeping the perfect balance of moisture while fighting free radicals. And for those with mature skin, it's also important to use ingredients that fight the signs of aging before they get out of control.
By switching to natural and organic face serum, you ensure your putting only the best ingredients on your most important asset.