When your hairstylist takes an hour and a half to give you an updo, they finish their hard work with hair spray to ensure your hair doesn't unravel, right? Well, when you take an hour and a half to get your makeup just right, you need something to ensure your hard work doesn't unravel. And that's where your setting powder comes in.
Setting powder is the last step of any makeup routine. It holds your complexion products –  like foundation, concealer, and highlighter –  in place. It's especially important for people with oily skin, who are the most likely to notice that their makeup melts off their skin by the end of a long day without it.
But conventional setting powder is often formulated with talc, a substance surrounded by controversy and something we've started to move away from in our cosmetic choices. Before we tell you about some of the products we've tried in our quest to find the perfect talc-free setting powder, let's talk a bit about why we've made this decision – and then you can decide for yourself.
WHY GO TALC FREE?
Talc is the softest mineral on earth, and that's what makes it so useful in cosmetics. It's added to cosmetic formulas to make them soft and silky, which is a big bonus in terms of application. It's also quite good at filling in cracks and lines, preventing caking, absorbing moisture and oil, and creating an opaque finish. For all those reasons, it's easy to see why talc would be added to a setting powder.
Talc is also really inexpensive, which is why it's often used as a cheap bulking agent. It helps manufacturers save money in terms of diluting pigments or making sure a cosmetic fills its container completely.
That all sounds well and good – who doesn't want to save a bit of money while adding silky smoothness to a product – but talc is a rather controversial ingredient. This is why you've likely noticed the increase in "talc-free" labels on all sorts of cosmetic products.
The issue with talc isn't necessarily talc itself. However, we should note that talc has been linked to respiratory distress when it's inhaled (and it's not really that difficult to inhale a powder during the makeup application process, are we right?) The bigger issue with talc is this: where talc is mined, asbestos is often found close by, and asbestos can easily contaminate talc. While talc is considered relatively safe for human use, asbestos most definitely is not. It's been linked to organ toxicity and cancer.
The only way to avoid asbestos contamination in cosmetics is to have them tested. But manufacturers aren't required to test and certify that the talc they use is asbestos-free. Some manufacturers will flat-out tell you that they've tested for asbestos and, in those cases, you can make your own judgments about whether you feel safe using these cosmetic products.  We, on the other hand, tend to err on the side of caution, especially when it comes to our health, which is why we've opted for talc-free cosmetics, and talc-free setting powders in particular.
Talc can be listed on an ingredient list as a number of things, including talcum powder, cosmetic talc, talcum, and magnesium silicate. If any of these appear on your ingredients list, there's talc in there. The only way to be 100% sure that you're free of the risks of talc is to look for cosmetics labeled "talc-free." And, fortunately, as the clean beauty movement makes more and more headway, more and more manufacturers are going this way.
BEST TALC FREE SETTING POWDERS
Anytime we're switching a product in our skincare or cosmetic lineup, we do our research. We've tried quite a few talc-free setting powders in our quest to find one that works well for us and, of them all, these were by far the top 12.
Without further ado, here are the 10+ best face powders without talc recommended by The Youthist. Find one that works best for you in the list below.
100% Pure Bamboo Blur Powder $41
This extremely popular talc-free setting powder is made with bamboo silica, ranges from translucent to a deep tan, and leaves skin with a soft matte and poreless finish. The natural formula uses fruit-based pigments from the likes of peach for color, apricot to nourish the skin, papaya to promote skin renewal, and green tea extract to provide protection against environmental damage. Last but not least the formula is cruelty-free and does not contain gluten.
---
Kosas Cloud Set Baked Setting Powder $34
Kosas's talc-free Cloud Set Baked Setting Powder may be a new(ish) release but it's already a fan favorite. The super sheer pressed powder is not only silicone-free, available in an inclusive 10+ shades (to suit multiple skin tones) but it leaves skin with a natural finish that glows, has no shine and best of all feels like it has nothing on it! The non-irritating formula, won't cake, crease, and is also 100% vegan! The formula comes jam-packed with nourishing natural ingredients including Bamboo stem extract to help balance excess oil, Passion Fruit extract is known for its replenishing properties, and Chinese Peony that helps clarify the skin.
---
Jane Iredale Matte Loose Finishing Powder $36
Jane Iredale's highly-rated natural formula is sheer, works for all skin types, and is like all of the list is made without using talc. The vegan finishing powder includes skin-beneficial ingredients like plant-based extracts such as hydrating Pine Bark and antioxidant-rich Pomegranate to mitigate free radical damage. The non-toxic formula does help with oil-control but doesn't dry out skin or leave it looking unnatural.
---
Colorscience Sunscreen Sunforgettable Sensitive Protection $65
For the person on-the-go, this mineral powder works as both a sheer finishing touch and lightweight skincare. Color Science went well beyond considering talc sensitivities and used ingredients that hydrate sensitive skin and avoid the blockage of pores for acne-prone skin. As if that wasn't enough, they've included antioxidants to protect against environmental aggressors and an SPF all-mineral sunscreen that blocks UVA/UVB, blue light, and even infrared radiation.
---
Antonym Cosmetics Baked Foundation $38
Although it's not "technically" a setting powder we had to include Antonym's talc-free baked foundation as it's a popular choice for setting makeup specifically liquid foundation and concealer. The natural organic formula is certified by Ecocert GreenLife and comes in 6+ shades from fair with cool undertones to darker with red undertones.
---
Sappo New Paradigm Silky Setting Powder $25
Another plant-based setting powder, we're realizing that many face powders without talc are leaving out the not-so-skin-friendly items in favor of natural and organic ingredients your skin loves. This silky setting powder by Sappho uses finely milled and certified organic aloe and mica to set your makeup and minimize shine and excess oil. But on top of giving you a lasting finish, it also feeds your skin nourishment with the additions of jojoba and calendula and minimizes the chances of breakouts with licorice root.
---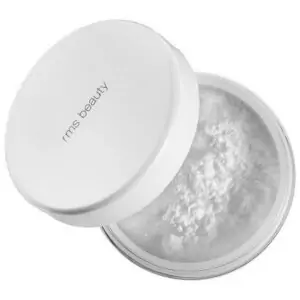 RMS Beauty Un-Powder $34
We're big believers that less is more, and that's especially true when it comes to a list of ingredients.  And we don't know that we've ever seen a setting powder with so little that goes into it, especially considering what you get out of it. Made with nothing but silica and mica, it's completely colorless and weightless, yet manages to minimize pores and leave you with a softer complexion.
Sticking to that less is more modus operandi, RMS brings us all the same benefits of their two-ingredient "Un" Powder but in three super natural-looking shades with their highly-rated Tinted Un-Powder ($34). Besides the light-reflecting ingredients that add just a hint of tint, you'll only find silica and mica in this formula. Use it alongside the "Un" Cover-up for the most natural finish with the least amount of ingredients.
---
Alima Pure Satin Finishing Powder $24
Continuing along the lines of minimalist talc-free translucent powder, this one by Alima has nothing but mica and the iron oxides used to color the three tints they've made available: Keiko for fair skin, Hanae for light to medium, and Ami for medium tones. With so few components, there couldn't be a more lightweight finishing powder, and this one is hypoallergenic, too.
---
Ilia Beauty Radiance Translucent Powder SPF 20 $34
This soft mineral powder owes its ultra-softness to a base that's one part organic mineral powder and one part plant-based oils. Like some of the best talc-free setting powders we've mentioned thus far, it's made with aloe leaf extract – but this time, it's combined with hibiscus and rosemary extract, which both contain anti-inflammatory properties that soothe the skin and protect you from the environment. Translucent and, it comes in 2 shades, it also contains SPF 20, as an added layer of protection. Last but not least LIA has helped quench that need for sustainability with their 100% recyclable packaging.  If you're looking for something more on-the-go consider Ilia's Radiance Translucent Powder brush ($34).
---
W3ll People Bio Brightening Powder $20
Remember our less is more motto? W3LL PEOPLE got that right with this setting powder formulated with only the three cosmetic ingredients needed to create a talk-free finishing powder plus an additional two ingredients for some extra skin benefits. Pearl powder and organic aloe leaf are included in the formula for a little extra soothing, radiance, and rejuvenation. Plus, the former optically diffuses fine lines and adds just a hint of glow to this universal shade that adapts to all skin tones upon application.
---
Honest Beauty Talc Free Finishing Powder $20
Free of parabens, silicones, fragrances, cruelty, as well as talc, all of Honest Beauty's products are toxicologist verified, so you know you're getting a setting powder that blurs, mattifies, and sets your makeup without anything toxic or harmful. This formula is perfectly designed to absorb facial oil, minimizing shine at the least and creating a soft-focus, cake, and crease-free finish at the most. Use it with a fluffy brush on moisturized skin for all the same benefits in an invisible formula that nobody will know is helping create a nicer complexion.
---
Juice Beauty Phyto Pigments Organic Light Diffusing Dust $30
Last but not least, available in five tints ranging from light to dark with undertones accounted for, Juice Beauty has created an extremely popular organic setting powder that's even pigmented with plant-based ingredients. The coverage is sheer and light-diffusing, the finish is shine-free and luminous, and the ingredients are free of all things harmful, including talc, animal testing, synthetic fragrances, pesticides, and petroleum. It's even been enriched with vitamin B6 and omega fatty acids, for an all-day hold that nourishes your skin all day.
FINAL THOUGHTS
Going talc-free with your setting powder doesn't mean giving up the absorbency and softness that talc brings to cosmetics. These qualities are easily replaced with healthier minerals that can be blended with skin-beneficial ingredients – so you're not just protecting against talc, you're feeding your skin with nutrients and nourishment.