Who says Blondes have more fun? These nourishing hair dyes will get you the sleek raven-haired look without sacrificing (too much) hair health. When choosing the right dye, many may become overwhelmed at the numerous options, each with their own supposed benefits. Here, we break down the advantages of the best blue-black hair dyes⎯ all you have to do is scroll and find your perfect fit. 
BLUE-BLACK HAIR 101
Different black hair dyes help to achieve different overall vibes. Some of the most common shades are natural dark-brown blacks, soft blacks, dark jet blacks, and of course, blue-black. Blue-black holds a rich, cooler-toned black color, all thanks to the undertones of blue shades for a colder, sleeker look. People with cooler undertones in their skin, or lighter colored eyes will find the blue in this dye will enhance those features. Another good way to decide if blue-black is your color is if you find that silver jewelry complements your skin tone more- if it does, this cool-toned edgy dye will suit you without a doubt.
6 BEST BLUE-BLACK HAIR DYES
Garnier Nutrisse Ultra Color Nourishing Color Crème (Dark Intense Indigo) $7
This dye is made with a healthy blend of avocado, olive and shea oils that help to nourish your hair whilst providing a dark, rich indigo color. The easy-to-use kit comes complete with a crème developer, nourishing color crème (the dye), fruit oil ampoule, and nourishing conditioner. Garnier boasts 100% gray hair coverage, and up to 8 weeks of vibrant colored hair, all thanks a famous trademarked Coverplus technology leaves hair feeling strong and looking radiant. Garnier's blue-black dye will leave you feeling classy and confident without a dent in your wallet!
---
Ion Permanent Crème Hair Color (Midnight Blue Black) $12
Low in ammonia and PPD-free, this "state-of-the-art european formula" dye is a salon-favorite for good reason. The dye uses pure ionic micro pigments for intense and polished pigmentation that delivers like no other dye on the market. Enriched with hyaluronic acid, argan oil, and other nourishing botanicals, this formula strengthens the hair strands within the cortex. With low ammonia, the dye will also be gentler on your hair and prevent any damage. The vegan and cruelty-free formula is perfect for those trying to achieve the professional-salon look without actually going to the salon. 
Looking for something a little less long-lasting checkout Ion's semi-permeant Midnight Blue Black Hair Dye option ($13).
---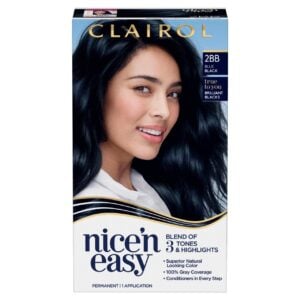 Clairol Natural Instincts Semi-Permanent (2BB Blue Black) $6.92
Perhaps the gentlest of all the dyes, this ammonia-free and vegan dye is perfect for those worried about damaging textured hair. Made with a wonderful 80% of lush, naturally derived ingredients like coconut oil and aloe vera, this formula is a go-to for customers looking for clean dyes. The dye also boosts shine and lasts for 28 washes. If you're worried about ruining your bouncy curls that took forever to train, or the shiny hair you worked so hard to achieve, Clairol's dye will help you get your color without losing your hair in the process.
---
Revlon Colorsilk Beautiful Color (Natural Blue Black) $7.50
This salon-approved hair dye is infused with keratin and promises to deliver a "3D" multidimensional shiny look to your hair. As the #1 hair color in the USA, this bestselling dye is a cult favorite for good reason. The gel technology makes the application less messy and also creates a multi-tonal look to the hair. This dye also claims 100% gray hair coverage and is ammonia-free. What's most unique about this dye is the UV protection it provides, leaving color as true and vibrant as possible.
---
Vidal Sassoon VS London Luxe (Midnight Muse Blue) $15
Vidal Sassoon's dye is an ultra-sleek blue-black that is bound to make head turns. For the busy person, this dye is a great option as it only takes two minutes to fully cure the hair and only requires one application. Lasting up to 8 weeks, this semi-permanent dye is perfect in-between for those not fully committed, but enough to go for the switch. Rated an average of 4.4 stars from global reviewers, users are clearly swooning over the easy-to-use and compliment-worthy look it leaves. This deep blue-black dye is great for anyone hoping to achieve a luxe, fashion-forward and sleek change for their hair. 
---
L'Oréal Paris Superior Preference Permanent Hair Color (Black Sapphire) $11.29
Looking for long-lasting color that is fade-defying? L'oreal's formula was made for just that! This deep black dye comes formulated with golden camelina oil, antioxidant vitamin E and a UV-filter⎯ essentially, this translates to super, super shiny hair. This special conditioning treatment is what sets L'oreal's formula apart from the others⎯ an extra hydrating, and shine-inducing process your hair will thank you for. 
TIPS TO CONSIDER BEFORE GOING BLUE-BLACK
DON'T FORGET THE BROWS
When dying your hair darker, it's easy to forget your brows (which is more noticeable if you're transitioning from a lighter color). Sometimes this can give a cool, edgy look, but it's definitely a little riskier. If you're hoping for your blue-black hair to still look natural, we recommend considering dying your brows a darker color so they don't pop out too much.
COLORED HAIR NEEDS COLD(ER) WATER
Darker-colored dye requires to be washed with cooler-temperature water. Using immensely hot water can lead to dullness, which you definitely won't want after making such an exciting change. Keep your hair safe and use cool water!
USE VOLUMIZING STYLERS
Lighter colored hair often gives the illusion of fullness, so don't be surprised if your hair looks a little flatter than you remember after dying it. But, have no fear, a little bit of styling, whether it be blow drying, ironing, or hairspray (whatever your go-to is) can give you a little boost at the top.
EXPECT UPKEEP
Dying your hair might be a spontaneous decision, but don't forget it does have upkeep that comes with it. For darker-haired beauties, this won't be as much maintenance as it won't be as noticeable. Regardless, dying hair usually requires recoloring every 3-4 weeks to touch up those roots.  Furthermore dyed black hair has a habit of highlighting dryness and damage (like split-ends so make sure to introduce a moisture-boosting plan.
FINAL THOUGHTS
Each of these blue-black dyes has its own benefits it brings to the table. Though the maintenance might seem intimidating, the sleek, cool look is definitely worth it (especially if you have beautiful cooler undertones in your skin). Don't forget to do your research, along with following our tips of washing with cool water, dying eyebrows (if you're going for a natural look), and patch-testing before.  Whether your decision is a spontaneous-just-had-a-breakup one or a been-on-my-pinterest-board-since-2018 one, we promise the change will have you wondering why you didn't do it earlier!