Why not create a dramatic, warm-toned eye look this fall with the help of a little burgundy eyeliner? When searching for an eyeliner, this lively red hue is often overlooked in favor of its classic black counterpart. This can make it difficult to find the best burgundy eyeliner for you, but not to worry! We have compiled some of our favorite ones for you to make your search as simple as possible.
IS BURGUNDY EYELINER RIGHT FOR ME?
Most anyone can rock a burgundy eyeliner as it is flattering on all skin tones. This warmer color can create a visually stunning contrast on individuals with blue or green eyes. It can also enhance darker-colored eyes by creating a richer and simpler eye look. If red eyeliners tend to make your skin look paler or possibly sickly, you can still make burgundy work for you! By tightening your eyes with a black or grey eyeliner before adding the burgundy one, you can ensure that it will pop on your skin.
11 BEST BURGUNDY EYELINERS
From drugstore to a luxury selection here is our pick of the 11 best burgundy eyeliners.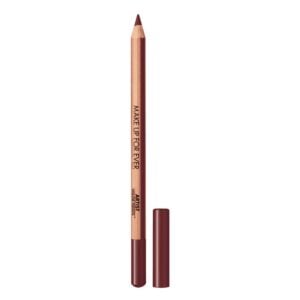 Makeup Forever Artist Eye Color Pencil (Free Burgundy) $20
We love a multifunctional beauty product like this pencil from MakeUp Forever. Not only is it great for creating a stunning burgundy cat eye but also works on lips and eyebrows. Additionally, it can also be used to contour or as an eyeshadow. Its matte-finish and richly pigmented formula make this a great option for those looking to create a smokey and smudged look or a sharper, cleaner one.
If you're looking for a long-lasting eyeliner that is also water-proof, you may want to try the Aqua Resist Color Pencil Eyeliner in Burgundy ($22).
---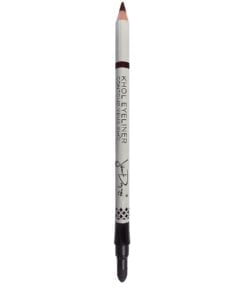 Jillian Dempsey Natural Khôl Eyeliner (Deep Burgundy) $25.99
Created with an abundance of nourishing and plant-derived ingredients, this natural Khol eyeliner from Jillian Dempsey is perfect for those looking to create a seductive smokey eye thanks to the built-in smudger on the end of the pencil. The incorporation of ingredients like jojoba oil, shea butter, and marula oil makes this eyeliner extremely antioxidant-rich while leaving out parabens, sulfates, GMOs, or phthalates. This makes it a great choice for those looking to embrace the clean beauty side of things.
---
Shiseido MicroLiner Ink Eyeliner (Burgundy) $22
This ultra-fine matte eye pencil from Shiseido can be great for creating a detailed and precise eye look. Thanks to the addition of thermo-sensory gel, this liner can change from a solid to a liquid after being applied to the skin which creates a water-resistant film to help your liner remain intact. Plus, this eyeliner boasts 24 hours of smudge-proof protection, making it a good option for those of us who don't have the time to worry about our makeup after we've applied it (and who does?!).
---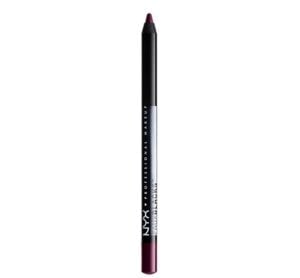 NYX PROFESSIONAL MAKEUP Faux Blacks Eyeliner Pencil (Burnt Sienna) $8
The Faux Blacks collection from NYX urges users to abandon the usual black eyeliner in favor of other deep-toned hues, including a burgundy color. This striking and smooth eyeliner could be great for creating a polished line or to be smudged out for a more mysterious and sultry look. The liner's soft and gentle feel also makes it an excellent fit for those who are looking to line their waterline and lower lashline.
---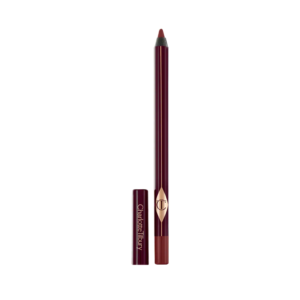 Charlotte Tilbury Eyeliner (Pillow Talk) $27
The luxurious smokey berry brown eyeliner from Charlotte Tilbury's Pillow Talk collection has a creamy, matte, and highly pigmented appearance which could be the key to your next sultry and sexy makeup look. The inclusion of hydrocarbon polymers in their formula creates a water-repellant coating to create long-lasting protection of your liner. On top of that, this is a cruelty-free product, making it a great option for vegan makeup users or anyone looking to support more mindful makeup practices.
---
CLIO Sharp So Simple Waterproof Pencil Eye Liner (Maroon Brown) $9.50
For those of us looking to devise highly detailed looks, this super pigmented pencil liner from CLIO may be for you. Thanks to a super-thin 2mm tip, this self-sharpening pencil can help you to create a sleek and sharp line. This tiny tip makes it ideal for anyone interested in tightening their eyes as well. Moreover, not only is this product waterproof but also sweatproof, making it a great choice for those in warmer climates where humidity can be your winged liner's worst nightmare.
---
Haus Laboratories Eye-Dentify Gel Pencil (Burn) $18
This gel pencil eyeliner boasts a one-swipe application and a long-lasting, waterproof finish to give you a stunning burgundy eye. On top of being both transfer-proof and smudge-resistant, this liner is vegan and cruelty-free as well! One thing to consider is that the tip of this eyeliner can require a sharpener which is not included in the product. This could be a deterrent for some but if you are looking to support our lord and savior, Lady Gaga, this may be a good choice for you.
---
L'Oreal Paris Infallible Pro-Last Pencil Eyeliner (Burgundy) $6.26
This pencil eyeliner from L'Oreal can be another perfect option for those looking to create a bold and rich eye effect. The waterproof and smudge-resistant formula will help protect your makeup masterpiece for up to 24 hours of wear. Additionally, this product has been suggested for use on the top and bottom lash line as well as the waterline, allowing the user to add more dimension to their burgundy makeup look.
---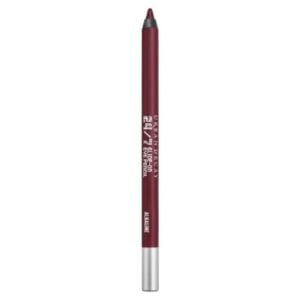 Urban Decay 24/7 Glide-On Waterproof Eyeliner Pencil (Alkaline) $22
A super soft and creamy liner in a deep wine shade, this Urban Decay eye pencil is not only award-winning but also a fan-favorite. It is not difficult to see why this product boasts a 4.7-star rating out of 6775 reviews on the company website when looking at its benefits. This liner is waterproof, cruelty-free, and contains hydrating ingredients like Vitamin E, cottonseed oil, and jojoba oil to leave your eyes feeling nourished. After contact with skin, this eyeliner remains soft and blendable for approximately 30 seconds before it dries to create a finish that will last.
---
COVERGIRL Exhibitionist 24-Hour Kohl Eyeliner (Burgundy) $7.86
This CoverGirl gel eyeliner is a customer-favorite according to Amazon with a 4.5-star rating from 954 reviews. Its long-lasting, resistant formula can create a smooth and bold eye look that could last all night! The use of carnauba wax also helps to give this liner a smooth and creamy finish. An important added bonus is that all CoverGirl products are cruelty-free as certified by LeapingBunny. This makes this liner not only budget-friendly but also animal-friendly.
---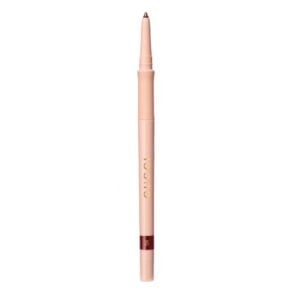 Gucci Stylo Contour Des Yeux Khol Eyeliner (Bordeaux) $36
We've got you covered with a versatile and rich burgundy eyeliner from Gucci that represents one of the most high-end eyeliners on our list. This vibrant liner can work on the lashline and waterline as a liner or as an eyeshadow to create a bold highly pigmented look. Its vegan formula includes ingredients like silicone to create a waterproof finish as well as Carnauba wax and soft polymer to give the liner a soft and creamy texture. An added plus is that this eyeliner does not need to be sharpened!
FINAL THOUGHTS
Whether it's with a simple wing or a dramatic floating crease, there are so many great options out there for those looking to experiment a little with their eyeliner and try a warmer tone like burgundy. Although this color is great during autumn when it is sure to match the leaves falling at our feet, we think it can be a great statement look for any time of year! Above we have assembled some of our favorites that are sure to impress on any occasion.