As we get older, our bodies don't quite work the same way they once did. When the rate at which your body stops producing collagen slows down, for example, consider a peptide serum to give your skin a boost.
By stimulating your cells to improve their functionality, the best peptide serums can both repair damage that's already done and prevent future damage. Peptides act as cell-communicating agents that improve firmness, texture, and other visible signs of aging such as fine lines.
Of the best peptides serums out there, those using Matrixyl or copper peptide top the list. We've broken down this top 10 into the best of both worlds: the 5 best copper peptide serums and the 5 best matrixyl peptide serums.
WHAT ARE PEPTIDES?
The reason why peptides work so harmoniously with your skin is because we naturally produce our own peptides. Peptides are short chains of amino acids. These chains of amino acids serve as building blocks to the skin's structure. Peptides are what make up things like collagen, elastin, and keratin and, in turn, these are responsible for your skin's strength, texture, and elasticity.
Because peptides created in a lab are so close to that which our body produces naturally, they act as cell-communicating agents. That is, they tell your skin to create proteins like collagen, elastin, and keratin. As your body begins to produce those proteins in greater amounts, it gets stronger, plumper, and more youthful-looking.
When combined in the right ways, like in the case of Matrixyl and copper peptides, different peptides can have additional beneficial properties. They can strengthen the skin barrier, improve moisture retention, and even soothe the skin while it does all of that work.
THE BEST MATRIXYL PEPTIDE SERUMS
All 3 forms of Matrixyl are lipopeptides that mix amino acids and fatty acids. Matrixyl, Matrixyl 3000, and Matrixyl Synthe'6, all target collagen synthesis to improve elasticity, wrinkles, sagging, and uneven skin tone. While Matrixyl increases hydration levels, Matrixyl 3000 has the added benefit of inhibiting glycation damage, and Matrixyl Synthe'6 can repair even some of the most damaged skin and deepest lines.
Below are our picks for some Matrixyl peptide serums to consider: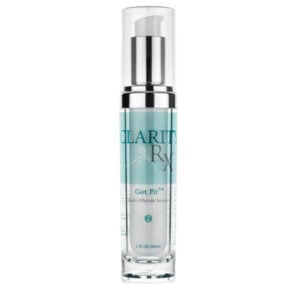 ClarityRX Get Fit Multi-Peptide Healthy Skin Serum $105
ClairtyRX fills their products with only concentrated, pharmaceutical-grade ingredients. In this cult-favorite peptide serum, Matryxl Synthe'6 meets 5 other full-strength peptides (including Matrixyl 3000, SNAP-8 & Argireline), to combat fine lines as well as uneven skin tone. Get Fit is also formulated with hyaluronic acid, which aids your skin in maintaining hydration levels by binding moisture to its surface.
---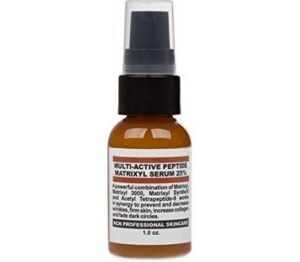 NCN Professional Skincare Multi-Active Matrixyl Serum $50
With the anti-aging properties of all three Matrixyl variations, this peptide serum is a powerful solution for skin elasticity, firmness, and preventing glycation damage. It rapidly reduces both the volume and depth of fine lines and wrinkles – so crows feet and forehead lines are dramatically smoothed out. And to lock in moisture while all that work is being done, the formula also contains hyaluronic acid.
---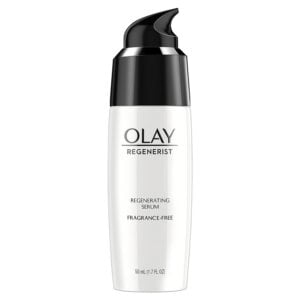 Olay Regenerist Regenerating Serum $19.29
When we're combatting deep wrinkles, we need a serum that penetrates the topmost layers of the skin. This Regenerating Serum uses Matrixyl to do exactly that – going as deep as ten layers to plump your skin and fill those lines from the origins. Available in scented and fragrance-free variations, this lightweight and non-greasy serum is perfect for all skin types and especially useful for those who are looking for smoother skin.
---
Jan Marini Age Intervention Peptide Extreme $102
A face serum that's beneficial for all skin types, Jan Marini brings us a fan-favorite formula featuring the most concentrated blend of proprietary peptides you can get. Matrixyl, Myristolyl Pentapeptide-8, Myristoyl Tetrapeptide-KA2, and Myristoyl Pentapeptide-11, work together to assist your skin in producing more than sufficient quantities of both collagen and elastin. At the same time, the formula contains antioxidants like grape seed and meadowfoam oil that fight free radical damage and anti-irritants such as shea butter that reduce inflammation and redness.
---
The Ordinary Matrxyl 10% + HA $15.60
This cost-effective serum has a combined concentration of 10% Matrixyl 3000 and Matrixyl Synthe'6 which is delivered to your skin's surface via ultra-hydrating hyaluronic acid. The alcohol and silicone-free formula has a pH between 5 and 6 to restore balance to your skin while reducing the visible signs of aging – especially stubborn wrinkles. Alternatively consider The Ordinary's  extremely popular "Buffet" Serum ($14.80). The formula contains a multitude of peptides including Matrixyl 3000, Matrixyl Synthe'6 and Syn-Ake peptides.
---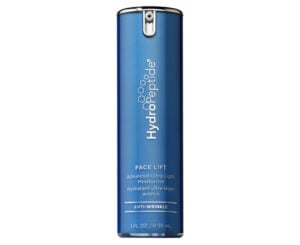 HydroPeptide HydroStem+6 Stem Cell Antioxidant Serum $160
Though on the pricier side of things Hydropeptide's extremely popular serum has developed a cult following. Through a blend of multiple skin-beneficial ingredients inclusive of 9 peptides, Hyaluronic Acid, and several powerful antioxidants like Bearberry extract as well as Green Tea Extract, the gluten-free formula lifts, hydrates, and boosts the skin's luminosity.  Other key ingredients to look out for include a reparative copper peptide and moisturizing Panthenol (Vitamin B5).
---
Timeless Skincare Matrxyl Synthe'6 Serum $20
Timeless's popular formula combines moisture-boosting Hyaluronic Acid with Matrixyl Synthe' 6, (Palmitoyl Tripeptide-38), the form of the peptide that is known for its ability to rebuild the skin's structure and combat wrinkles. The cruelty-free serum dries fast and leaves the skin without any greasy feeling.
---
Matrixyl: Replenix AE Dermal Restructuring Therapy $95
The goals of Replenix AE Dermal Restructuring Therapy are to reverse fine lines and wrinkles, deliver a boost of hydration, and improve the function of the skin's natural barrier. So how did they think to do that? By blending natural green tea polyphenols with a mega-dose of other anti-aging ingredients. Fine lines and wrinkles are blurred through new collagen growth supported by peptides, hydration is sealed in as your skin barrier gets stronger with hyaluronic acid, and retinol works on your whole complexion for younger looking skin.
---
Peter Thomas Roth Peptide 21 Wrinkle Resist Serum $125
Suitable for use on your face and neck – the two areas that show aging the most – the Peptide 21 Wrinkle Resist Serum syndicates some of the newest and most innovative ingredients for fighting fine lines and wrinkles. That includes 16 peptides, 5 neuropeptides, 2 gamma proteins, along with an infusion of hyaluronic acid, squalene, and vitamins A, C, and E. You'll benefit from a visible reduction in wrinkles, fine lines, and expression lines, as well as improvements in everything from elasticity to skin texture.
---
Mario Badescu Super Peptide Serum $45
Intended for use after cleansing and toning but before moisturizer, this serum is something entirely its own. Four drops every morning is a large enough dose to start restoring plump and youthful skin. Each drop is powered by peptides, sodium hyaluronate complex for absorption and hydration, as well as a refreshing and conditioning blend of botanicals – something we don't often see in peptide formulas but that we'd like to see more of, to be honest.
---
Jack Black Protein Booster Skin Serum $62
Because women aren't the one's concerned with looking older, Jack Black has developed the ProSeries collection. These anti-aging products that cater specifically to men combine the latest and greatest in anti-aging ingredients with PureScience Technology to create highly active formulas. The peptide serum of the collection can be used alone or along with your favorite moisturizer. Either way, it promises to minimize the visible signs of aging and keep your skin healthy.
Read more in our in-depth guide for more information on the benefits of 3 generations of Matrixyl.
THE BEST COPPER PEPTIDE SERUMS
Copper is a mineral that's found naturally in our saliva, blood plasma, and in our skin tissue. As a skincare ingredient, it's been around for more than 40 years – and anything that's been around for that long holds some weight with us.
Copper peptide is typically a combination of 3 amino acids that come in 1% concentrations in skin care products. Research has shown that this anti-aging ingredient does more than combat the visible signs of aged skin. Beyond reducing the appearance of fine lines and wrinkles by boosting collagen production, copper peptides can help with inflammation, dehydration, skin texture, and free radical damage.
Keep reading to find out more about the best copper peptide serums out there.
Replenix Pure Hydration Hyaluronic Acid Serum $84
Through a combination of multiple skin-beneficial ingredients, Replenix's hydrating serum improves the way the skin looks and feels. Key ingredients include the powerful antioxidant Green Tea,  Copper PCA, and Hyaluronic Acid to boost hydration levels as well as Palmitoyl Tripeptide-28 (a peptide) to boost collagen production.
---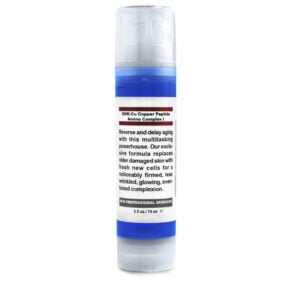 NCN Pro Skincare GHK-Cu Copper Peptide Formula 1 $73
GHK-Cu is so potent that you'll have to ease it into your skincare routine. But once you do, you'll notice that damaged skin heals faster, collagen is produced in higher quantities, and inflammation is significantly reduced. So when you're looking to repair the damage that's already occurred and strengthen your skin without added irritation, grab this copper peptide amino complex.
---
Neova Night Therapy $85
Blending botanical and clinical ingredients, this popular night serum gives you the best of both worlds. Ceramides, hyaluronic acid, and GHK copper peptides battle hyperpigmentation, sun damage, and free radical damage, while omega fatty acids, vitamin e, and antioxidants like green tea improve your hydration levels and restore your skin's brightness and radiance. It's so powerful that a once-a-day treatment is more than enough to get your skin back to beautiful.
---
Nuface Booster Copper Complex Serum $84
This form of copper peptide reduces enlarged pores and works with panthenol (B) and aloe to support your skin barrier and its ability to improve suppleness and resiliency. It's full of antioxidizing and soothing vitamins A, C, E, and F as well as the rare botanicals Gotu Kola and coneflower. A healthy choice for those who avoid parabens, alcohol, and fragrances.
---
They don't call this a super serum for nothing. With 15% l-ascorbic acid (i.e. vitamin C) and copper tripeptide, this clinically-validated advanced serum will help you say goodbye to under-eye puffiness and creepy skin, as well as dull skin tone. Use it twice per day to help repair damaged or scarred skin and protect your face from free radical damage.
---
Drunk Elephant Protini Polypeptide Cream $85
Drunk Elephant's Peptide formula may not be a serum but it is a fan favorite. The gel-cream combines a variety of peptides including Copper Palmitoyl Heptapeptide-14 (a copper peptide) with a number of skin-beneficial ingredients like nutrient-rich Marula seed oil, antioxidants like Water Lily extract as well as hydrating Sodium hyaluronate (salt version of Hyaluronic Acid).  Like all the rest of the product range, the light moisturizer  is made without known skin irritants like Fragrance, Sulfates and
Copper peptides have been around since the 1970's because they work. For more information on this powerful peptide, check out our guide on the benefits of copper peptides.
FINAL THOUGHTS
There are many peptide serums out there and even more skincare products that utilize this beneficial, skin-repairing, age-defying ingredient. But the best peptide serums contain Matrixyl or copper peptide.
A good general rule of thumb: For a brighter complexion and deep hydration, consider Matrixyl. And when you need to repair damage and soothe inflammation, find yourself one of these five copper peptide serums. And when you're looking for all of the above, alternate your products so you can have your cake and eat it, too.