A big part of looking your best is your hairstyle.  Of course, you could take the easy route, and opt for a high and tight. But if you want to keep a little length to your hair, you need a way to keep it looking stylish.
There are bunches of hair products on the market available for men. Not least of those is hairspray, commonly overlooked by some of us but truth be told it deserves some attention.
WHY YOU SHOULD CONSIDER HAIRSPRAY
If you've got longer hair that you want to keep in place, or even if you like a lot of volume, hairspray is one of the best bets for men's hair styles.  It looks a lot more natural than most of the other styling products – in fact when applied lightly it can look like you have nothing in your hair at all.
COMMON HAIR STYLING ALTERNATIVES TO HAIRSPRAY
Although it may be obvious, the hairstyles that can be achieved with most products are really dependent on the amount of product used and if your hair is wet or not.  Below we summarize some of the main hair styling products available on the market.
HAIR GEL
Hair Gels are just what they sound like – they're jelly-like substances that are designed to harden hair. Using gel leaves hair with a wet look that often looks very defined with a high level of hold. 
HAIR POMADE
Hair Pomades are often cream-based formulas that usually come in little tins. You can apply pomade with a comb or your fingers and they usually are used to add texture to hair.  If you apply pomade to wet hair it'll usually give you more shine and less hold while when applied to dry hair it offers the opposite effect.  Most formulas are water-based and this makes them a lot easier to wash out then hair wax.
HAIR WAX
Hair wax is often oil-based and gives hair a lot of definition and texture with out the hardness of gel.   When lightly used wax can be used on various lengths of hair and offers different levels of movement.
HAIR MOUSSE
Although not often used by men, mousse is a styling product with a foam-like consistency that is seeing a resurgence with the return of the 80's look.  Usually, it's great to thicken fine hair as well as for those of us who are seeking a hairstyle with a mild hold and low shine.
HOW TO USE HAIRSPRAY
Using hairspray is easy! There are just a few things you need to remember.
First, style your hair, then spray. If you try to style hair that's been sprayed, you risk damaging or breaking your strands. Comb your hair, and style it the way you like. Then apply your hairspray and put your brush away.
Secondly, you'll want to be sure you spray your hairspray from a distance. Keep the can or bottle around six to eight inches from your head for the best results. Spraying too close will cause uneven spots that look strange. Furthermore, the spray can begin to flake, leaving a residue that resembles dandruff.
Finally, if you're just trying to tame a few flyaways, you can actually apply hairspray using your hands. Just spritz some hairspray onto your fingertips, then run your fingers through your hair. This creates a natural, product-free look while still holding your style in place.
THE BEST HAIRSPRAY FOR MEN 
Ready to try to style with hairspray for men? Here are our top picks for men's hairspray.
TIGI Bed Head Hard Head Hair Spray $10.65
TIGI Bed Head Hard Head Hair Spray is one of the best hairsprays for men with "normal" hair. That means if you have fine or thin hair, the product may not work as well. Bed Head Hard Head hairspray dries instantly, and men love the lightweight formula.
Important to note is that you should hold the can around a foot away from your head when you apply this spray. Men have said that spraying too close can lead to "flake city." But the hairspray has a very strong hold, and men say there's no need to reapply throughout the day.
---
Baxter of California Clay Effect Style Spray $25
Baxter of California Clay Effect Style Spray is next on the list of the best hairspray for men. It's great for men who have fine or thin hair, as the spray will add volume. Just apply it to the root area of your hair to add weight and volume that lasts all day.
Men who use this product say they like the control the bottle gives. Instead of using an aerosol, this spray uses pump action, which means a more "targeted" application. Many men say that applying this hairspray using your hands works even better than using the pump.
---
Sebastian Shaper Hairspray $10.50
Sebastian Shaper Hairspray makes our list because it gets nothing but positive reviews from people with all hair types. Whether you've got hair that's thin or thick, coarse or fine, Sebastian Shaper Hairspray will work to tame your hair. The style holds all day, too, meaning you don't need to worry about reapplying.
What men like best about this hairspray is that you can easily comb it out. Even if your spray gets wet during the day from rain, sweat or anything else, it won't clump and you can easily run a comb through it. Best of all, the hairspray is light, giving you a natural look.
---
John Frieda Luxurious Volume Forever Hairspray $7.12
If you've got fine or thin hair, this hairspray is perfect for you. Men who have used John Frieda Luxurious Volume Forever say that when you first apply it, it may make your hair feel "crispy." But in this case, that's a good thing. The added texture on your hair will work to increase the volume, giving your hair a fuller, thicker look.
Men with straight hair love this product. Even the straightest limp hair will perk up with John Frieda Luxurious Volume Forever Hairspray. Do note, though, that some men say the spray is difficult to wash out. Be sure to rinse well, and apply a conditioner after you shampoo to keep your hair healthy.
---
American Crew Grooming Spray $11.30
American Crew Grooming Spray is a hairspray that's actually good for your hair. With ingredients like aloe and panthenol, you'll nourish your hair as you style and hold. Men who have used American Crew Grooming Spray say they love the shine this spray adds to hair, and that the hairspray isn't drying like some others.
American Crew Grooming Spray is best used on slightly damp hair. Shower, then towel dry your hair. Then apply a bit of this spray using the pump bottle or your hands. Note that some men say you may need to apply a few touchups to your hair, so stash the bottle in your briefcase or gym bag for best results.
---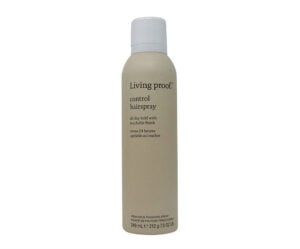 Living Proof Control Hairspray $23
Last but not least on our list of the best hairspray for men is Living Proof Control hairspray. This spray works to control frizz caused by humidity, as well as lock your best style in place all day. Men who have used the spray say there's virtually no flaking, and the scent is light and clean. You can use this hairspray without smelling like you've used hairspray.
Living Proof Control hairspray is one of those sprays you won't want to brush through. It offers a tight hold, but brushing your hair with Living Proof Control hairspray may cause breakage because of that. For best results, shower and towel dry your hair. Then style with your comb or brush and save the spray for last.
FINAL THOUGHTS
Gels and pomades can leave your hair looking stiff, greasy and unnatural. But hairspray is a lightweight, natural-looking solution for your hair styling needs. Choose the hairspray that's right for your hair type, and enjoy a natural, flexible hold all day.