Silver foxes. A distinguished look. No matter what you call it, silver hair is trendy. There's a sexiness that comes with maturity, and many men are opting to keep their grey rather than cover it up.
But if you do decide you'd rather cover your grey hair, you've got options and you've got challenges. As men, we typically wear our hair short, and it's difficult to keep colored hair looking good between treatments.
We're here to help. Read on to find out more about how you can keep your grey hair colored and looking great!
SHOULD MEN DYE THEIR GREY HAIR?  
Hair dye for men comes with a unique set of challenges. You want to cover your grey, but you don't want to look like your hair color came from a box, right?
Secondly, your hair grows fast. Most men keep our hair less than three inches short. But hair grows at about an inch each month. So that means your grey roots can start showing if you don't regularly "maintain" it. That's particularly true if you wear your hair very short. You don't want the top of your head to be dark, while the sides are grey. Not a good look.
Fortunately, these days men who want to cover grey have some solid options. You don't have to look like you just opened a box of hair color and dumped it on your head.
We'll look at the best hair color for men in just a bit. But first, let's take a look at a few tips for dying your hair at home. It can be daunting, especially if you've never done it before.
WHY SHOULD MEN SKIP THE SALON? 
Dying your hair at home doesn't have to be a messy, frightening experience. In fact, there are a few reasons why, if you want to cover grey, you should dye it yourself.
First, it's much more cost effective to color your hair yourself than it is to go to a salon. Salons charge as much as $100 just for a basic color, while a box or two of hair color can cost less than ten bucks.
Secondly, it's super convenient. No more missing work to go to the salon – you can color your hair after supper as you watch reruns of Golden Girls. (No judgment. We love the show too.)
Finally, when you dye your hair at home, you know what you're putting in it. Many salons use color treatments which include harsh ingredients like peroxides and ammonias. Read the box before you buy, and you'll know exactly what type of chemicals you're putting on your head.
TIPS FOR DYING HAIR TO COVER GREY 
Ready to start? Don't be scared of your hair dye. Instead, follow these tips for the best color with the least amount of fuss.
Choose a semi-permanent color. These fade after a few weeks of regular washes, and that fading will keep you from having to do constant touch ups on your roots.
When you choose a color, choose a shade lighter than your natural color. Remember – you don't want a new color. (Unless you do!) What you want is to get rid of the grey you have. For natural-looking hair, just tone down the grey. Don't obliterate it.
There are certain chemicals you should avoid. Sodium lauryl sulfates are linked to cancer and should be avoided. Ammonia and peroxide are harsh and damaging to your hair and your skin. And PPD is an allergen which can cause rashes and breakouts on your scalp.
Look for nourishing ingredients that are good for your hair and your scalp. Try argan oil, keratin and ginseng root. Some hair colors also contain fruit oils and plant butters.
Wear your gloves! Otherwise, your hands will match your head. Gloves too small? Ordinary rubber gloves will work just fine.
Be sure to cover your workspace if you think you might drip dye. Dye will stain countertops and floors, and it's no fun trying to get it out.
Ask for a second opinion. Have your partner or a friend around to be sure you've applied your hair dye evenly, all the way around your head.
It's best to color your hair in the bathroom, and it's best to read the instructions first. Most hair dyes will require that you apply the color to dry hair, but in some cases your hair needs to be wet.
You'll also want to pay close attention to the time you're to let the dye sit. There's a big difference between letting the dye set for ten minutes and for 25.
Finally, a tip from the pros: before you begin to color your hair, apply moisturizer to the skin around your hairline. If your dye does drip, this moisturizer will help keep the dye from staining your skin. If the dye does get on your skin, it will wash off … with some effort. Best to keep your bases covered.
THE BEST MEN'S GREY HAIR TREATMENT 
Okay! Think you're ready to tackle covering your grey? It's time to choose a hair color.
Remember, you're not trying to completely change the color of your hair. Just choose a hair color that's akin to your natural (pre-grey) color, then go one shade lighter.
Here are the best men's grey hair treatment options.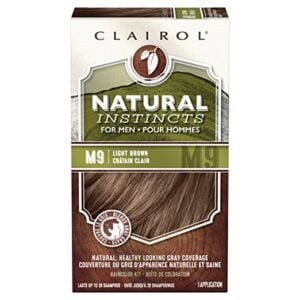 Clairol Natural Instincts Semi-Permanent Hair Color Kit for Men $7
 This radiant color (offered in 5 shades) lasts about a month, or 28 shampoos. And there are tons of great ingredients to nourish your hair while you color. You'll find aloe, Vitamin E and proteins in Natural Instincts hair dye for men, as well as the most robust little conditioner you've ever felt.
There's no ammonia and no peroxide in Clairol Natural Instincts, either. Choose from a range of colors to match your natural hair shade, and cover your grey in as few as ten minutes.
Men who have used Natural Instincts semi-permanent hair color say that the color may last longer than 28 shampoos. Some claim it lasted a full six weeks. Note, though, that men say the hair color can be darker than expected if you leave it on, so set a timer!
---
Just for Men Original Formula Men's Hair Color $7 
Like Clairol Natural Instincts, Just for Men Original Formula comes in 12 colors and is ammonia free. The hair color works in just ten minutes to target grey, leaving your hair looking nourished and more youthful.
This hair color contains aloe, Vitamin E and proteins to protect and moisturize your hair. It also contains chamomile. Chamomile is a natural hair lightener, and the chamomile in this dye prepares your hair to "accept" the color. No peroxide necessary!
Men who have used Just for Men love the natural look it gives as it gently covers grey. There are about a dozen shades to choose from and each covered grey nicely. The color lasts for up to 8 weeks. It's a permanent dye, so touchups might be necessary after a few weeks.
---
Just for Men Touch of Gray Comb-In Men's Hair Color $7.97
Want to keep the distinguished look of salt and pepper hair? This one's for you. Just for Men Touch of Gray comb-in color allows you to keep a bit of your grey, leaving a subtle salt and pepper look.
There are several color options, ranging from light brown to black, and the application sets in just five minutes. Like the Original Formula, this is a permanent hair color. So your dye will last for around 8 weeks, or until your grey hair grows back.
Men who have used this say it's easy to use, and it's almost impossible to mess up. Many men have had good success using Just for Men on their beards, too!
FINAL THOUGHTS 
Whether or not you cover up your grey is entirely up to you. Many men are choosing to go the "grey route," forgoing the dye and opting for a natural look.
But if you do want to color your grey, consider doing it at home! It only takes a few minutes, and it's worlds cheaper than expensive salons. Many of the products on the shelves have great ingredients to keep your hair healthy and shiny – without the grey!