Who could've guessed that expired, sour milk could do wonders for your skin? Although this may sound odd, it's true! A compound found in spoiled milk called lactic acid has been shown to have several health benefits, including those for your skin. This has led to a remarkable uptick in products touting the benefits of this exfoliating acid.
WHA IS LACTIC ACID?
Lactic acid is a form of alpha hydroxy acid (AHA) which is a group of exfoliants commonly found in skincare products. You may be more familiar with lactic acid's counterparts like glycolic acid, citric acid, and malic acid. AHAs work by removing dead cells from the top layer of skin, leaving your face feeling smoother and promoting skin firmness. For this reason, they are often found in chemical peels, serums and toners.
Lactic acid is the result of fermentation. If you remember anything from high school biology, you'll know that fermentation is the process of breaking down sugars into smaller molecules that can be used as energy. When this happens in milk, the sugar in question is called lactose, which ferments to produce lactic acid.
WHAT ARE THE BENEFITS OF LACTIC ACID?
Research indicates Lactic acid fights acne: lactic acid has been shown to reduce the incidence of acne lesions as well as has been suggested to kill bacteria that can cause breakouts based on studies
Promotes skin firmness: at higher concentrations, lactic acid can penetrate deeper into the skin to support increased skin firmness and reduce the appearance of wrinkles and other signs of ageing
Reduces the appearance of hyperpigmentation: increased cell turnover as a result of lactic acid use can help treat uneven skin tone.
Hydrate skin: as dead skin cells are shed, newer skin cells are revealed that can retain moisture better than old ones
9 BEST LACTIC ACID SERUMS
With all of that said and done, here are some of our favorite lactic acid serums for your consideration!
StriVectin Lactic Acid Nightly Retexturizing Serum $79
For dry skin, this gentle exfoliant from StriVectin could be the key to long-lasting hydration that can leave your skin feeling velvety smooth. This formula includes a mixture of vegan lactic acid to remove dead skin cells, blue cypress oil to moisturize and nonapeptide-1, a skin-lightening peptide aimed at reducing hyperpigmentation and evening skin tone. StriVectin also boasts a 100% increase in radiance after one-time use of this powerful blue serum!
---
Sunday Riley Good Genes All-in-One Lactic Acid Treatment $122
Looking for an all-natural, vegan serum to add to your morning routine? Sunday Riley has made this with you in mind! Their cruelty-free all-in-one lactic acid treatment may be one of our pricier picks but with that comes added benefits. While the lactic acid acts as a powerful exfoliant to remove cell build-up, licorice works to naturally brighten skin, and lemongrass functions as an astringent to remove oil and refresh skin. Moreover, this formula has been clinically proven to reduce the appearance of fine lines in minutes!
---
Erno Laszlo AHA Resurfacing Sleep Serum $108
An antioxidant-rich serum that supplies all the powerful benefits of a chemical peel but, with the soothing feeling you want from an overnight treatment! This product comes to us from Erno Laszlo, a well-established brand with endorsements from iconic celebrities like Marilyn Monroe and Audrey Hepburn. This sleep serum contains a 15% blend of lactic and glycolic acid, mixed with wild plum and goji berry, both of which have anti-ageing properties which can protect your skin from the harmful effects of UV rays.
---
Herbivore Botanicals Prism 12% Exfoliating Serum $54
Besides coming in a beautiful little rainbow bottle, Herbivore Botanical's Exfoliating Glow Serum boasts several other benefits that can help leave your skin feeling refreshed and rejuvenated. Their formula harnesses the exfoliating powers of AHAs by including glycolic, lactic, and malic acid as well as promoting skin hydration through the inclusion of hyaluronic acid and aloe water. On top of that, this product is also fragrance-free, making it a good choice for those of us with sensitive skin.
---
Alpyn Beauty PlantGenius Survival Serum $68
If you're in search of a product that will benefit your skin as well as the environment, look no further than the PlantGenius Survival Serum! A completely plastic neutral brand, Alpyn Beauty also donates a portion of its proceeds to Natural Park restoration. Their award-winning brightening serum contains ingredients aimed at reducing uneven skin tone including vitamin C, licorice root, and bearberry leaf, as well as plant-based AHAs (aka Lactic Acid) to reveal your skin's natural glow.
If you are looking for something targeted more towards increasing skin firmness and reducing the appearance of fine lines, the Wild Nettle & Niacinamide Firming Serum ($58 that has lactic acid may be a good option. Also from Alpyn Beauty, the stinging nettle in this solution acts as a natural substitute for retinol to increase collagen production while the niacinamide can protect your skin from environmental aggressors that can age your skin quicker.
---
Tata Harper Resurfacing Serum $92
This daily treatment from Tata Harper incorporates both AHAs and beta hydroxy acids (BHAs) to help unclog pores and moisturize skin. BHAs differ from AHAs in that they can penetrate deeper to remove excess sebum that AHAs alone cannot reach. This can create a smoother and more luminous appearance overall. Created with dull and uneven skin in mind, this serum also includes ingredients rich in antioxidants to help combat the effects of free radicals, which can cause fine lines and wrinkles.
---
Elemis Dynamic Resurfacing Skin Smoothing Essence $90
A skin essence packed full of powerful nutrients aimed at gently exfoliating skin, Elemis' light, milky essence uses Tri-Enzyme Technology to promote increased cell turnover which works to resurface your skin. When combined with potent AHAs, this product can leave you with a brighter, smoother complexion. The inclusion of another powerhouse ingredient, birch sap, has been shown to deliver hydration to the skin quickly and effectively. When taken all together, it is no wonder that this formula is a customer favorite!
---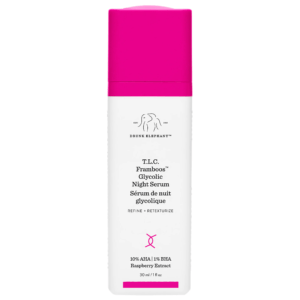 Drunk Elephant T.L.C. Framboos™ Glycolic Resurfacing Night Serum $90
As one of the more recognizable brands on our list, Drunk Elephant delivers us a combination of AHAs, BHAs, and raspberry extract to soothe and tone skin in this night serum. This formula seeps into the skin easily to provide chemical exfoliation without any of the irritation you would expect from such potent ingredients. An added bonus is that this serum, like all products from Drunk Elephant, includes zero essential oils, silicones, or fragrances that can have harsh side effects on your skin.
FINAL THOUGHTS
Lactic acid serums can be great for those of us looking to slough off some dead skin cells to reveal our best skin. While some of our picks focus on hydration with the inclusion of ingredients like hyaluronic acid, others target signs of aging by including ingredients with antioxidant properties that can protect your skin's youthful glow. Either way, by incorporating AHAs like lactic acid, all of our choices are sure to leave your skin glowy and radiant.