Stretchmarks. Cellulite. Sagging. Thoughts so terrifying, it sends chills down our spine. Woe is us! (Okay, we kid – it's not that bad!). The good news is: there are options.
Among those options, plant oils rank high on our list. They help with preventing the signs of premature facial aging inclusive of wrinkles and sunspots but they also have rejuvenating properties when used on the body.
THE ROLE OF OILS IN ANTI-AGING
Plant oils made from the flowers, leaves, roots and other parts of various plants have been used for cosmetic purposes for thousands of years and in thousands of ways. Today we have the ability to process plant oils in a way that maintains the integrity of their beneficial compounds and also delivers a light, elegant, and bioactive treat for the skin. The benefits of each oil are different, according to the molecular makeup of the plants used to make it, but the benefits of plant oils range from hydration to anti-aging and even antibacterial and healing.
Studies have shown that the application of oils on the skin plays an important role in preventative anti-aging, as they create a protective layer on the skin that keeps moisture from escaping. Not only does that help to maintain hydration levels, but it's also a preventative measure against wrinkles. There is also research that links the antioxidants in these oils to an ability to protect against environmental damage, such as that from pollution and the sun's UV rays.
OILS VS MOISTURIZERS

Ah, the age-old debate of oils versus moisturizers. Not many people realize that these skincare items accomplish very different things, though. At least in terms of combatting aging.
While moisturizers are intended to penetrate the skin and provide hydration, oils help seal in that moisture and protect the skin's natural lipid properties.
So what does this mean in terms of usage?  Consider layering an oil over your moisturizer when your skin needs a hydration boost.
SELECTING OILS
Here are some general guidelines that you should consider when picking out a body oil.
Read the formula thoroughly to ensure the oils are natural. Avoid or minimize use of synthetic oils such as mineral oil and paraffin, which can irritate the skin at best and is linked to cancer at worst.
Some kinds of body oils may use filler ingredients (like silicones). These fillers are used for fragrance or texture and can be a major irritant.  Keep in mind that less is generally more.
Processing is important in terms of how nutrient-rich the oil is, with cold-pressed being the best extraction method and cold extracted being a close second.
It's important to choose your oils with care. These can be extremely beneficial additions to your skincare routine, but only if you're choosing high-quality products. Look for words and labels such as certified organic, non-GMO, small-batch, unrefined, wildcrafted, handmade, etc. These signify great products.
6+ BEST ANTI-AGING BODY OILS (LIGHTER)
Generally speaking, oils with higher levels of linoleic acid are lighter and are known for their healing properties in terms of scarring and skin damage. You may not experience the moisture-locking effects that you would get from oils with high levels of oleic acid, but they work well for normal to oily skin types.
Check out our in-depth guide if you're interested in learning more about the benefits of facial oils that cover best practices, recommendations, and more.
Osea Undaria Algaie Body Oil $48
More than half of our body is made up of water and it's believed that we were born from the sea. It makes sense, then, that the sea nourishes our body – and that's the premise behind this award-winning algae body oil infused with organic seaweed with an overall 4.8-star rating out of 500+ reviews. When combined with land-based ingredients that are just as nutrient-rich, such as acai, passion fruit, and sesame oil, the result is a lightweight and revitalizing oil that revitalizes skin and spirit.
---
One Love Organics Gardenia + Tea Antioxidant Serum $39
Most concentrated serums come in tiny glass bottles and droplet dispensers. But this serum offers something a little different. The ultralight, nutrient-rich serum is delivered to the skin in the form of the most decadent, easily absorbed mist. Containing a variety of wonderful ingredients including Golden Kelp, chia, sea buckthorn, and rooibos, it helps with everything from dehydration and free radical damage to skin firmness and texture.
---
Noodles and Boo Elasticity Oil $18
Created with mothers (or those who are expecting) in mind, Noodle and Boo's oil packs in the skin-beneficial ingredients while also helping combat signs of aging like the loss of firmness and weakened elasticity. Through a blend of lighter oils like Sunflower (Oleic–13.9%, Linoleic–44.1%), Grape Seed ( Linoleic–70%, Oleic -16%) and  Borage (Linoleic–38.8%,Oleic–17.91%) as well as the rich Olive oil (Oleic – 55-85%, Linoleic- 20%) the formula hydrates without leaving the skin feeling greasy.  Other key ingredients such as Vitamin E help soften the skin's texture and Calendula minimizes irritation as it calms the skin.
---
Peet Rivco Body Oil $48
Peet Rivco's lightweight body oil blends Jojoba Oil (technically a wax that is similar to the skin's oil, sebum) with the likes of anti-inflammatory Sunflower (Oleic – 20%, Linoleic-68%), nourishing Avocado Oil (Oleic–63%, Linoleic–9.8%) as well. The formula is perfect for those with sensitive skin as it avoids any form of fragrance as well as known skin irritants like parabens and phthalates.
---
Osmia Naked Body Oil $64
Osmia's Naked Body fragrance-free formula blends Coconut Oil that has gone through a series of processes called fractionation allowing it to maintain its liquid state at room temperature, be lightweight as well as easily absorbent into the skin with a number of other skin-beneficial oils. These include Jojoba Oil (technically a wax similar to sebum the skin's oil), antioxidant-rich Rosehip Oil (Oleic–13.9%, Linoleic–44.1%)  as well as the healing Evening Primrose Oil 8.4% Oleic Acid, 74% linoleic). The easily absorbent body oil is also made without skin irritants like sulfates, parabens, and phthalates.
7 BEST ANTI-AGING BODY OILS (RICHER)
High levels of oleic acid make oils richer and heavier, which allows the skin to seal in more moisture. These antioxidant-rich oils generally work well for dry or mature skin types. They're also a great investment during the colder, dryer months of the year.
Agent Nateur Youth Body Serum $95
This oil is easily and quickly absorbed by the skin but leaves behind the perfect amount of dewiness so you feel moisturized and fresh all day long. It's intended to promote youthful skin, and it's filled with firming, brightening, and nourishing ingredients that deliver exactly what's promised. On this ingredients list, you'll find Japanese rice bran, rosehip, and helichrysum oils alongside fatty acids, vitamins, and antioxidants.
---
Eminence Apricot Body Oil $29
This cult-favorite body oil is organic and contains a mixture of oils inclusive of those extracted Apricot Kernels (Oleic – 62-76%, Linoleic 19-33%) as well as Jojoba seeds (Oleic – 5–15%, Linoleic – 5–8%).  The formula also contains powerful Seabuckthorn and Pomegranate oils that are known for their regenerative benefits as well as Vitamin E to nourish.
---
EIR NYC Surf Mud Oil $35
How's this for counterintuitive? An oil that you apply for sun protection! Well, that's exactly what this oil that combines rich Sweet Almond Oil with the likes o deeply nourishing Coconut Oil and healing Vitamin E is all about. Other key ingredients include zinc and Cacao powder for both protection from the sun and penetrating hydration. It's also antioxidant-rich in the form of plant extracts like Rosemary and Chamomile to protect your skin against free radicals. Never leave home (on a sunny day) without it!
---
African Botanics Marula Firming Botanical Body Oil $90
African Botanics formula combines the likes of rich Marula Seed Oil (Oleic–70%, Linoleic–5%) with the lighter Grape Seed Oil (Linoleic–70%,  Oleic -16%) and antioxidant-rich plant extracts from the likes of soothing Calendula as well as the restorative Kalahari Melon to create a super-charged body oil. The 100% cold-pressed formula also includes powerful Coenzyme Q10 and nourishing Vitamin E to help firm and revitalize the skin.
---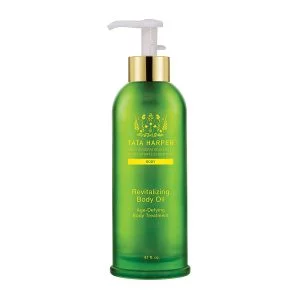 Tata Harper Revitalizing Body Oil, $120
Best used after bathing and while the skin is damp, this revitalizing body oil is as luxurious as it is nourishing. With a base of oils including argan, olive, sunflower, apricot, and primrose, it's an invigorating skincare product that treats both the senses and the skin. The concentrated formula is also full of essential vitamins, minerals, and nutrients from alfalfa, calendula, green tea and a host of other compounds derived from fruits and herbs.
---
French Girl Organics Luminaire Body Oil $41
French Girl's Organics Body Oil blends the likes of the well balanced Argan Oil (Oleic – 43%, Linoleic – 37%) with a number of other ones that have a high nutrient value inclusive of the softening Camellia Oil (Oleic – 85%, Linoleic – 10%) as well as antioxidant-rich Pomegranate Oil (Oleic – 4%, Linoleic – 10%).  Other benefits of the vegan formula are it is made without known skin irritants like parabens and is never tested on animals.
---
Jao Goe OIl $50
A list of body oils isn't complete without the much-loved Jao Goe Oil. It's made from a perfectly balanced combination of 28 plant, fruit, and flower oils and butters. The entire formula is lightly scented with Monoi from Tahiti and includes clean, naturally-derived ingredients like rosehip, hemp, meadowfarm, mango, and pumpkinseed butters. Together, they deliver omega and essential fatty acids, vitamins A, E, C, B, and G, as well as beta carotene in a rich, smooth, and nourishing oil.
---
Herbivore Jasmine Body OIl $49
Herbivore's fan-favorite antioxidant-rich body oil mixes fractionated Coconut Oil (processed in a way to make it lightweight and easily absorbent into the skin) with the likes of soothing Apricot Kernel Oil (Oleic – 62-76%, Linoleic 19-33%), anti-inflammatory Grape Seed Oil (Linoleic–70%,  Oleic -16%) and softening Camellia  Seed Oil (Oleic – 85%, Linoleic – 10%).  Other key benefits of the 100% vegan formula include that is free of known skin irritants like parabens and phthalates as well as all of the high-quality oils included are either cold-pressed or steam distilled.
APPLICATION
Oils work best when applied right after a shower. Remember: a little goes a long way.
After towel drying, begin with a dime-sized amount on the palm of your hand. By starting small you avoid over-application and the chance of becoming a greasy mess – you can always add more if you need to.
The idea of putting oil on your skin may seem counter-intuitive when it comes to solving acne or pimple problems. The first thing that comes to mind is a breakout or a clogged pore situation, but this isn't necessarily how things will go down. It really comes down to figuring out the right oil for your skin type and concerns.
THE JOYS OF SQUALANE
For those of you hesitant about using oil in its traditional form – especially those with acne or sensitive skin conditions like eczema – look for plant-based squalene. It's not technically an oil, but it's extracted from sources like Amaranth Seed, Rice Bran, and Olives.
This type of moisturizer is known for its non-irritating properties as well as its rejuvenating properties. Read our guide on the benefits of Squalane for the skin to learn more about what makes it special and to explore some of our favorite Squalane-based products.
A NOTE ON ESSENTIAL OILS
The plant oils we're talking about in this guide are oils such as coconut oil, shea butter oil, olive oil, avocado oils, etc. There's a very big difference between these types of oils and essential oils.
The former is compatible with many other skincare ingredients and has very little potential side effects or risk of reaction. Essential oils, on the other hand, are less stable and more volatile.
Minimize the use of essential oils for daily wear, especially lavender and citrus oils. Not only are they known irritants, but they can also be photo-toxic (have a negative interaction when exposed to light exposure).
Looking for more body oils? Make sure to check out our guide to the best organic body oils and more. It features all the best clean, organic, natural body oils, serums, and lotions we could find.
FINAL THOUGHTS
Body oils are a great way to seal in moisture as well as boost your skin's hydration levels in general.  Although they do have reparative properties, for more advanced rejuvenation consider including other skincare products like body lotions as well as anti-aging treatments into your self-care regime.