Now that skincare is finally getting the limelight it deserves, people are catering more towards the chemistry of their skin. The potential of hydrogen, more commonly known as pH, is a scale used to measure the level of acidity. There are assets to choosing a low pH cleanser⎯ here we'll explain the details of why it's important, and share some of our favorite ones. 
WHY CHOOSE A LOW pH CLEANSER?
The pH of a cleanser can decide the fate of your skin in a blink of an eye⎯ a high pH cleanser can leave the skin unsettled by ruining its natural pH, and leave it inflamed and irritated. This is why it is so crucial to choose a low pH facial cleanser, essentially mirroring the skin's natural balance of pH to prevent acne and thrive!
WHAT IS THE IDEAL pH FOR A FACIAL CLEANSER?
So, back to that aforementioned pH acidity scale. Naturally, skin lies between 4.4 to 5.5 on the pH scale. By choosing a low pH cleanser that mimics the skin by sticking close to this range, the cleanser is less likely to work against our skin, and help to complement and work with it to prevent acne and infections.
8+ BEST LOW pH CLEANSERS
100% Pure Rose Water Gel Cleanser $30
Not going to like we are big fans of all 100% Pure Cleansers, not only do they all lie between a pH of 4.5-6 but they all are transparent about the ingredients used, naturally sourced, and completely cruelty-free.  We've chosen to highlight the Rose Water Gel Cleanser ($30) specifically formulated for sensitive skin. The cleanser is deeply hydrating, made from a mix of calming botanicals including irritant-fighting chamomile, antioxidant-rich white tea, balancing Calendula, and of course toning rose-hydrosol.  Reviews state that it gently cleans skin without leaving it tight or dry.
---
La Roche-Posay Effaclar Purifying Foaming Gel Cleanser $20
With a pH of 5.5 confirmed by La Roche-Posay, this cleanser targets oily skin with an oil and soap free formula. Great for acne-prone skin, the gel cleanser uses zinc pidolate to purify and cleanse the skin of unwanted dirt, excess oil, and shine. While it is meant for oily skin, it also does well in ensuring the formula is gentle enough for sensitive skin (something that is often hard to find with anti-acne cleansers), making it a great choice for an everyday cleanser.
If you have normal or sensitive skin consider La Roche-Posay's popular and highly rated (8000 5 star reviews) Toleriane Foaming Face Wash Cleanser ($14.99)
---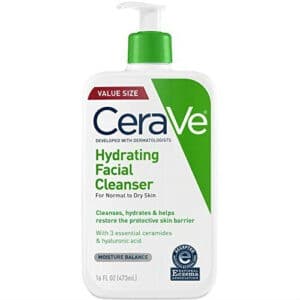 CeraVe Hydrating Cleanser $8
The TikTok-approved cleanser went viral for a good reason⎯ it's gentle lotion-like texture is infused with hyaluronic acid, essential ceramides, and glycerin to ensure moisture stays locked in the skin. With a pH of 5.5, the skin-friendly formula promises to work to hydrate and cleanse your skin (advised for those with dry to normal skin). Fragrance, paraben, and soap free, you definitely can't go wrong with this choice. For someone hoping to find a safe, low pH cleanser to hydrate their dry skin, Cerave's formula won't disappoint.
---
Drunk Elephant Beste No. 9 Jelly Cleanser $32
A little more boujee than some of the cleansers listed above, this cleanser is confirmed by Drunk Elephant to be at a pH of 5.5. The fan-favorite jelly-cleanser is perfect for removing makeup, oil, and the grime and pollution on your face. Beste No. 9 uses a combination of cantaloupe and glycerin to soothe and provide effective hydration. Known for it's ability to remove stubborn makeup with easy, the gentle formula will still cleanse without stripping away the necessary oils in your skin.  We'd advise the makeup-wearer to choose this formula⎯ with its safe pH level, infused hydrating ingredients, and ability to remove all of the day's doing on your face, it makes the perfect cleanser.
---
Tata Harper Purifying Cleanser $76 
At a pH of 4.7 confirmed by the creators, the gel-to-oil product is a great one for renewing and purifying your skin. If you want to rid your skin from the dirt and other buildup, this natural formula is made to purge all the pores to purify your skin. Tata Harper uses a complex blend of essential oils and active ingredients to ensure your skin is getting the renewal it needs (13 directly meant to detox, 6 to minimize pores, and 8 to help dissolve buildup). Notably, fruit enzymes and broccoli extract really work to rid the unwanted things in your skin in this formula. If you want a renewal facial without hitting the spa, this pH-safe cleanser will give you the same fresh feel (without the hefty price)!
Alternatively, Tata Harper also makes a popular Clarifying Cleanser ($72) that targets acne-prone skin. With a confirmed pH of 5.2, this cleanser still gives you that deep-clean feel, but with the added focus to remove impurities. Using the infamous acne-fighting salicylic acid and AHA's, it will help you manage your current blemishes, and prevent further ones too. Chlorella in the formula is what gives it the deep green look, and works to hydrate the skin so these acids won't dry the skin out. Along with that, the prickly pear flower enzymes provide chemical exfoliation that won't dry out your skin. This, along with infused juniper fruit assists in maintaining a pH within the skin's natural range to help it achieve a healthy matte look. Tata Harper doesn't skimp on finding the perfect combination of unique ingredients that'll help you achieve your clear-skinned dreams (all with a safe pH).
---
Glossier Milky Jelly Cleanser $22
This popular, NYC-girl aesthetic cleanser is at a safe pH of 4.5 to 5. The younger generation is in love with Glossier's creation for good reason⎯ it removes makeup with ease, and hydrates your skin in the process. Namely, it is gentle and safe for washing mascara out of the eyes because of its Poloxamer base (also found in contact lens solution). Made with a combination of five skin conditioners, including allantoin and pro-vitamin B5, it'll give you a "baby-soft" feel. With hydrating ingredients like those, we'll never get tired of this cult-favorite.
---
Laneige Cream Skin Milk Oil Cleanser $34
Best for normal to dry skin, this 5.5 pH cleanser is perfect for combating dullness and dryness in the skin. The milk oil in this cleanser helps to melt makeup and gently cleanse the skin, while the white leaf tea water ensures hydration and soothes it. The jojoba seed oil also helps to further give the skin a soft feel. The fragrance-free formula makes this great for dry-skinned sensitive users. Where most makeup-removing formulas bring along with them a fear of drying out ingredients that aren't good for the skin, this formula balances the two jobs perfectly⎯ soothing the skin, and removing the makeup!
---
Paula's Choice Optimal Resist Hydrating Cleanser $20
Last but definitely not least is Paula's Choice's award-winning Optimal Resist Hydrating Cleanser which comes in with a pH between 4.75-5.75. The (fragrance-free) gentle lotion formula made for more mature skin in mind, leaves skin soft, hydrated but effectively takes off makeup and any impurities that have gathered on your face in the day. Reviews mention how although it's effective it still manages to be non-irritating, calming, and soothing.
FINAL THOUGHTS
Switching to a low pH cleanser is a decision your skin will thank you for. With the attention it's been getting, we're seeing a great variety that accommodates to different skin types, too. Whether you're oily-skinned and decide to go with the Tata Harper Clarifying cleanser, or a dry and sensitive skinned user and aim for the CeraVe Hydrating Cleanser, each one's acidity level will be safe for your skin. Watching out for the magic 4.4-5 range will ensure your cleanser is doing the absolute most it can to work with your skin for the benefits you want out of it!