We all know the symptoms of poor blood circulation – freezing cold hands and feet, and many more not so wonderful issues. But did you know that it can also lead to the signs of aging including cellulite, fat pockets, dark under eyes circles, scarring, fine lines and wrinkles, as well as stretchmarks?
Let us introduce you to one of our favorite anti-aging secrets: Carboxytherapy. This treatment involves injections of carbon dioxide (CO2) into areas of skin to treat several signs of aging commonly associated with poor blood circulation. Studies show that Carboxytherapy can help to reduce fine lines, wrinkles, and dark circles under the eyes in addition to overall benefits of skin rejuvenation.
Yes, we're taking about the same CO2 that increases emissions in the atmosphere and is linked to global warming. Here at The Youthist, our Jedi level intelligence believe a simple solution for this worldwide concern would be taking excessive CO2 and injecting it into people's faces. Bring on our Nobel Prize! (Just kidding!)
WHY IS CO2 IMPORTANT?
All humor aside, think of CO2 as your body's superhero, helping it function properly and enabling effective oxygen circulation – in fact, without it we would die. When we inhale oxygen, it's carried to areas in our body that have the highest concentrations of CO2 and released to rejuvenate those cells.
ENTER CARBOXYTHERAPY
Through injecting CO2, Carboxytherapy enables a strong dilation of blood vessels to increase blood flow and maximize oxygen levels. What does that mean? Well maximum oxygen equals maximum cell rejuvenation. Besides being effective, the treatment is minimally invasive and also has practically zero downtime.
CARBOXYTHERAPY FOR AGING CONCERNS
CELLULITE & FAT POCKETS
Contrary to popular belief, cellulite does not indicate being overweight – it means there's not enough blood and oxygen flowing to a certain area of the body from factors such as lack of exercise, dehydration, or even hormone changes resulting in fat pushing against connective tissues to create that not-so-attractive dimpling. Studies show that Carboxytherapy is a great way to treat cellulite as the increase in oxygen circulation caused by injecting CO2 allows for the reduction of the congestion that causes cellulite dimples in fat pockets. All we can say is, hello short shorts!
Alternatively, look into Celfina which is an FDA cleared treatment for cellulite.
SCARRING (STRETCHMARKS)
Whether it be from acne scars or stretchmarks, scarring begins to show as our body ages and loses collagen production and elastin in certain areas. As mentioned above, Carboxytherapy improves circulation at the injection site by forcing red blood cells to release oxygen. This process of oxygenating areas improves the body's natural healing process by nourishing the skin and boosting collagen and elastin production, leaving skin tighter and smoother, and reducing the appearance of the scar.
As we grow and our body changes size, whether it be from pregnancy, weight loss, or gain, it leads to the formation of a particular type of scar known as stretchmarks. Carboxytherapy works in the same way it does for other types scarring, by helping to repair and rebuild collagen and elastin loss that are experienced when skin is damaged by being over-stretched and results in a visible reduction of stretchmarks.
CHEMICAL PEELS FOR SCARS & STRETCH MARKS
By removing the surface layers of the skin as well as boosting collagen and elastic production, chemical peels help reduce the visible appearance of scars and stretchmarks. Read our in-depth guide on the anti-aging benefits of chemical peels that explains how to properly use them and how to pick the right peel for your anti-aging concern.
Skin Obsession 20% TCA Chemical Peel (13.99)
Not only do TCA peels in particular penetrate deeper then their Glycolic and Salicylic acid counterparts, at a concentration of 20% (and above) they are an effective option to reduce the appearance of scars and stretchmarks. It should be noted that due to the potency of a TCA peel, home treatments should be left to those with experience.
DARK CIRCLES, FINE LINES AND WRINKLES
Ah yes, the dramatic first sign of aging many of us know all too well. As we grow older, the capillary network of the lower eyelids may become blocked from a lack of blood circulation or nasal congestion, leading to one of the causes of that bluish cast around the under eyes commonly known as dark circles. Other causes,  include sleep deprivation, genetics, sun damage, thinning skin and lack of fat. Research indicates that by increasing blood flow, Carboxytherapy works to improve the capillary network and increase the dermal collagen layer in the skin while reducing that bluish appearance with a healthy tone.
EYE-BAGS
Not only do dark circles form, but your under eyes are one of the most delicate areas of the skin with only a 0.5mm thickness compared to 2mm on the rest of your body. As this area of skin loses elasticity, it also loses its support structure which results in sagging. With Carboxytherapy, the blood flow is increased in order to restore the skin's natural elasticity and collagen, lifting and tightening skin around the eyes.
EYE CREAM AS A TREATMENT FOR AGING AROUND THE EYES
Although eye creams may not provide the same level of results as Carboxytherapy in terms of anti-aging treatment for the eyes, they can help treat dull and uneven tone, fine lines, and wrinkles as well the loss of the skin's firmness.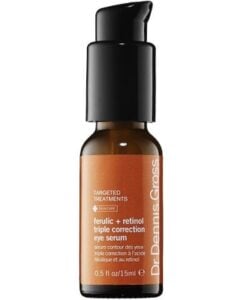 Dr. Dennis Gross Skincare Ferulic + Retinol Triple Correction Eye Serum ($85)
The powerhouse combination of Ferulic Acid and Retinol not only helps to  increases the skin's collagen production, it also helps tighten skin and visibly reduces fine lines and wrinkles. The formula also contains Arbutin and licorice extract to brighten, as well as soothing Panthenol (Vitamin B5) and hydrating Sodium Hyaluronate (a close relation to the popular hyaluronic acid).
WHAT HAPPENS DURING A CARBOXYTHERAPY PROCEDURE?
PRE-TREATMENT
You should make an appointment with your practitioner to go over the target areas you want to treat and how this will be done. Once you have this established, you're good to go! Be sure to show up to your appointment with a cleansed face and without any makeup.
TREATMENT
A micro-needle is injected with CO2 under the skin. The CO2 dilates the blood vessels to deliver oxygen and nutrients to the area. This process only takes a matter of minutes, but allow about 15 minutes to an hour for the treatment depending on the area being treated.
POST TREATMENT
There is little-to-no downtime after this treatment. It is recommended to avoid physical activity and contact with water for a few hours after treatment.
RESULTS
You may notice results soon after the first treatment, but it may take up to 4 treatments for the body to properly react to the process. Long lasting results are usually achieved after 4-12 weekly treatments.
HOW MANY TREATMENTS ARE NEEDED
Although it really depends on the aging concern you're treating, 6-12 treatments is a good general rule of thumb.
HOW LONG DO RESULTS LAST?
How long initial set of treatment results last are dependent on diet and lifestyle habits. Below are some estimates:
Cellulite – 3 to 5 years+ (dependent on weight change)
Scars – 6 months to 1 year+
Fine Line & Wrinkles –  6 months to 1 year+
Dark Circles – 5 to 6 months
Eye Bags – 5 to 6 months
MAINTENANCE
Your practitioner will decide how often you will need the repeated treatments, but generally 1 monthly treatment is a good estimate to maintain results. Keep in mind that as humans we keep aging so nothing lasts forever!
SIDE EFFECTS
A slight tingling sensation may be felt under the skin and could last for 24-48 hours after treatment before subsiding. Some bruising may also appear around the injection sites, but this should fade within a few days.
CARBOXYTHERAPY VS OTHER TREATMENTS
If Carboxytherapy is not be available in your neck of the woods, read on below for some other anti-aging treatments that are more commonly available.
BOTOX
As opposed to the more subtle carboxytherapy, Botox numbs and relaxes the nerves and muscles beneath the skin's surface resulting in more advanced skin smoothing. Explore our in depth guide all about what botox does and what signs of aging it works best for.
FILLERS
Often made from naturally occurring materials that are also found within our bodies such as hyaluronic acid, dermal fillers target the loss of facial and body volume making them an excellent companion treatment with Carboxytherapy as they treat aging concerns like dark circles and scars in a different way – by filling them in. Take a look at our feature that covers the various options and discover the best fillers for aging.
CHEMICAL PEELS
Helping to increase cell regeneration, boost collagen production combat scars, stretchmarks, as well as fine lines and wrinkles, chemical peels can reveal skin that appears to be more even toned, firmer, and smoother. The results may not be as extreme, but it's good to read up on the full rundown to compare chemical peels for anti-aging to Carboxytherapy.
LED LIGHT TREATMENTS
Sending light that penetrates deeply into layers of skin to stimulate cell growth, LED light treatments heal signs of aging like skin trauma and speeds up the skin regeneration process. Learn more about how LED light treatments work and see how it lines up to Carboxytherapy!
LASERS
Stimulating the production of collagen, laser therapy targets signs of aging like scars, stretch marks, fine lines, and wrinkles with observable improvements. Read up and compare laser therapy to Carboxytherapy, both using what we naturally produce in our bodies but with very different methods.
MICRODERMABRASION
Exfoliating away the top layer of the skin, microdermabrasion affects signs of aging by targeting fine lines, wrinkles, and age spots to reveal fresh skin rather than just going beneath the top layer like Carboxytherapy. Learn more about microdermabrasion and see how it measures up!
Learn more about other types of facial treatments as well as the types of facials in our rundown.
FINAL THOUGHTS
Carboxytherapy is a great, simple, and cost-effective way to combat signs of aging by producing something that naturally happens in the body with every breath we take.