Lucky for those facial oil commitment-probes who still need a good preventative anti-aging moisturizer to combat signs of aging like the appearance of fine lines and wrinkles, there is Squalene.
BENEFITS OF SQUALENE
Squalene is effective with boosting skin's hydration levels and has similar antioxidant properties to oils.
Is extremely light, fast absorbing, and isn't overly occlusive (still lets the skin breath).
By being skin-identical, using Squalene is unlikely to cause an allergic reaction and is, therefore, the perfect addition to a preventative anti-aging skin care routine for those prone to breakouts and with sensitive skin conditions like rosacea.
Help protect the skin barrier from the stress of daily life (pollution, sun,  etc)
Promotes skin healing and with regular usage can help even out skin tone
Combats the appearance of signs of aging inclusive of fine lines and wrinkles
WHAT IS SQUALENE?
Squalene can sadly be harvested from animal sources such as sharks, but for the most part it is extracted from plant sources including Olives, Rice Bran, Sugar Cane, and Wheat Germ. In its original form, the ingredient named Squalene is extremely unstable, but it goes through a purification procession (hydrogenation) to achieve stability, after which is transformed into Squalane, found in anti-aging skincare products.
SQUALENE PRODUCT RECOMMENDATIONS
La Roche-Posay Toleriane Riche ($28.99)
The lightweight formula combines key ingredients like Squalene and Shea Butter to soothe the skin and increase hydration levels.  Besides being easily absorbable, other notable benefits include that the cream is made without fragrence, parabens, and preservatives.
---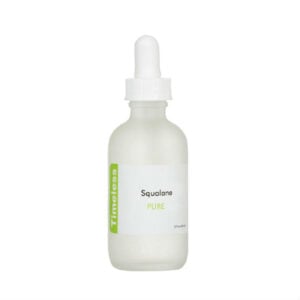 Timeless Skincare 100% Pure Squalane  ($10.94)
Not only is Timeless Skincare's Squalane serum one of the most popular on Amazon – it's also one of the most cost effective options on our list. The non-greasy formula is paraben free and is extracted from olives.
---
The Ordinary 100% Plant-Derived Squalane ($ 12)
The Ordinary's 100% plant-derived squalene will help keep skin supple. This serum is ECOCERT approved and USDA Certified Bio-based. Bonus: you can use this product in your hair to increase shine and reduce the chances of breakage.
---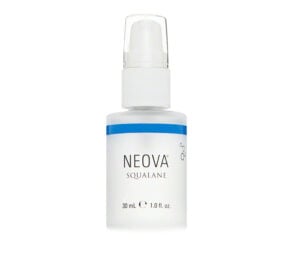 Neova's 100% plant derived Squalene is derived from Spanish Olives and helps to calm and soothe irritated skin as it hydrates.
---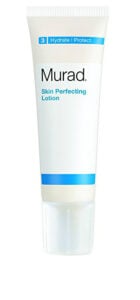 Murad Skin Perfecting Lotion ($40)
This lightweight moisturizer is not only oil-free but also combines the benefits of Squalene with Retinol to maximize the formula's anti-aging benefits.  Other notable ingredients include Queen of Meadow Extract and Algae Extract to calm as well as Sodium Hyaluronate to boost skin's moisture levels.
---
Russell Organics Squalane Oil ($38)
Russell Organic's serum offers a more holistic approach to well-balanced skin and is made from 100% olive-derived Squalene oil.  The formula is organic and also certified cruelty-free.
---
ClarityRx Squalane Additive Oil ($31.50)
This quick absorbing serum is 100% Olive derived and provides an intense hydration boost.  The formula's benefits help to nourish, protect and heal damaged skin.
---

bareMinerals Tinted Hydrating Gel Cream ($27)
Perfect for the day, this tinted fragrance-free gel cream leaves skin dewy and hydrated while offering sun protection (SPF 30) through the inclusion of 6.2% Titanium Dioxide. The formula comes in a range of colors, from fair to dark that should suit most skin-types besides porcelain and maybe very dark tones.
---
Indie Lee Squalane Facial oil ($32)
Indie Lee's 100% pure Squalane formula is cold-pressed and derived from olives.
---
Peter Roth Thomas Oilless Oil  ($25.98)
Peter Roth Thomas's 100% Purified Squalane is preservative free and pressed from sustainable, as well naturally sourced sugar cane. The formula is also paraben, sulfate, and phthalates free.
FURTHER READING
If you're interested to explore the intricacies of boosting humidity for the skin, check out our in-depth guides on how to pick an anti-aging moisturizer or the benefits of an effective night cream and finally the different kinds of facial oils.
FINAL THOUGHTS
Although Squalane is definitely a good way to go in order to boost the skin's hydration levels it should also be noted that an effective anti-aging regime is made up of a combination of skincare products as well as treatments.  Moisturizing is just one important step, others include investing in sunscreen that works as well as using ingredients like Retinol at night to boost your skin's natural regenerative processes.