A bar of soap and a little water do the trick when it comes to bodily hygiene, for sure. It's been a thing for hundreds of years for a reason. But when you want a truly luxurious experience, opt for body wash. 
In fact, choosing body wash over bar soap has benefits beyond that lovely lathering experience it delivers. Body wash tends to be less abrasive then bar soap as well as more hydrating and it's definitely easier to travel with and store. Of course, that only rings true if you're using the best organic or natural body wash.
That's because body wash that doesn't focus on natural ingredients tends to contain stuff you wouldn't want to cover your body in. Remember that the skin is the largest organ on your body and it absorbs a lott of what we put on it. Body washes that contain harsh surfactants, foaming agents, fragrance, and toxic chemicals found in many skin care items (parabens, sulfates, etc.), is going to affect your skin, and possibly your health, negatively.
To avoid those potential negative effects, shop organic or natural. And to avoid having to sift through various stores, ingredient lists, and labels, choose from the best organic & natural body wash list we've gathered below. 
10+ BEST ORGANIC & NATURAL BODY WASH
Entering the world of clean skin care can be daunting. It's hard to know what to avoid. But we've got you covered with our best of the 10+ organic and natural body washes listed below:
100% Pure Coconut Shower Gel ($25)
100% Pure's extremely popular natural Coconut shower Gel is a fan favorite. The richly foaming cruelty free formula combines the likes of coconut oil with mineal rich algae as well as soothing aloe vera not only leaving skin cleaned but well hydrated. Prefer a vanilla scent? Check out 100% Pure's highly rated Vanilla Bean Shower Gel ($25).
---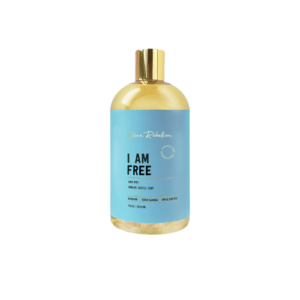 Clean Rebellion I am Free $24
Clean Rebellion takes minimalist formulas to a whole other level. This pure, unscented castile soap is made with only two ingredients: water and saponified organic olive oil. It's pretty amazing what just those two items can do for your skin, though. It works as a hydrating and nourishing facial cleanser, shampoo, body and wash, all in one.
---
Graydon All Over Soap $20
Some people like to keep things simple. And while the simplicity of this body wash lies in the fact that it can be used to cleanse both your body and your hair, there's nothing simple about what went into developing it's perfect, refreshing scent. Men and women alike will love the invigorating aromas of citrus, spice, and mint… especially with your morning shower when you need a little help waking up.
---
Basd Body Care Refreshing Citrus Grapefruit Body Wash $15
There's a little something for everyone in this body wash. Meaning that, it's great for use on all skin types, including dry, sensitive, blemish prone, and combination. What makes it an all-rounder is the combination of organic aloe juice for moisturizing, green tea caffeine to stimulated blood flow, and coconut to lock in all the hydration delivered by the aloe. Plus, the citrus scent gives you the boost you need when your shower isn't doing its job of waking you up.
---
Dr. Alkaitis's Organic Body Wash $52
There's only one thing better than the best natural body wash and that's an organic body wash. It doesn't get any more organic than a Dr. Alkaitis. Their wash is so salt-of-the-earth that it contains living ingredients (which is why proper storage of their products is so important). Used alongside a sponge, this formula full of vitamins, medicinal herbs, and essential oils acts as a gentle exfoliator that smooths your skin and restores pH balance.
---
Rahua Shower Gel $30
When we talked about lather and luxury, this is what we had in mind. Rahua's shower gel is frothy, rich and filled with essential oils that make bathing a deluxe experience. The scents of lavender, eucalyptus, vanilla, and Palo Santo are calming, uplifting, and sweet and earthy all at once. And all of that is perfectly balanced with ingredients that nourish your skin, such as antioxidant and omega-rich rainforest-grown Sacha Inti and Rahua oils.
---
One Love Organics Easy Does It Foaming Cleanser $25
Another body wash made for the people who believe that "easy does it", you can use this foaming cleanser on your body, face, and hair. To work on all three, it's formulated for hydration. The blend of gentle ingredients never strip away the natural oil from the skin or hair. Instead, Chilean soap bark, cold-pressed apple oil, and vegetable glycerin deliver moisture and nutrients to any part of the body you choose to use it on.
---
Detox Mode Impossible Soap $26
By now, you can tell that we dig a product that does more than one thing. So here's another wash that can be used sink side for your hands or in the shower to cleanse the whole body. Detox Mode has harnessed the nourishment of fruit oil and the aromatherapeutic blend of sweet almond, bergamot, and cedarwood to create a gentle yet hydrating wash with an uplifting aroma. As an added bonus, the bottle is refillable, making it a great choice for the environmentally-conscious consumer.
---
Goop G.Tox Glacial Marine Clay Body Cleanser $30
Before you start filling your body and skin with great ingredients, it's always a good idea to detox first. That means using a product that draws out any of the stuff left behind from your food, environment, and not-so-great products. Hand-harvested marine clay is the answer to all of the above. It draws out what's bad and infuses the skin with what's good – that is, essential minerals. 
Alternatively, Goops plant based G.Day Ginger + Ashwagandha Energy Body Wash ($32) has three key ingredients that make it what it is: ginger, ashwagandha, and green tea. Ashwagandha is basically a super food for your skin. It's rich in bio-active principles that cleanse, moisturize, and calm. Ginger contains a high amount of antioxidants, which protect your skin and help preserve collagen. Green tea also contains those antioxidants, along with caffeine that awakens your skin and your senses. 
---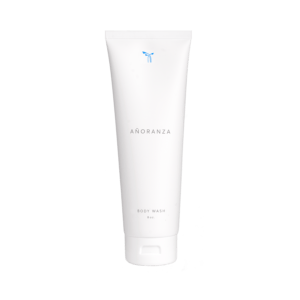 Phlur Anoranza Body Wash $18
Anoranza knows how to do scent profiles. This body wash, for example, is made to evoke the romantic and glamorous spirit of Havana, Cuba. It has top notes of mint, middle notes of jasmine and mariposa, and bottom notes rum, tobacco, bourbon, and of course coffee. But that expertly blended scent profile is only secondary to the skin-beneficial ingredients it contains, including gentle natural surfactants, hydrating aloe vera, and a coconut-oil foam booster that protects your natural moisture barrier.
---
Abhati Suisse Periya Body Cleanser $36
Abhati Suisse is a brand you need to know more about. Created by Anju Rupal, it's intended to capture the essence of her Indian roots and combine them with the latest advanced Swiss beauty technologies. So many of the ingredients are sourced from tribal farmers in India, such as the Indian gooseberry, Himalayan wild cherry, and neem leaf that go into their body cleanser. Along with a number of other nourishing oils and botanical extracts, your skin will feel refreshed, healthy, and well taken care of.
FINAL THOUGHTS
There's body wash, and then there's the best natural body wash. The difference being that the former tends to strip the skin of natural oils and leave behind residue of harsh chemicals while the latter works to nourish and hydrate your skin. Choose wisely next time you're shopping for a body wash to protect your skin and feed it what it needs – or simply choose from any of the above.