A wise person or was it a luxury brand once said that "everything changes but nothing changes" and we couldn't agree more. When we were young and carefree, a big part of our lives, especially during endless summer vacations, was attending music festivals. Now that we're a little older, we still celebrate life but in different ways like baby showers and weddings.  One such life event on the horizon in the hopefully (very) distant future is that gathering of small, dry and dull wrinkles that in layman's terms are referred to as crepey skin.  The excitement…kidding.  Although this sign of aging may appear on your face (especially under your eyes) and neck, crepey skin on legs as well as the arms among other places is also quite common. Now for a little good news crepey skin is both preventable as well as can be treated but unfortunately cannot be cured.
WHAT ARE THE CAUSES OF CREPEY SKIN? 
For most people, the development of crepey skin is most likely due to a combination of factors rather than limited to just one.
AGE
As you grow older, your body loses the ability to retain as much moisture, causing skin to become dehydrated and appear visibly dry.  Cell regeneration also slows down, so expect more layers of dead skin to accumulate.  Finally, the two most significant causes linked to papery-thin crepey skin is the reduced collagen production as well as the loss of elasticity that comes with age.
FLUCTUATIONS IN WEIGHT
When your body is younger and producing collagen in abundance, your skin is able to expand and contract with ease. As we just mentioned, that production decreases as you age and your skin doesn't have the same ability to bounce back. That means that your diet and exercise habits have a greater effect on your skin's appearance. Repeated expansion and contraction of your skin can accelerate thinning of the skin and is only expedited by the decrease in collagen production.
SUN EXPOSURE
Like so many of the aging issues associated with our skin, crepey skin can be caused by prolonged or excessive exposure to UV rays. UV rays damage collagen and the elastin fibers, decreasing their flexibility affecting the skins ability to expand and contract. The sun's rays can also break down elastin fibers and though these fibers can heal, repeated exposure to UV over prolonged periods of time leads to permanent damage.
If you're interested in learning more, make sure to check out our guide on the sun and all of its effects on your skin.
SMOKING
It's no secret that smoking causes your skin looking unhealthy and results in premature aging like wrinkles. How much you smoke and how long you've smoked both contribute to your chances of developing crepey skin. This is because many of the chemicals contained in cigarettes break down collagen and elastin, leading to the development of crepey skin around the mouth, chest, inner-arms, and knees of smokers.
HIGH SUGAR DIET
When sugar molecules combine with protein or lipid molecules, a process called glycation occurs. Collagen and elastin are both affected negatively by this process that results in signs of aging like crepey skin.  Limiting your sugar intake is a good preventative measure to take not only to target crepey skin but also just for general health as well as well being.
WHERE IS CREPEY SKIN MOST LIKELY TO APPEAR? 
Crepey skin can develop anywhere on the body, but there are a few areas in particular that are more prone to this sign of aging.
CREPEY SKIN UNDER EYES
One of the reasons that this area develops crepey skin is as a result of squinting, hard blinking and, even smiling. The use of computers and mobile devices contribute to unconscious facial movement so where possible learn to pay attention to expressions when on these devices.
CREPEY SKIN ON LEGS & ARMS
In women, the decrease of certain hormones like estrogen that comes as we age is a contributor to declining collagen production and is linked to causing crepey skin particularly on the arms and thighs.
CREPEY SKIN ON FACE & NECK
Crepey skin on the face and neck can be caused by all of the factors listed above: a sugary diet, sun exposure, skin that tends to be dry and dehydrated as well as smoking (especially when formed around the mouth).
SKINCARE TIPS & REMEDIES FOR GETTING RID OF CREPEY SKIN
If you don't already do them here are 2 simple steps that should be part of any effective anti-aging skin care routine to help both prevent and treat crepey skin.
EXFOLIATION
Exfoliating not only encourages cell regeneration and reduces dry, dull skin, it also stimulates collagen production.
MOISTURIZE
As dry and dehydrated skin emphasizes the visible signs of aging make sure to invest in an effective moisturizer that will help visibly reduce crepey skin and if it containing the right ingredients may even help treat it.
SKINCARE INGREDIENTS TO LOOK OUT FOR
There are two main ingredients you should be on the look out for to treat crepey skin
ALPHA HYDROXY ACIDS
Chemical exfoliants like glycolic and lactic acid fight dry, dull skin by removing the dead layers on the skin surface and encouraging cell turnover.  They can also help repair crepey skin damage.
RETINOL
Derivatives of Vitamin A like Retinol help boost collagen production, cell regeneration as well as treat other signs of aging like uneven skin, roughness, and even crepey skin.  As one of the only proven ingredients proven effective for anti-aging incorporating it into your skin care regimen is vital.
If you're interested in learning more about how retinol works, as well as best practice usage, make sure to read our in-depth article.
PRODUCT RECOMMENDATIONS
TREATMENT FOR CREPEY SKIN ON THE BODY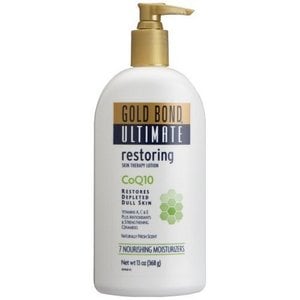 Gold Bond Ultimate Restoring Skin Therapy Lotion ($12.76)
This popular lotion targets multiple signs of aging through combining a  number of skin-beneficial ingredients. Vitamin A (Retinyl Palmitate) helps with cell regeneration, Vitamin E  nourishes and Vitamin C combats free radical damage.   Other notable ingredients include CoQ10 a powerful antioxidant linked to having reparative qualities and moisture boosting Ceramides.
---
Medix 5.5 Retinol Cream ($12.89)
Although this lotion may be cost-effective it still delivers on the anti-aging front.  Key ingredients to be on the lookout for include the soothing Aloe Vera as well as plant extract of Black Tea and Chamomile that help repair environmental damage.  The formula also has the nourishing Shea Butter and the winning combination of Retinol with Ferulic Acid in order to provide maximum results.
---
 Glycolix Elite 15% Body Lotion ($30)
This fragrance-free formula includes a powerful mix of ingredients like 15% Glycolic Acid and the antioxidants Vitamins A (Retinyl Palmitate), C, and E. Although the lotion doesn't contain any oil after application, skin is still left moisturized but without any feeling of stickiness.
---
Paula's Choice Retinol Skin-Smoothing Body Treatment ($25.65)
Packed with a variety anti-aging ingredients this lotion rejuvenates skins as it hydrates.  Look out for antioxidants like Vitamins C and E with their reparative properties, Shea Butter for an intense moisture boost and Retinol with its ability to help with regenerative processes. The formula is also fragrance-free as well as has no added dyes.
---
Replenix All-trans-Retinol Smoothing Body Lotion ($75)
This powerful lotion combines antioxidants like Green Tea & Leontopodium Alpinum with Retinol in order to target the signs of aging.  The formula also includes Ceramides as well as  Hyaluronic Acid to help replenish the skin's moisture levels.
TREATMENTS FOR CREPEY SKIN ON THE FACE
First Aid Beauty Retinol Serum ($58)
If you're relatively new to using Retinoids,  FAB's 0.25% Retinol lotion might be a good place to start.  Key ingredients included in the formula to look out for include Vitamin C that helps treat free radical damage, Hyaluronic Acid that helps increase moisture levels and peptides that support the over-all reparation.
---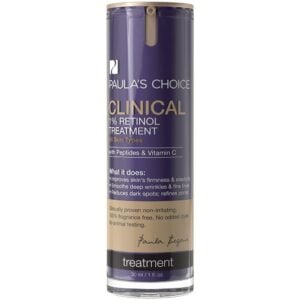 Paula's Choice Clinical 1% Retinol Treatment ($56)
Formulated without fragrance this lotion combines a powerful level of Retinol (1%) with peptides and Vitamin C as well as E to target the signs of aging.  In order to balance the formula and minimize irritation Oat Extract and Ceramides are also included.  Other notable product benefits include the lack of dyes and that the moisturizer is not tested on animals.
---
Skin Medica Retinol Complex 1.0 ($93)
By combining the likes of Niacinamide and Retinol this powerful lotion manages to combat discoloration a well as fine lines and wrinkles.  Other key ingredients to look out for include Vitamin E and Squalene that help boost the skin's moisture levels.  If you're looking for something a little more gentle, the moisturizer also comes formulated in  0.25% ($62) and 0.5% ($78) Retinol strengths.
---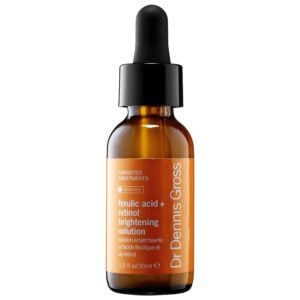 Dr Dennis Gross Ferulic Acid & Retinol Serum ($88)
The powerful combinations of Ferulic Acid with Retinol allows this anti-aging lotion to effectively help stimulate collagen production as well as help boost the skin's firmness.  Other Key ingredients like Arbutin and Licorice Extract help to brighten while sodium hyaluronate (the salt version of Hyaluronic Acid) helps boost hydration levels.
---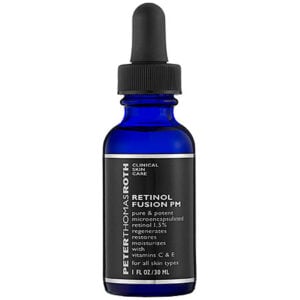 Peter Thomas Roth Retinol Fusion PM ($65)
The 1.5% level of Retinol within this serum makes it one of the most potent on the list.  The formula also includes antioxidants like Vitamins C and E to target free radical damage and help with the reparative efforts.
---
SkinCeuticals Retinol 1 Maximum Strength Refining Night Cream ($76)
The powerful 1% retinol formula helps target a number of aging concerns including wrinkles as well as age spots all while boosting collagen levels.   The formula also includes the plant extracts Rose Hips and Milk Thistle as well as ceramides to help repair damaged skin.  Explore the popular 0.5% Retinol ($64) strength if you're looking for something less aggressive.
---

Jan Marini Skin Research Age Intervention Retinol Plus ($79)
Packed with powerful ingredients including Retinol, Peptides, and antioxidants like Green Tea Extract it's no wonder why this moisturizer has won an award. The formula not only targets wrinkles but also improves sun damaged skin as well as the look and feel of skin in general.
PROTECTING YOURSELF FROM THE SUN
UV damage from the sun is one of the leading causes of many of the signs of aging inclusive of crepey skin.
Try and limit excessive sun exposure by staying out of the sun, sticking to the shade whenever possible.  Make sure to wear sunglasses in order to protect the delicate areas of skin around your eyes.
Make sure to always wear sunscreen (even when it's cloudy and in the winter) that has broad spectrum protection.  Additionally,  don't forget to lather your sunscreen on your neck as well, as crepey skin is common here.  For daily usage, a good rule of thumb is to reapply sunscreen every 2 hours if you're in the sun or foresee exposure.
Check out our in-depth guide if you're looking to discover more about the best sunscreens, that covers best practices and also explores some of our favorite sun protection products.
ANTI-AGING TREATMENTS FOR CREPEY SKIN
If you're looking to target crepey skin that is harder to treat here are some effective anti-aging skin care treatments to look out for.
CHEMICAL PEELS
By helping accelerate the natural skin turnover process, chemical peels not only boost collagen production but also helps exfoliate the top layers of dead skin thereby allowing new, healthier looking skin to show through.  Chemical peels are a more potent form of the alpha hydroxy acids used in skincare products that will bring about more advanced results.  Check out our rundown on the types of chemicals peels that covers the ones suitable to be done at home (if you're brave) and more.
FILLERS
Through injecting hyaluronic acid into the lower layers of the skin, fillers help replace the lost volume that happens as we age as well as boosts hydration levels in the skin.   If you're looking to treat crepey skin under the eyes, this anti-aging skin-care treatment may be a good option.  In order to learn more including the different types and what they do check out our guide on some of the best skin fillers.
LASERS
Although the thought of using lasers on the skin may seem terrifying they are highly effective in treating signs of aging like crepey skin.  Modern day lasers require a lot less downtime than they used to, but it is still more than treatments like injectables.  Discover the anti-aging benefits of lasers to drastically improve the way skin looks and feels within our article.
MICRO-NEEDLING
As the multiple small wounds on the skin's surface layers created by micro-needling heal, they help boost collagen production and as a result target signs of aging like crepey skin.  If you're looking to find out more about how micro-needling works, be sure to read our piece that provides coverage on this and more.
FINAL THOUGHTS
Due to the advances in modern technology, treating crepey skin has never been easier but taking preventative measures is still the best option in limiting the severity of it as you age.  As always, it's important a good skincare routine to target signs of aging involves both effective products as well as treatments.