Unless you're going completely au natural, hairspray is often a must: holding simple curls in place, reducing fly-aways after your hair has been perfectly straightened, or keeping an updo from undoing on special occasions. And while you might need hairspray to lock your locks, you don't need all the harmful chemical substances that they're often formulated with.
Propylene glycol has been linked to skin irritations and liver toxicity. Propellants that push the hairspray from its can and onto your hair can cause respiratory illness. Alcohol, especially when combined with hydrofluorocarbons, can lead to acute poisoning. Phthalates are hormone disruptors that affect your reproductive system. And fragrance can contain hundreds of chemicals – some that are carcinogenic – that don't have to be listed.
Organic and Natural hair spray formulas forego all of those toxic ingredients while still providing the same stronghold you need for even the ficklest of hair textures. It's gentler on the skin, better for your hair and overall health, and it's even better for the environment.
14+ BEST ORGANIC NATURAL HAIR SPRAYS
Choose from these amazing natural or organic hair sprays when you're ready to make the switch.
Evolvh InstaVolume Volumizing Elixer $30
Fine-haired friends fret no more – this highly rated volumizing hair elixir adds weightless volume to even the flattest of strands. Applied wet or dry, it works best when combined with InstaVolume Cleansing Treatment and when applied directly to the roots. Plus, it's formulated with vital hair nutrients and protective ingredients that will balance your hair's pH, reduce frizzy-ness and fly-aways, and add incredible shine.
---
Josh Rosebrook Hair Spray $30
Almost entirely certified organic, organic, and non-GMO plant-sourced, this lightweight hairspray provides a firm hold that allows your hair to move naturally. Without any of the additives found in traditional hairspray, you won't have to worry about flaking or drying from the scalp. Instead, an active herbal infusion that includes yucca, orange peel, lavender, and peppermint will nourish both your hair and scalp, with a delicious natural scent.
Alternatively consider Josh Rosebrook's Serum Spray ($30) which as you can guess is somewhere between a natural hairspray and a hair serum, this leave-in treatment will make your hair more manageable. The likes of aloe vera and fatty acids will boost hydration, reduce frizz, and soften your locks. And you can do all of that with the assurance that your hair is protected from heat.
Formulated specifically for fine hair, this herbal Lift Spray ($30) spray provides thickening and texture that's easily expanded with just your fingertips. At the same time, the blend of herbs encourages hair growth. Sage, rosemary, horsetail, and peppermint will stimulate even the thinnest hair follicles, all while keeping your scalp healthy and making your mane more voluminous.
---
Yarok Feed Your Hold Hairspray $25
A medium control hair spray that won't weigh down your hair or leave it gunky but will give you all day hold that you can count on. Its precision pump leaves out any need for aerosols, and it's also free of alcohol, parabens, sulfates, and animal cruelty. Use it after blow drying to seal your hair or after brushing for a refreshed look that controls the fly-aways.
---
Andalou Naturals Brilliant Shine Hair Spray $9.99
All of Andalou Naturals skin and hair products are made by blending fruit stem cell science with 70% certified organic, fair trade ingredients. The result is superior formulas that harness the power of nature and their organic hair spray is no exception. Part of their sunflower and citrus hair care line, the medium hold natural hair spray contains brightening vitamin c, nourishing sunflower oil, and hydrating aloe. It minimizes everything from split ends to fizziness while adding shine and continuously conditioning throughout the day.
---
Rahua Defining Hair Spray $37
When you need hold but also malleability, this environmentally-friendly non-aerosol formula gives you just a hint of definition that you can brush through with ease. Spray it at the roots and under layers for volume and curls or cover your palms to tame frizz and fly-aways. Either look will last all day and keep your hair hydrated.
Alternatively, if you're looking for a volume boost check out Rahua's Voluminous Spray ($34) USDA-certified organic hair spray is the real deal when it comes to bigger hair and texture. Use it to create tousled beachy waves, thicker-looking locks, and soft hold – you can even use it between washing your hair or throughout the day to absorb oil and add a perfect boost. We can't get enough of the smell – a refreshing and revitalizing blend of lavender and eucalyptus that's also super soothing for the scalp.
---
John Masters Organics Hair Spray $24
Made with only 7 ingredients and 95% USDA certified organic content, this is the cleanest organic hair spray formula we could find. Instead of synthetic polymers and plasticizing agents, John Masters employs acacia Senegal gum and xanthan gum for just as much hold, volume, and humidity protection without any flakiness or drying effect on your hair and scalp. With the addition of organic aloe vera juice and bergamot oil, your hair will be noticeably stronger, more hydrated, and purified.
---
Innersense I Create Finish $26
Part of the Innersense I Create plant-based line, this natural finishing spray does exactly what the name promises: provides a perfect finish to any hairstyle and for any hair type. Its primary job is to provide a stronghold and add a little shine, but it's also formulated with added-benefit ingredients that your hair will drink right up. That includes organic honey for added hold, organic rooibos tea for antioxidant care and protection, as well as rice proteins for hydration.
Second up in the I Create organic line is the I Create Waves Spray ($26) that delivers on the promise of its name, with a little added bonus: Himalayan pink salt helps create soft and touchable beachy waves while the addition of amethyst crystal effects your spiritual energy and promotes inner strength and peace. Use it more than once a day to keep those waves – and good vibes – alive.
Depending on what you're doing to your hair, a priming spray may be more important than a finishing spray. Innersense's Hair Love Prep Spray ($28) pre-styling spray will maintain body and help you manage the style you're aiming for while protecting it from heat, UV, and environmental aggressors.
---
Captain Blankenship Mermaid Sea Salt Hair Spray $24
It's no secret that curls are in but there's nothing quite like that no-nonsense beach wave that's always classic and never out. To achieve that perfect texture in a pinch, spray this on damp or wet hair and simply let it dry… it's that easy! Formulated with Atlantic sea salt and organic sea kelp, your hair isn't just getting the vitamins and minerals it so desperately needs, it's getting the beach wave the same way you'd get it naturally at the beach. Plus, Captain Blankenship will plant a tree for every purchase of this product!
---
Jason Hair Spray Thin to Thick Extra $9.43
Many of our organic hair sprays offer volumizing but none offer the ability to thicken your hair while providing that volume. Formulated with biotin, this Thin-to-Thick extra volume hair spray does exactly that. Apply to thin hair for a quick boost in volume that boosts hair growth and thickening at the same time, and naturally.
---
Phyto Paris PhytoVolume Blow Volumizing Hair Spray $30
For lightweight volume, this heat-activated hairspray can be sprayed directly on dry or wet roots and then styled as usual. You'll notice significantly more fullness without any stickiness or stiffness. In fact, that's what we love most about this hairspray: the long-lasting bounce it gives to fine and thin hair. Well, that, and the fact that it's vegan, silicone-free, sulfate-free, and paraben free.
---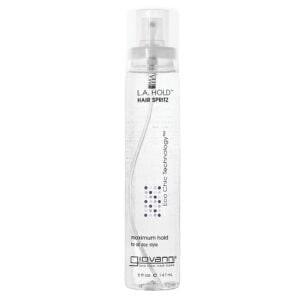 Giovanni L.A Hold Hair Spritz $7
If you color, highlight, ombre, or change your natural hair color in any way, you have to keep that in mind when purchasing any hair product. There's nothing worse than stripping an expensive color job with harsh products. But this firm-hold spray is strong enough to lock any style in place without stripping color or damaging your hair. Actually, it brings much-needed conditioning to color-treated hair with a long list of USDA-certified botanical ingredients.
---
Lorima Firm Hair Spray $19
Loma's fan-favorite Firm Hair Spray provides a flexible yet long-lasting hold, and it's infused with ingredients that your hair will love. Among those is the #1 ingredient in all Loma products: Aloemist Complex. A combination of pure water and concentrated organic aloe vera powder, it moisturizes, enhances, protects, restores, and repairs the hair. 
But when you need your hair to hold, you need Loma's Texture and Finishing Spray ($22). It provides intense hold, smooth shine, and is infused with that same Aloemist Complex that makes all Loma hair products so hydrating and nourishing.
NATURAL VERSUS ORGANIC HAIR SPRAY
We've talked about this many a time previously, but it's always worth mentioning. There's a big difference between natural and organic when it comes to hair care, skincare, makeup, and even your food.
The most important thing to remember here is that "natural" is not a regulated term. Meaning that, any brand can call their product "natural" without having to adhere to any kind of standards. Therefore, brands can use the term "natural" on their product even if the product contains chemical, synthetic, and other potentially harmful and toxic ingredients.
Similarly, some "natural" ingredients are actually just as (if not more) sensitizing, unsafe, or toxic than their synthetic counterparts. They may also not be good for the environment or the animals within it. For example, hyaluronic acid is considered a natural ingredient, but the natural version of this is taken from the umbilical cords of cows and horses. Whereas, its synthetic counterpart is just as effective and doesn't harm wildlife.
All that to say: don't be fooled by this labeling. Always check the ingredients list or call manufacturers when you're in doubt.
Now, organic, on the other hand, does signify something substantial. That is, products labeled organic have a strict set of standards they must meet. The ingredients in organic products are farmed without pesticides, chemicals, or artificial fertilizers. The end product will contain between 95 and 100% chemical-free ingredients that are also non-GMO.
Organic products are heavily regulated by the FDA's Federal Food, Drug, and Cosmetic Act as well as the Fair Packaging and Labelling Act. If you're looking for organic, (mostly) chemical-free products, make sure you only purchase those with the USDA certification.
FINAL THOUGHTS
Hair spray is one of the most damaging hair care products for both your hair and the environment. Or, at least, it can be. Switching to organic hair spray means not exposing your hair, body, and environment to harsh and harmful chemicals and, instead, infusing them with botanicals, essential oils, and nutrients that will provide strength, shine, and even growth. Protect your hair the same way you'd protect your skin and start looking for natural, clean alternatives that you can feel and look good using.