The skin around our eyes is more fragile than any other on our face and neck. That means it's usually the first place to show signs of aging and fatigue, such as fine lines and wrinkles, puffiness, and dark circles. It's also more prone to being dry, which can lead to dullness and sallow-looking eyes.
All that to say that, if you take your skincare seriously, then you probably started using an eye cream in your mid-20's. And if you didn't, it's time to catch up. An eye cream can help combat those dark circles and they aren't going to fight themselves.
But before you run out and pick up the first one you see, let us tell you why a natural and organic eye cream should be your preferred choice. Or skip ahead to our 14 best natural and organic eye creams for our top-picks.
WHY NATURAL & ORGANIC EYE CREAMS
It's no secret that so much of our makeup and skincare contain potentially harmful and toxic ingredients. What seems like a harmless off-the-shelf purchase of a well-known skincare brand can actually be doing significant damage to both your skin and your physiology in general.
Parabens, for example, have been used as a preservative in skincare and makeup since the 1920s. While we now know that they can disrupt our hormones, harm fertility, damage reproductive organs, cause negative birth outcomes, and even increase the risk of cancer, they're still allowed to be used in the everyday products we apply directly to our skin.
And it doesn't stop there. The products we apply to the largest organ in our body are packed with endocrine-disrupting PEG's to carcinogenic synthetic colors and allergy-causing formaldehyde, the list of toxins is long, and the list of skincare products made with them is even longer.
But eye cream has its own specific list of specific issues.
Because we use so little at a time, eye creams need to last a long time. For that reason, they're often packed with preservatives like parabens to extend their shelf life. Fillers and thickeners like silicone are also common additives in eye creams. These ingredients simply add weight and texture to the product, meaning they don't do anything to benefit your skin. Plus, silicones can trap dirt and bacteria beneath the moisture barrier, which may protect from environmental aggressors but can also cause breakouts and imbalanced sebum production.
Of course, there are the vicious petrol-derived oils that lend your eye cream its creamy texture. These are not only bad for the environment, but they're also occlusive and irritating to some skin types. Eye creams are often scented, too. If that scent is derived from "fragrance", you could be adding upward of 100 unknown chemicals to your skincare routine – and you'll never know what those ingredients are because they're protected under trade secret laws.
The best natural and organic eye creams are made without any of those substances. By definition, they're made with natural and organic ingredients that benefit the skin while they do the job they're assigned to do – namely, combat the signs of aging and fatigue that accumulate under your eyes. They do that with gentle, plant-based ingredients that you can feel secure placing on this most precious area of your face.
When it's time to incorporate an eye cream into your skincare routine, make sure you're choosing from the best natural and organic eye cream. To get you started on the right foot, we've listed the top 14 natural and organic eye creams below.
BEST NATURAL & ORGANIC EYE CREAM
A big part of taking staving off the visible signs of aging is taking care of your skin. But as we learn more about the ingredients in conventional products, taking care of your skin also involves choosing skin-beneficial products that don't compromise your health while they make you look fabulous. So when it comes to treating dark circles and sallow under-eye skin, choose from only the best natural and organic eye cream.
100% Pure Coffee Bean Caffeine Eye Cream $27
Caffeine doesn't just wake you up from the inside-out… it can also be used topically to wake up tired eyes. That's why this popular natural eye cream has three different varieties of circulation-boosting and cell-stimulating caffeine: green coffee beans, green tea extract, and coffee cherry. Combined with a healthy amount of aloe, it's a gentle and cooling treatment that can be used both during the day and overnight.
If you're looking to target fine lines and wrinkles consider 100% Pure's Retinol PM Cream ($49).  Retinol is a derivative of vitamin A and one of the most potent anti-aging ingredients out there. It's also among the most studied anti-aging ingredients, and that's how we know just how effective it is at stimulating collagen and improving skin tone and texture. As formidable as it is, a nighttime eye cream formulated with retinol is a rare find, but 100% Pure has perfectly balanced that strength with vitamins, stem cells, and hydrators that deeply moisturize and condition.
Alternatively, when you're looking for the highest concentration of nutrients you can get, look no further than Super Fruit Oil Nourishing Eye Cream ($46) perfect for normal to dry skin types.  Formulated with rich moisturizing oils from the likes of Pomegranate, and Plum the nourishing cream helps support and protect your skin with antioxidants including Goji Berry Extract, vitamins, and deep hydration.
---
Juice Beauty Stem Cellular Anti-Wrinkle Eye Treatment $50
When you notice sagging and sallow skin, your body is telling you it needs help with cell regeneration. As you age, your body needs help shedding and replacing the built-up dead skin cells that cause circles as well as discoloration and makes you look tired. In answer to this problem, Juice Beauty developed a proprietary blend of fruit stem cells and vitamin C that improves your skin's elasticity and firmness. And to take it one step further, they added jojoba and shea butter for a rich and creamy texture that also hydrates and protects your skin.
Also, consider Juice Beauty's Signal Peptides Firming Eye Balm ($80). Peptides act as messengers that tell your skin to produce more collagen, which is a protein that breaks down as we age and causes a loss of skin elasticity, firmness, and texture. The key ingredient in this hydrating and renewing eye balm are the rice peptides, which improve those three issues in the delicate skin around the eyes. Combined with certified organic ingredients like pterostilbene-rich wild blueberry extract and sunflower-derived lipids, you'll notice plumper, more hydrated skin with just a few applications.
---
Dr Alkatis Organic Eye Crème $67
There's something in this formula for everyone: brightening, protection from environmental damage, and puffiness, dark circle, and fine line reduction. To achieve that level of skin assistance, Dr. Alkaitis employs all the best herbal remedies, vitamins A, C, and E, oil from shea and rosehip, and lesser-known powerhouse ingredients like wild rose buds, linden blossoms, and musk rose.
---
Pai Skincare Feather Canyon Eye Cream $54
You only need a sparing amount of this potent eye cream to start seeing the results that gamma linolenic acid and stearidonic acid bring to your delicate eye area. These natural acids will plump and smooth fine lines as well as uneven skin texture. At the same time, the anti-inflammatory omegas 3 and 6 found in echium seed extract ensure that your skin is soothed and relieved from any dryness or soreness. Made with 74% organic ingredients and no alcohol, synthetics, artificial fragrances, or other irritants.
---
Kora Organics Noni Radiant Eye Oil $38
Although certified organic ingredients like noni and tomato fruit make this eye oil a weapon you need in your anti-aging arsenal, what we really love about it is the unique rose quartz roller ball applicator that makes application both simple and soothing. It also combines Kahai oil, coffee seed oil, and antioxidant-rich marine bamboo extract – three more standouts in a heavy-hitting list of brightening and toning ingredients that you're sure to love.
---
Acure Radically Rejuvenating Cream $11
Acure uses plant-derived ingredients to achieve anti-aging perfection. In this eye radically rejuvenating eye cream they've included plant stem cells that restore your skin's cells as well as chlorella & edelweiss extract to protect your moisture barrier – two very important functions for aging skin that tends to lose hydration and doesn't shed and replace skin cells as rapidly as it once did. That means it not only fights fine lines and wrinkles, it also reduce puffiness and dark circles.
---
Goldfaden MD Bright Eyes $55
This Goldfaden M.D. lightweight brightening cream promises to reduce dark circles, puffiness, and fine lines – and it has the research to back up those claims. In an independent 3rd party study, upwards of 85% of the participants who used Bright Eyes 2-3 per week reported improvements in the brightness, smoothness, and health of their under-eye area. Like all Goldfaden M.D. products, it achieves these results with state-of-the-art technologies like soy peptide, active plant cells like rice bran extract, and anti-oxidant rich botanicals like organic red tea and arnica.
---
Eminence Organic Skin Care Wild Plum Eye Cream $70
This unique formula includes the rare vitamin K – part of a vitamin biocomplex that visibly reduces the appearance of dark circles by healing and repairing your capillaries and calms the kinds of inflammation that result in redness and puffiness. But Eminence didn't stop there. They also added shea butter and the active ingredient wild plum for extra anti-inflammatory strength that leaves skin feeling calm and cooled.
---
Skin Owl Eye+ Nourishing + Youth Stimulating Eye Concentrate $44
For something a little different, Skin Owl has created an eye concentrate that can actually be used to treat dull and fatigued skin on the forehead and cheeks as well. And when they say concentrated, they mean the formula contains high concentrations of soothing and smoothing ingredients like aloe and cucumber fruit as well as strengthening and firming ingredients like hyaluronic acid, periwinkle, and licorice. You can even increase the potency of the treatment by placing it in the fridge before using!
---
Tata Harper Restorative Eye Creme $98
Not everyone struggles with dark circles; in fact, many of us are more concerned with the crow's feet that can start developing as early as our mid-20's. Make sure that the next time you smile for the camera, your eyes aren't overshadowed by the wrinkles and fine lines collecting in the corners. Delivering extreme hydration via aloe, mango butter, coconut oil, and olive oil, this restorative cream erases crow's feet and other fine lines for age-defying results that last.
---
Goop Genes All-in-One Nourishing Eye Cream $55
All GOOP products are clinically proven to deliver results. Their bestselling all-in-one nourishing eye cream improves skin hydration within 72 hours and also contains ceramides that work on improving skin texture. It's a high-performance product with a luxury feel that targets two of the most common issues associated with the signs of aging, loss of elasticity and decreased hydration, and produces a well-rested and healthier look within days.
---
Graydon Berry Rich Probiotic Face + Eye Cream $49
Those a little deeper into the world of wellness will have heard of probiotics. But did you know probiotics work more than just kombucha and a daily dose of apple cider vinegar? Indeed, probiotics works just as magically when used topically as they do when they're ingested, which is exactly what sparked Graydon to create this probiotic face and eye cream. It strengthens your skin barrier and supports healthy-looking skin with vegan probiotic and amino acids, vitamins, and minerals derived from blue-green algae.
---
Kahina Giving Beauty Eye Serum $78
Safe and gentle enough for use twice per day, this lightweight serum is formulated a little differently than most on this list. Specifically, it contains peptides that boost collagen production and help repair the skin around your eyes and make it appear more plump, supple, and radiant. Adding to the specialization of this serum is its ability to target your lymphatic drainage system and increase microcirculation to reduce dark circles as well as the appearance of fine lines and wrinkles.
---
Maya Chia The Eye Achiever $70
Your skin will literally soak up this fast-absorbing and highly concentrated serum that's designed for treating the contour of your eyes. Multi-Correctional in that it targets dullness, elasticity, and strength, this eye treatment hydrates through nutrient-dense, macro and micro-algae extracts. At the same time, it protects and builds strength with the antioxidant power of exclusive plant oils derived from chia, raspberry, black cumin, and rooibos.
---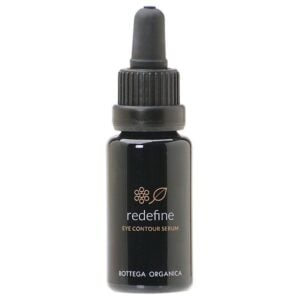 Bottega Organica Redefine Eye Contour Serum $125
For a 100% organic solution to your under-eye problems, invest in this high-performance serum blended by the experts at Bottega Organic. Specially crafted to relieve dark circles, inflammation, and crepey skin, Bottega Organic packs the maximum concentration of age fighting molecules you can fit into this 15mL bottle: bright red blossoms of prawn sage, high mallow, cucumber, horse chestnut, as well as other carefully selected herbal and fruit extracts. The natural ingredients are so fresh, you'll have to use this serum within 2 months of opening it (but once you see the result you'll have no problems accomplishing that!).
---
Naturopathica Vitamin K Brightening Eye Serum $70
Combining the capillary-repairing properties of vitamin K with the light-refracting benefits of mica and silica, this 2-in-1 is a serum that corrects damage that's already done and also acts as a cosmetic concealer that reduces the appearance of the visible signs of aging. Use day, night, or whenever you need to look like you've got your full 8 hours of sleep – you'll notice an immediate difference in luminosity and radiance.
---
Odacite Ultra Effective Eye Cream $95
Best for mature, sensitive, and dry skin, this creamy eye treatment combats fine lines and wrinkles as well as a loss of skin density. How? It's formulated with cell-communicating organic blue-green algae that helps to renew the skin around your eye contour and restore elasticity and firmness. And once it's worked its magic revitalizing your skin, it protects it with antioxidizing organic pomegranate and locks in the effects with hydrating hyaluronic acid.
Alternatively, Odacite's Ba + S Contour Concentrate serum ($42) is rich in Vitamins A, E & F.  What really makes this one stand apart is the cold-pressed, certified virgin, wildcrafted Baobab seed oil which is capable of targeting a multitude of sign of aging that affects the eyes.
---
Grown Alchemist  Age-Repair Cream $69
If the visible signs of aging are your main under-eye problem, consider this repairing cream your new BFF. It's formulated with wrinkle-fighting vitamins A, E, and D, collagen-boosting phyto-amino acid peptides, and antioxidant-rich essential fatty acids. Together, these ingredients not only treat fine lines and wrinkles, they also prevent against them by strengthening your skin and protecting it from environmental aggressors.
---
Sait Jane Bright Repair Eye Cream $65
We have to admit, it's the couture packaging of this Saint Jane eye cream that first attracted our eye. But there's more to this black and gold color scheme than its beauty – the occlusive matte black bottle protects the precious 10% vitamin C and other fragile ingredients from light and air exposure. Those ingredients include highly concentrated CBD, green tea, and grapeseed and they make for a cooling treatment either morning or night.
And for more information on the best eye creams for the visible signs of aging, make sure you check out our guide on anti-aging eye creams.
FINAL THOUGHTS
Eye creams can reduce the appearance of dark circles that make you look both tired and aged. But they can also be used to restore skin elasticity and firmness, brighten dull texture and skin tone, and repair the contour of your eyes. And to accomplish this task on one of the most delicate areas of skin on your entire body, you only want the best natural and organic eye creams filled with skin-beneficial and healthy ingredients.