When you buy products to care for your skin, you probably choose the basics. You've got an exfoliant, a face wash, a moisturizer and a sunscreen, right? Well there's one ingredient you may have missed. Retinol for men is one of the easiest ways to keep your skin looking young, soft and wrinkle-free.
WHAT IS RETINOL?
Retinol is a derivative of Vitamin A.  it carries multiple rejuvenating benefits for your skin.
Retinol stimulates collagen production, plumping your skin and diminishing the appearance of fine lines and wrinkles.
Retinol evens out skin tone. Whether it's from sun damage or just uneven pigmentation, retinol will give your skin tone a more uniform appearance.
Retinol not only helps unclogs pores making them appear smaller but also helps combat blackheads and whiteheads.
To use retinol, just choose one of our favorite products and use as the manufacturer recommends. You'll see what we mean – the benefits of retinol are amazing when you use the product regularly.
BEST RETINOL FOR MEN
Skinceuticals Retinol 0.5 Refining Night Cream $76
SkinCeuticals Retinol is one of the simplest products out there. It's a cream that you just apply to your skin each morning (or evening if you prefer). Use it in conjunction with your daily moisturizer and begin to see results within a week.
Men who have used SkinCeuticals Retinol are particularly pleased with the fact that the cream doesn't irritate skin. Even men with sensitive or freshly-shaved skin can use SkinCeuticals without rash, redness or itchiness.
---
Obagi360 1.0 Retinol $67
Obagi360 has developed a retinol cream for men that's a slightly higher concentration than some other brands. Retinol 1.0 is best for normal skin, as the higher concentration may slightly irritate sensitive skin types.
Additionally, it's recommended that you use Obagi360 Retinol 1.0 with a sunscreen. Retinol products may have a tendency to make your skin more sensitive to the sun, so it's best to protect your face for the best results.
This particular retinol cream contains moisturizing ingredients to help keep your skin feeling smooth and soft. In the product, you'll find shea butter, jojoba oil, chamomile, mallow flower extract and sage leaf extract. These natural ingredients work together to clear up your skin while they moisturize.
---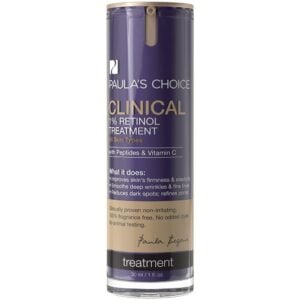 Paula's Choice 1%  Clinical Retinol Treatment  ($53.50)
Paula's Choice Clinical 1% Retinol Treatment is another of the "stronger" blends of retinol creams for men. So, with other products, you'll want to be sure you apply a sunscreen when you use this one. But we think you'll like the result! Paula's Choice Clinical 1% Retinol Treatment has some added ingredients that will make your skin healthier, clearer and younger looking.
Vitamin C is a powerful antioxidant that fights the signs of aging. The vitamin is known to reduce the appearance of fine lines and wrinkles, and it's also great at clearing up your skin! Peptides are also in Paula's Choice Clinical 1% Retinol Treatment. Peptides are tiny protein molecules that also provide anti-aging benefits.
Best of all, Paula's Choice is a vegan product, and the company doesn't test on animals.
---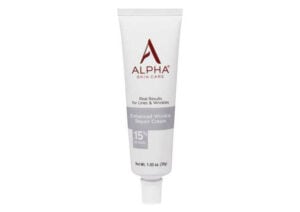 Alpha Skin care Enhanced Wrinkle Repair Cream $13.74
If you've got super sensitive skin, Alpha Skin Care Enhanced Wrinkle Repair Cream is your best bet. At only .15% retinol, it's gentle to even the most easily irritated skin, but still effective in smoothing your skin and giving you a younger appearance.
Alpha Skin Care's retinol cream includes vitamins C and E in addition to the retinol in Vitamin A. All work together to combat the signs of aging, even your skin tone and clear your pores. Men love that this product is fragrance free, so you can use it with your favorite aftershave.
---
SkinMedica Retinol Complex 05 $62
SkinMedica has created a retinol complex that's simple – there are only a few other added ingredients in this product. Southern Magnolia extract is known to be a "magic potion" that's an anti-inflammatory and an antioxidant. That means it's extremely powerful in reducing the signs of aging. You'll find Southern Magnolia extract in SkinMedica Retinol Complex.
This is a 0.5% complex, so test a small area of your skin before you apply to your whole face. If everything looks okay, start using this product once each week before you gradually increase to a few times each week or daily.
---

Jan Marini Skin Research Age Intervention Retinol Plus $79
Jan Marini Skin Research Age Intervention Retinol Plus is another of the best men's retinol products. New Beauty Magazine has actually voted it the best cream twice, and men who use it say it's even gentle for rosacea and other skin conditions.
Jan Marini's Retinol Plus Blend contains a few extra ingredients to give your skin an extra anti-aging boost. Green tea has long been known to fight wrinkles by increasing cell turnover. The blend also contains peptides, which will only increase the anti-aging benefits. Finally, shea butter and safflower oil moisturize your skin as the retinol goes to work.
---
Olay Professional Pro-X Deep Wrinkle Treatment Anti Aging $29.99
Last on our list of the best retinol products for men is Olay Professional Pro-X Deep Wrinkle Treatment. This lightweight product is appropriate for all skin types – even oily skin! It's absorbed into your skin quickly, and won't clog your pores. In short, it's just about perfect!
This retinol product for men is based on pure science. It contains retinol, of course. You'll also find peptides in the formula. Finally, niacinamide creates a difference in your skin you'll see almost immediately. It helps shrink pores, brightens your skin and over time helps reduce the appearance of wrinkles. Men say that Olay Professional Pro-X Deep Wrinkle Treatment helps reduce age spots, too. Bonus!
FINAL THOUGHTS
Retinol isn't a miracle cure to reduce aging, but it sure comes close. The effects of retinol on your skin are phenomenal, and it doesn't take long to achieve those results. Try one of the retinol products on this list – start with once a week then gradually increase your use. You'll be rewarded with smoother, softer, younger looking skin thanks to retinol.