If you are anything like us you might have noticed the increase of anti-aging devices available on the market and even considered purchasing one. Though these devices are often a fraction of the price of a visit to the dermatologist for a professional treatment, and also come with little to no recovery time, you are probably wondering if they actually work. Well, they will improve the way your skin looks and feels but since they are scaled down versions of their professional counterparts, results will not be as advanced nor happen as fast.  Depending on your financial and time resources these at-home anti-aging devices may make sense for you.
However, be warned that without dermatologist supervision, at home users are often found guilty of overusing anti-aging devices and therefore irritating their skin. Make sure to carefully monitor your usage and also keep in mind that the less is more approach is a good way to go. Read on for our take on some of the best available at-home anti-aging devices that actually might be worth their investment.
THE AT-HOME ANTI-AGING MICRODERMABRASION DEVICE
Neutrogena Microdermabrasion System $15.38
Microdermabrasion is a thorough way of exfoliation as it physically removes the top layers of the skin, the epidermis, to reveal the new layers underneath. The cost-effective nature of this anti-aging device makes it the perfect starter one to decide if microdermabrasion is a good fit for your skin goals.  Through combining gentle vibrations with puffs that are made up of fine crystals and cleansers the device helps reduce visible signs of aging like dullness as well as fine lines and wrinkles.   If you run out of exfoliating puffs, a 24-count refill pack ($11.23) is readily available. 
To understand the difference between home and professional treatments, explore some other home anti-aging devices and more check out our in-depth article on the anti-aging benefits of microdermabrasion.
---
THE AT-HOME ANTI-AGING LASER DEVICE

Tria Age-Defying Laser $495

The fact that at-home laser devices only have a fraction of the power of professional lasers is actually a huge plus in this case. When you get a laser procedure done at the dermatologist, you may come out looking a bit, uh, burned. The Tria has a non-abrasive fractional laser – meaning that it doesn't remove an entire layer of skin. Instead, the low-level lasers stimulate the natural cell renewal cycle and generate collagen to improve the skin's overall appearance, including diminished wrinkles and fine lines. Using the device does come with a little discomfort – a prickly sensation is normal, and slight swelling and redness during or immediately after treatment may occur.  This home anti-aging device is recommended to be used every night for about 8 weeks, followed on by a 4-week break to allow the skin to regenerate.
Explore our guide on anti-aging lasers to learn more about benefits, the different types and which one works best for specific concerns.
---
THE AT-HOME ANTI-AGING LED DEVICE
Trophy Skin RejuvaliteMD $249
LED (Light Emitting Diode) therapy is a much gentler solution than using a laser to treat skin. This anti-aging treatment works by sending focused light deep below the epidermis in order to increase collagen production and boost hydration levels, resulting in skin that not only is firmer, plumper but also is more radiant in general.
In just 5 minutes, this FDA cleared LED light lamp powered by 120 medically-grade LED bulbs of different color frequencies (30 red, 30 amber, 30 yellow and 30 infrared) provides a full face treatment and combat aging concerns inclusive of fine lines, wrinkles as well as uneven skin tone.  Best of all, if you have doubts about the treatment's effectiveness Trophy Skin offers a 60-day money back guarantee.
If you're interested in learning more, check out our article that covers how LED light treatments work including what the different types of light frequencies do and what to consider when picking out an at- home device.
---
THE AT-HOME ANTI-AGING FACIAL TONING DEVICE
NuFace Trinity Facial Toning Device $325
This FDA-cleared anti-aging device uses soft wave micro-currents that pulsate through the globe-shaped nobs to improve facial contours, skin tone, as well as to reduce the appearance of fine lines and wrinkles. Think of micro-current technology as "exercise" for your face; it tones your skin in much the same way that exercise tones your body.
Using the device is simple, first apply a generous amount of gel primer onto your skin then glide the device across your face. Keep gently massaging for 5-20 minutes. Afterwards, remove the primer with a hot cloth.
Micro-current technology is known to help increase absorption of products, so it is best used after cleansing but before applying a serum. It's recommended to use this device  5 times a week for the first 6 weeks, followed by regular touch ups 2-3 times a week in order to see maximum results.
HOME TREATMENT CARE PRODUCTS RECOMMENDATIONS
No matter what at home anti-aging device you may be considering it's important to use gentle products to avoid irritating your skin. Start off with a simple cleanser, a moisturizer that repairs and last but not least a sunscreen if you're doing your treatment during the day.
CeraVe Hydrating Cleanser $7.96
Best for: Normal to Dry Skin
This gentle formula won't over-dry skin or damage its natural barrier as it cleans. Key ingredients like Ceramides and Hyaluronic Acid help boost hydration levels while the lack of fragrance minimizes the chance of irritation.
If you're interested in learning more take a look at our guide on how to pick an anti-aging cleanser inclusive of benefits and best practices.
---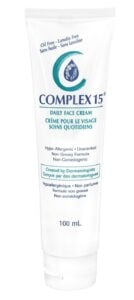 Complex 15 Daily Face Cream $14.15
Best For: Normal, Combination, and Sensitive Skin Types
Being light-weight makes this non-irritating moisturizer perfect for usage after an at-home anti-aging treatment.  Key reparative ingredients in the formula like Squalene and Triglycerides boost moisture levels while Lecithin helps soften skin.  Other important benefits include the formula's lack of scent as well as the non-greasy nature that helps it to absorb easily.
Explore more about effective anti-aging creams inclusive of how they work and the ingredients you should be keeping an eye out for.
---
Clinique Pep Start UV Protector $19.50
Best For: Normal to Combination Skin
This mineral sunscreen combines the power of 6.3% Titanium with 4% Zinc Oxide to provide skin with broad-spectrum protection from the sun. The fragrance-free formula blends well, dries with a matte finish and has a peach tint that gives skin a glow without that dreaded ghost-like effect mineral sunscreens often leave.
If you're looking to understand how to pick an anti-aging sunscreen inclusive of what they do and the ingredients to look out for, make sure to take a look at our guide.
FINAL THOUGHTS
Although at-home anti-aging devices will certainly help, keep in mind that any good skin care regime should not just be limited to treatments but also needs to include effective products. At the end of the day, no matter what kind of superpowers you have, you can't actually stop the hands of time from passing so remember is not about looking forever 25 but more about feeling and looking good no matter what your age is.