When expression lines and wrinkles reach the point of no return many of us see no other option than to turn to cosmetic procedures. What used to be taboo, Botox and other "enhancements"  are not only socially accepted but, thanks to celebs, are actually becoming closer to the norm. But if you're not ready to take that plunge there's a multitude of products marketed as "Botox in a Jar"  that don't require you to go under the needle or knife and some of which are effective – well to an extent.
There are five primary ingredients in these Botox alternatives: Myoxinol, Syn-Ake, Acmella Olerace, Argireline and SNAP-8. These five peptides work on expression lines in different ways—we're going to focus on everything you need to know about SNAP-8.
WHAT IS SNAP-8 PEPTIDE?
SNAP-8 is an octrapeptide that is scientifically known as Acetyl Glutamyl Heptapeptide-1 (say that five times fast). This combination of 8 amino acids is created in a laboratory and acts as a muscle contraction inhibitor. We'll spare you the scientific jargon and put it simply: SNAP-8 reduces the depth of fine lines and wrinkles by inhibiting the contraction of muscles used for common facial expressions. Particularly effective for forehead and around-the-eye lines, SNAP-8 is a safer, more economical and milder alternative to Botox.
HOW DOES SNAP-8 WORK?
At their most basic, peptides are cell-communicating agents. SNAP-8 peptide, on the other hand, is considered a neuropeptide – it blocks cell communication instead of encouraging it. Your body naturally produces neuropeptides which decrease as we age. They target your cells and communicate to your skin how to behave: anything from stimulating collagen production to skin cell regeneration. SNAP-8's job is to communicate with your neurotransmitters and cause limited movement in your muscles, preventing the appearance and formation of deep lines.
BENEFITS OF SNAP-8
Using a solution made from botulinum toxin that is injected into various areas of the face, Botox works to reduce the appearance and formation of wrinkles by paralyzing muscles. SNAP-8 is an alternative to Botox that hinders the movement of your muscles by getting your cells to do the work themselves. A topical solution that's less invasive than injections, SNAP-8 also prevents the formation of new wrinkles and is believed to stimulate collagen production to make your skin smoother. You may have heard of the neuropeptide Argireline? Once the most effective and well-known neuropeptide, SNAP-8 has surpassed Argireline as the most prominent of the group.
SNAP-8 PRODUCT RECOMMENDATIONS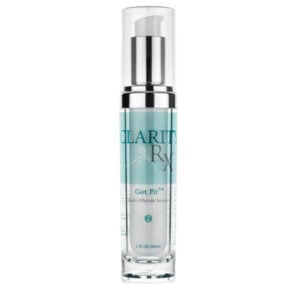 ClarityRX Get Fit Multi-Peptide Healthy Skin Serum $105
This serum combines SNAP-8 and Argirline with 4 other peptides to maximize all their cell-communicating benefits. While peptides work to reduce fine lines and wrinkles as well as improve skin texture, Hyaluronic acid will keep the skin hydrated, plump and glowing.
---
Osmotics Crease-Less Line Smoothing Filler $105
With SNAP-8 as one of the top ingredients, this filler alternative relieves and relaxes the creases in your skin and prevents the formation of additional fine lines and wrinkles. Also formulated with Hyaluronic Acid, this treatment is applied directly to problem areas (brow furrows, crow's feet, forehead lines, smile lines) to alter the behavior of your cells in a way that results in smoother, younger-looking skin.
If you're curious to find out more about other peptides make sure to check out our article on the benefits of Matrixyl, known for having an impact on skin concerns like fine lines and wrinkles.
DOES SNAP-8 WORK? 
Could there actually be an alternative to Botox that works just as well, costs a fraction of the price and doesn't involve needles? Well, there's still a lot of independent research to be done on SNAP-8. It seems to be beneficial in terms of reducing the appearance of wrinkles caused by repeated facial expressions around the mouth and eyes but it hasn't been proven effective for treating deep wrinkles that are, for example, caused by prolonged exposure to the sun. And it should be understood that Botox in a Box is rarely as effectual as cosmetic procedures like fillers or injections.
NEGATIVE SIDE EFFECTS
SNAP-8 is safe to use topically but it should be used with caution if you have sensitive skin. If your skin is broken or irritated, you shouldn't apply SNAP-8 until you've healed.
FINAL THOUGHTS
Botox in a Jar seems way too good to be true, we know. But for those of us that are willing to try all of our options, SNAP-8 is an alternative solution that will keep your money in your pocket. By blocking cell communication and hindering the movements in your face, SNAP-8 offers both a treatment and prevention for the creases that form as we get older. If peptides aren't already in your skincare routine, this might be a good place to start.