In your clean beauty quest, you've undoubtedly come across silicones. Loved by manufacturers for their occlusive properties, versatility, and cost, they're the most widely used ingredient in personal care products, skincare, and makeup. Unfortunately, the properties that manufacturers love them for are also potentially detrimental to skin health.
As consumers recognize the potential risks of this once-common ingredient, even brands that aren't fully clean brands are starting to advertise that their products are silicone-free. So, what exactly is silicone, why is it so widely used, and what are the potential risks? We're going to tell you all of that so you can come to your own conclusions about switching to silicone-free moisturizer.
What Is Silicone?
Silicone is derived from silica, which is a component of sand. And while sand is, of course, natural, silicone isn't. It undergoes chemical processing to become a semi-liquid substance that's coveted for its occlusive properties.
Occlusive means that, when applied to a surface, silicone creates a water and air-resistant barrier. It locks moisture in, keeps air (and whatever the air is carrying) out, and creates a smooth and silky finish.
Why Is Silicone in Moisturizer?
In moisturizers, the water and air-resistant barrier sits on top of the skin, working as an emollient to fill the spaces between cracks, making skin look and feel smoother. That thin layer locks in any moisture below its surface, so the skin looks dewy and hydrated. Silicone also tends to be velvety in texture, which means it glides across the surface of the skin with ease and aids in the application process.
Silicone is also a really inexpensive ingredient. Not to mention that it has no actives, so it's considered stable (i.e., it doesn't react with other molecules in a formula, therefore it doesn't require additional chemicals and compounds to keep it from doing so). Silicone is also heat and light-resistant, so there's no special packaging required to stop it from breaking down. All of the above means one thing to manufacturers – low costs.
Why Switch to a Silicone-Free Moisturizer?
The occlusive properties that make the skin look and feel smooth, hydrated, and plump are the same properties that make silicone controversial. Because, although it sounds like a good thing to have smoother-looking skin, the artificially created barrier also works to trap dirt, bacteria, sweat, dead skin cells, and other not-so-nice things below it. That means the risk of breakouts and blemishes increases dramatically.  For people with skin conditions like eczema, rosacea, or milia, the inability of the skin to breathe and detoxify itself can exacerbate symptoms.
Silicones are particularly troublesome in moisturizers. As the second step of your skincare routine after cleansing, they should be prepping your skin for your serums, eye creams, night creams, retinol, etc. But the barrier that silicone creates stops the actives of those products from ever reaching the surface of the skin and being absorbed, effectively rendering them useless.
The water-resistant properties of silicones are another potential issue. It takes double cleansing and an oil-based cleanser to get this stuff off of your face. And, even then, it can build up and clog pores. Not to mention that after making its way into your drain and into aquatic environments, it builds up and contributes to sludge and pollution.
10+ BEST SILICONE FREE MOISTURIZERS
If those facts don't make you want to look for a silicone-free moisturizer ASAP, then perhaps the other wonderful ingredients in these products will help sway you. Below are our 10 favorite moisturizers free of dimethicone and any other form of silicone.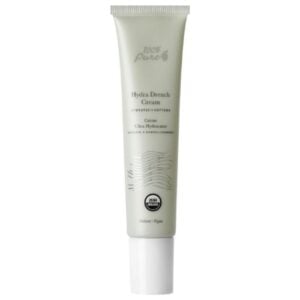 100% Pure Hydra Drench Cream $46
100% Pure's extremely popular Hydra Drench Cream is a fan-favorite with good reason. Not only is the natural formula light-weight but it is also fast-absorbing. Key ingredients in the vegan silicone-free moisturizer include the omega fatty-acid-rich gel water from chia seeds and soothing rosewater. The formula also includes plant-based Hyaluronic Acid to plump skin and antioxidant-rich Cactus extract.
Alternatively, if you're trying to combat acne consider 100% Pure's Tea Tree Balancing Moisturizer ($44). The natural formula is chockful of balancing herbs include the antibacterial Tea-Tree and the scar fading Neem to help manage oily, congested, and irritated skin. Other key ingredients in the cruelty-free formula include Tumeric to brighten skin and plant-extracted clearing Azealic Acid.
Looking for something on the richer side? Make sure to check out 100% Pure's Restorative Sea Culture Extra Riche Créme ($50). The natural silicone-free formula drenches skin with intense moisture through combining potent antioxidants from plant extracts including Sea-buckthorn, as well as nourishing plant butters from the likes of Baccuri and Shea.
---
Juice Beauty Celluar Anti-Wrinkle Moisturizer $70
Aging skin has three primary concerns: hydration, luminosity, and damage prevention. Addressing all three of these concerns will help keep your skin free of wrinkles and age spots as well as bright and glowy. Juice Beauty has centered its anti-wrinkle moisturizing cream against exactly those three concerns. It's formulated with vitamin C for brightening, resveratrol-rich grapeseed for hydration, and antioxidant-rich jojoba and shea butter to protect against environmental damage.
If skin tone is your primary skin concern, then you're looking for ingredients that refine and smooth your skin texture at the same time as they fade discoloration. For that, Juice Beauty has created their Apple Age-Defy Moisturizer ($50) for people over the age of 20. It's formulated with a complex of certified organic juices that are not only brightening and refining but also a powerful antioxidant cocktail.
For those searching for a lightweight moisturizer that helps control breakouts and blemishes, Juice Beauty's Pomegranate Oil-Free Moisturizer is the answer. In conjunction with the Blemish Clearing Serum, the nutrient-rich sea algae and mix of lemon balm, sage, and dandelion botanicals will help soothe inflamed skin and keep acne-prone skin under control. 
---
Drunk Elephant Lala Retro Whipped Cream $60
This silky, retro-style moisturizer delivers moisture all-day long while, at the same time, helps your skin learn to protect itself. How? It's bio-available formulata contains 6 deeply nourishing rare African oils blended with a plant ceramide complex that reinforces your skin's acid mantle, making it stronger and capable of defending itself against environmental stressors.
Besides environmental stressors, another way your skin can be weakened is, of course, through the effects of aging that ravage your texture and firmness. For that, you need ingredients that revitalize and strengthen the skin itself. Drunk Elephant's breakthrough Protini Polypeptide Cream ($85) is formulated with signal peptides, growth factors, supportive amino acids, and pygmy waterlily that not only improves the look of your skin, but also its strength.
---
Dear Klairs Midnight Blue Calming Cream $30
Other moisturizers are made for moisturizing, but this moisturizer is made specifically for calming. That's good news if you have oily, acne prone, and sensitive skin. Because those are problems primarily of irritation and inflammation, this blue cream focuses on soothing redness and calming sensitivities. Made with Guaiazulene, a natural component extracted from chamomile, it's also great to use after an intense skin treatment, long term sun exposure, after shaving, and after pore care.
---
Osmia Organics Purely Simple Face Cream $60
A product so natural that its shelf life is 6 months after opening, even the preservatives are plant-based in this silicone free moisturizer. Intended specifically for reactive and troubled complexions, the formula contains just enough of what's needed to get the job done without causing any aggravation. It's uses a base of aloe juice, which is both hydrating and soothing, to deliver a delicate blend of emollient essential oils like apricot kernel and sweet almond.
---
Pai Skincare The Anthemis $59
Whenever you're experiencing redness or irritation, apply this highly-rated silky day cream for its calming properties. It's built on a base of chamomile CO2 extract and rosehip CO2 extract, both renowned for their ability to calm inflammation and reduce agitation in irritated skin. At the same time, they deliver regenerative fatty acids omega 3,6,7, and 9 and a host of antioxidants that strengthen your skin but leave it feeling baby-soft. 
For chronically dry and sensitive skin, Pai has developed another fan-favorite day cream that's packed with just as many clean and organic ingredients. With just one application of their Love & Haight Hydrating Day Cream ($58), you'll notice an instant boost in moisture that absorbs quickly and effortlessly. That's because it's packed with vitamin-rich avocado and jojoba oils that your skin will drink right up.  
---
Babo Botanicals Sensitive Skin Hydra Therapy Lotion $14
Those who suffer from eczema know that they can't use just any moisturizer on their skin. When you have to be extra careful about the products you apply for fear of a flare up, use this Babo Botanicals eczema lotion. Unlike most lotions that are this strong, it's non-greasy and melts into your skin almost immediately. With 2% colloidal oatmeal, natural shea butter, sunflower and sea buckthorn oil, it's been clinically tested under dermatological control and proves perfect for everyday use.
---
Osea Atmosphere Protection Cream $48
Containing 100% naturally-derived ingredients and a handful of certified organic ones, this protection cream is great for wear under your daily makeup. Before applying your primer or base, apply this moisturizer to support the skin's defenses and help it retain moisture so your makeup never slides away. Plus, it contains just the right amount of lavender and grapefruit essential oil, two ingredients that help manage oil production and will fight against breakouts under any makeup regime.
---
Peet Rivko Daily Moisturizer $48
Not only Is Peet Rivko's Daily Moisturizer (one of) our editor's obsessions – one or two pumps of this lightweight moisturizer will provide long-lasting hydration from shea butter, aloe, and jojoba. Unlike other moisturizers, it finishes in a perfect matte, so it's great for use under makeup or if you tend to have skin on the shiny side. Considered a clean beauty brand, the exclusion of sensitizing ingredients like alcohols and fragrance make it the perfect moisturizer in your clean beauty collection. 
FINAL THOUGHTS
More and more consumers are recognizing that some of our favorite products contain our least-favorite chemicals. Of the more obvious chemicals to avoid are silicones like dimethicone. Luckily, there are dimethicone free moisturizers for every skin concern, it's just a matter of choosing the one right for your skin.