They say that knowledge is power, and this couldn't be truer when it comes to preventative anti-aging. In other words, understanding your enemies is the best defense for preserving your skin. That said, the sun is both a provider of life as well as helps us to absorb valuable vitamin D, but it also emits lethal UV (ultraviolet) light and UV exposure is a major cause of wrinkles, sagging skin, age or liver spots and rough skin – essentially all things aging.
THE OZONE LAYER
Essentially our skin's guardian angel, the Ozone Layer has protected us for generations. This is a thin layer of gas that surrounds the planet and acts as a sunscreen for the earth and its beings, blocking out some of the sun's damaging radiation. Unfortunately, over the last few years, the ozone layer has become thinner, allowing these harmful UV rays to reach the earth's surface much more easily.
THE SUN'S ENERGY
The sun emits 3 different kinds of energy: visible light that can be seen, infrared light felt as heat, and the most damaging for skin is the sun's invisible ultraviolet (UV) radiation. On the light spectrum, though it's invisible, the rays that reach the surface UV A & UV B fall between 290-400 nanometers (nm), which are billionths of a meter. To break this down further here's an introduction to the 3 types of UV rays:
UV A (320 – 400 nm)

Known as the dominant ray that causes tanning, UV A light has the longest wavelength and can be split into UVA I, which measures 340-400 nm, and UV II which is about 320-340 nm. These types of UV rays are not absorbed by the ozone layer and account for about 95% of the UV radiation that reaches us. UV A penetrates deep into the skin and, as has been well documented, exposure to these kinds of rays is one of the leading causes of wrinkles and premature aging. Although often downplayed, it's important to note these rays emit a similar amount of strength during all daylight hours – not just the peak hours of 10 am to 4 pm – and, worst of all, UV A rays are not prevented through clear glass or cloud coverage.
UV B (290- 320 nm)

Although UV B light has shorter wavelengths than UV A, experts say they have a much higher intensity. Luckily for us, they are mostly absorbed by the ozone layer but not entirely. These kinds of rays mainly affect the epidermis, the outermost layer of the skin, and primarily cause redness and sunburn. Time of day, season, and location do affect the strength of penetration, but it's universally important to note that these rays (especially in North America) are strongest between 10am–4pm and from April to October. It should also be noted that, when it starts to get cold and there is ice and snow on the ground, UV B rays are reflected back by these surfaces and virtually hit the skin twice. Other reflective surfaces include pavement, sand and even water. On the other hand, glass surfaces such as windows do block out UV B rays.
UV C

(100 – 280 nm)



UV C light has the shortest wavelength of all 3 rays and is the strongest as well as most dangerous form of UV light, but most of it is filtered out by the ozone layer and atmosphere so they don't reach us. However, while the effects of these rays cannot be felt from the sun, sometimes UV C light is found in artificial lighting including some types of blue light devices made to kill germs.
WHAT DO UV RAYS DO TO THE SKIN?

Although scientists have not pinpointed exactly how UV exposure works to age skin, below are a few of the strongest links found:
COLLAGEN BREAKDOWN
UV radiation leads to dermal collagen breaking down at a higher rate than normal. Not only does it damage the collagen, but it also causes the growth of abnormally formed elastins called "solar scars". Solar scars aren't visible to the naked eye, but repetitive UV exposure causes accumulation that leads to something very visible – wrinkles. Since collagen and elastin are two of the main building blocks in healthy skin, their destruction also leads to sagging and loss of firmness.
HYPERPIGMENTATION
Within the depths of our skin, somewhere between the top layer of the epidermis and deeper layer of the dermis, are melanocyte cells. When these wonderful little beings are exposed to UV radiation they produce a very dark matter called melanin. Melanin is absorbed by another type of cell, keratinocytes, to protect you from the sun like a sort of natural sunscreen. The absorption results in what is commonly known as a tan, but also leads to a number of potential problems related to aging like age spots, melasma, and uneven skin tone.
FREE RADICAL PRODUCTION
UV exposure also is one of the major causes behind the production of free radicals. In basic language, free radicals are oxygen molecules which usually have two electrons, but when they become free (not a good thing) only one electron remains. This lonely and unstable molecule then attempts to steal an electron from another molecule, eventually leading to fine lines and wrinkles. Even worse is that free radicals can actually alter your genetic material and sometimes lead to cancer.
CHANGES IN SKIN TEXTURE
So you know how there is the paradox where Retin-A apparently both thickens and thins your skin but in a good way? UV exposure does the same thing but in a terribly bad way. Have you ever noticed the neck of a person who has spent a lot of unprotected time in the sun looks as though it has deep, coarse wrinkles and also looks thick? That same person's under eye area may also appear papery thin and full of fine wrinkles.
PEAK HOURS
As we already mentioned, peak hours (10am-4pm) are the time of day when the sun's rays most strongly penetrate through the atmosphere. In the early morning or late afternoon post peak hours, the sun's rays pass through the atmosphere at an angle which greatly reduces their intensity, and are therefore better times to enjoy outdoor activities and errands.
The sun is the highest in the sky around noon, meaning rays have the least distance to travel to the earth's surface and UV B levels, in particular, are at their highest. Angles of the sun also vary by season which also affects UV intensity, which is strongest during spring and summer months.
WHERE ARE UV RAYS THE STRONGEST?
When it comes to geographic location, UV radiation is strongest where there are holes in the ozone (Antarctica & Australia among other), around the equator (where it's thinnest), and at higher altitudes (due to less atmospheric coverage). The further you are from the equator whether north or south, UV rays have to travel a greater distance through more ozone-rich portions of the atmosphere so radiation won't be as strong.
PROTECTION
How should protection be handled? Well, we could all just move underground and become mole people but luckily there are better options available. One of the best measures you can take for both preventative anti-aging and your health is to wear a sunscreen that blocks the full spectrum of UV A and UV B rays. As a general guideline, these sunscreens are labeled "Broad Spectrum" in most western countries and "High Protection" in other areas of the world. Other things to look out for include an SPF of 30 or greater or, better yet, one with a high PA or PPD rating.
PRODUCT RECOMMENDATIONS
Below are some of our favorite mineral-based sunscreens that offer advanced protection from the sun:
Skinceuticals Physical Fusion Defense ($26.54)
Best For: Normal to dry and sensitive skin
Color-infused technology provides a universal tint that boosts the radiance of this weightless sunscreen. SPF 50 offers broad-spectrum protection for your skin, with 5% Zinc Oxide, 6% Titanium Dioxide, and a plankton extract to increase your natural defenses against harmful rays.
---
Exuviance by Neostrata Sheer Daily Protector SPF ($37.45)
Best For: Normal & Combination Skin
The powerful antioxidant Green Tea extract help boosts this sun screen's abilities to neutralize environmental damage. The formula provides sheer mineral UVA/UVB protection (Titanium Dioxide 7.0% & Zinc Oxide 6.0%) and will leave your skin feeling smooth and also looking more even-toned.
---
Clinique Pep Start Daily UV Protector ($19.50)
Best For: Normal,  Combination &  Sensitive Skin
Clinique's sunscreen has an SPF 50 and offers broad-spectrum protection against harmful UV A and UV B rays through combining 6.3% Titanium Dioxide with 4% Zinc Oxide.  Formulated without oil, fragrance, as well as sulfates it works great for those who have more sensitive skin prone to breakouts or rosacea.  The universally friendly Peach tint blends well with skin and is perfect for those make-up free days as it still provides some level of coverage.
---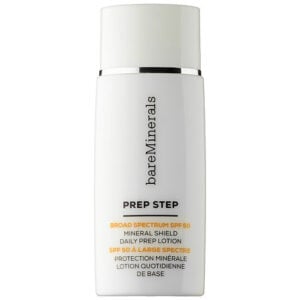 bareMinerals Mineral Shield Broad Spectrum SPF 50 Daily Prep Lotion ($30)
Best For: Normal To Combination Skin
This mineral-based SPF 50 sunscreen, doubles as a primer and offers broad-spectrum protection against UV damage through the combination of 4.1% Titanium Dioxide with a super dose of Zinc Oxide (23.8%). The formula offers rejuvenating benefits through the inclusion of plant-based antioxidants like Gentiana Urnula Flower & Moringa Oleifera Seed extracts. The micro encapsulated pigment is added in to help minimize the white cast that mineral sunscreens are often associated with.
---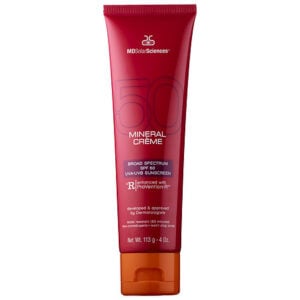 Md Solar Sciences Mineral Creme Broad Spectrum SPF 50 ($30)
Best For: Normal to Oily Skin
This broad-spectrum sunscreen protects skin through a combination of 17% Zinc Oxide and 2% Titanium Dioxide. The formula also packs beneficial ingredients like Green Tea as well as  Cranberry Fruit and Pomegranate extracts in order to provide reparative benefits to the skin including helping boost hydration levels and combat pigmentation issues.
---
Josie Maran Argan Daily Moisturizer SPF 47 Protect + Perfect $30.50
Best For: Normal to Dry Skin (not prone to breakouts)
This all-natural and lightweight sunscreen not only provides skin with an intense moisture boost but also provides broad-spectrum protection  (SPF 47) against harmful UV rays through the inclusion of 5.9% Titanium Dioxide and 9.4% Zinc Oxide.  Antioxidants like Green Tea and Vitamin E have anti-aging properties, while Argan oil helps enhance the skin's radiance.  Although most skin tones may find the tinted version to work well,  for lighter ones the non-tinted version may be more suitable.
---
Murad City Skin Age Defense Broad Spectrum Sunscreen ($65)
Best For: Combination, Dry & Sensitive Skin
Murad's ultra-light broad-spectrum sunscreen includes a range of skin-beneficial ingredients like Vitamin C and E to boost the efforts of the broad spectrum protection provided by the 2.7% Titanium Dioxide and thee 10% Zinc Oxide. The Peach tint blends well and offers some level of color correction to the complexion. There are no parabens, sulfates or phthalates in the formula and all of the ingredients are gluten-free and for those of you that are earth-conscious, they are also vegan.
---
First Aid Beauty's Ultra Repair Pure Mineral Sunscreen Moisturizer ($30)
Best For: Normal To Dry Skin
FAB's SPF 40 sunscreen not only offers broad spectrum protection from Titanium Dioxide (6.3%) and Zinc Oxide (4.6%) but also has Triglycerides as well as Shea Butter to boost the skin's moisture levels.  Other nourishing ingredients to look out for include colloidal oatmeal and botanical extracts from licorice root, feverfew, and white tea.   Although untinted, the formula blends well leaving most skin tones with a soft radiant glow and without any white cast.
Check out our guide on how to choose a good sunscreen if you are interested in learning more about the benefits as well as ingredients you should be on the lookout for.
FINAL THOUGHTS
Finally, the experts at The Center for Disease Control and Protection recommended taking the following protective measures against UV radiation:
If you own a car, make sure that it has that tinted film.
Avoid tanning including tanning beds.
Wear sunscreen even in cloudy weather because clouds only reduce UV light (but not entirely).
Wear sunglasses and darker tight knitted clothing.
Shade will provide some protection from the sun, but avoid reflective surfaces
Remember the proper usage of an effective sunscreen along with other protective gear is the perfect way to enjoy the day but minimize the effects of UV damage.